SPAGHETTI SQUASH WITH ROASTED GARLIC CHERRY TOMATO SAUCE
When you shop through links on our site, we may earn an affiliate commission. This educational content is not intended to be a substitute for professional advice.
This may seem like a spaghetti squash recipe, but this is really all about the sauce..

A good homemade tomato sauce can take a lot of time.. blanching, peeling, and then cooking down tomatoes for hours on the stove top. But let's be real.. most of us are lucky if we even have time to wash our hair during the week (thank you Dry Shampoo Gods) so there's no way we're going to make that kind of time on a week night. Looking for a simpler option without sacrificing the flavor, I decided to utilize the abundance of cherry tomatoes I had from the garden. Since they're so much smaller I didn't have to bother with peeling and cutting them, which saved me about an hour in prep time. I tossed them onto a pan with a little garlic and thyme, roasted them in the oven, pureed them afterward, and poured it all into a couple of canning jars.

HOLY TOMATO SAUCE GOODNESS! It was zesty, sweet, hearty, and the perfect compliment to the spaghetti squash.. which by the way, can be cooked at the same time as the tomatoes since it's the same oven temperature and approximately the same time to cook. Simple, delicious, and affordable. Now you can finally go wash your mane that has become more dry shampoo than it is hair.

(makes 2-3 servings)

Ingredients:

1 large spaghetti squash

1-2 Tbs olive oil

Salt and freshly ground pepper to taste

4oz crumbled feta (or your favorite cheese of choice)

2 Tbs fresh parsley, finely chopped (optional)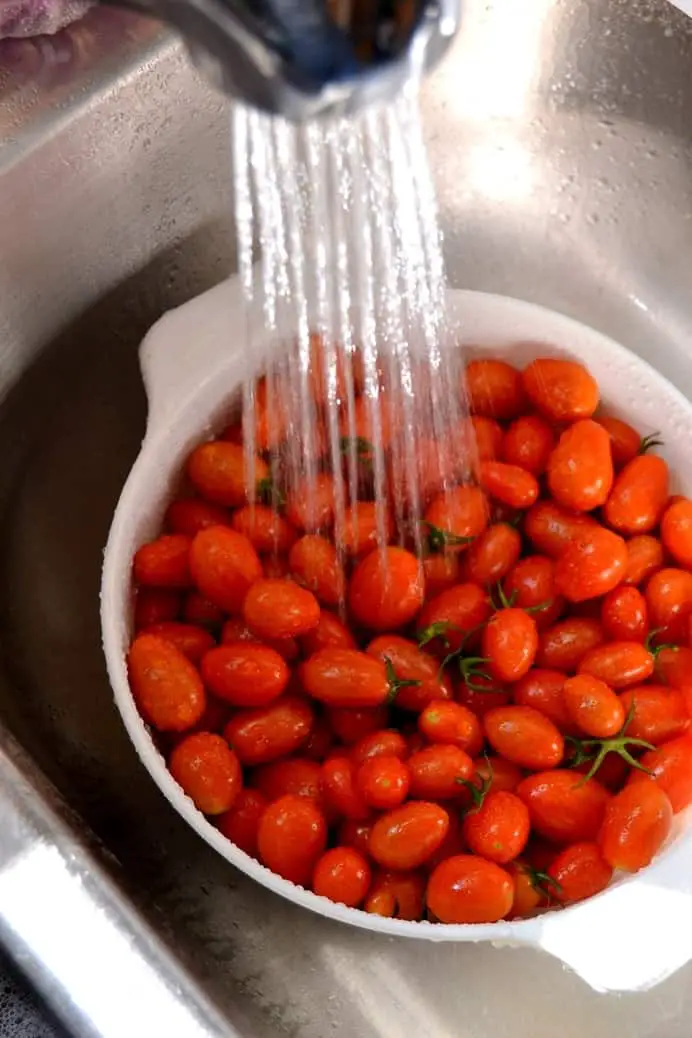 (makes 5 cups of sauce)

Roasted Garlic Cherry Tomato Sauce:

2 Tbs olive oil

3lbs cherry tomatoes, rinsed and stems removed

5-6 garlic cloves, minced

5-6 sprigs of fresh thyme

Salt and pepper

Preheat oven to 375 degrees F and line 2 large baking sheets with foil.

Using a large sharp knife, cut spaghetti squash in half lengthwise. They can be pretty tough to cut through so watch your little fingers! Use a large spoon to scrape out seeds and guts like you would a pumpkin. Place halves (cut side up) on a baking sheet. Brush inside and edges with olive oil and sprinkle with salt and pepper. Set aside until tomatoes are prepped.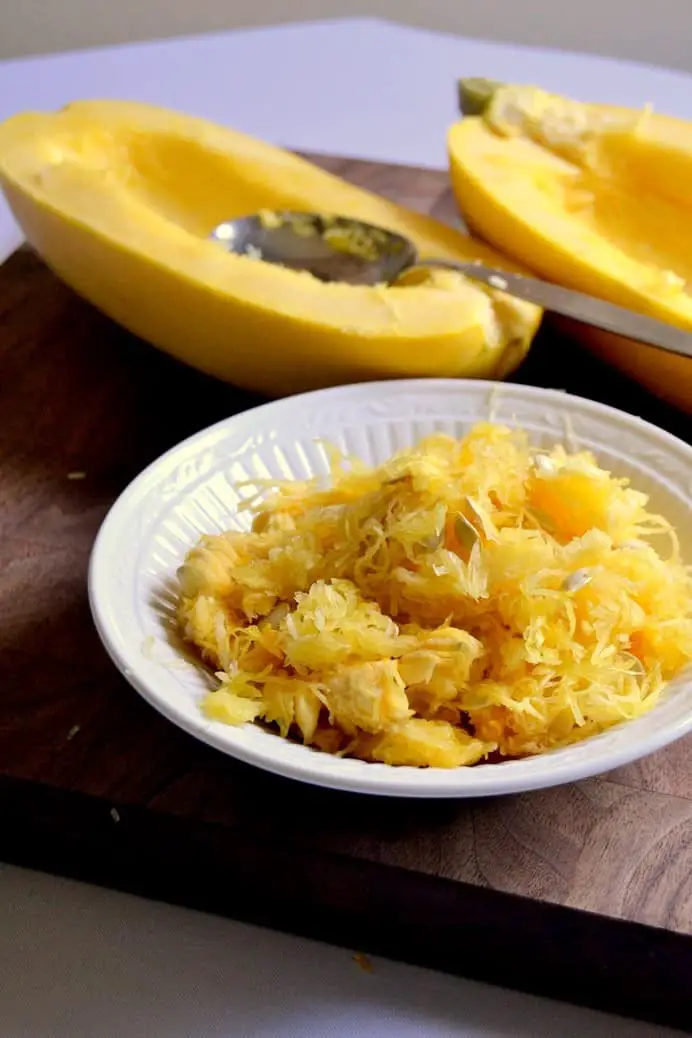 Drizzle olive oil across the second baking sheet you prepared and add cherry tomatoes. Lightly move the pan or toss to coat the tomatoes with oil. Sprinkle minced garlic and thyme leaves across the top. Season with a little salt and pepper.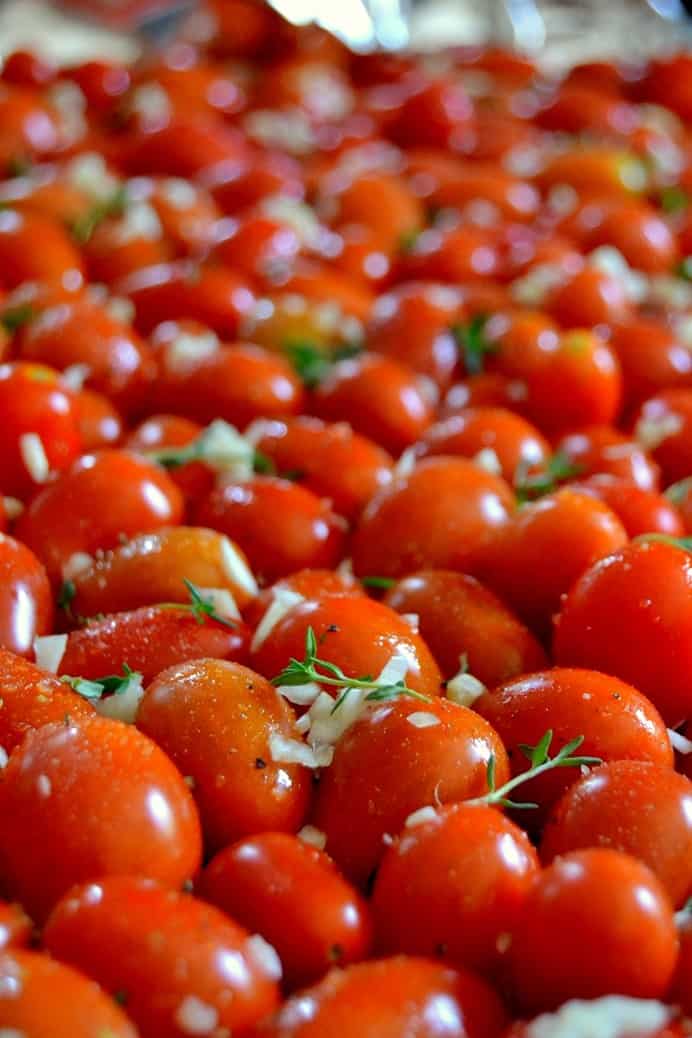 Place your pan of tomatoes and spaghetti squash in the oven to roast for 35-40 minutes. Tomatoes are done once the skins start to blister a bit. Remove tomatoes only and set aside to cool. The squash will take approximately 45 minutes to an hour and is done once it's tender and easily pierced with a fork. Remove from the oven and allow it to cool slightly.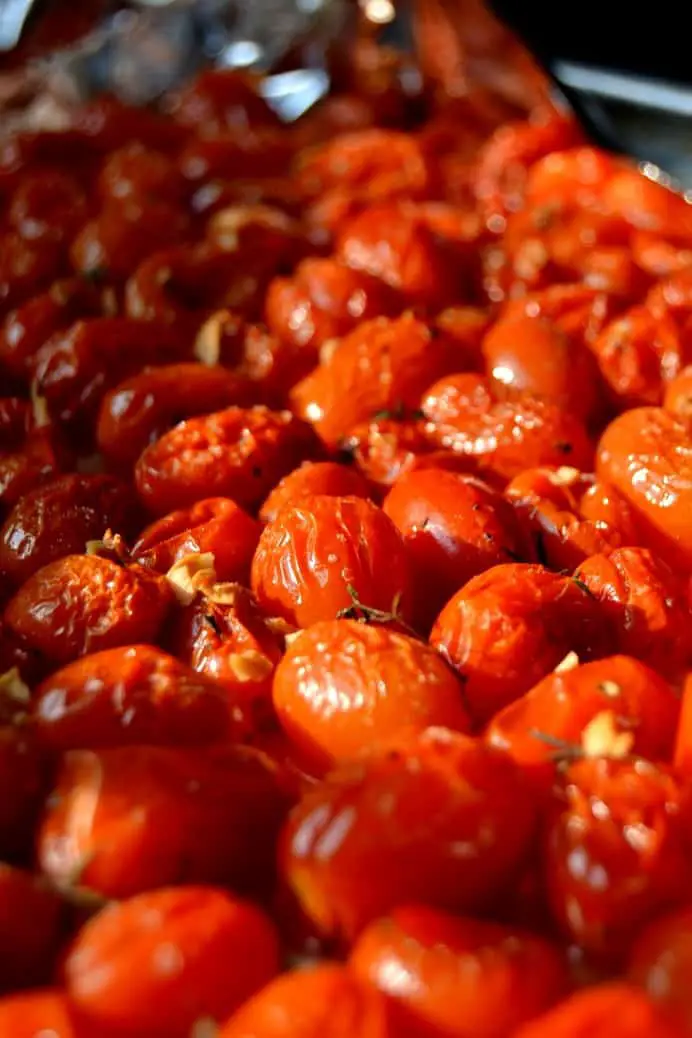 Add your tomatoes to a food processor or blender and pulse until you have your desired consistency. I pulsed mine about 3 or 4 times for just a few seconds each time so that it didn't get too watery or thin. Pour sauce into jars, seal, and store in the refrigerator for up to a week or set aside while you prep the squash.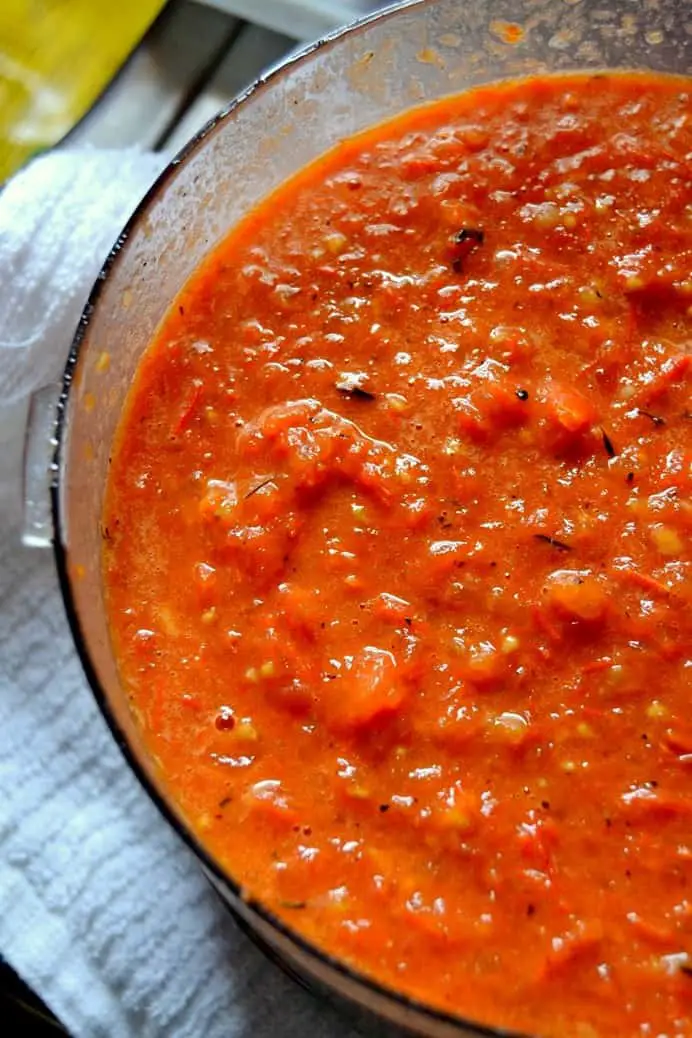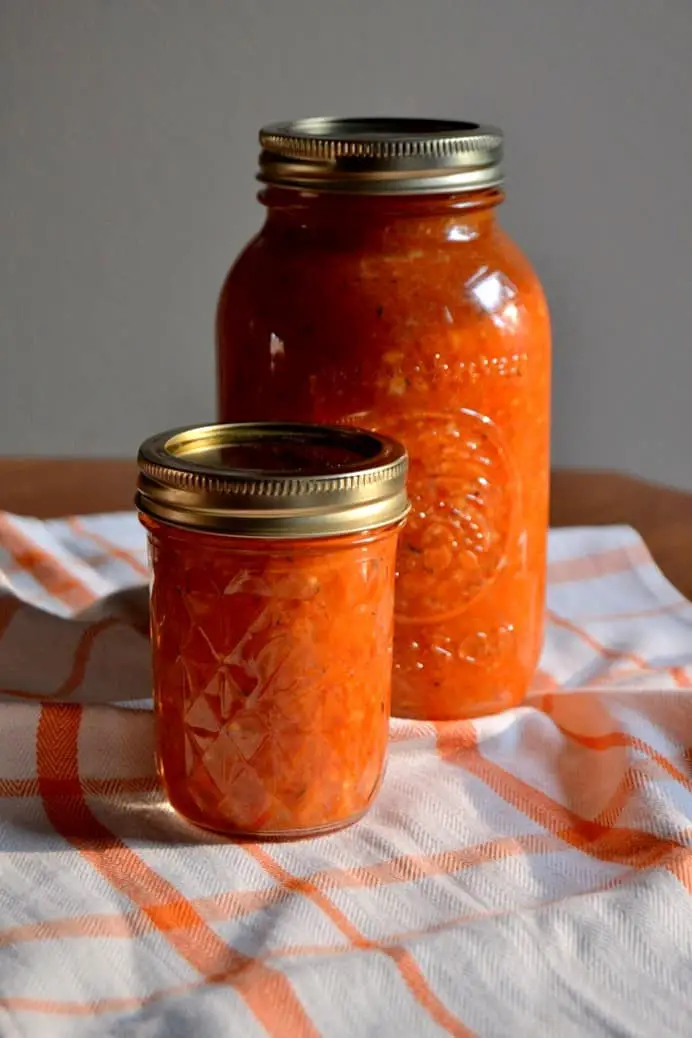 Use a fork to shred squash away from the skin

ADVERTISEMENT

.You can leave the shredded squash in the skin or distribute into dishes if you're serving more than 2 people.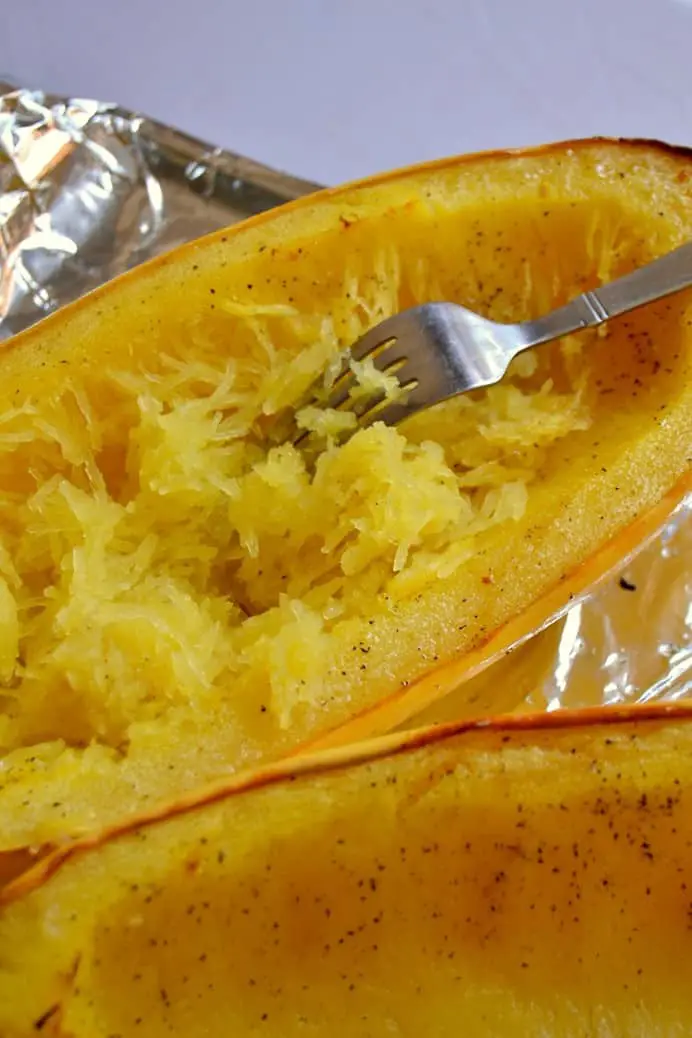 Top with as much sauce as you like (you will most likely still have some leftover), sprinkle with crumbled feta, and fresh parsley. Serve right away.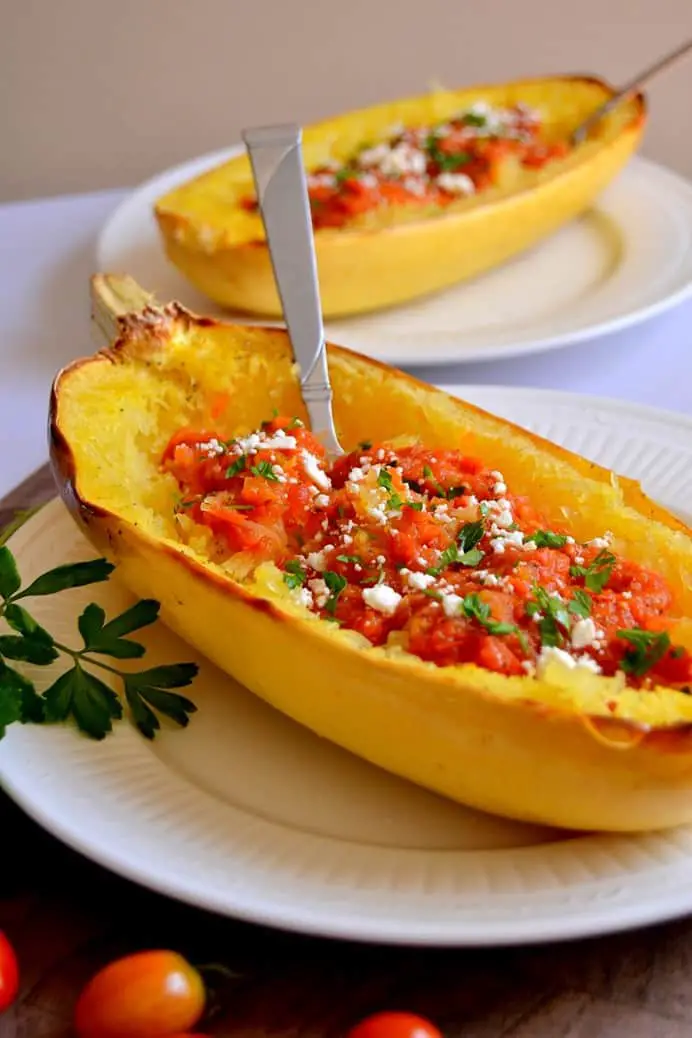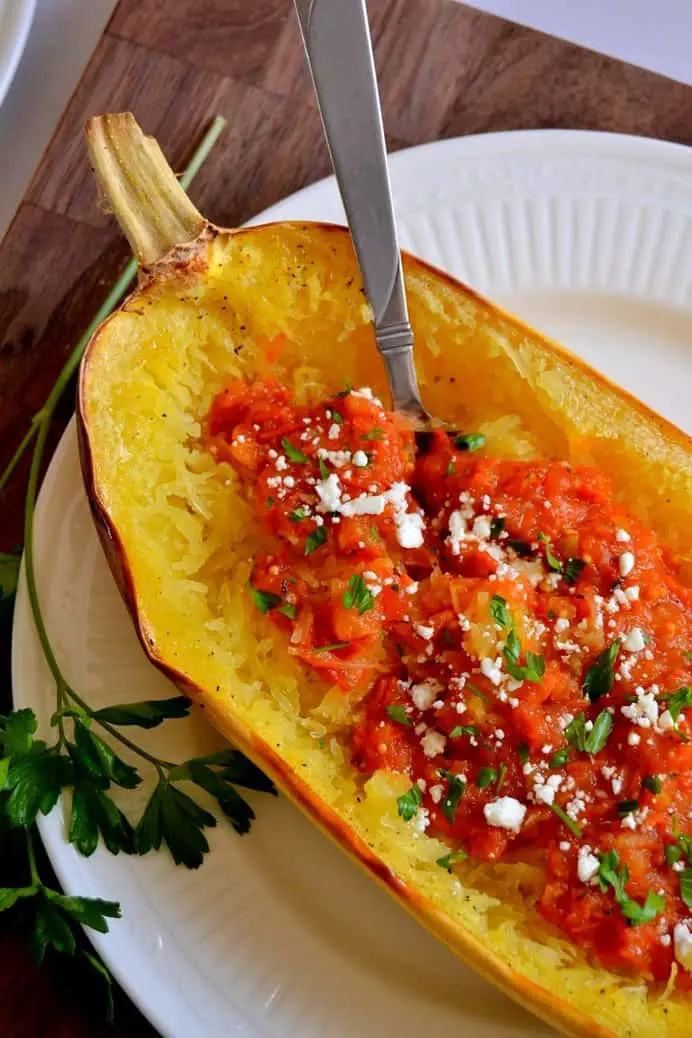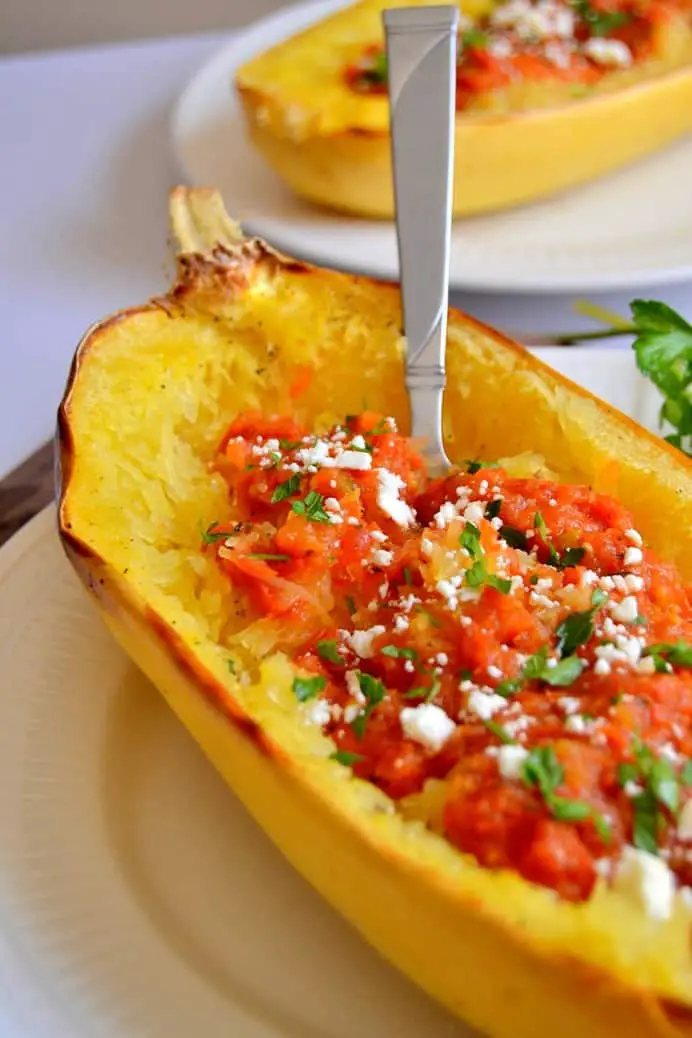 Enjoy!