50+ Short Hairstyles For Black Women: 2022 Favorite Looks
When you shop through links on our site, we may earn an affiliate commission. This educational content is not intended to be a substitute for professional advice.
Although some people still think that short hair is not very feminine, I find this belief very far from the actual truth. If you are one of those long-hair fans, well, this article might change your mind and make you consider a pixie style.
African American women have more wiry hair with a different texture than white ladies. However, they have the advantage of styling their hair in shorter cuts, making them highly fashionable.
Short hairstyles for black women with natural hair are always up-to-date, and it is a pity not to enjoy these cuts. Although they have short hair in the center, these cuts will always be in fashion and suit the strong characters.
If you never thought that short-styled hair will be elegant and always a tremendous looking look, today you will learn everything you need to know about your future hairstyle.
Why Is Short Cut Hair So Stylish?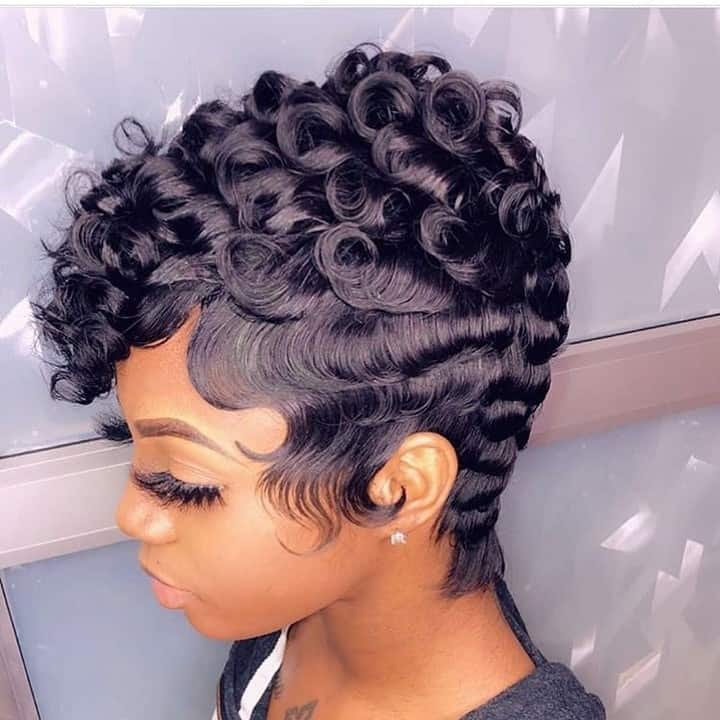 No matter what is happening around the world, hairstyles should not be too complicated. You should have fun arranging your hair, so your haircut should not be a chore.
Today, you will enter the low-maintenance short black hairstyles in 2021 and 2022 and learn how to simplify the way you were wearing your hair so far.
There are many ways you can celebrate short hairstyles, whether you are teeny weeny afro or enjoy a more classic form. However, if you are transitioning from long hair to a shortcut, you can try to braid your hair or use a hot press curler to know how you would look with this type of hairstyle. If you have a more relaxed attitude, then you can show it through your hairstyle too. For instance, a short pixie cut or a bob can be the ideal alternative.
What Is Trendy In Matter Of Short Hair Styles?
Sometimes, shortcuts just look amazing if they are left all-natural. However, the best part about short hair for black women is that they can vary their styles without needing professional products or a professional hairdo. Luckily, access to information today has helped make the stylish options limitless for everyone.
However, it is not enough to know how versatile the short hairstyles are for black women if you don't have concrete examples. Today, I have brought together the most stylish, timeless, and adaptable short hairstyles for black women.
Why Short Hair Styles Are Ideal For Black Women?
As you might already know, black women's hair comes with a specific texture; as such, long hairstyles might not match them. But when it comes to low-cut hairstyles for black females, these ways to style black hair will perfectly complete the look.
So, no matter if you decide to keep the hair straight or go with natural curls, the texture of your hair will be an advantage.
Black women can run from the bob styles to the extra mini buzz, as long as they feel that style suits their personality best. You will see that many black celebrities had chosen to cut their hair as short as possible during their lives and learned to wear this new look with confidence and great style.
50+ Top Short Black Hairstyles In 2022
Let's learn together more about short natural haircuts for black women. Here are some of the top ones suited for young, adult, or senior females.
Shaggy Bob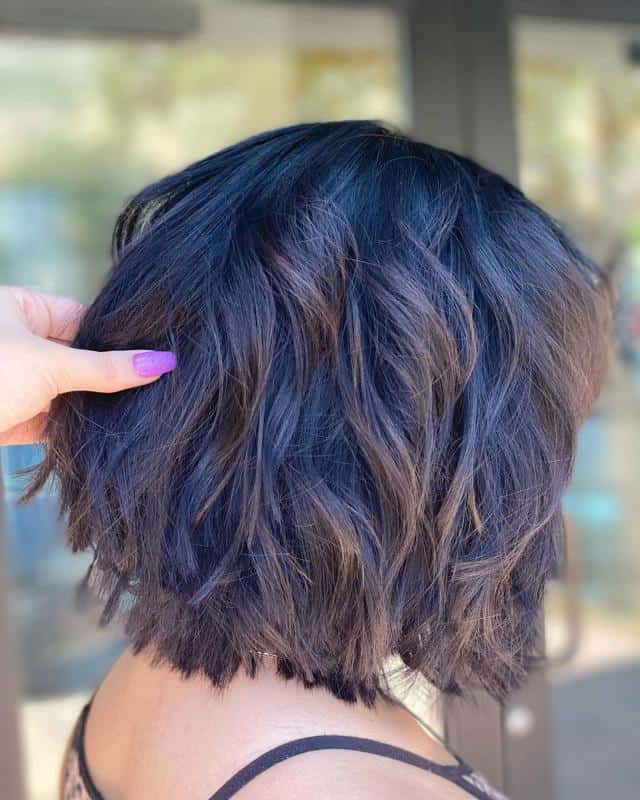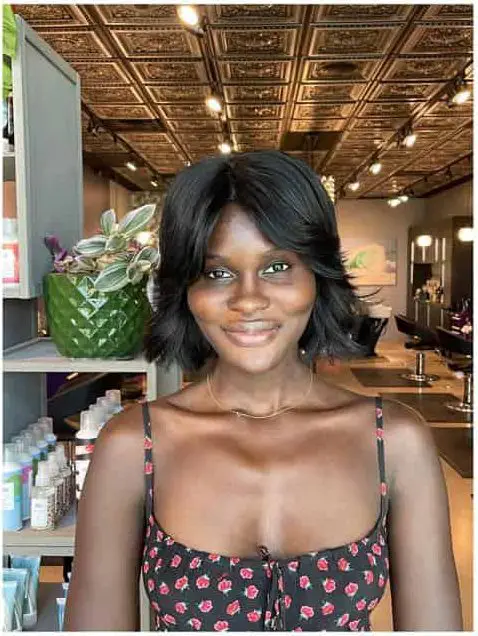 The bob hairstyle has been one of the most popular cuts among black and white women as well.
The tapered back will add much more volume to the whole hair and help the shape of the face.
Personal opinion: If you are looking for a short hairstyle for black women with round faces, this one is the right choice.
Faded Glory Haircut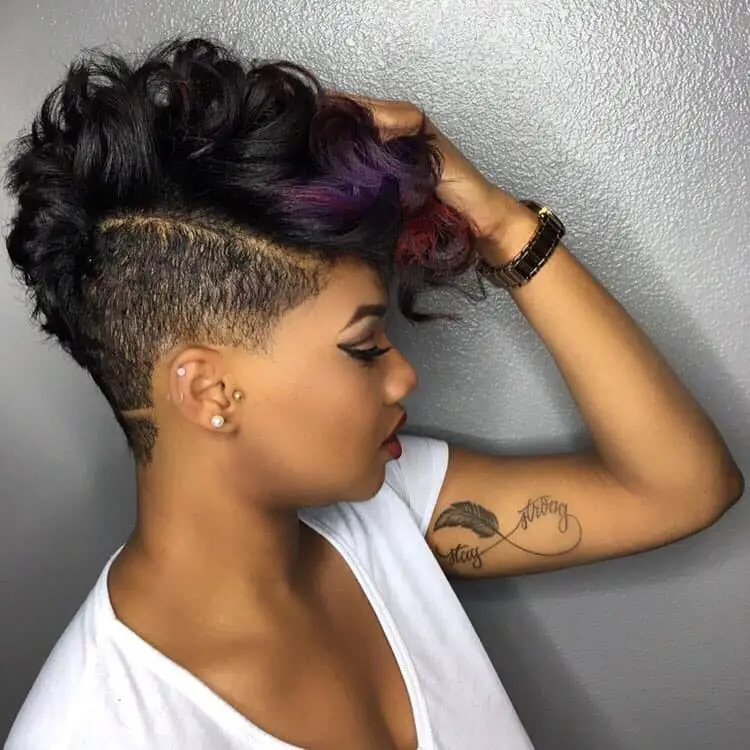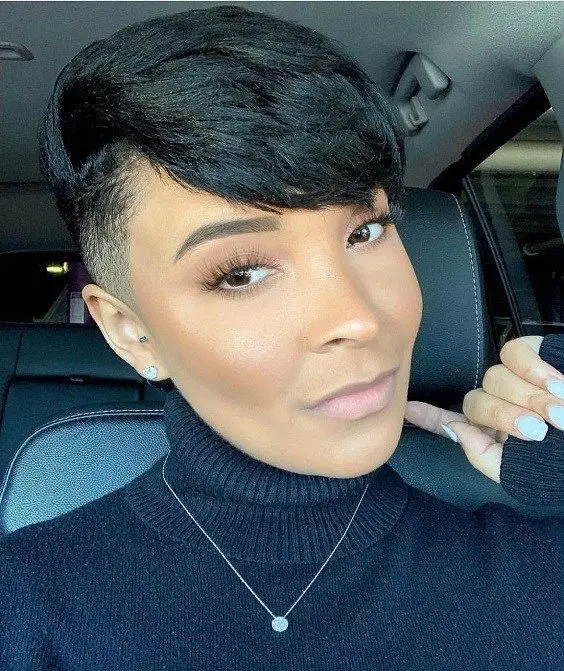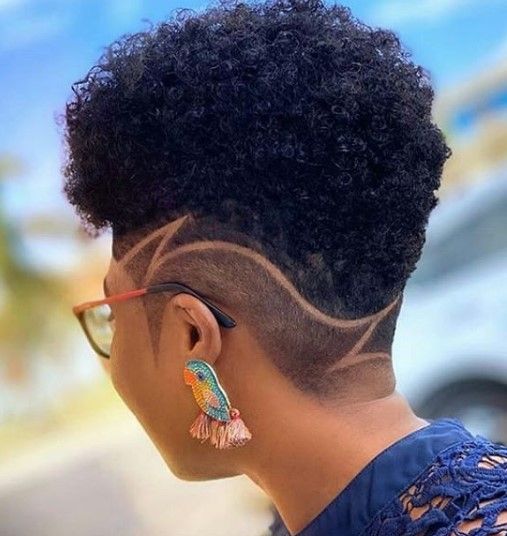 When it comes to edgy, truly stylish short hairstyles for black women, the faded glory haircut is exactly what you need. Arched eyebrows are part of this modern style. Undercuts are also the best feature of this hairstyle.
Personal opinion: If you add some colorful highlights, you can be sure that everyone will turn their sights on you.
Tip: Complement your skin tone with this unique hairstyle and enjoy the results.
Curly Pixie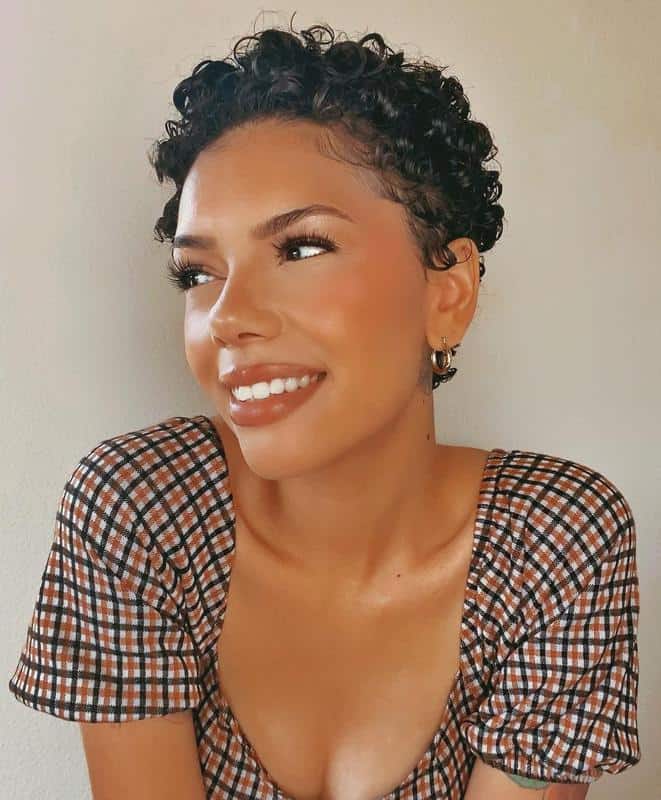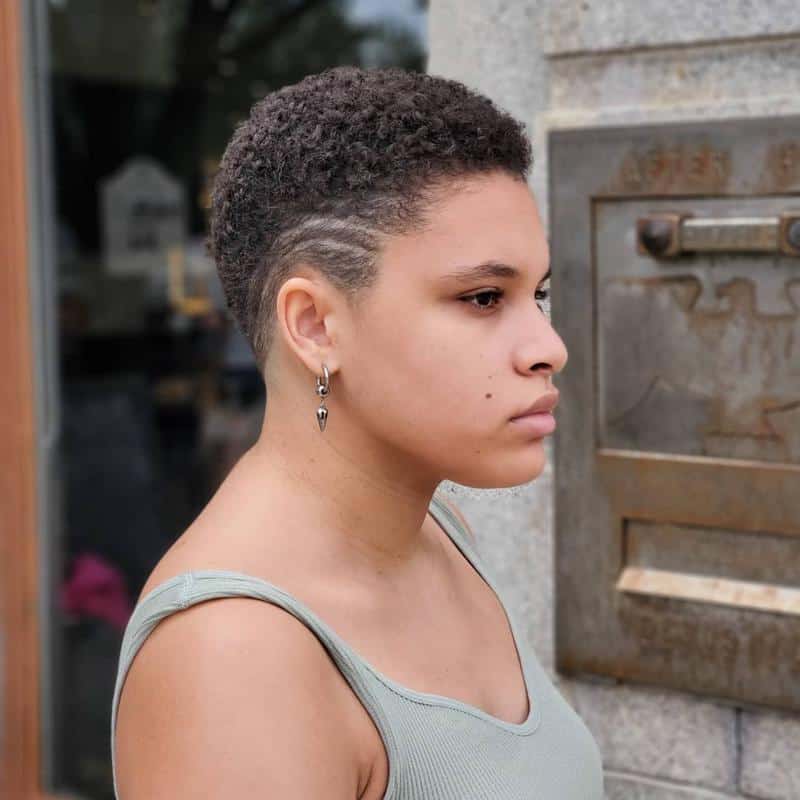 All the short black hairstyles including this chic shortcut, are not only part of your style but also beautiful means of expressing yourself. Do you wish for something that looks a bit edgy but still keeps the feminine vibe? Then the curly pixie is something you want to adopt immediately.
The luscious curls complement the dark skin color and add so much style to your image.
Personal opinion: Instead of shaving the sides of your hair, you can take some hair gel and slick the highlights down in some gorgeous finger waves. The final touch will be exactly what you need for a retro vibe.
Bright Pixie Haircut with Highlights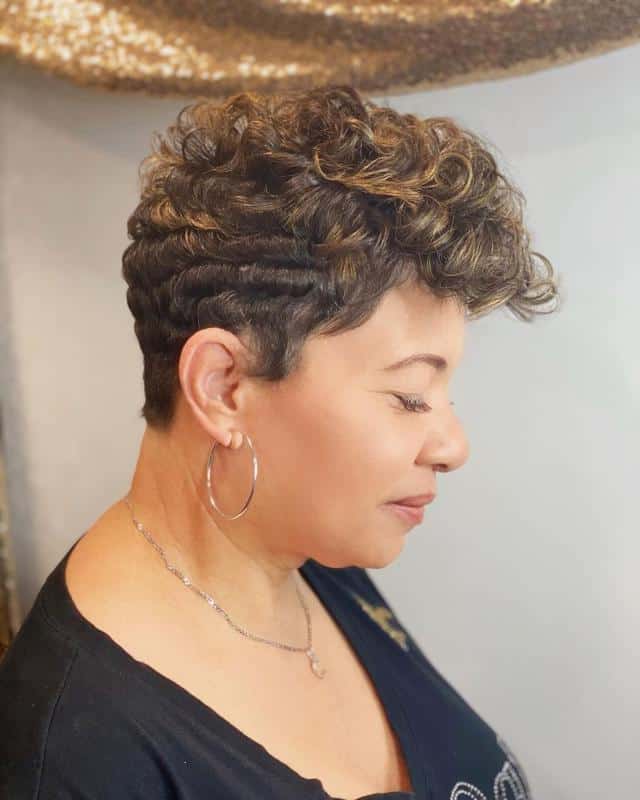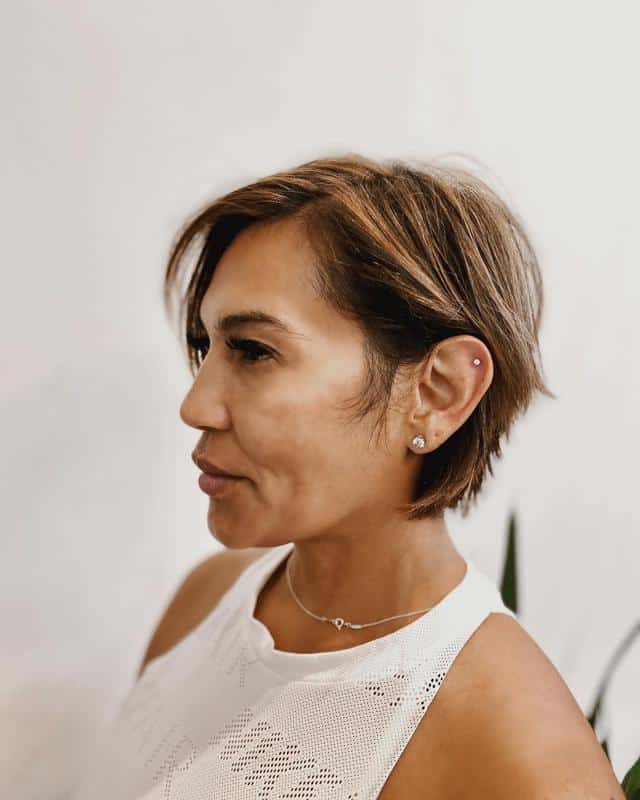 Bright pixie will light up any skin tone. Moreover, if you add some excellent highlights, whether blonde or red, you will completely change your look.
Personal opinion: Look how beautifully the light colors are going with the hair layers.
Short Blonde Hair for Black Women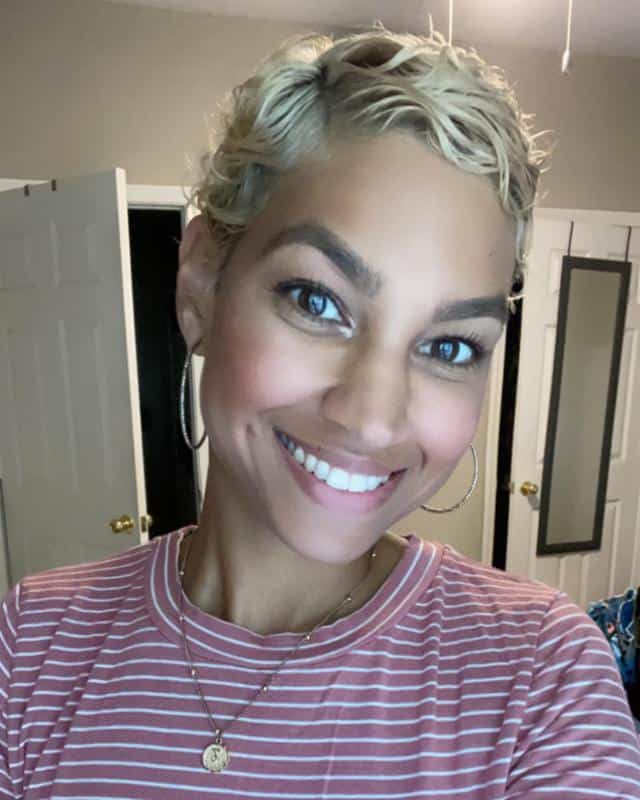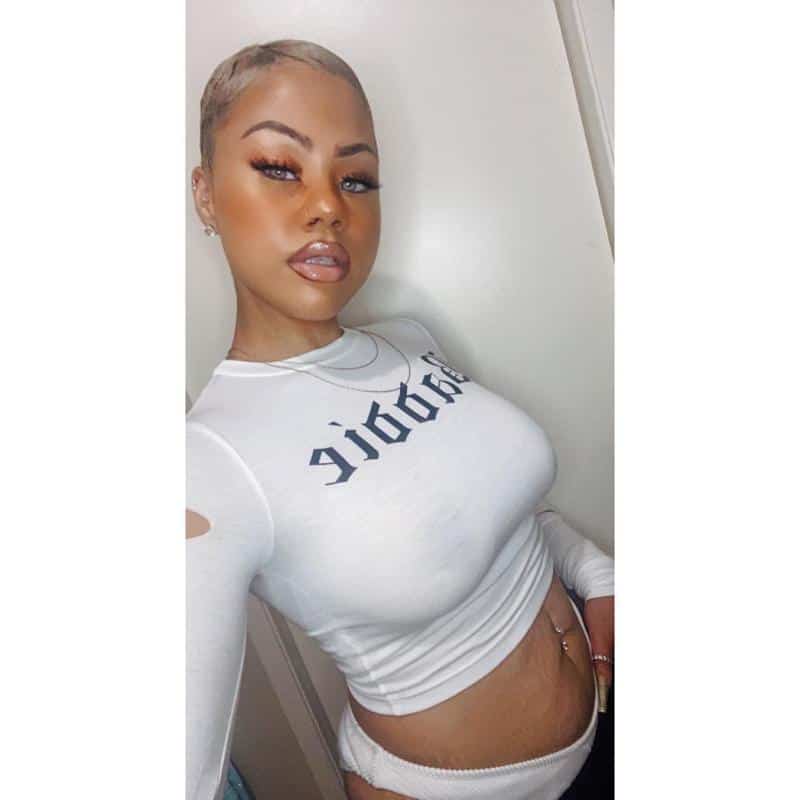 Even if you have a very dark skin color, you can combine a short but bright blonde shade. Imagine the contrast of your hair with the skin. Amazing effect!
Tip: If you want to feel glamorous, then give it a try to be one of the boldest short hairstyles for black females.
Scarlet Pixie with Layered Top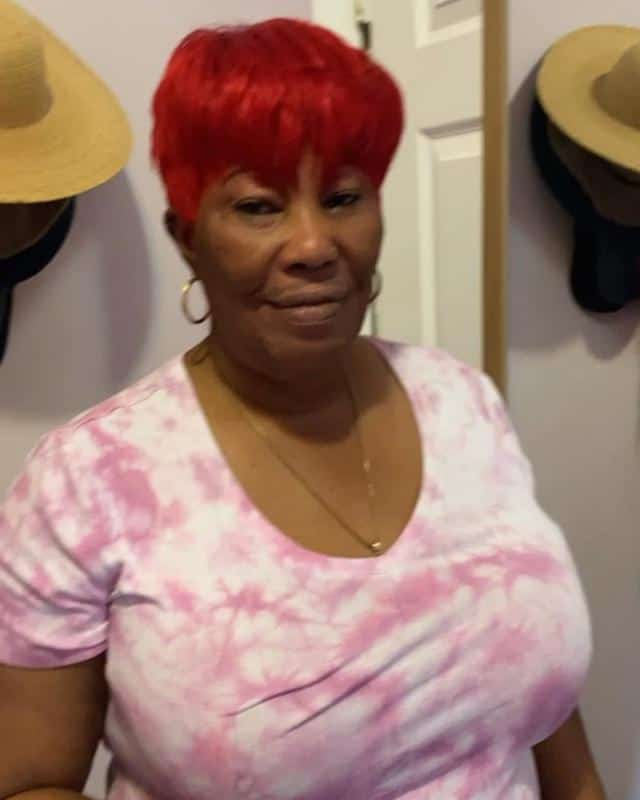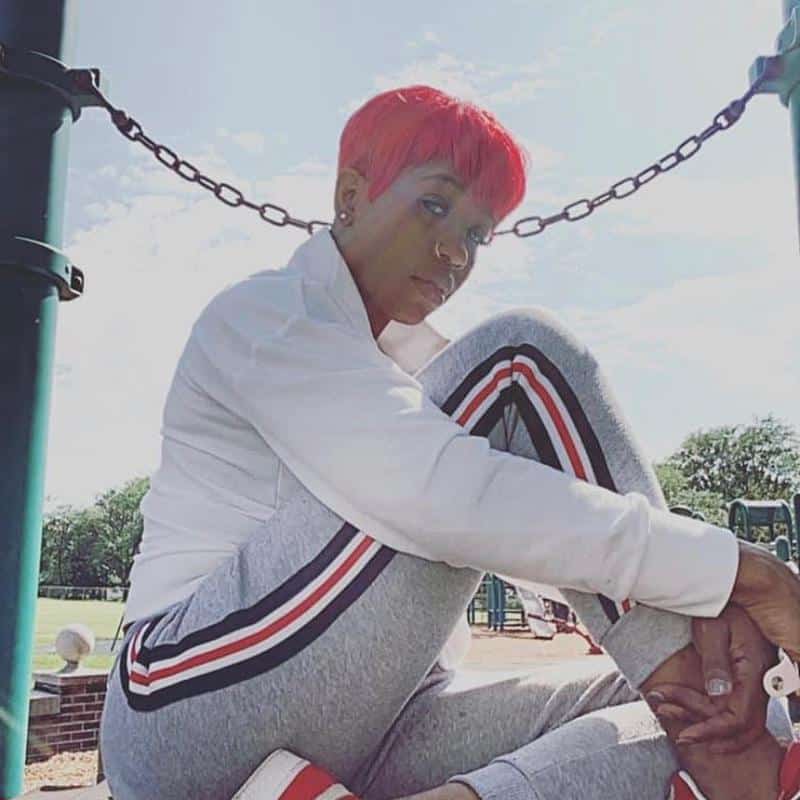 Short hairstyles for black women over 50 do not need to be dull, but they should add a young vibe to the whole look. This pixie cut with red highlights or layered top is the best canvas for experimenting with color, especially a bright red.
Personal opinion: Moreover, if you keep the roots black or the low part in the natural shade, you will already have a sexier look.
Tip: The natural red color will make everything pop and brighten up your skin.
Long Pixie with Springy Curls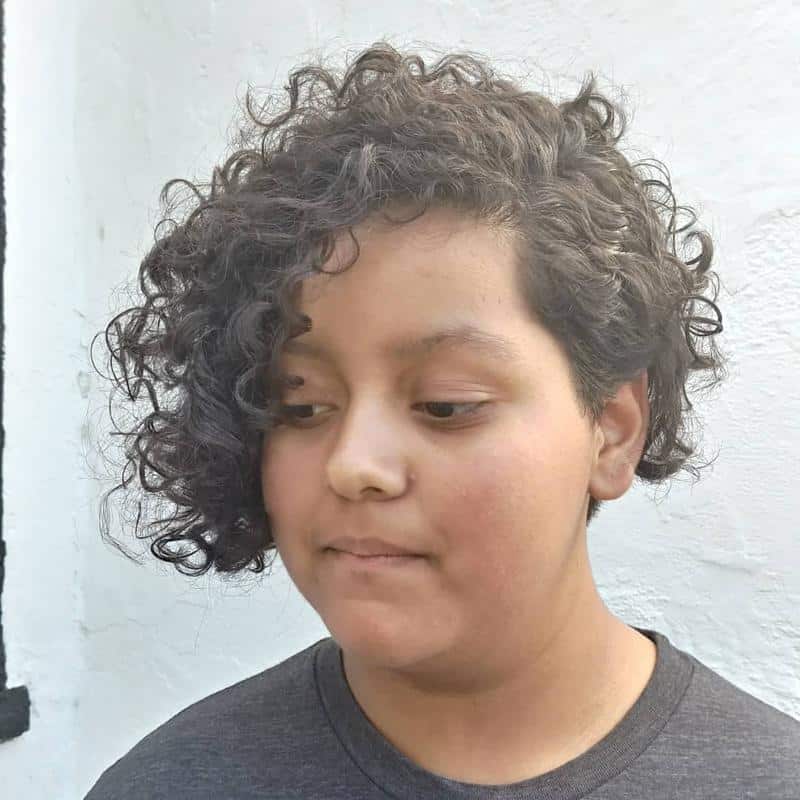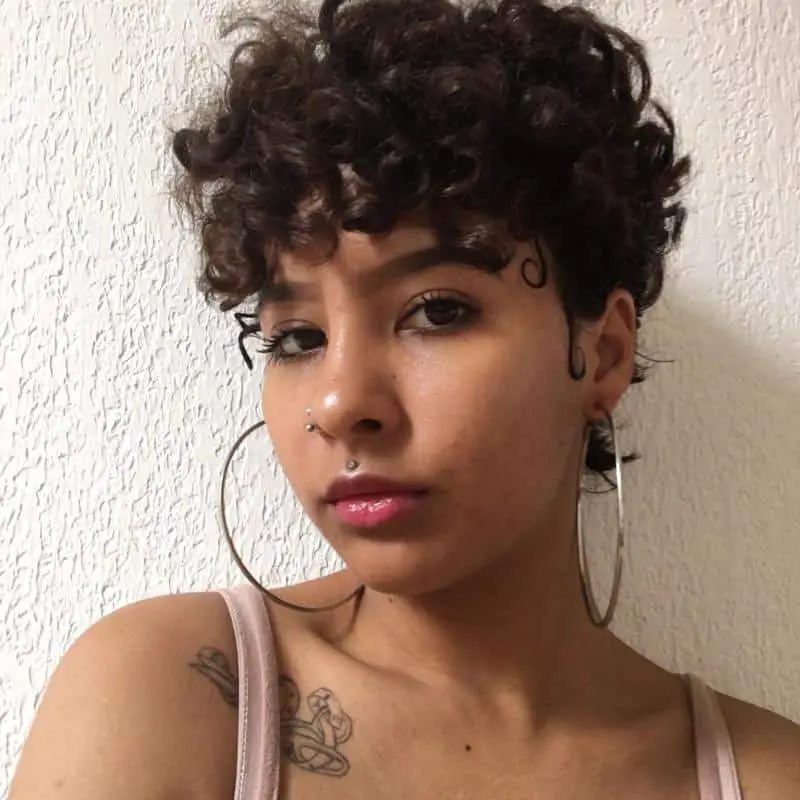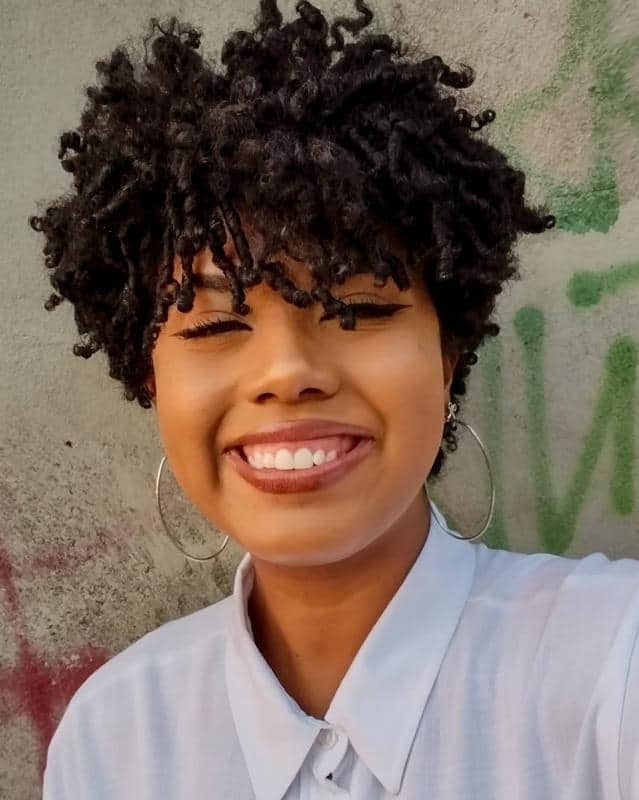 Let me tell you, from all of the short natural haircuts for black women, this one is so joyful and fresh. As you know already, sometimes, styling natural hair can be tricky, even if you have enough patience.
So you should start thinking about another hairstyle, like wearing your hair in some rods overnight, and right in the morning, take them off to get some cute coils.
Personal opinion: Getting these springy curls is easy, and you don't even need to use a curling iron, which is excellent in keeping your hair all healthy.
Playful Pixie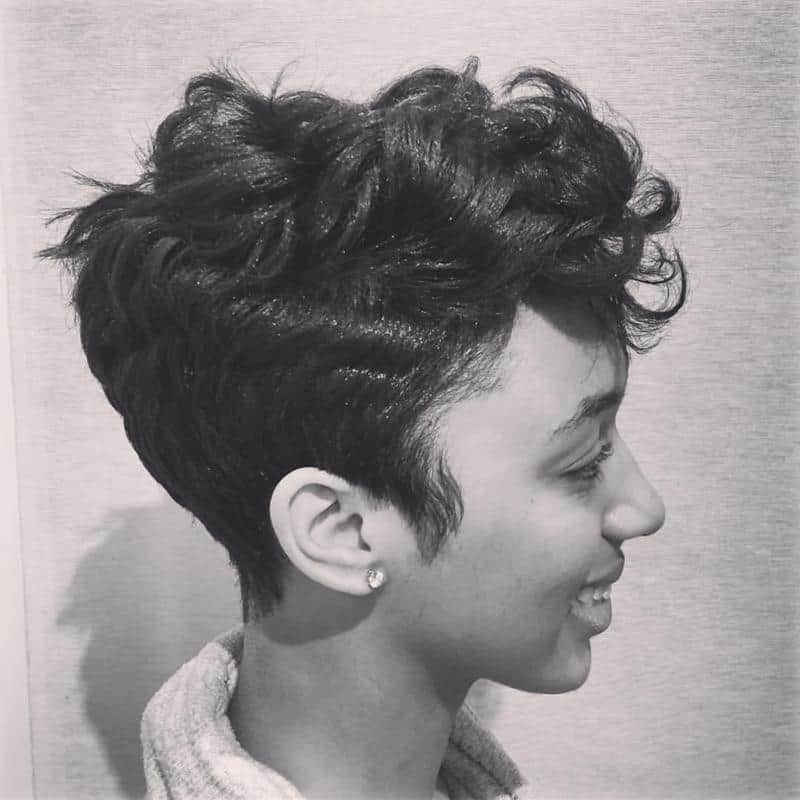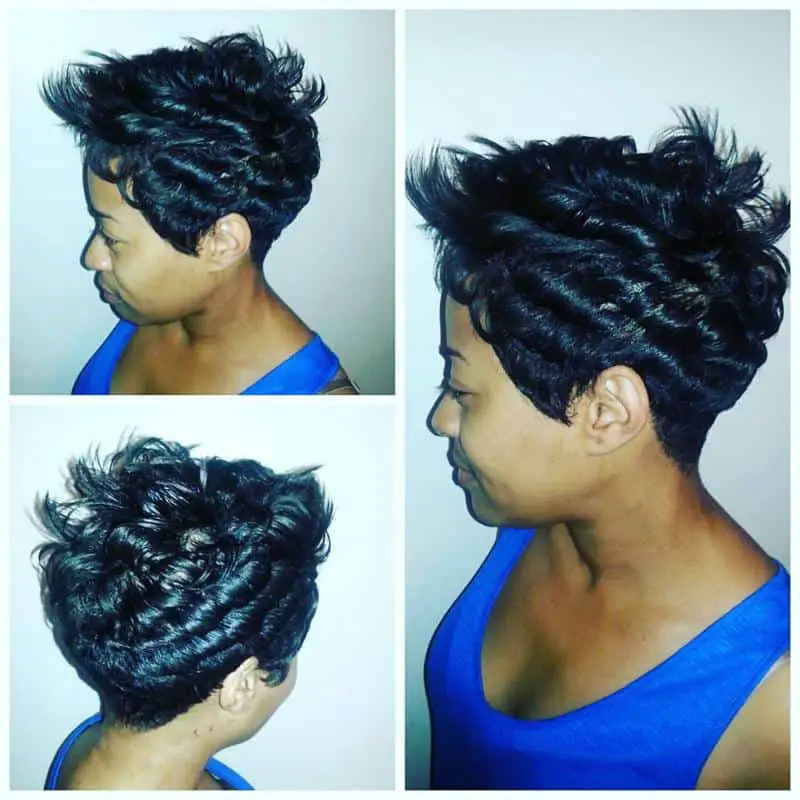 Did you have enough with all those monotonous hairstyles for black females that did not suit your joyful personality? You can now update your short pixie with some single curls. You can shape the curly parts just like you wish.
Tip: Do not hesitate to use a curling iron, even a flat one, to play with your hair texture. You can also use some styling products for your favorite edge control.
Bold Bowl Cut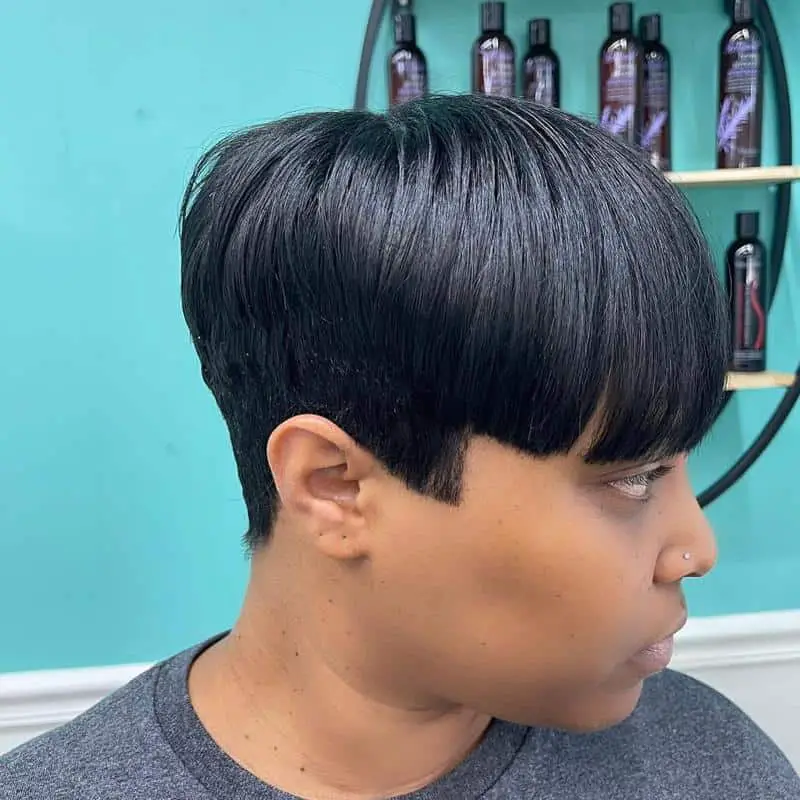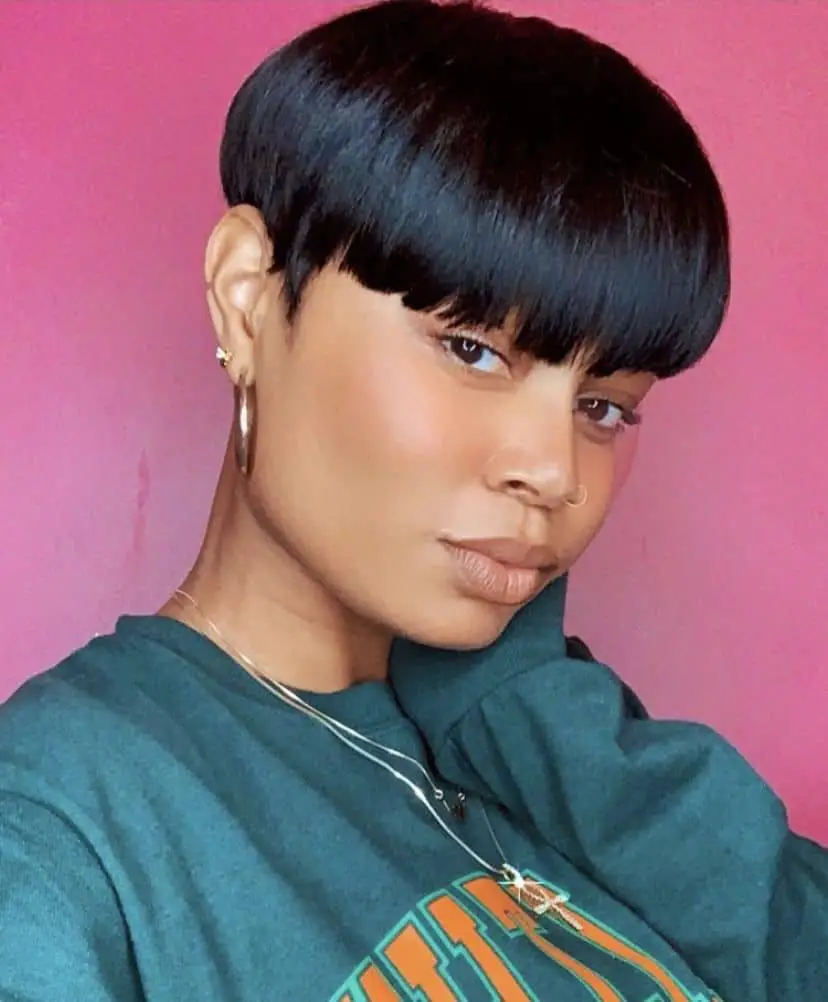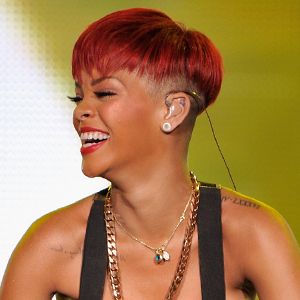 The '90s are back, and you can never go wrong with choosing the bold bowl cut. If you were looking for a short hairstyle for black women with natural hair, this one would turn all the heads around you.
Personal opinion: You can keep the natural hair color or choose a more daring shade, like raw red, even blonde.
Braided Bun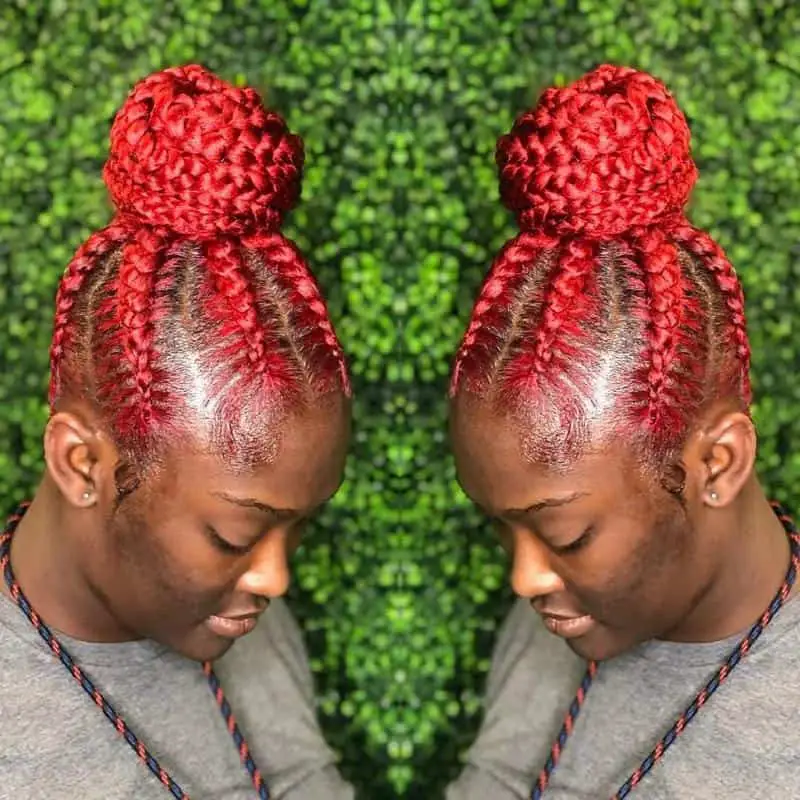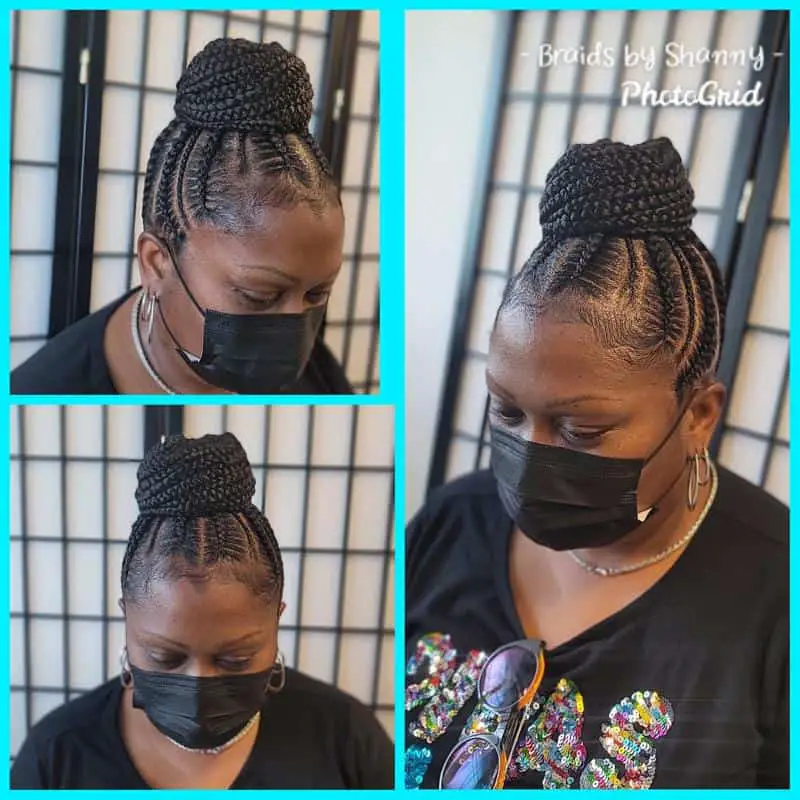 The braided bun is an elegant, versatile short black hairstyle in 2022, ideal for those of you who do not dare to cut your hair so short.
Tip: You can keep these edges all sleek and the small braids, so everything looks compact and glossy.
Short Flip Hairstyle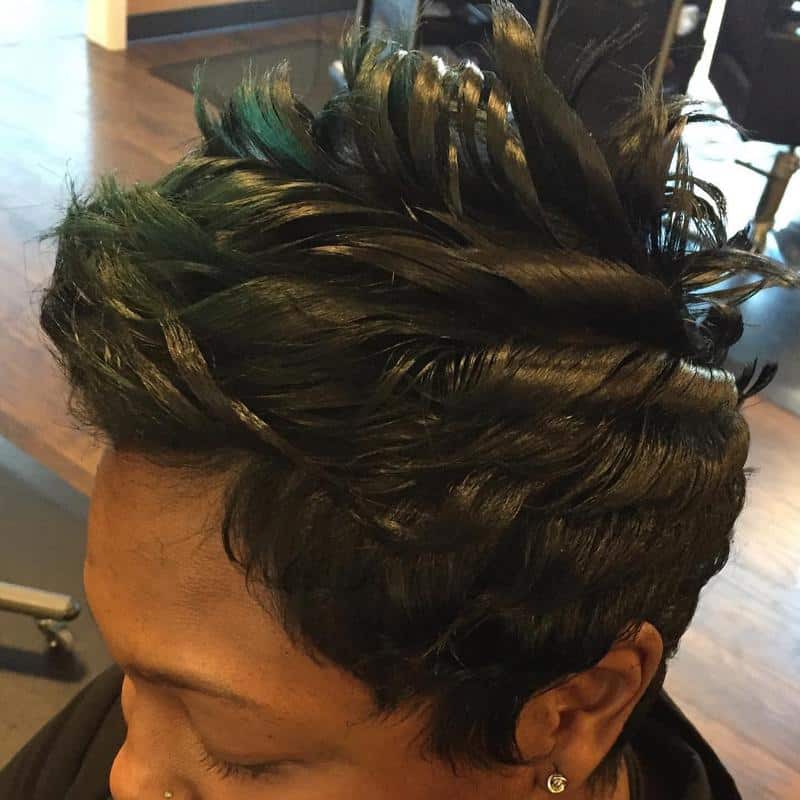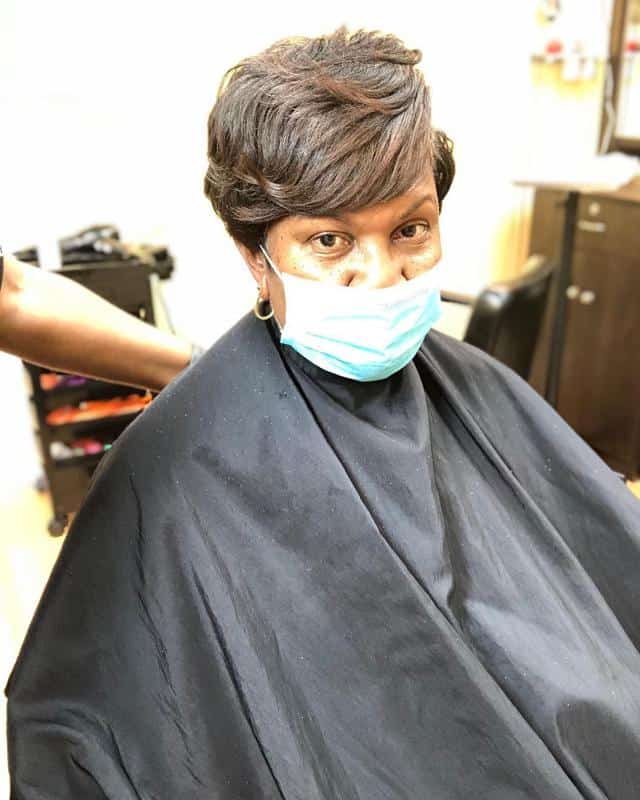 What about trying to flip out the short hair? If you never thought about this nice sparkle for your hair, well, guess what?
The 70s fashion is back, and its trend is topical. It is not a surprise that the 70s flip out is so prevalent in 2022.
Short Curled Hairstyle with Copper Highlights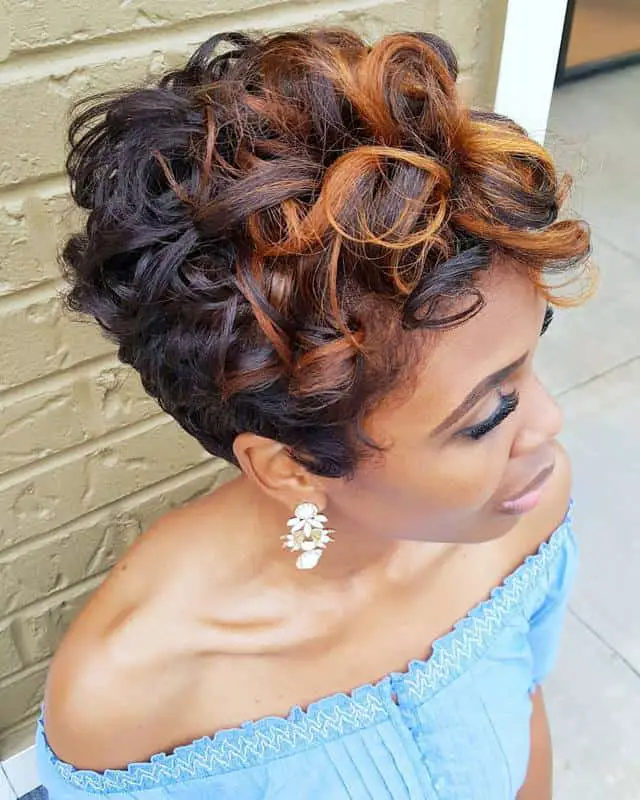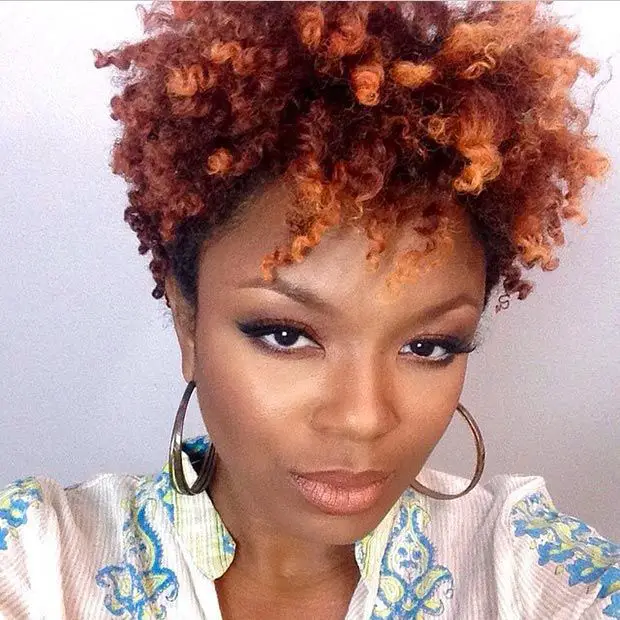 Low-cut hairstyles for black females always had this sense of confidence. These hairstyles do radiate power and self-love. And most of the part of this sleekness is the shortcut, right?
By adding some copper highlights, everything will change, and the effect will be even bolder. Mix some red or copper highlights with the rest of the natural hair and enjoy the result.
Tip: Use a curling iron to mix some big curls and deliver much more dimension to the look. The highlights will appear much more bright once you curl the hair.
Bold Pixie with Voluminous Angled Top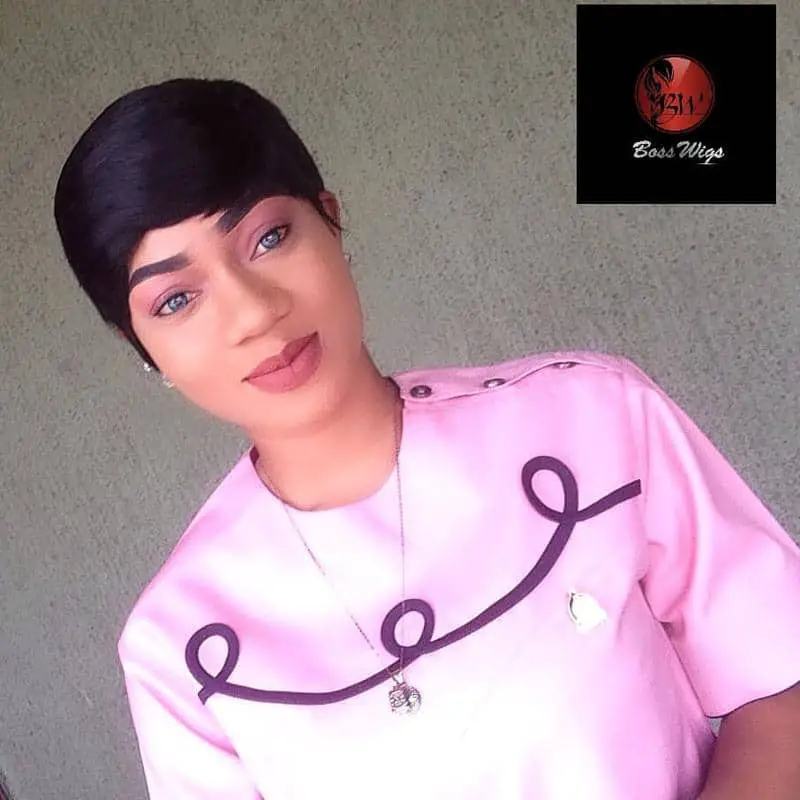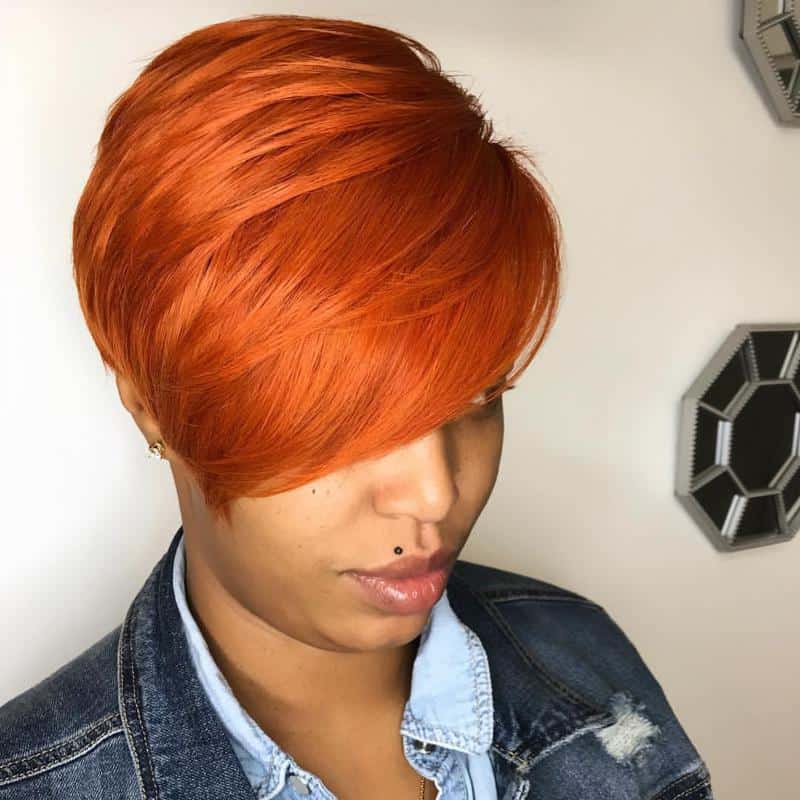 Hairstyling should be fun, especially if the hair is short. Black women have the advantage of great natural hair, so why not go all bold while making the bright hue red? Of course, you can make it even blacker to appear as shiny.
You can choose any other electric shade so that it can suit your style.
Personal opinion: Whether it is a bright red, blonde, even green, or blue, the colors you will choose should showcase a bit of your personality.
Tapered Platinum Cut with Feathered Crown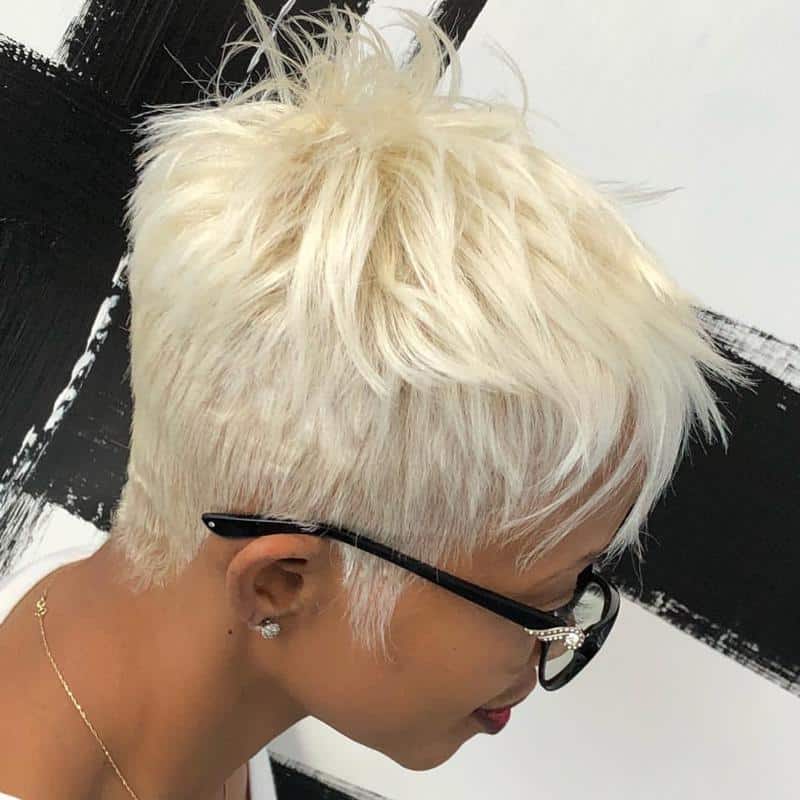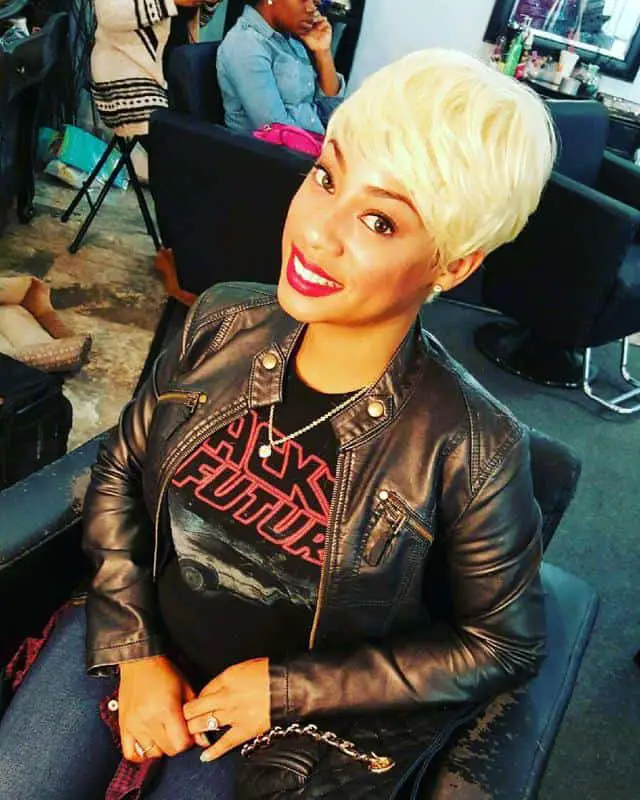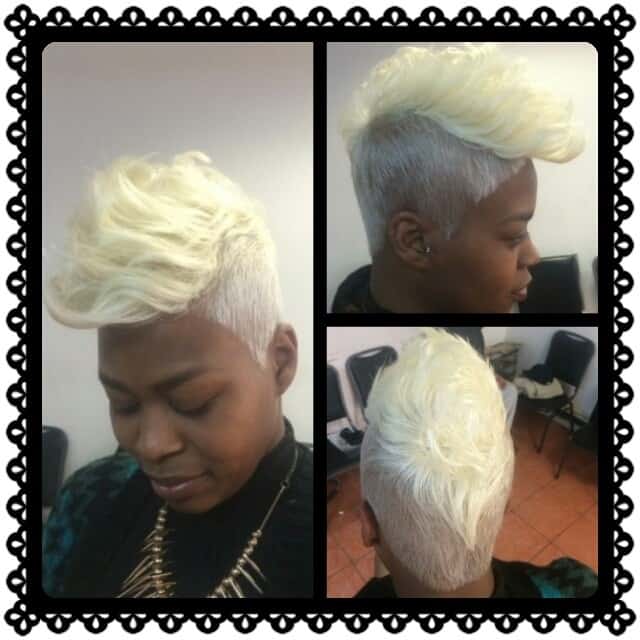 Always wanted to be more courageous and try a block of platinum look? Even black women can adopt this look and get an instant allure. Feather the cut and have a more fresh, modern finish, once also adding much more volume to your hair.
Tip: Be careful with the hair paintings you will use. Considering platinum is kind of a drastic change, this painting might damage the hair.
Luckily, once you have short hair, it is easier to maintain it more hydrated.
Long Top Short Sides Hairstyle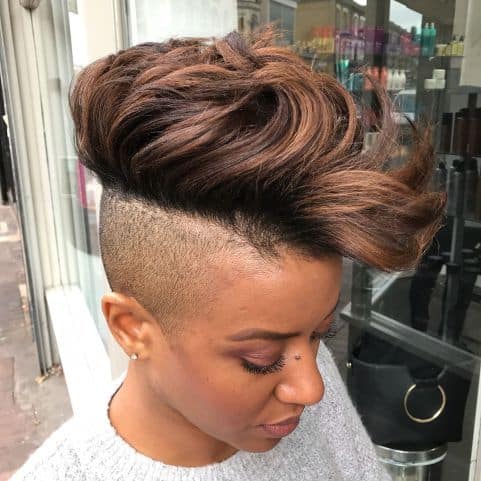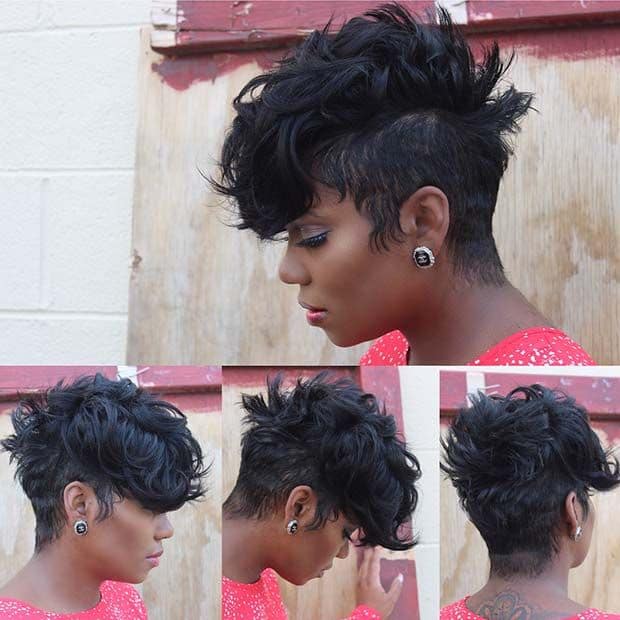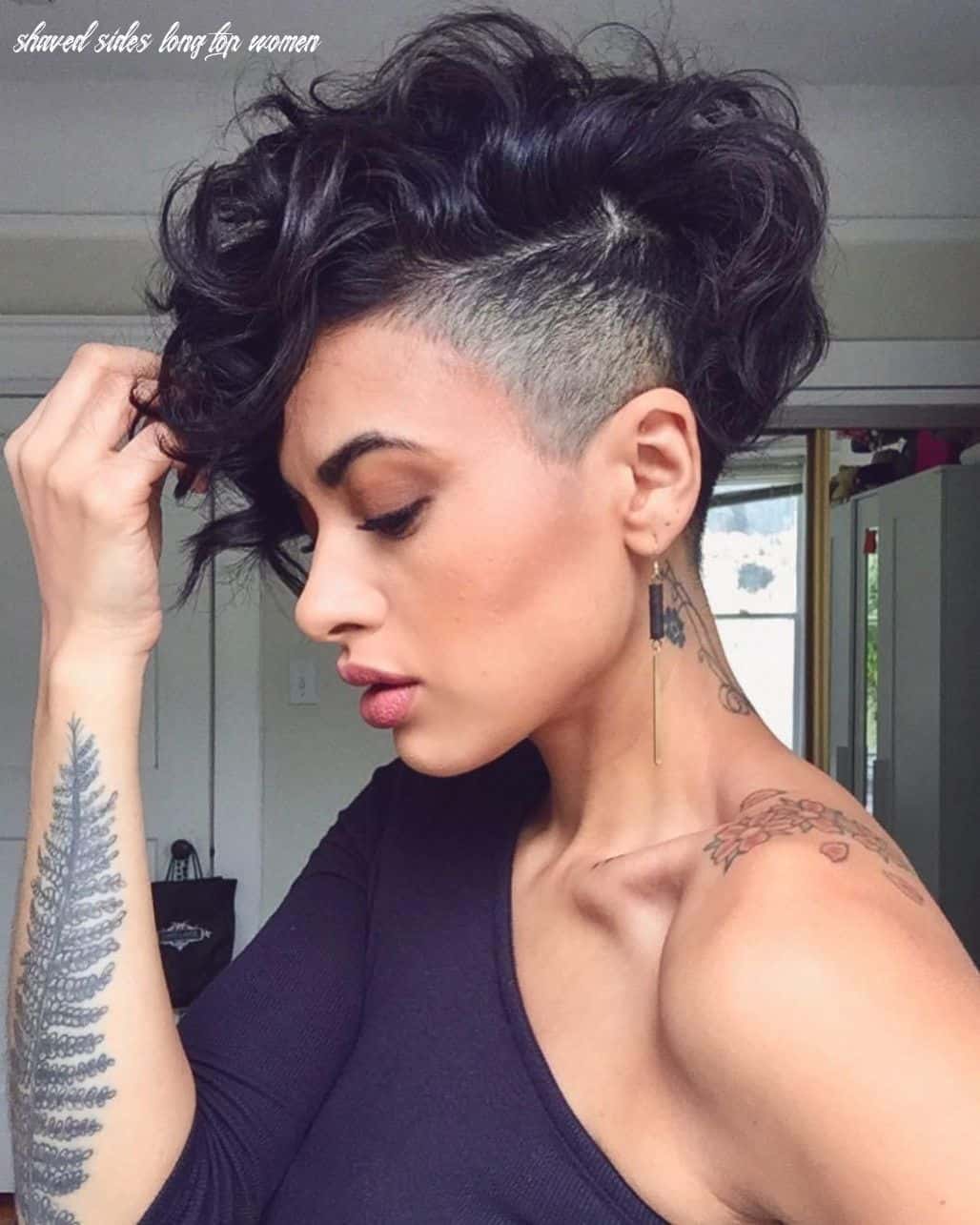 I simply love this hairstyle. Black women should take advantage of this chic shortcut that will always strike with its contrast and brightness.
You can add some twists to this hairstyle by adding some highlights. The result is a more fashionable look. Make sure you pin this look and add it to your list.
Black Hair with Dark Blue Highlights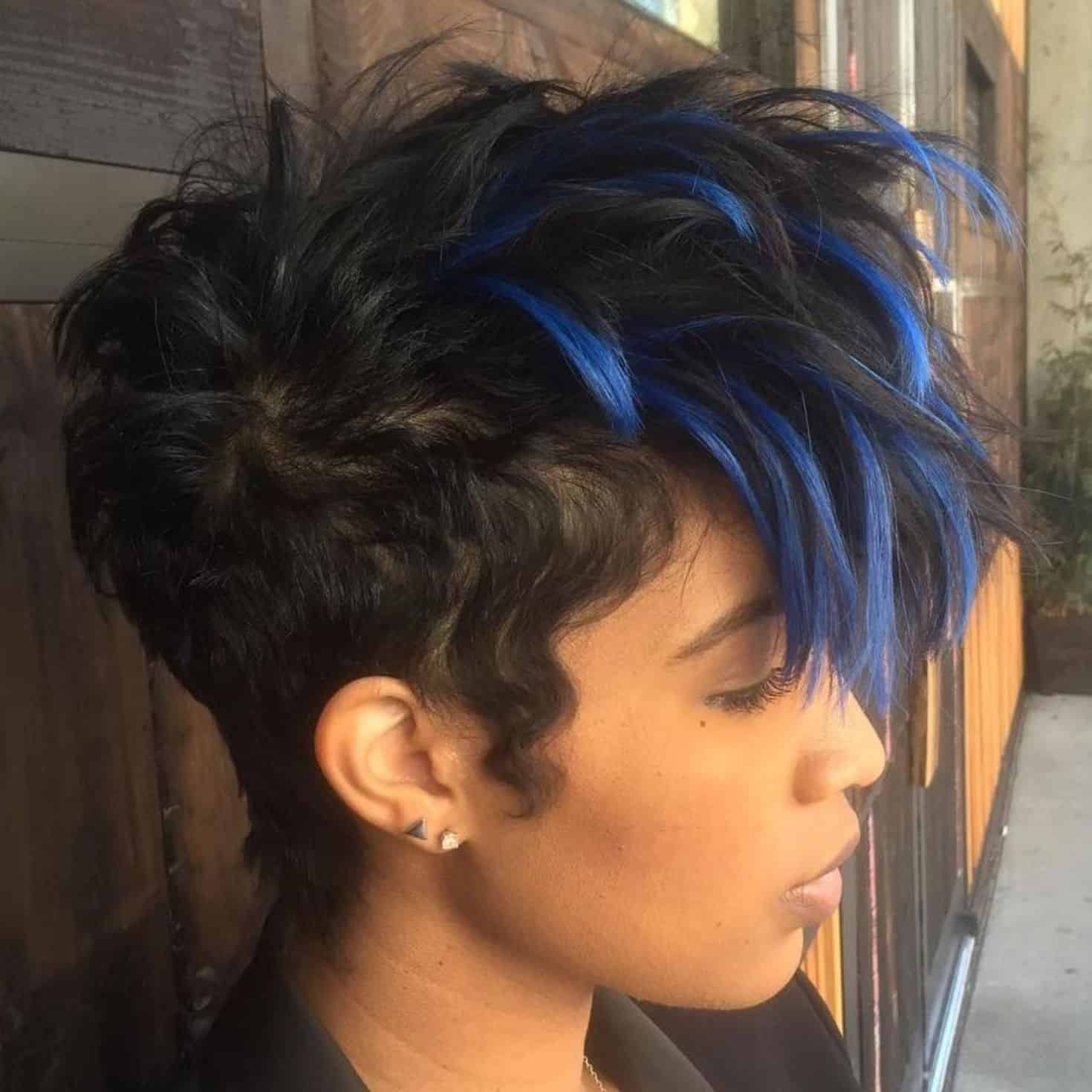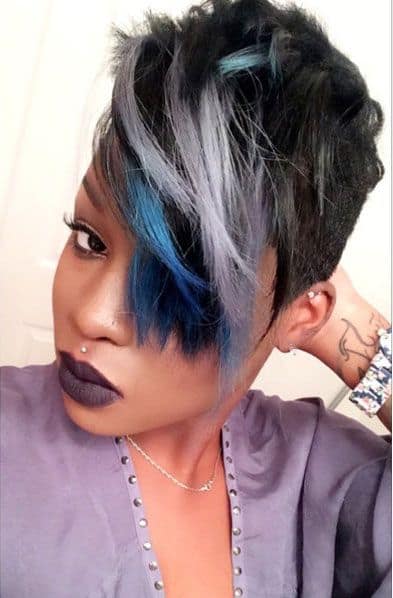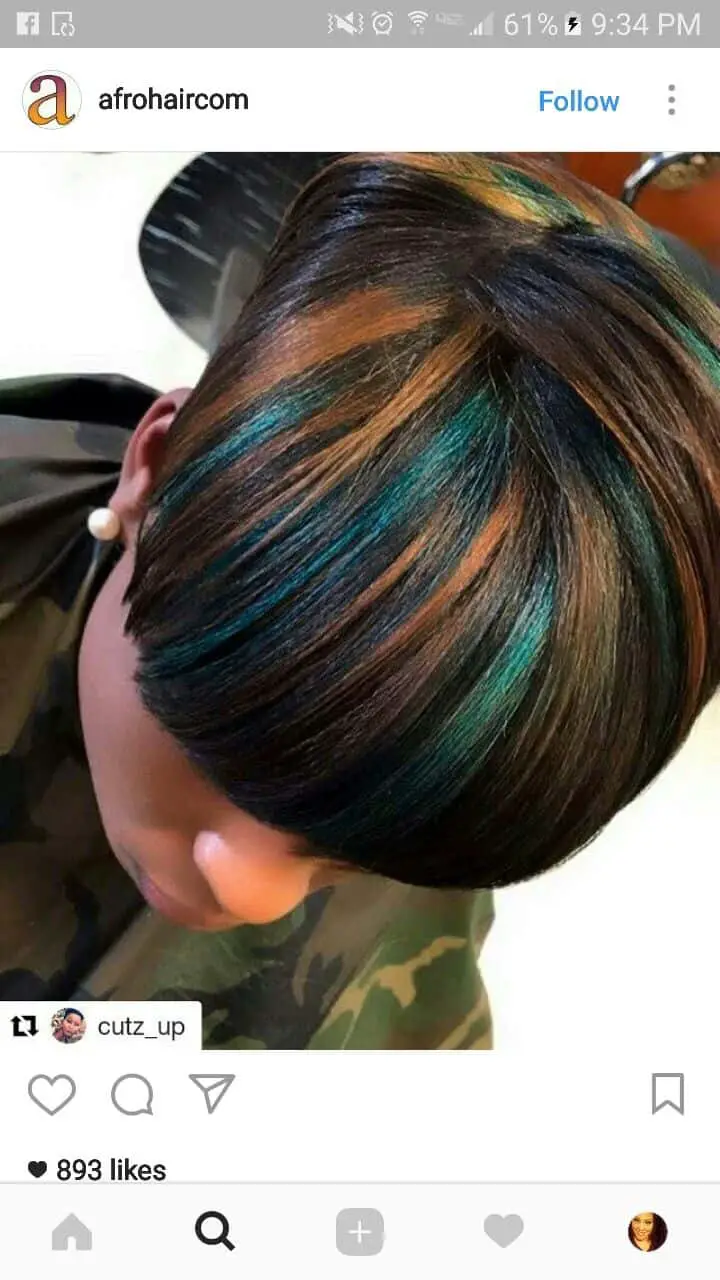 If you think that essential blonde highlights are not enough, consider some bold blue ones.
Personal opinion: These pixie looks are lovely and impressive, so give them a try.
Short Maroon Tresses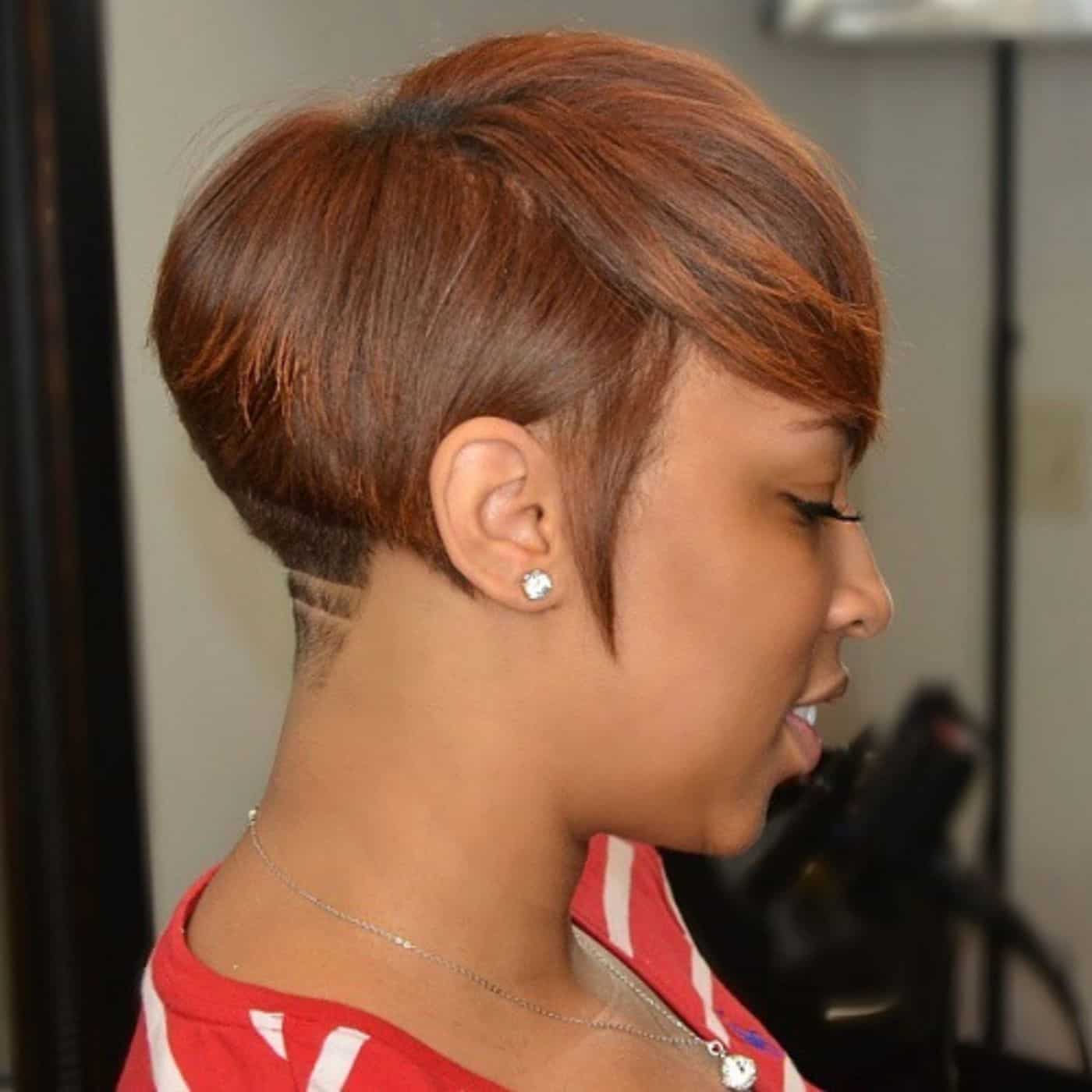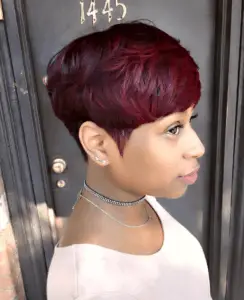 This short natural haircut for black females over 50 and also for younger ones is kind of spunky. The color offers that sparkle that will light up the face.
These short maroon tapered hairstyles are trendy among African American females struggling to style their thicker hair.
Personal opinion: So, if you want to give a refresh to your look, consider a similar cut.
Rosewood Ombre Hairstyle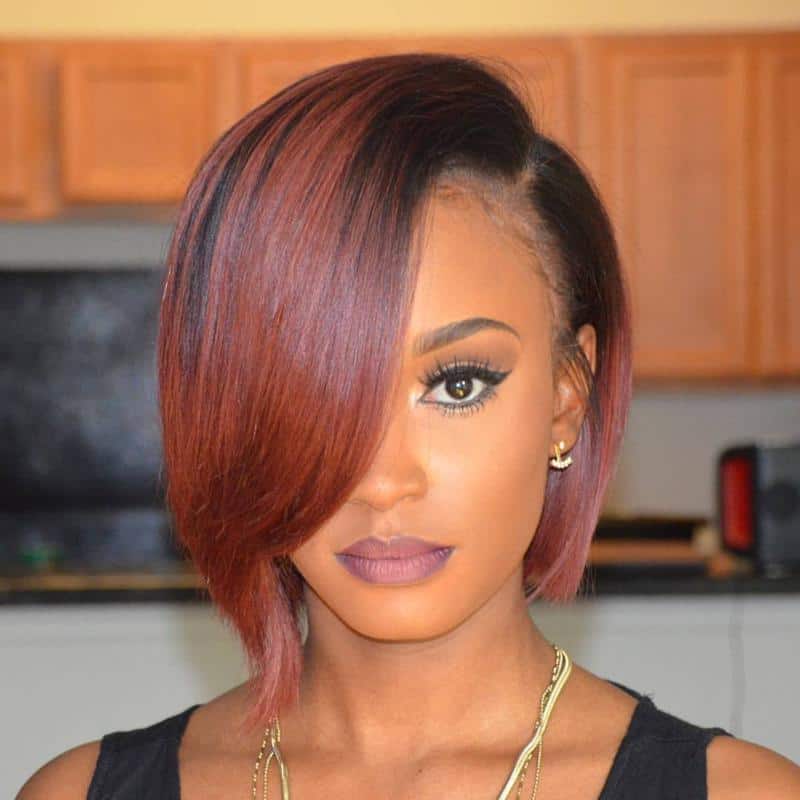 The days with subtle highlights should end if you want to have a bolder look. As such, you can go with the wind and bring out some more color that would suit the dark skin tone. Enjoy this exquisite rosewood shade on your short hairstyle.
Short Dramatic Edging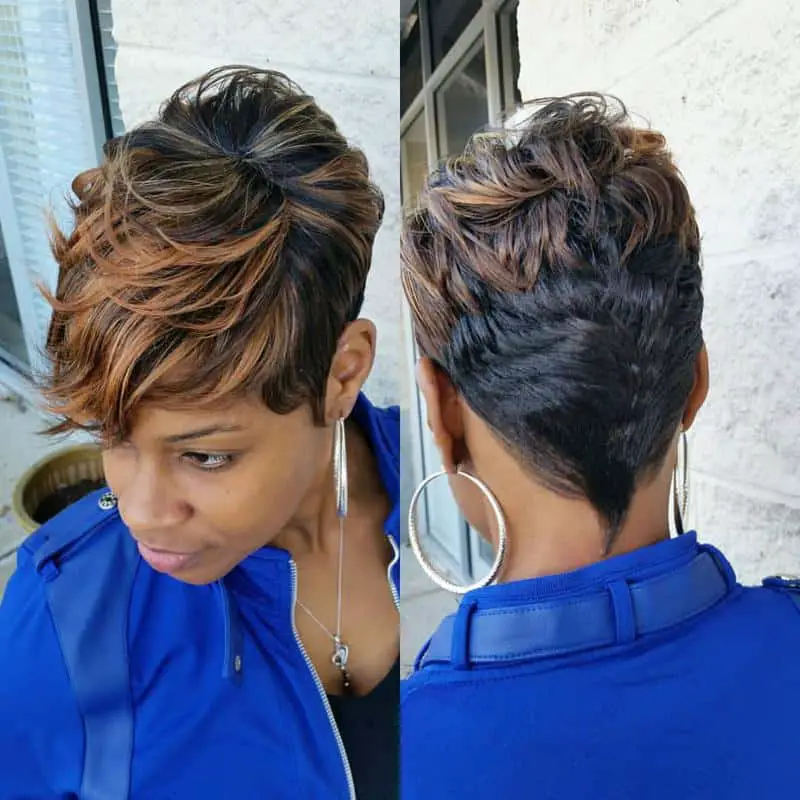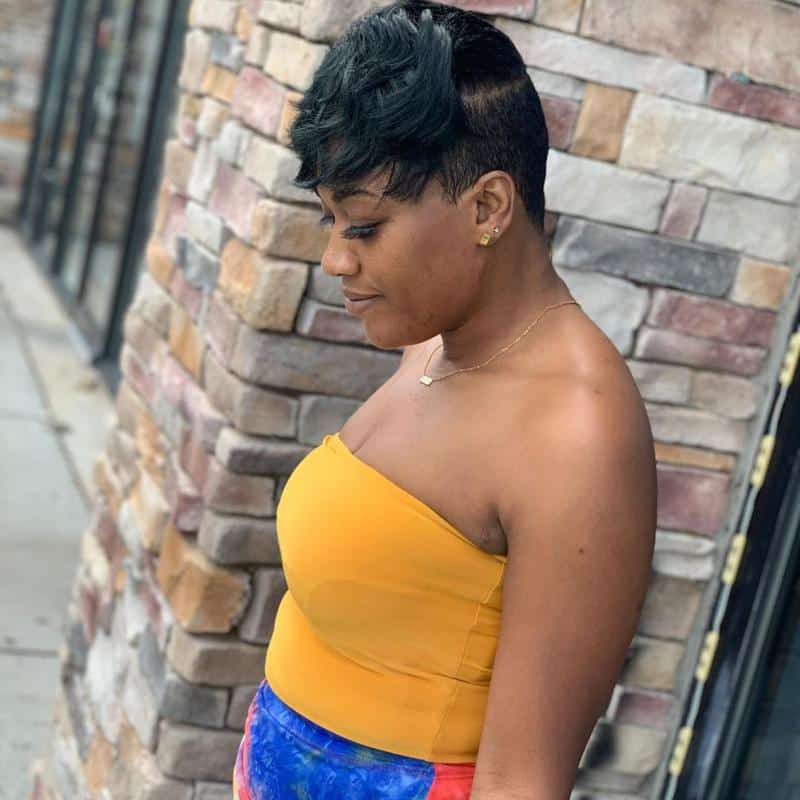 A fantastic hair does not need to be long and has a straight cut. If you like an edge to your hairstyle, you can add some edges.
Personal opinion: This hairstyle features a unique pointed tip at the back. The edges are nicely curved right at the ear line, while the layers are all choppy.
Stylish Bob With A Side Part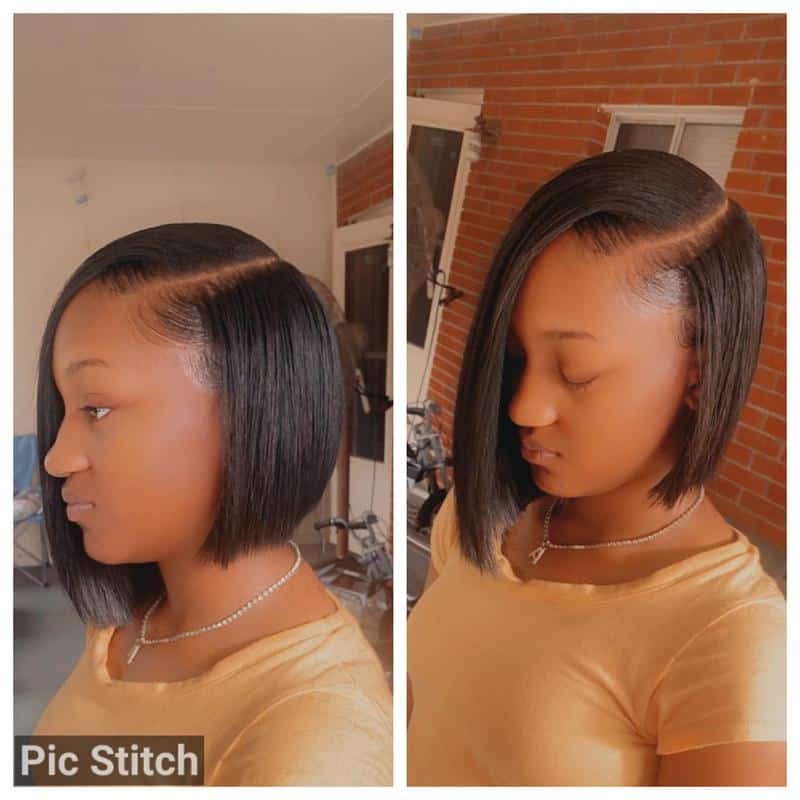 One of the short black hairstyles popular in 2022 is the stylish bob with a side part. Short haircuts can be so trendy once you adopt a side part.
Pay some attention to this styled bob.
Personal opinion: I bet you admire the vibe it brought to these women. However, you should be aware that this type of hairstyle will require careful styling almost every morning.
Fulani Braids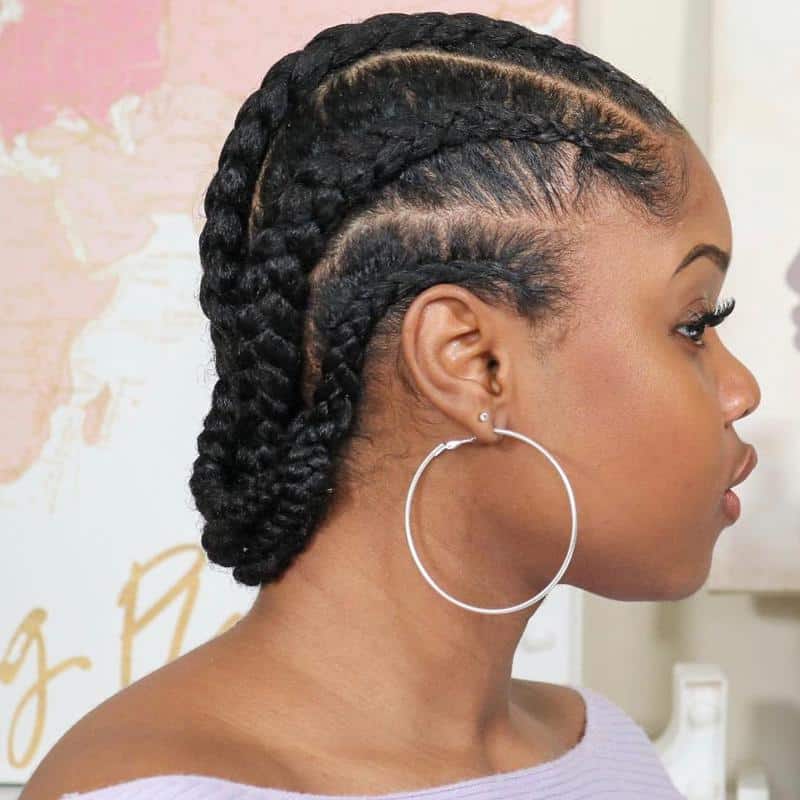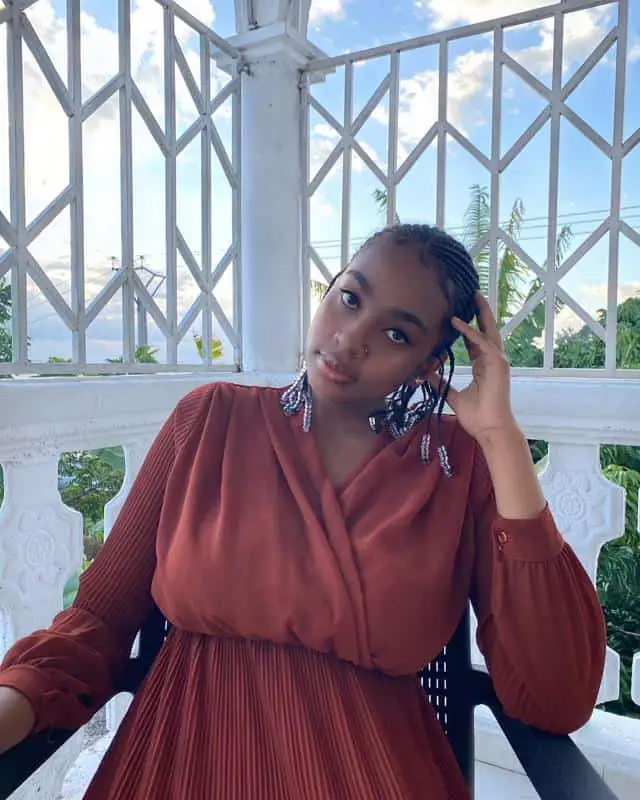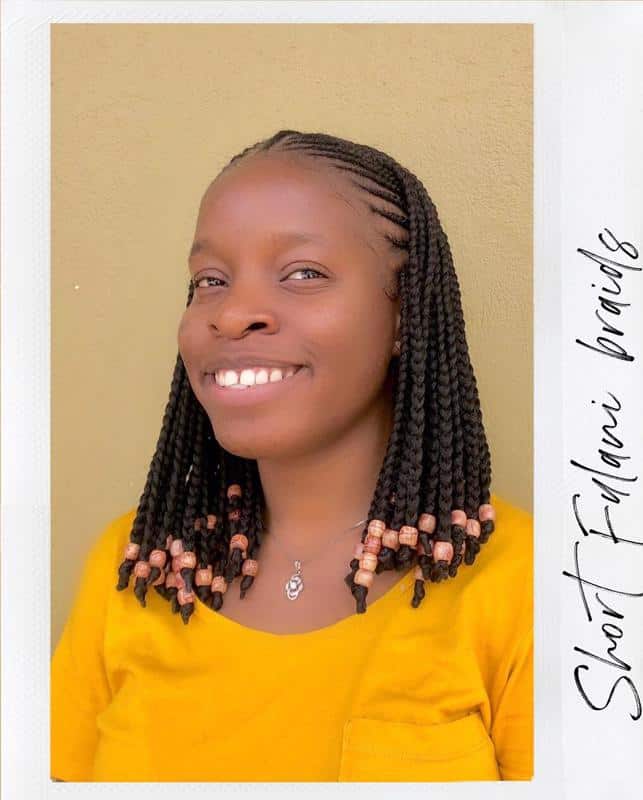 Add an extra touch to your hairstyle with some Fulani braids and also a bit of sparkle to the ordinary hair look.
Personal opinion: Fulani braids are some popular yet convenient ways to look both regal and fun.
Tip: You can add decorative beads if you like.
Spiky Pixie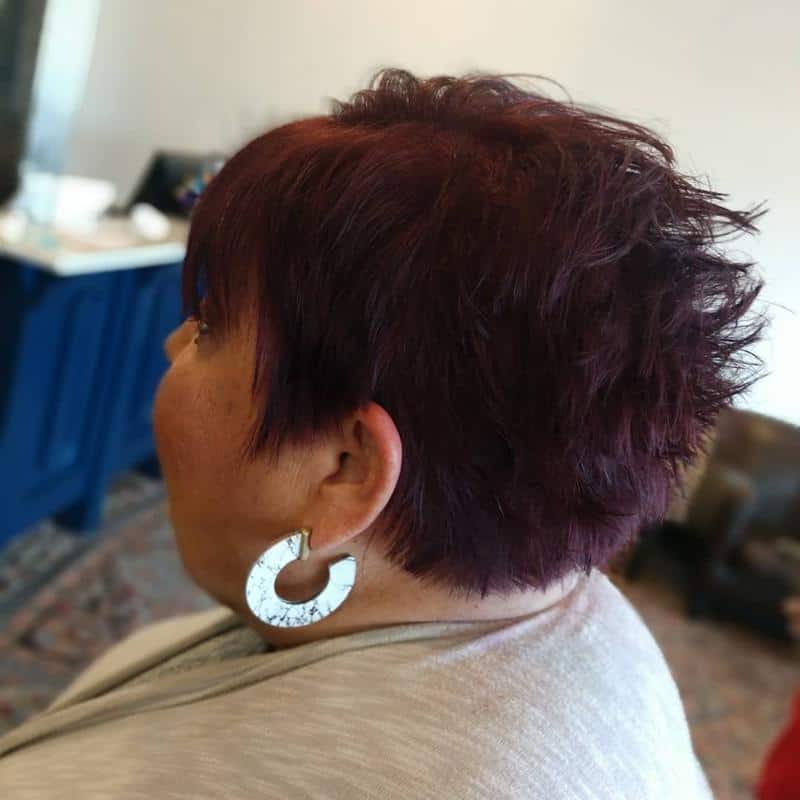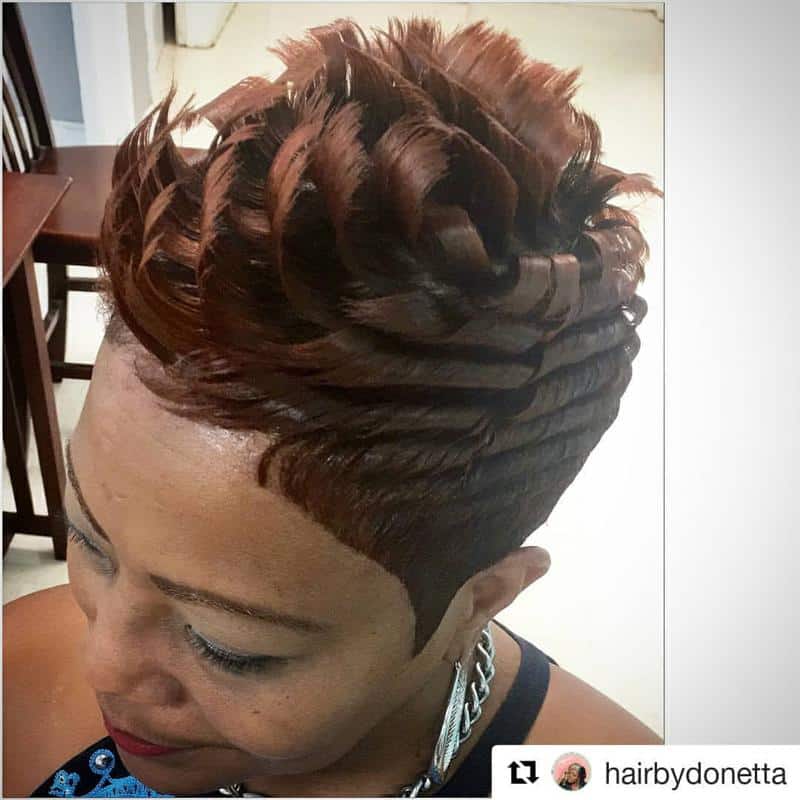 Do you remember the iconic look of Halle Berry? The spiky pixie is a haircut that will help you keep things all simple, pretty, and fun.
Tip: You can add some more shape by curling a piece of hair and using hair gel or hair wax.
Last But Not Least
Black women are privileged for having a hair texture that allows them to adopt so many chic short hairstyles. The options are numerous, from sleek cuts to a pixie or colorful ones. Which one will you try first?
Also Read: