30 Magnificent Toe Nail Designs for Your Ideal Look (2022 Updated)
When you shop through links on our site, we may earn an affiliate commission. This educational content is not intended to be a substitute for professional advice.
We put so much attention into our fingernails to make them as creative and outstanding as we can. But then we forget about our toenails, and let them be too ordinary. It does not matter if you are going out on a coffee with your friends or to some fancy event – every inch of you must look equally exciting.
If you are wearing open-toed shoes, people will notice your toes too. And if you look flawless, you will feel flawless too! Nothing is sexier than confidence! There are plenty of Toe Nails designs 2020, Toe Nails designs 2021, and Toe Nails designs 2022. We went through all of them and collected magnificent toenail designs for your ideal look.
30 Magnificent Toe Nail Designs Ideas
1. White Toe Nail Designs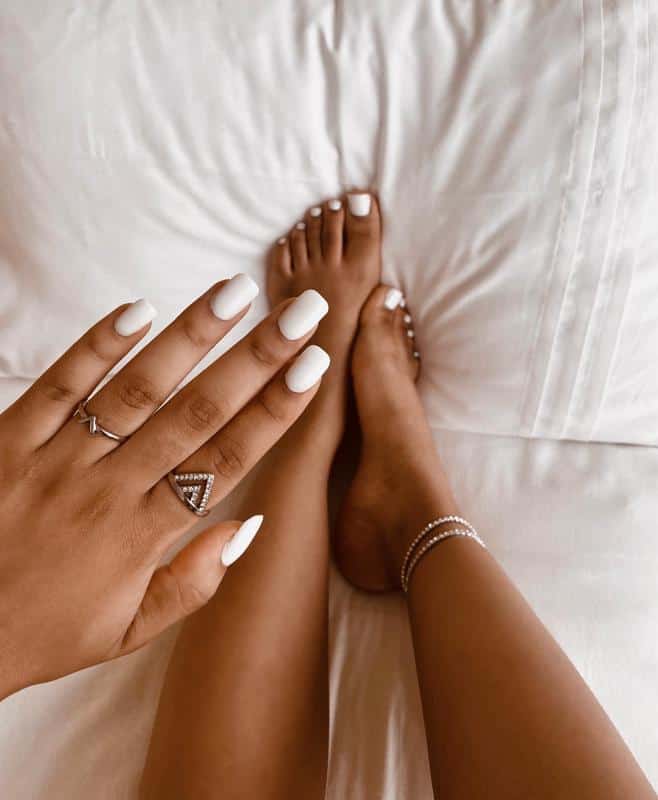 We tend to forget that sometimes beauty comes from simplicity. The same goes for white nails color. It is elegant and fresh. And it will match with any outfit you wear. Some people say it is for spring and summer. But we do not share that thinking: white polish is for every season! Plus, you can wear it for any length.
2. Red Toe Nail Designs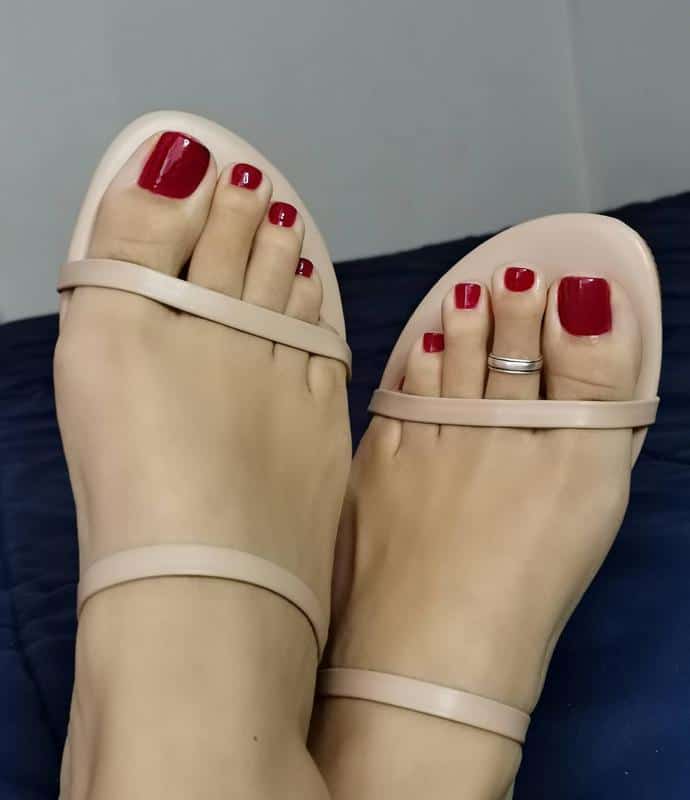 Red symbolically represents life, passion, and love. But also fire or intensity, and adventure and power. It is the most intense hue there is! So, if you are full of emotions of any kind, consider matching your personality with your nail polish! Toenails and fingernails colored in red will always look sexy! Besides, it is one of the toenail designs easy to do by yourself!
3. Peachy Nails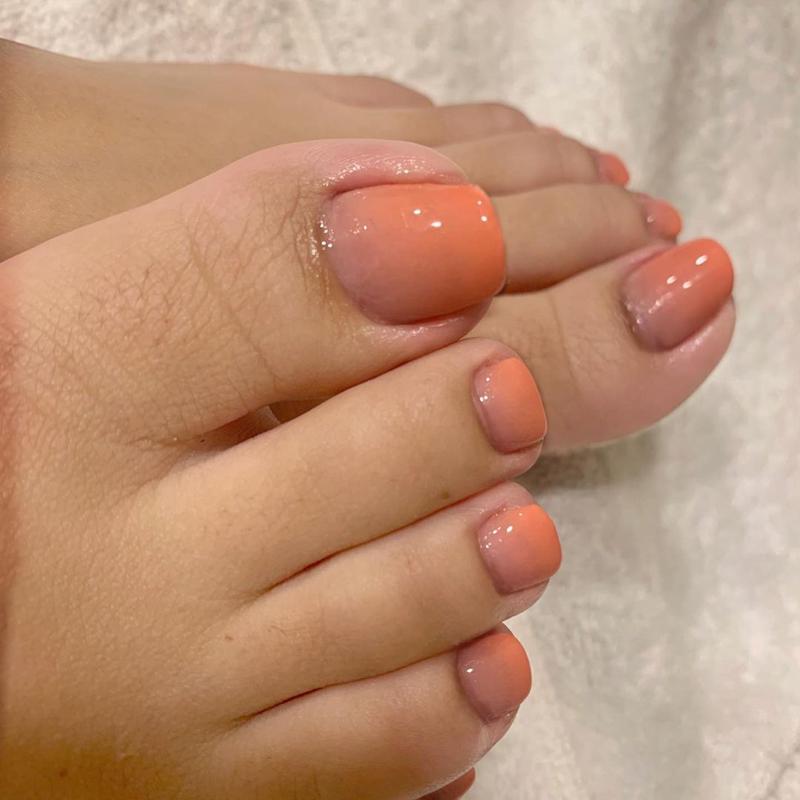 Coloring nails into peach color sounds pretty much peachy perfect. We mean, pretty perfect! It is something like a universal fact: this color fits everyone! Although, it is opposite from red. Red is full of passion, and peach is soft. Thus, if you paint your toenails into it, it will soften your appearance and make you quite feminine. We would suggest you pick a glossy tone!
4. Black Toe Nail Designs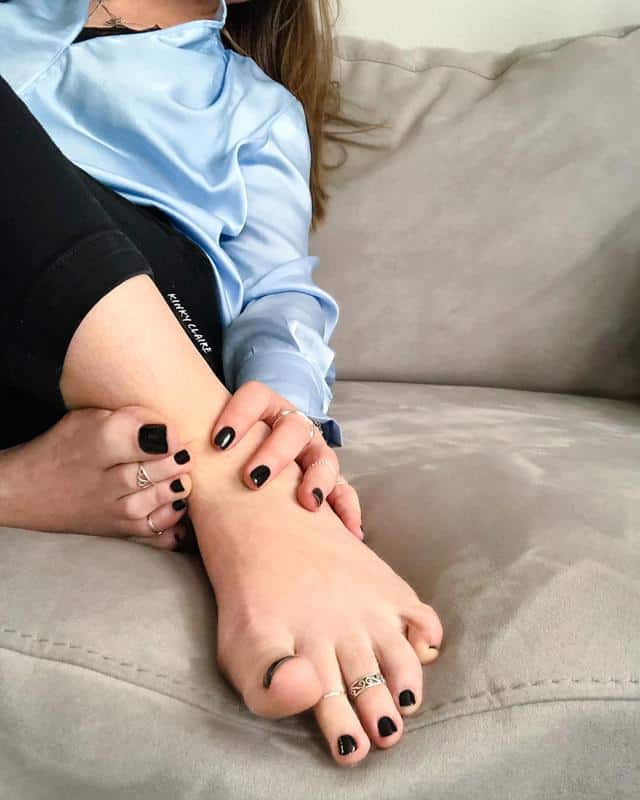 The black color symbolizes authority and confidence. Thus, if you color your fingernails and toenails into it, it will outcast that you are a confident person and born leader. Trust us: there is the psychological influence behind any color! So, the black one will both help you in your personal and business life. And as a plus: you can do it easily by yourself!
5. Chrome Silver Nails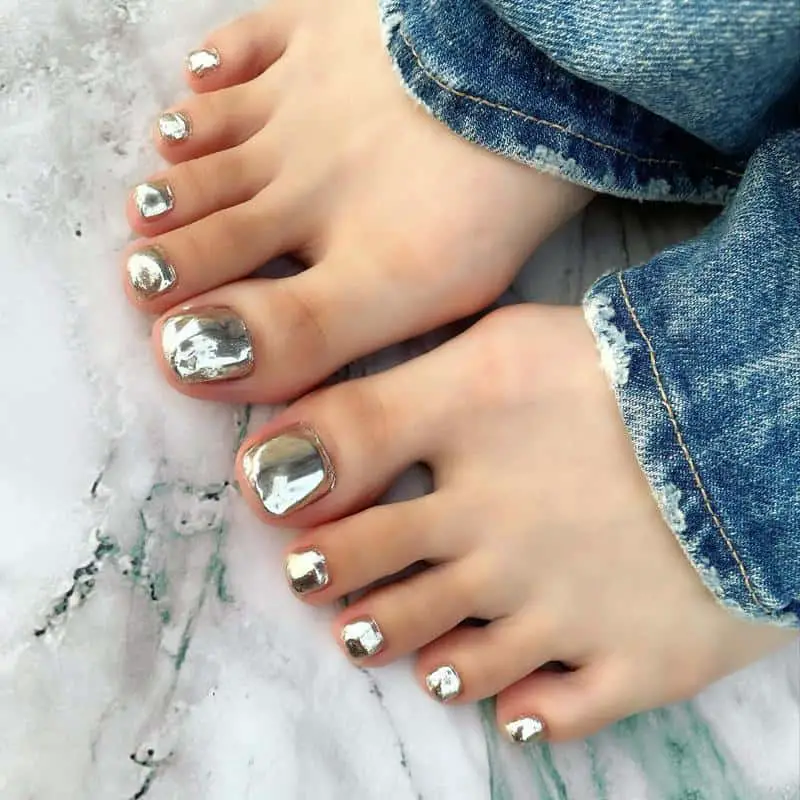 Your manicure and pedicure do not have to match! At least not nowadays! Whoever tells you the contrary is wrong! But, when it comes to silver, we recommend you paring your mani and pedi. Sure, you can match it with light tones of pink, blue, purple, green, and yellow. But something is appealing in pairing your fingernails and your toenails into the precisely same shade of silver! You will be surprised how effective it will look! Also, we would suggest you pick a sparkling silver metallic chrome tint. Chrome is kind of darker gray, and we just love it!
6. Toe Nails Matte Designs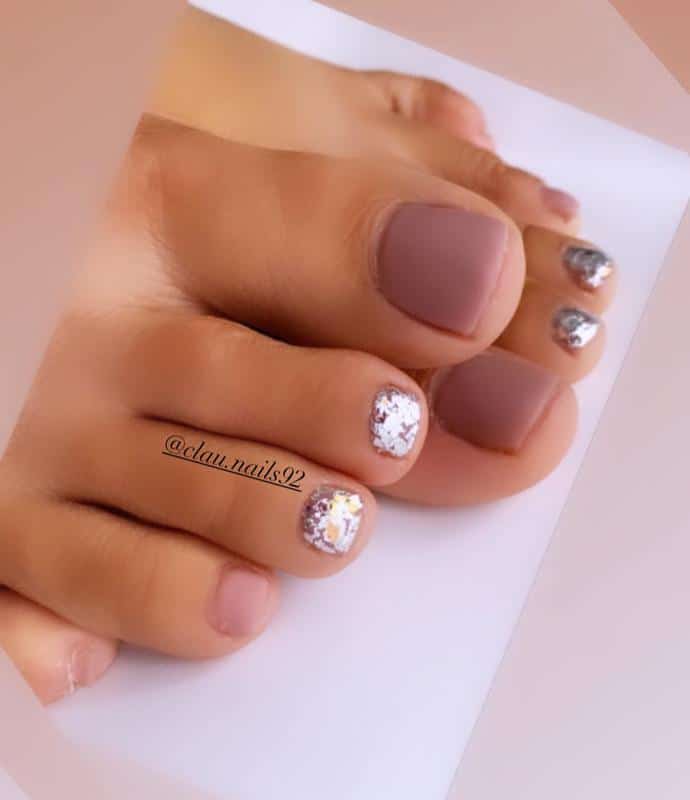 Matte nails are good-looking and trendy. Depending on which color you pick, they can give you a soft or a rebel look. Soft will match with pastel hues and rebel with daring shades.
7. Pink Toe Nail Designs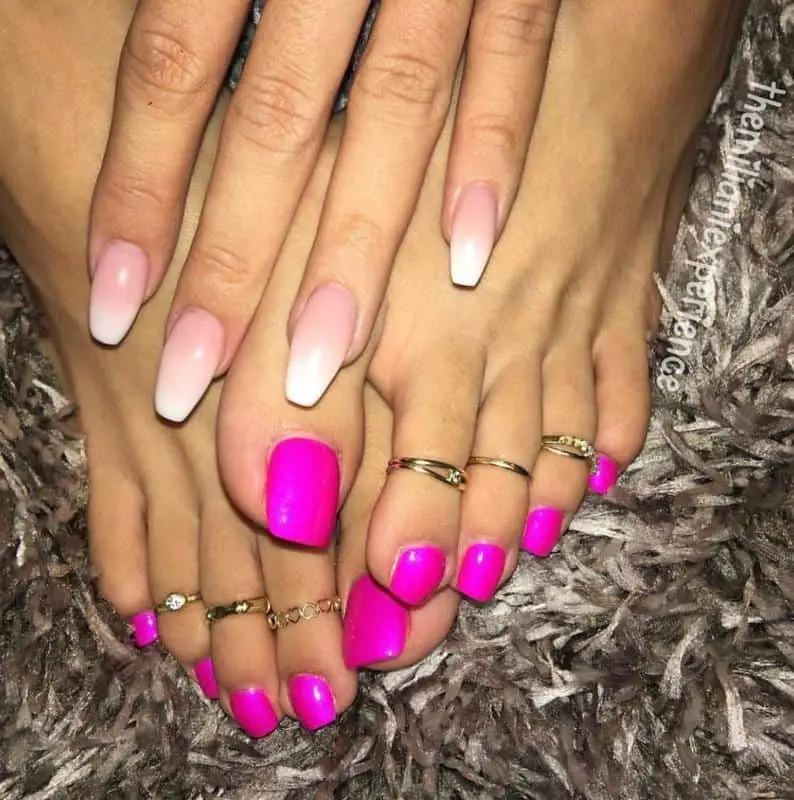 Pink stands for love, kindness, and femininity. Most people compare it with girly, and it is hard to look rough with pink on you. If you paint your toenails into it, you will look gorgeous and romantic. And no, simply as it is, it is never too ordinary and out of style! We would suggest you choose the brightening hue of hot pink. You can match it with a french fingernails design of super light pink and white!
8. Pink or Peach Toe Nail Design With Nail Art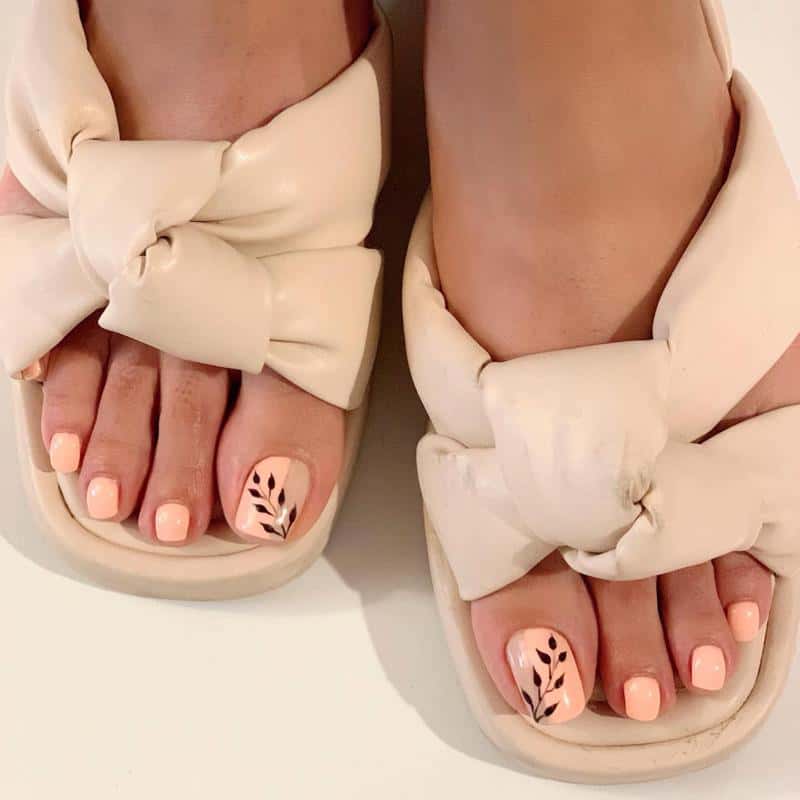 As we said, painting all your toes into pink or peach will make you look romantic, kind, feminine, and stylish. But if you are an artist as well (besides being a soft soul) you might want to add some illustration to it! Bear in mind not to overdo it! It will be more effective if you do draw something on one nail only. We would suggest the big one! You can do it by yourself if you are confident in art enough. What you will need is white nail polish and a nail art pen.
9. Nail Design With Glitter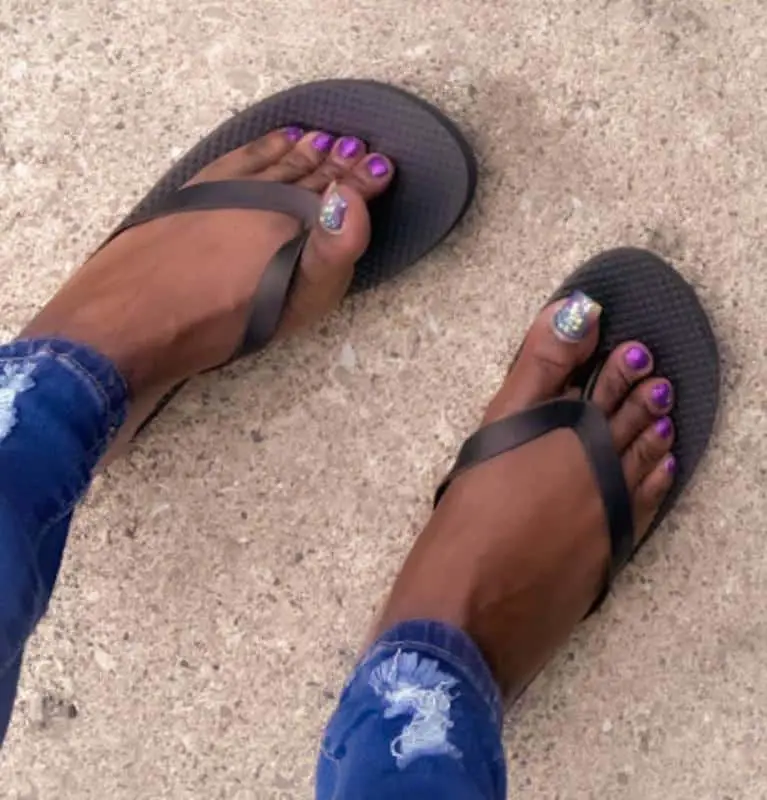 Shinning things are capturing attention like nothing else! Okay, the reason is more than simply aesthetic, but the way that human eyesight is made. So, why would you not add some to your toenails? You can combinate it with any nail polish color. But we would suggest you some color that is not too aggressive.
10. Toe Nail Designs With Rhinestones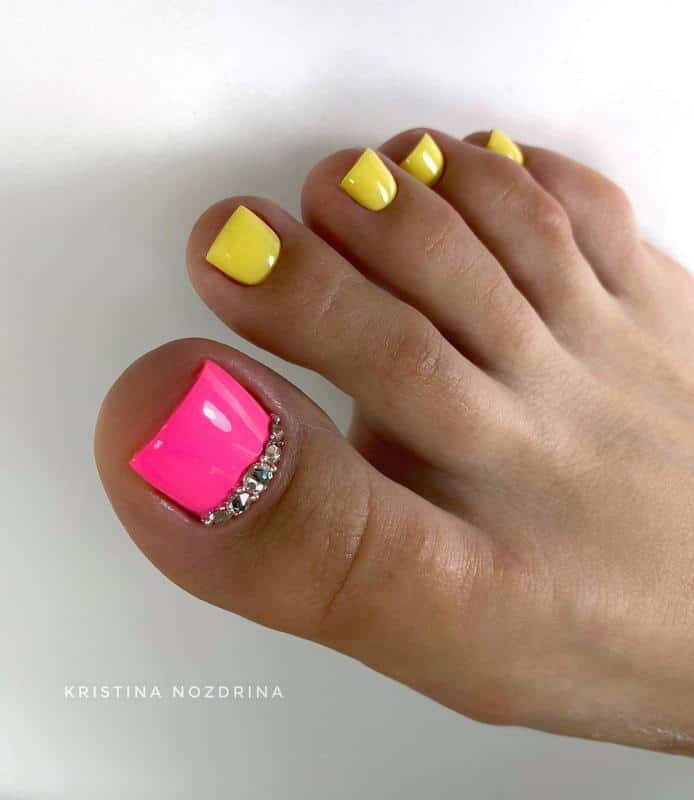 It is always a good idea to shine bright like a diamond. Or at least your toenails could do with rhinestones! But if you put too much of them, you are risking the cheap look. Elegant look means knowing when to stop too. In fact, you do not even need to do it on all of your nails. One is fine too. When it comes to base, you can choose any from nude to bright!
Also Read: Top 36 Stunning Nail Designs With Diamond (2022 Updated)
11. Alternative French Manicure: Pink and Purple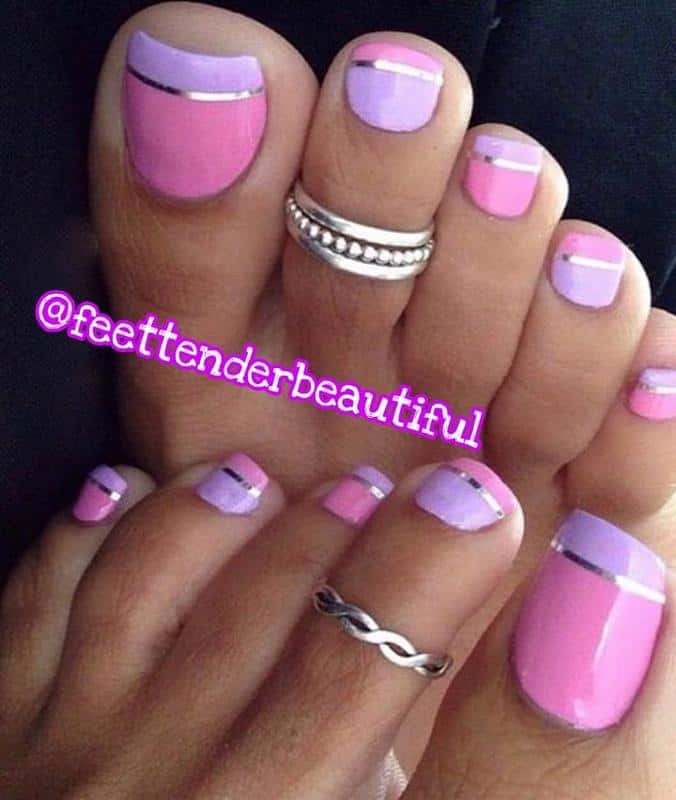 French manicure is elegant. It is the perfect combination of vintage nostalgia and a modern look. We are sure you had it on your toenails and fingernails many times before. But did you ever think of pink and purple? Purple represents peace and independence. And pink represents femininity and softness. So, it is a great way to tell the world that you are a gentle yet independent woman in peace with yourself. We would advise pastel pink on the bottom and purple to be up.
12. Classic French Toe Nails Design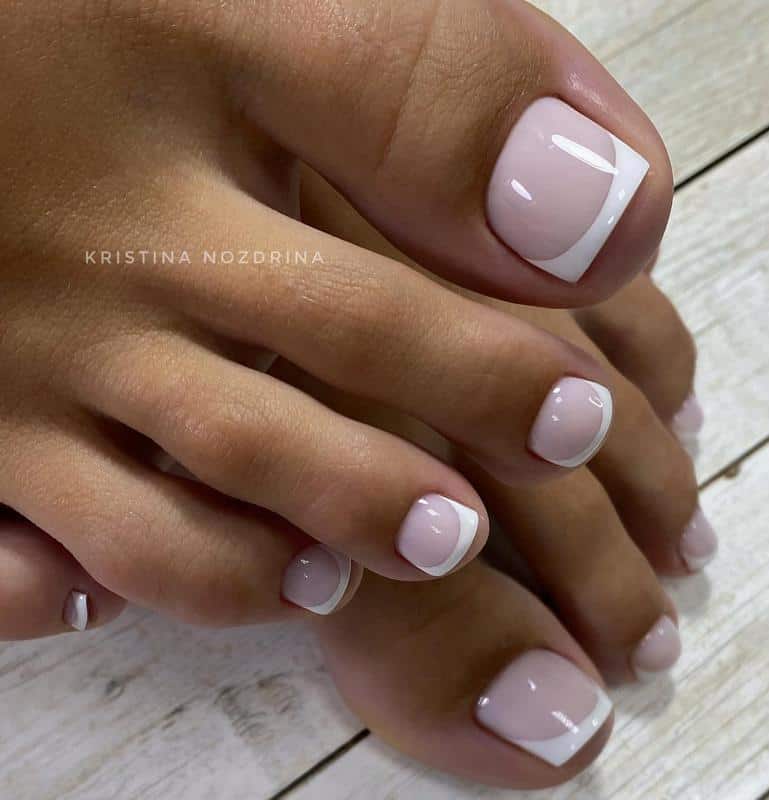 Trends are coming and going. But what becomes classic, it stays forever. And that is how it is with French nails designs- we love them forever. It will make you look elegant. And if you maintain your feet right, it will remain fine for about twenties days. That is pretty good if you ask us!
13. French Tip Toe Nail Designs
French tip toe style is almost the same as typical French pedicure. The only difference is that you need to be careful to keep the line super thin! So, take white nail polish and color it horizontally from one side to the other. Once again, remember that it must be a thin line, so it is just for the tips of your nails! We would also advise picking a quality color that will be creamy and pigmented. And once you have done it, and it is dry, put one more layer.
14. Butterflies Nail Art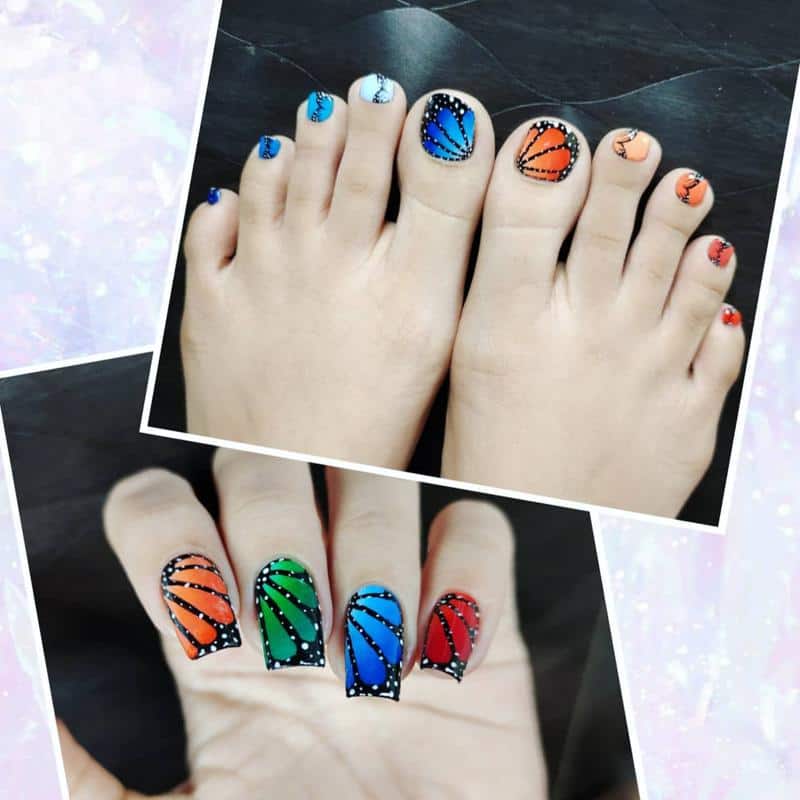 Butterflies are unique creatures that express a new start, hope, freedom. If you feel like this fits your lifestyle, you should paint them on your toenails. Besides, it will look incredibly beautiful!
15. Blue Toe Nails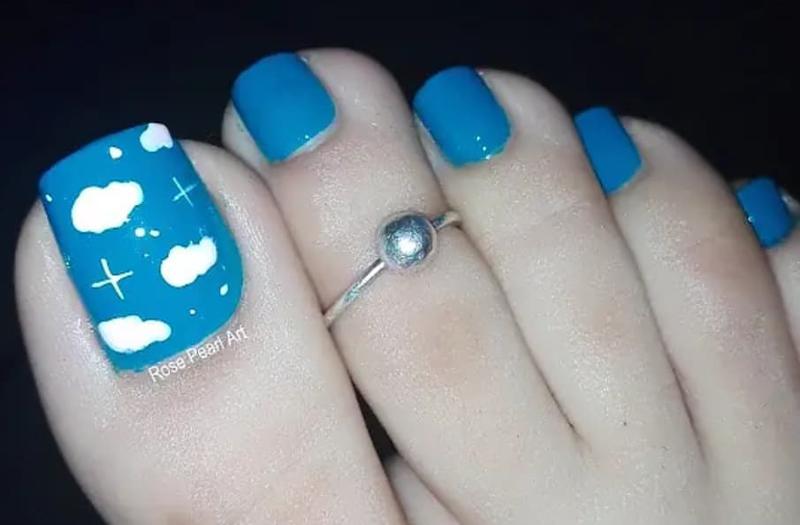 There is no calmer color than blue. Besides, it will fit most of your wearing outfits! To make it extra pretty, paint some clouds on it. But do not paint all of them. It would be more effective if you do it on one of your nails only.
16. Toe Nail Designs With Floral Motives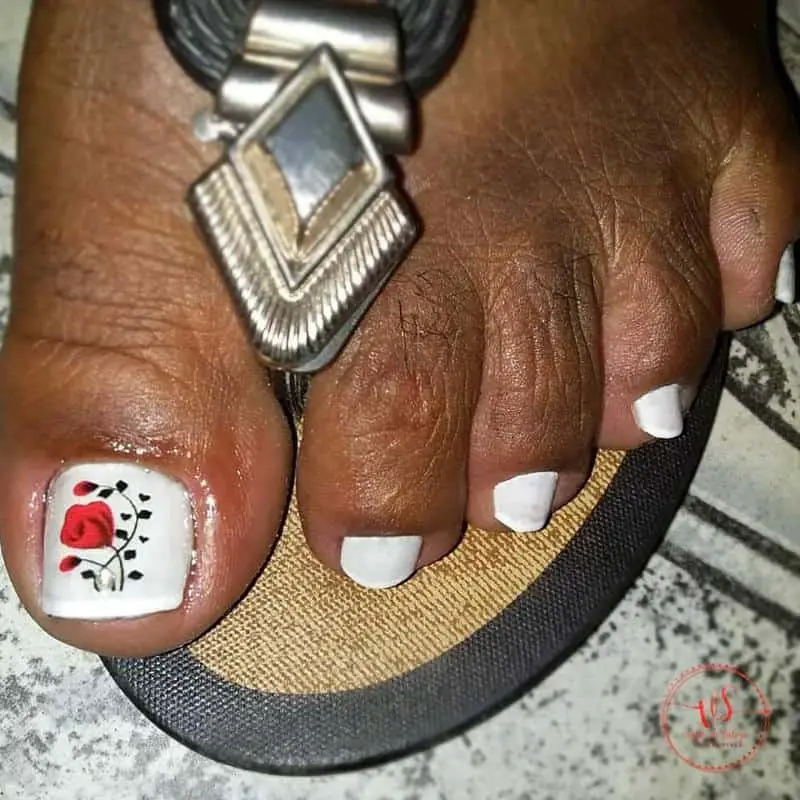 When you think of flowers, what comes to your mind: spring, summer, or both? For us, it is both! So toenails with floral motives will suit you whatever it is spring or summer. Also, it does not have to be too complicated, so do not worry about big art pieces. A few pastel tones, and that it is! Easy, right? Generally, you will look cute. But do no think that it has to represent a soft personality only. Hippies love flowers as well! And they are wild and free-spirits!
17. Toe Nails Designs With Animal Print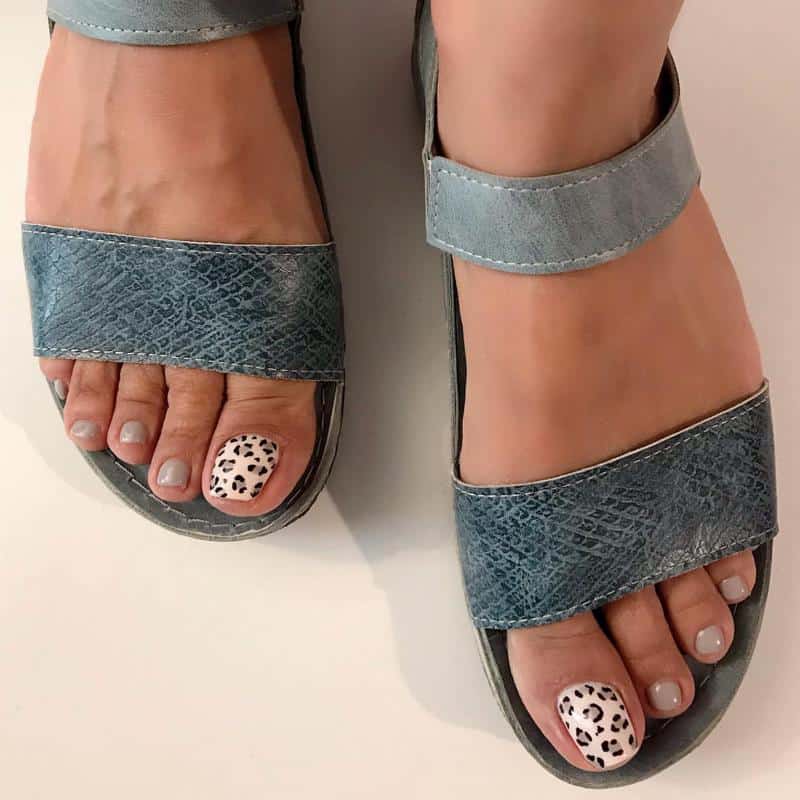 Are you an animal lover? But that huge lover that you cannot imagine the day without them? If yes, did you ever think about putting animal prints on your toenails? It will look entertaining. And depending on which animal you choose, you will look cute or wild. Go for the one that is your spiritual animal! Tigger will tell to everyone they cannot tame you. And if you have a pet, it could represent them. Do you have a doy? Put the paws!
18. Toe Nails Design With Fruits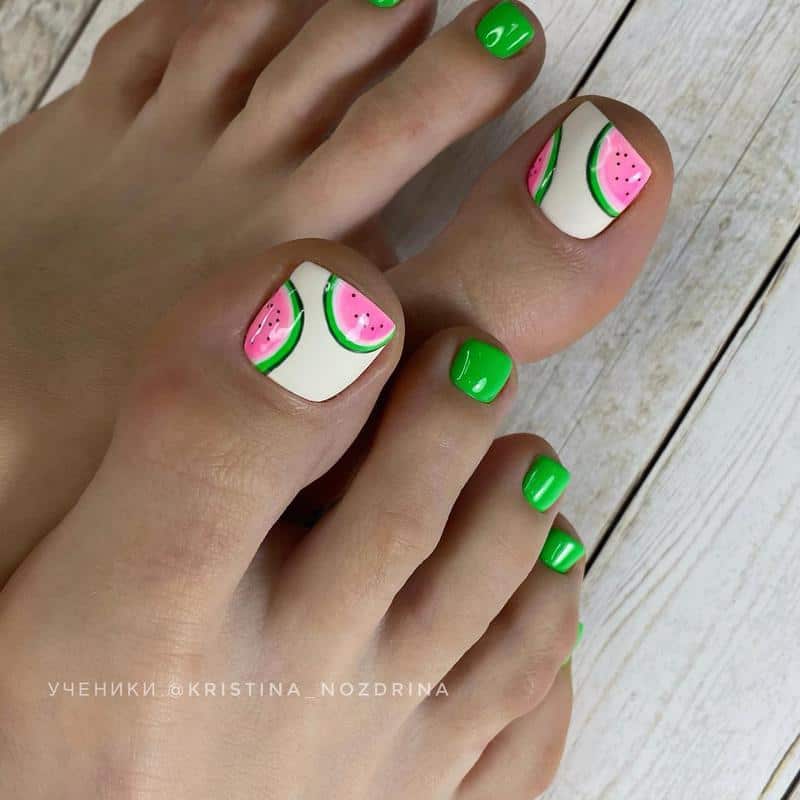 Fruit print on your toenails will say that summer is knocking at the door! Ananas, kiwi, banana, watermelon – pick your favorite! And then add it on the nude or exotic, colorful base – either will fit!
19. Abstraction Toe Nails Art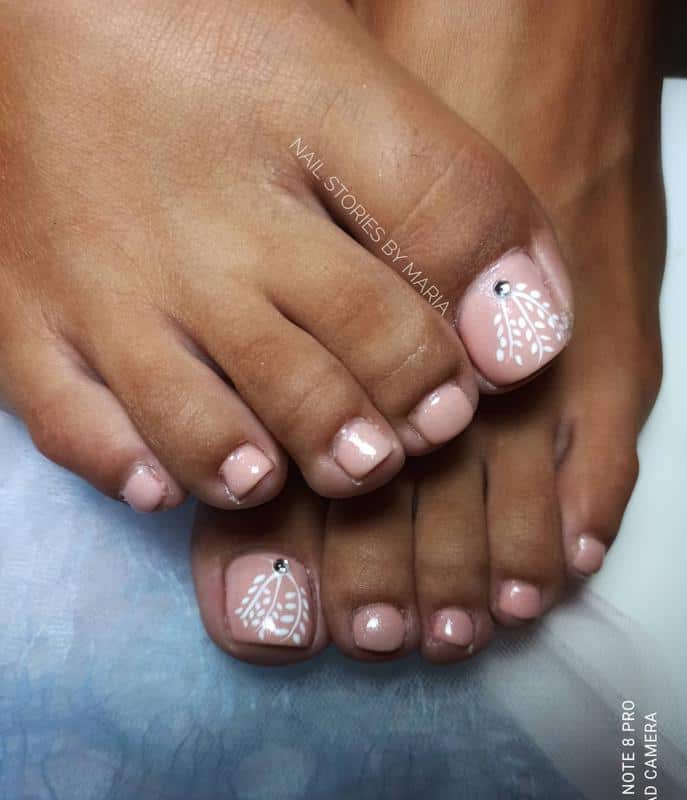 Do you believe you are completely different from anyone else? Are you the artistic soul with your own story? Is your imagination broad? If you answer with yes on these questions, your future toenails design should be abstract nail art! Abstract art is like exploring unknown areas. It is freedom without a limit. So, that is how people will see you!
20. Tribal Toe Nails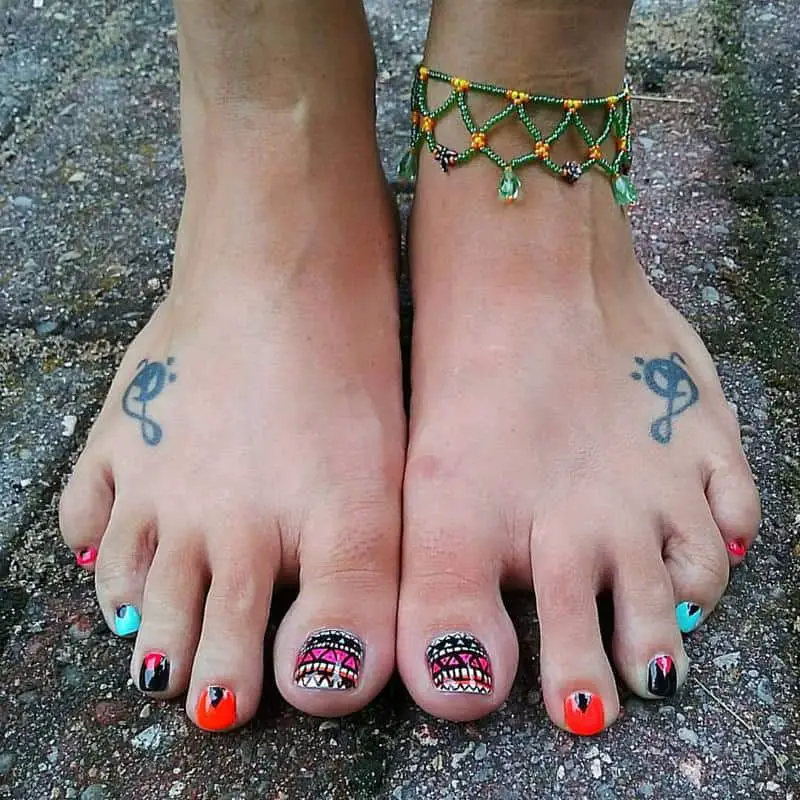 Tribal nail art will give you an original and chic style. Besides, they will allow you to show your avid side, like nothing else! But, to make it extra personal and fun, do not merely put any tribal. Look for the meaning. Each tribal illustration has a different signification. It could tell a story about your achievements or other personal traits. Or to express power, strength, or protection.
21. Nail Toe Designs With Geometric Prints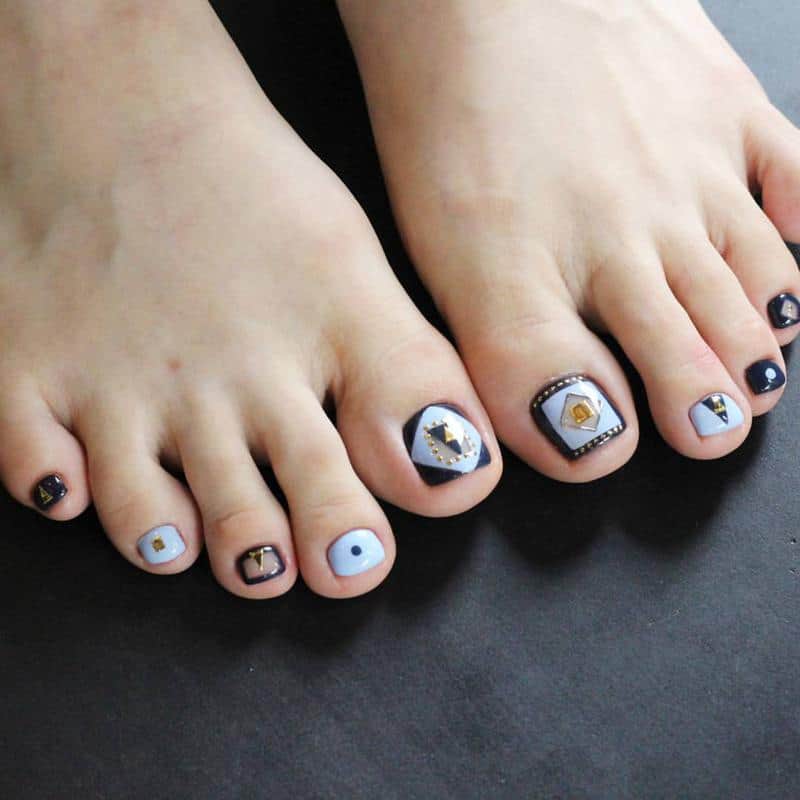 Adding a geometric pattern to your toenails will bring both elegance and simplicity! Besides, geometric patterns are introducing the now, or the present time! So, you will seem like a person who lives in the moment. You can combinate any colors and lines you want!
22. Toe Nail Designs With Lines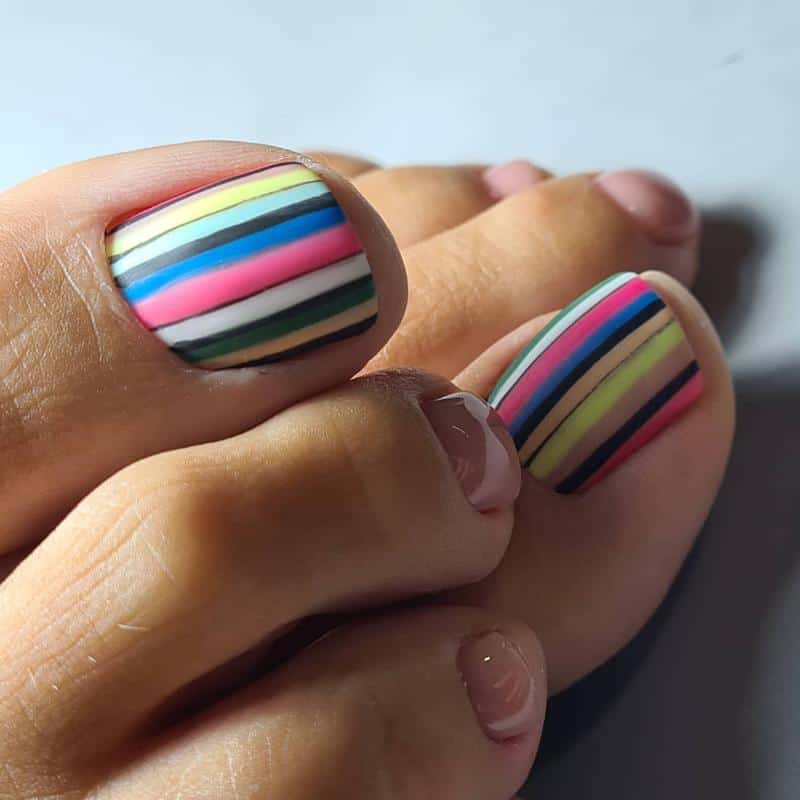 Draw some vertical lines and horizontal lines on your toenails, and you created stripe art! Do it as creatively as you want by choosing any shapes you prefer. And do not worry, it is simple for newbies too! The result will be super cute and breathe taking!
23. Dotticure Patern Toe Nails Design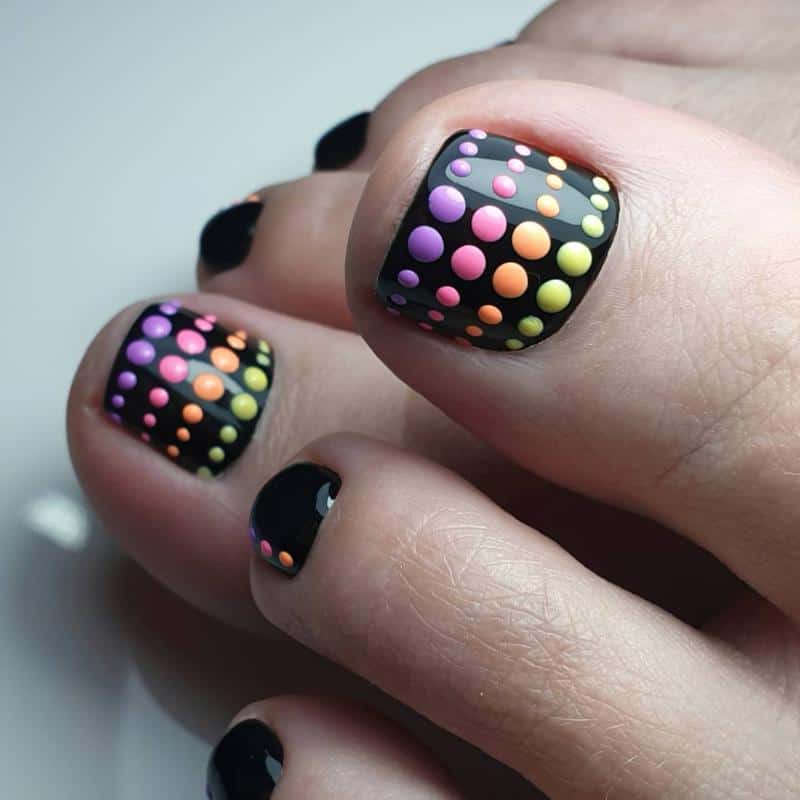 Dotticure is frequently underestimated because people think of it as something simple. But if you look closely at it, it is not so easy to do it! Besides, it looks lovely, and it matches different fashion outfits! No matter if you are a princess or a punk, dotticure can find a home in your style! You could either put a grouped dots across your nails, or you could sprinkle them all over. Either way, we consider it as a cute toe nail design!
24. Spring Toe Nails Designs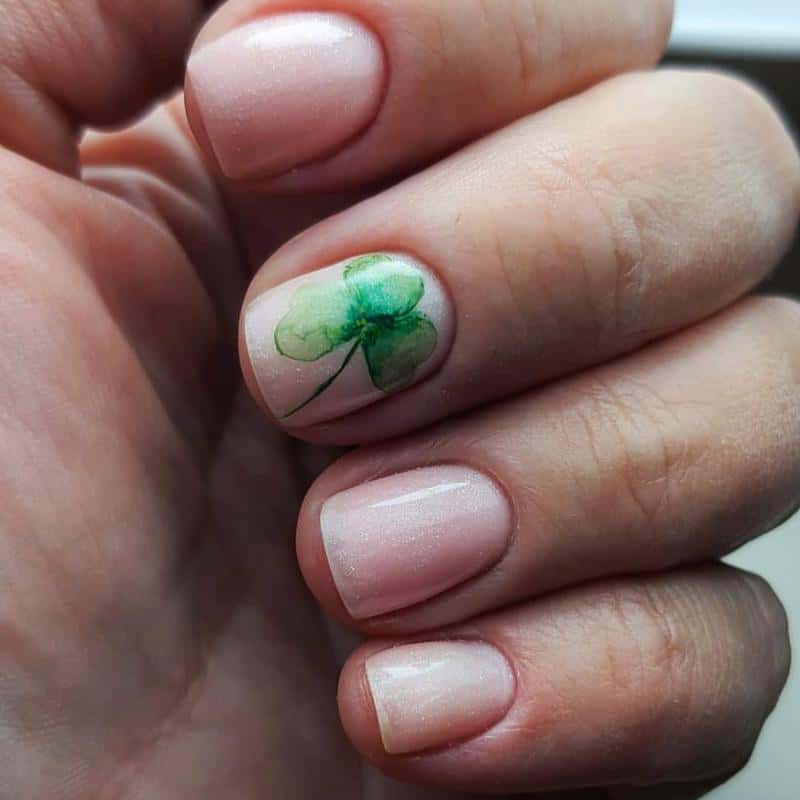 Spring represents joy, love, and youth. It is the time of renewal. So, it is no wonder we all cherish it this much! If you look for spring toenails designs, you could honor some celebrations like Passover or Easter. Or you could put a symbol of spring, for example, clover!
25. Toe Nails Designs for Summer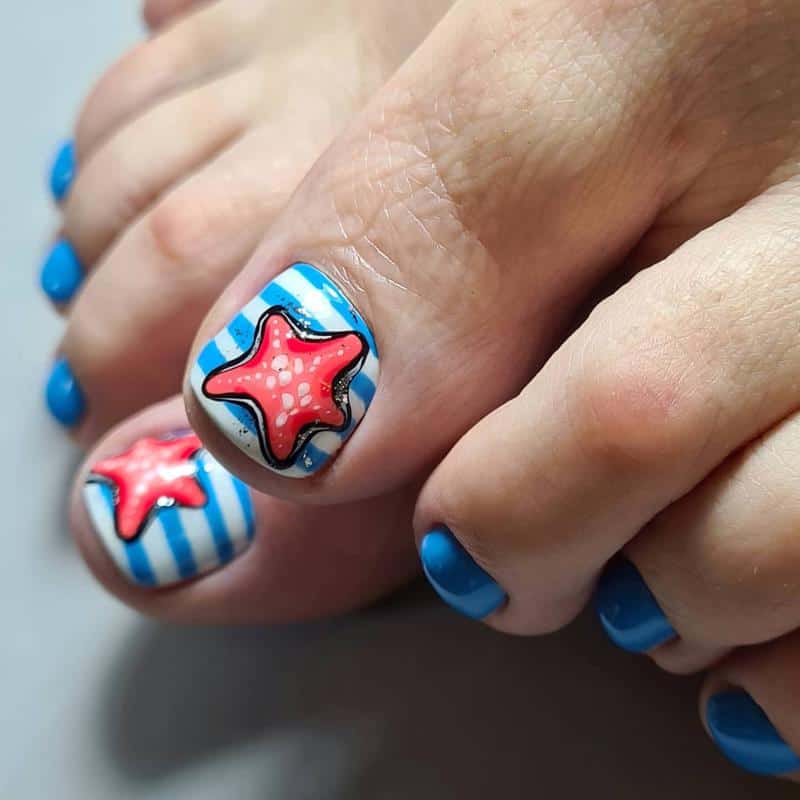 Summer expresses optimism, hope for the future, and satisfaction. It is like a scream that tells us about awaiting opportunities! And also, it is time to go to the beach and jump into the sea! Thus, is there a better way to honor the summer than with charming sea illustrations? Only be careful to pick the right combo of the pattern and color. If you do the correct match, it will look extra sweet!
26. Fall Toe Nail Designs
Autumn typifies maturity and prosperity. But it also has some romantic connotations. Can we all remember Autumn in New York? It is old but gold! As you are assuming, autumn nail toes designs imply leaves!
27. Christmas Toe Nails Designs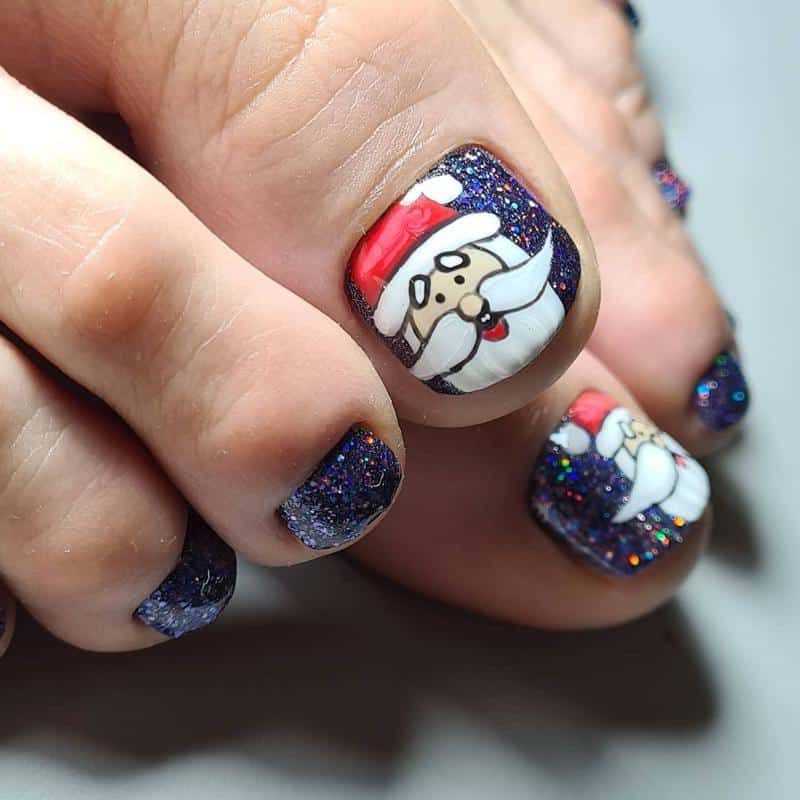 Christmas brings the feeling of warmth and unlimited happiness. Even thinking that it is getting near puts us in a cherished mood! And do you know those Christmas sweaters that we all love to wear? They are adorable, do you agree? But why would you not do the same with your toenails? Santa Claus print on the toe? We love it!
28. 4th of July Toe Nail Designs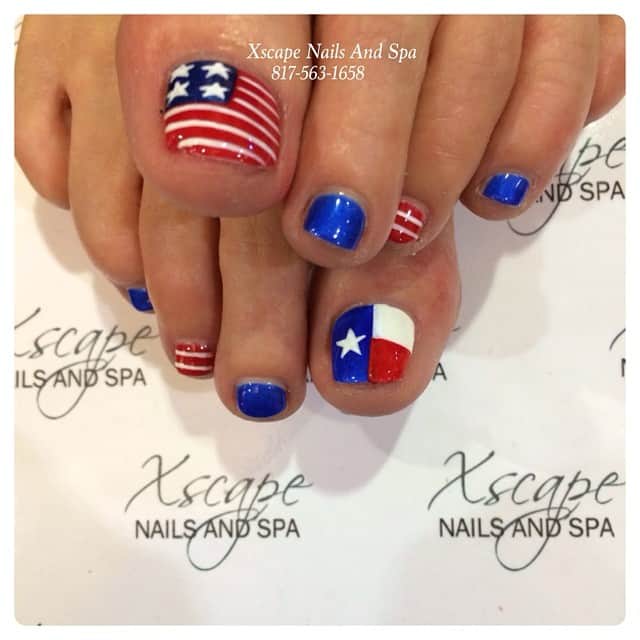 Independence Day is a day loaded with patriotism. We are putting American flags everywhere where there is a space for it! So, why not on your toenails too? Paint a flag there and walk around with pride! Or alternatively, paint a firework! And celebrate what we oftentimes take for granted – freedom.
29. Pride Toe Nail Designs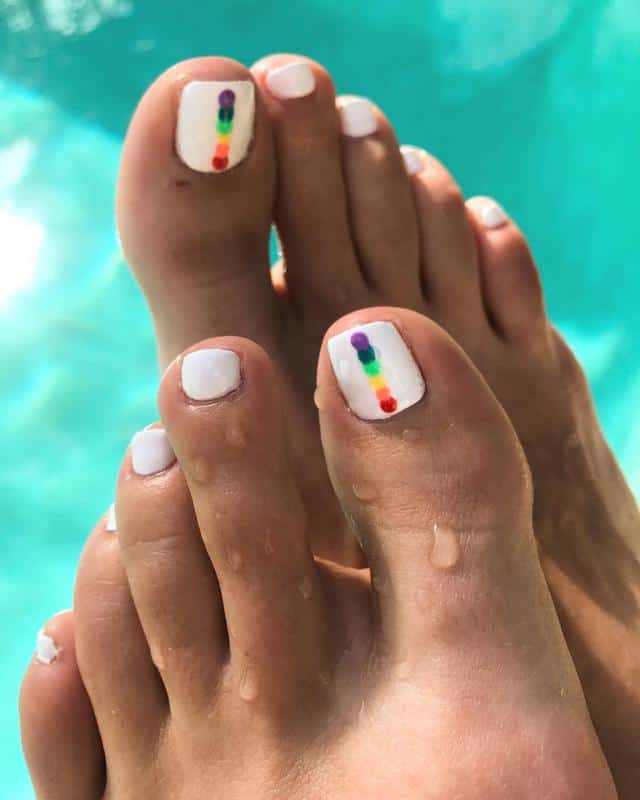 The art you put on your nails tells your story. So, what is the better way to show your queerness than painting your nails into a rainbow? Show how much of the pride you carry in yourself.
And love who you are! The possibilities are limitless. You could color each of your nails into a different color of the rainbow. Or you could paint all of your toenails into white and then draw a discreet rainbow over the big ones.
30. Toe Nails Designs For Men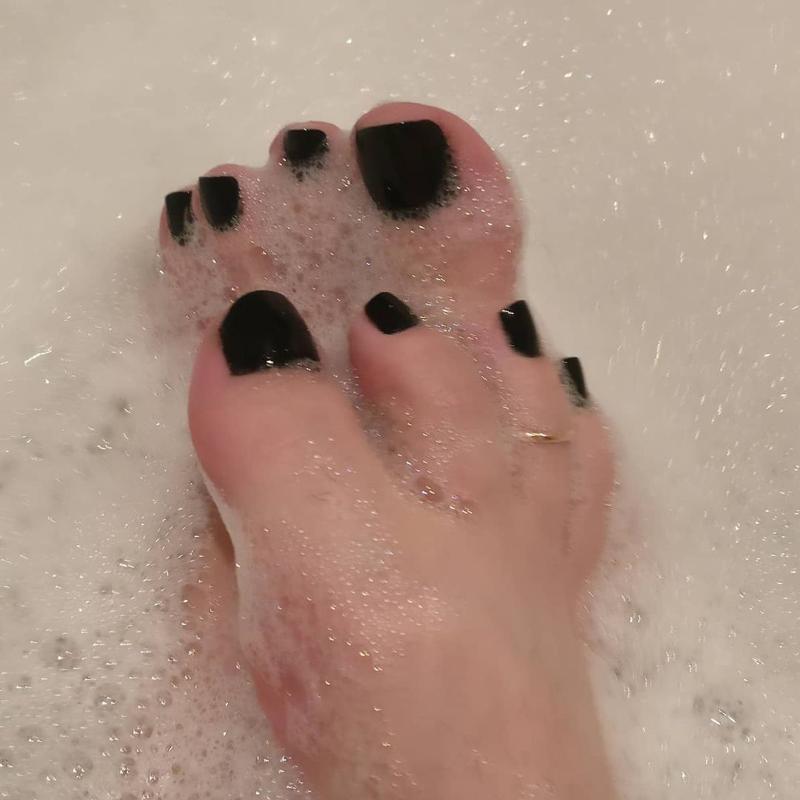 Men get pedicures too. But we must criticize and say – not plenty of them! The pedicure means self-care, and it does not always include painting your nails! Although, you could do it if you want it. Nowadays, nail polish is fashionable for everyone, not only women. And no, it does not have to do anything with sexuality either. You can do it in any color you wish. But we must notice that black looks so hot on a guy! If it is not your flow, do not restrict yourself and choose whichever hues you want. Consider some art like geometric prints, for example!
Toe Nail Designs FAQ
What Color Of Nails Should I Get?
You should pick the color for your nails upon your preferences. But if you want to follow the rules, then choose the one that will make you seem healthy. So, if you have light skin, paint your nails golden, brown, or red. Darker shades of red and pink are suitable for medium complexions. And if you have dark skin, try cobalt blue, hunter green, and bright orange.
What Nail Polish Color Goes With Every Outfit?
There are many colors that suit any outfit you will wear. But here are some of those: white, black, red, beige, blush pink, nude, gray, and cream.
Will Showering And Swimming Wash Out Nail Polish?
Not right away, but yes! Showering and swimming will make your nail polish peal. There is a biological reason behind that. Water assimilates into the nail inducing polish to elevate.
The Bottom Line
When you are all ready to go out, painting your toenails might seem not as important as your fingernails. But the truth is: that little detail might be what you are missing to look and feel completely glamorous! We hope that our ideas inspired you and that you are a step closer to the perfection you deserve!
Also Read: