Korean Hairstyle Lookbook: 20 Inspirational Styles For Both Men And Women
When you shop through links on our site, we may earn an affiliate commission. This educational content is not intended to be a substitute for professional advice.
You can't deny that the Koreans are true trendsetters. From K-beauty to K-pop, they set some of the biggest global trends. This includes Korean hairstyles! Just like many Korean fashion trends, these hairstyles are sleek, modern, and flattering to numerous face shapes.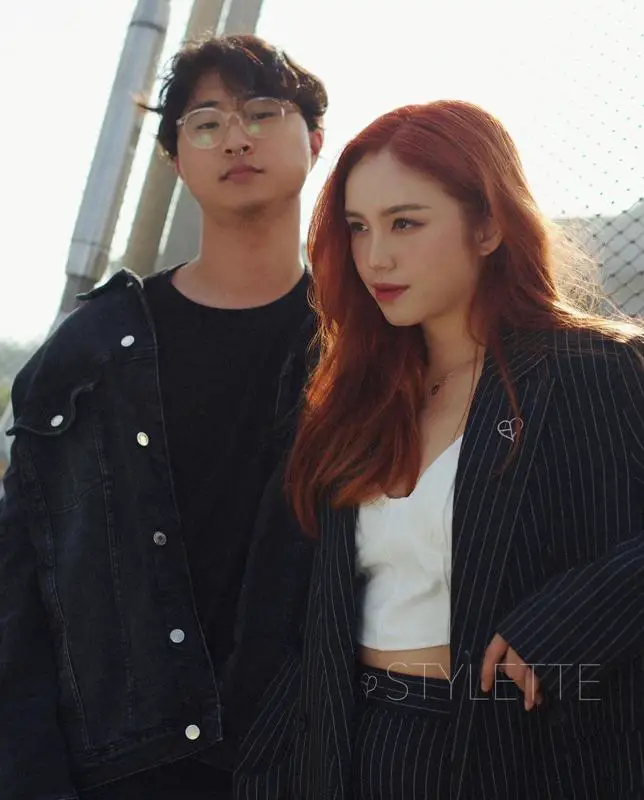 To help you discover which Korean hairstyle will look best on you, we've created a select Korean hairstyle lookbook. Only the top 20 most inspiring, well-cut hairstyles have made it into our book.
Make sure you bookmark this page or take a screenshot of each hairstyle you like, so you can show your hairdresser! Oh, and if you want to learn more about Korean hairstyles and techniques, we have some hairstyle tips for you at the end of this article as well.
5 Reasons Why You'll Love a Korean Hairstyle
There's more than one reason why Korean hairstyles are so popular (and not just with the popstars), we have five excellent reasons to convince you to cut your hair.
Never afraid to be different – Korean hairstyles are inspirational because they take hairstyling in a totally new direction. They're not afraid to push boundaries, so if you need a very fashionable "out-there" haircut, these styles will be perfect for you.
Mixing the new with the old – Korean hairstyles take inspiration from classic, vintage haircuts but put a new, modern twist on them. So, you can find both classic and wildly modern hairstyles in this lookbook.
Easy to maintain – sure, some of these Korean hairstyles are quite extravagant, but most are very simple to maintain. Once you've had your hair cut, it will be easy to style it right every morning. Almost effortless!
Never too extra – Korean hairstyles are never trying too hard. You'll never seem 'extra' when you're rocking your new Korean hairdo. But the trick is to get a hairdresser who knows how to style your chosen hairstyle correctly.
Metrosexual – with Korean hairstyles, the lines between "boy" haircuts and "girl" haircuts are blurred and flexible. You have a lot of freedom to choose a haircut that suits your tastes – and remain fashionable at the same time.
10 Korean Hairstyles for Women
Don't go thinking that all Korean hairstyles for women are cutesy and only suit round faces. Even though we do have a few of those style haircuts on our list, there are also some incredibly elegant, mature, modern, and timeless hairstyles to discover as well.
Korean Short Hairstyle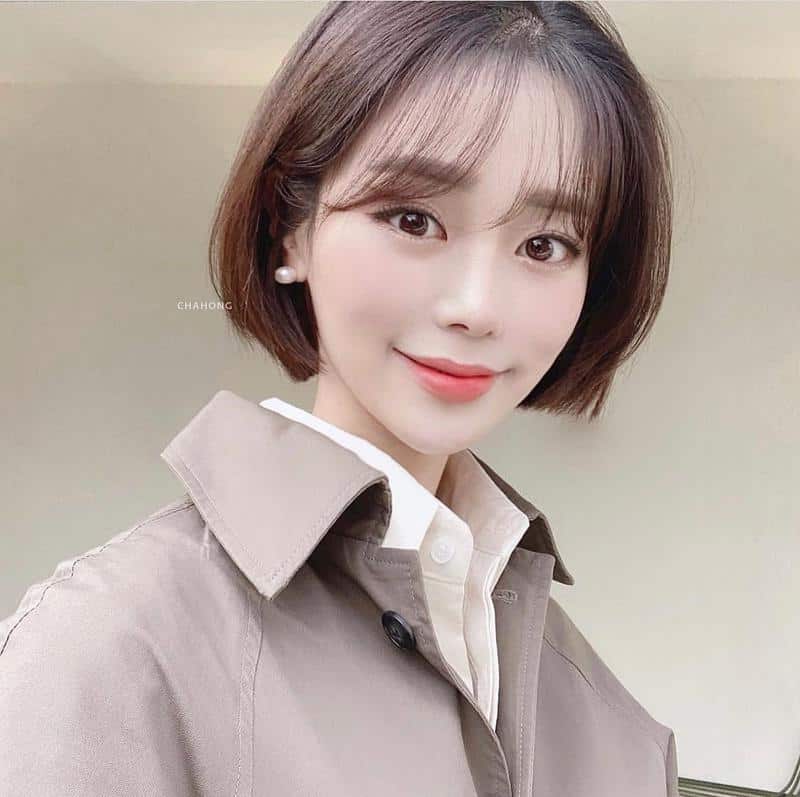 Isn't this a cute hairstyle! The "Bambi brown" hair color is very popular with Korean hairstyles, particularly in the fall, as it just works so well with fall fashion and seasonal colors. As for the style, it's a very short bob cut that's style each morning to gently curl around your face.
The bangs are sparse and well-placed. This is a huge trend in Korean hairstyles. You'll notice many bangs just like this through our lookbook.
Regular trims are essential to keep the lines of this haircut very neat and slick.
Korean Hairstyle Girl – Short Hair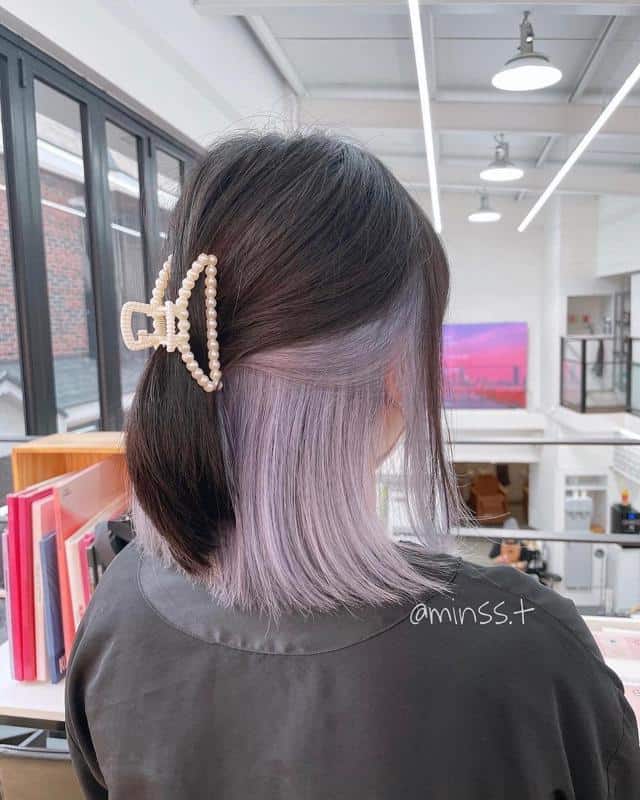 We love this style! The simple long bob is cut neatly but left completely un-styled. No flick or curl at the end – this Korean hairstyle just doesn't need it. If you're looking for a new short haircut, this could be the one.
The two-tone dye job looks amazing. The purple-blue color could easily be switched with a color of your choice.
This is definitely one of the easiest short Korean hairstyles that you can get. Just wake up in the morning and throw it half up. Bam. You've instantly got a neat and stylish hairdo.
Also Read: Top 40 Cute Short Hair Updo Hairstyles For Wedding (2022 Updated)
Korean Hairstyle for a Round Face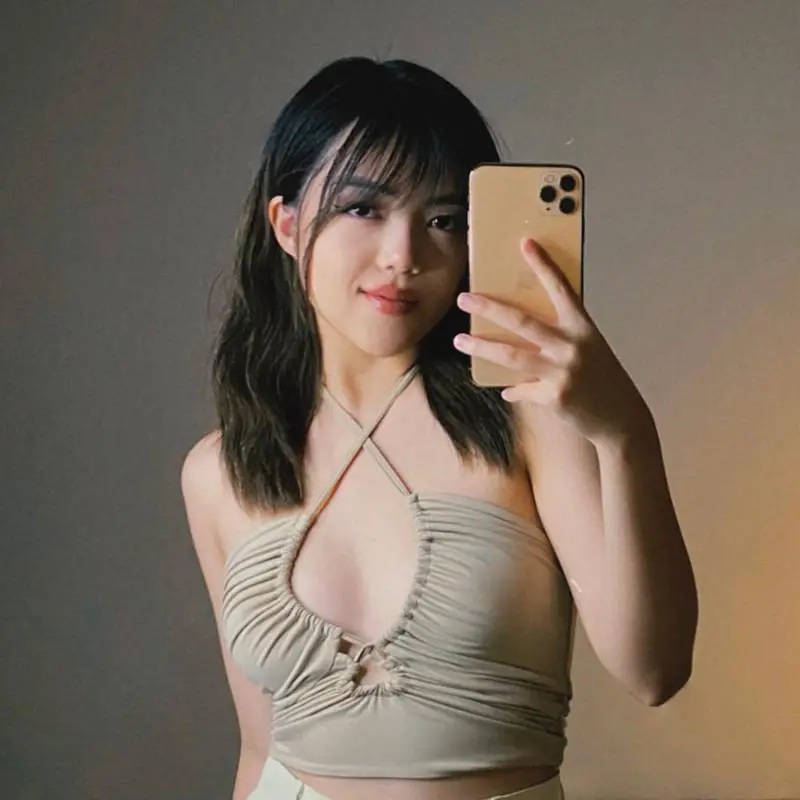 Let's forget the loose curls and soft glamour for a moment. This cool Korean hairstyle perfectly suits a round face and doesn't give you that cutesy, chubby girl look – the one thing that everyone with a round face wants to avoid.
Bangs are back (of course) but not a straight cut along the forehead, instead the hairdresser has used an A-line cut which cleverly adds length to the shape of the face. To finish the look, style your hair in loose waves and go for a wet/messy look rather than big shiny curls.
Also Read: 40+ Best Short Haircuts for Round and Chubby Faces (2022 Updated)
Korean Bangs Hairstyle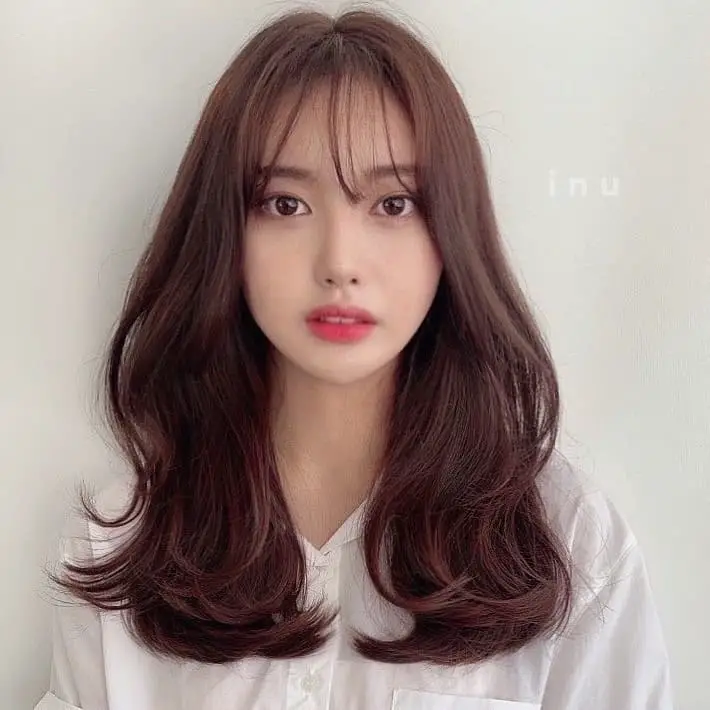 This hairstyle looks so good and it's very easy to maintain. The hairdresser has used the classic Korean perm method to get those luscious, flowing but still quite loose locks. The bangs are simple too – the curtain style that's parted in the center with loose tendrils is another classic Korean style.
Together, this Korean bangs hairstyle is literally bangin'. The hairdresser notes in the image caption that the bang lines make the face appear smaller and it's a hairstyle that works well for nearly everyone. It's easy to take care of too, with no abundance of layers.
Also Read: Top 30 Medium Layered Haircuts With Bangs (Different Color)
Soft Pastel Hair Shades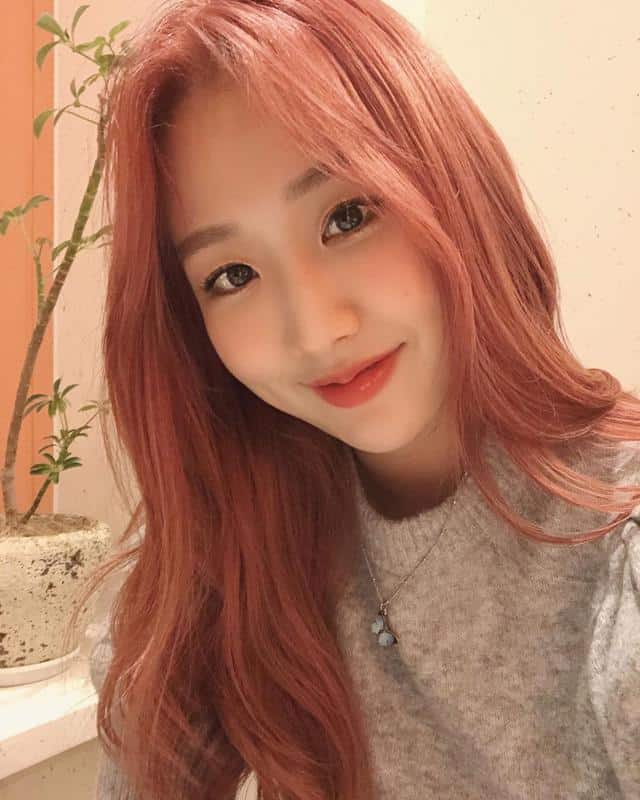 One trend that faded a little here in the West but is still very popular in Korea, is the pastel hair shade. If you're looking for a way to revive your hair without changing the length or cut of it, then dying your hair may be the solution.
Of course, if you have very dark hair you will need to bleach it first to get a nice pastel shade as the end result. We highly recommend getting a professional to dye your hair, especially if it's the first time you've ever dyed it!
Shoulder Length with Bangs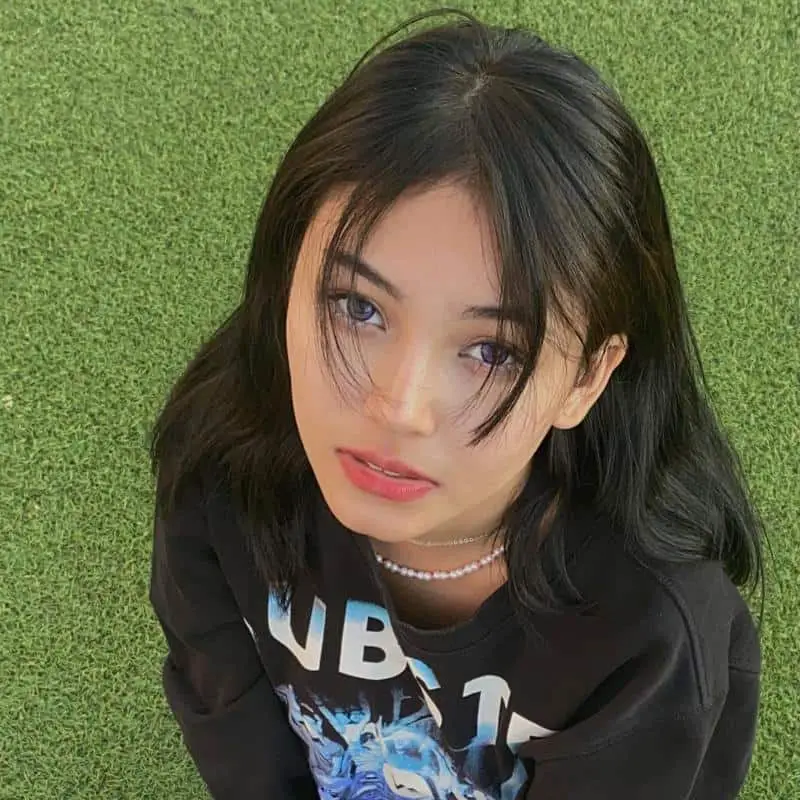 This is a sweet hairstyle that isn't quite as neat and straight as most bob and bang combos. The Korean hairstyle is slightly below shoulder length, against your upper arms as you move. It's not too long that it gets in the way, but it's just the right length to create a great ponytail if you need to throw it up.
What really made this style stand out was the slight feathering and choppy lengths of the bangs and ends. It's slightly less well-kept, so it's great if you can't be bothered to spend hours styling your hair each morning.
Sleek Curls and Side Parting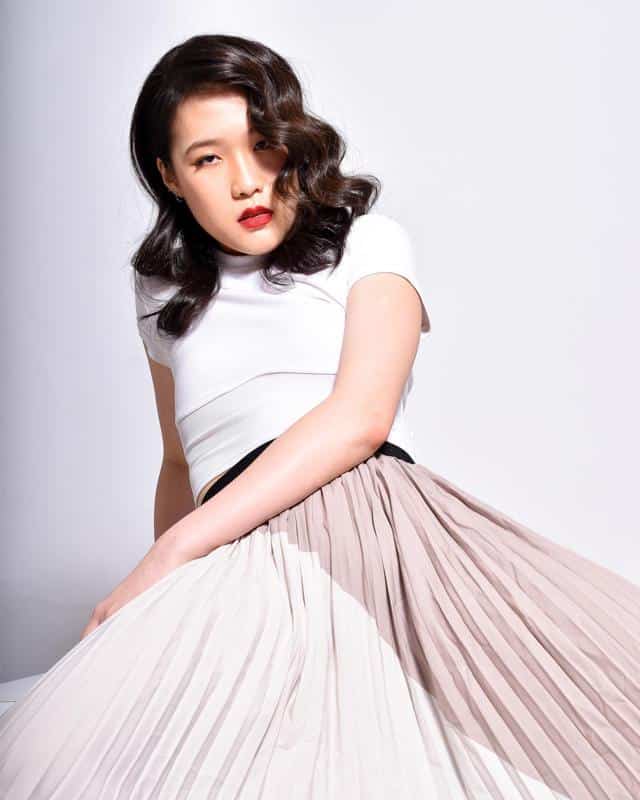 Let's take things in a different direction!
This is a prime example of a Korean hairstyle drawing inspiration from classic do's. Just look at those vintage curls! It looks beautiful with the side parting and well-oiled locks that catch the light just perfectly.
For this hairstyle, it can easily be pinned up at one side or left loose and curly. For special occasions, style it as you can see in the photo. But for normal days, you can let your natural waves and curls show in a messy side parting with little fuss.
Korean Long Hair Style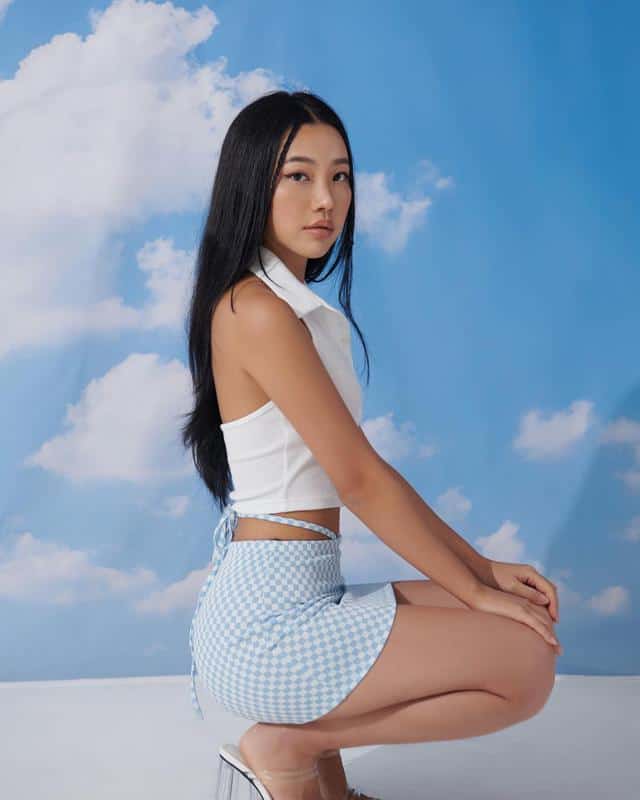 This Korean model is showing how long hairstyles are just as popular as short ones are. We love that this hairstyle doesn't use those incredibly popular loose curls that many women's Korean hairstyles have. Instead, her hair is long and fairly straight, with a very slight natural wave that complements the shape of her face. It's cut into a natural point at the back, with slightly shorter strands around the face.
Leave those shorter parts around the face down when you tie this style up in a ponytail, or you could even braid them.
Two-Tone Hair Ends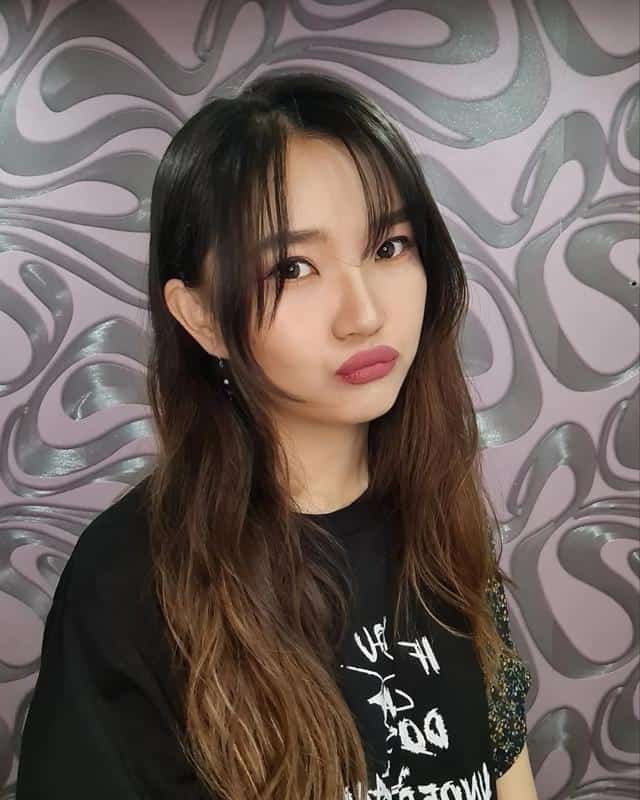 Here we have the classic Korean bangs, the long and naturally wavy locks at the back and sides, but with ombre dyed ends in a lighter shade.
By dying the ends, you take this fairly conservative and standard Korean hairstyle and turn it into something a little more unique and modern. We love that the bangs have been tailored to suit her face too, gently draping along the sides and lengthening her face.
It's a good Korean haircut for round faces too and it works for all hair colors. Just pick a dye color that will create a nice ombre effect with your natural hair color.
Also Read: Top 40 Unique Ombre Hair Color Ideas(Blond, Black, Brown And Colorful)
Very Long Hair Style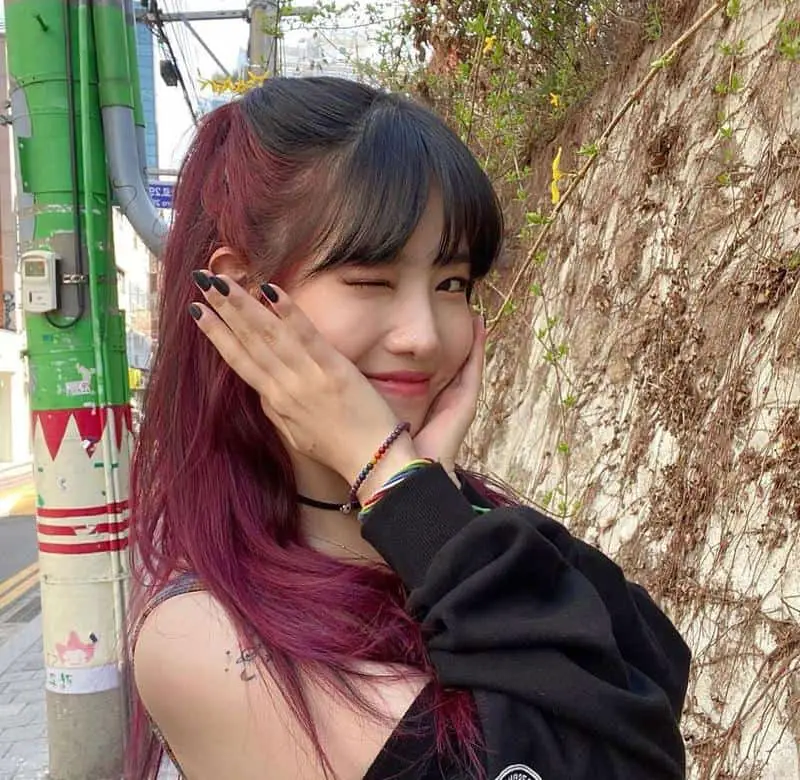 If you have the luxury of very long, natural, and beautiful hair (we are so envious) then this final Korean hairstyle might be the one for you. It features the standard bangs, with two-tone dye underneath. We really like that by dying this section of your hair, it's really easy to hide the roots that show throw after a while!
Tying back the top part for a half-up hairdo can look really elegant too. This woman has created an Ariana Grande-esque style with that high half ponytail and dark shade of pink hair dye.
100 words.
10 Korean Hairstyles for Men
For men, Korean hairstyles range from boyishly rugged to almost feminine in shape and style. Not every guy can pull off a Korean hairstyle but those who can, look like true heartthrobs.
Here are our top 10 most popular Korean hairstyles for men and boys of all ages.
Korean Hairstyle for a Boy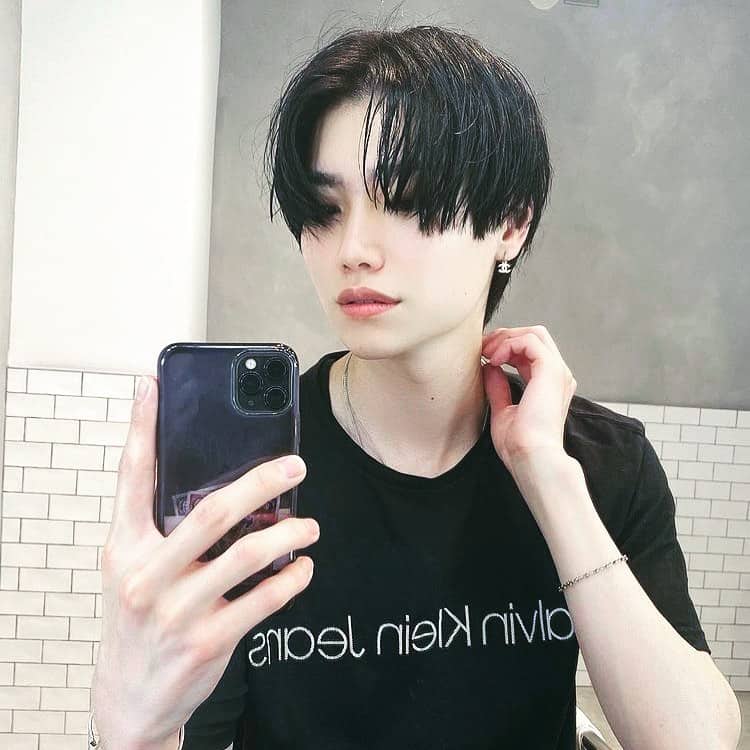 The classic, K-pop-inspired long, boyish hairstyle is crazy popular at the moment. This is the perfect example of how great it can look. A simple middle parting with hair that's eye-length at the front, but slightly short at the back.
For some boys and men, this haircut may be longer than you're used to, but it's still fairly easy to maintain. Just remember to brush it through and maybe add some product if you've got some annoying kinks that won't straighten out.
It's awesome for creating that boyishly handsome look that everyone loves.
Korean Male Hairstyle Short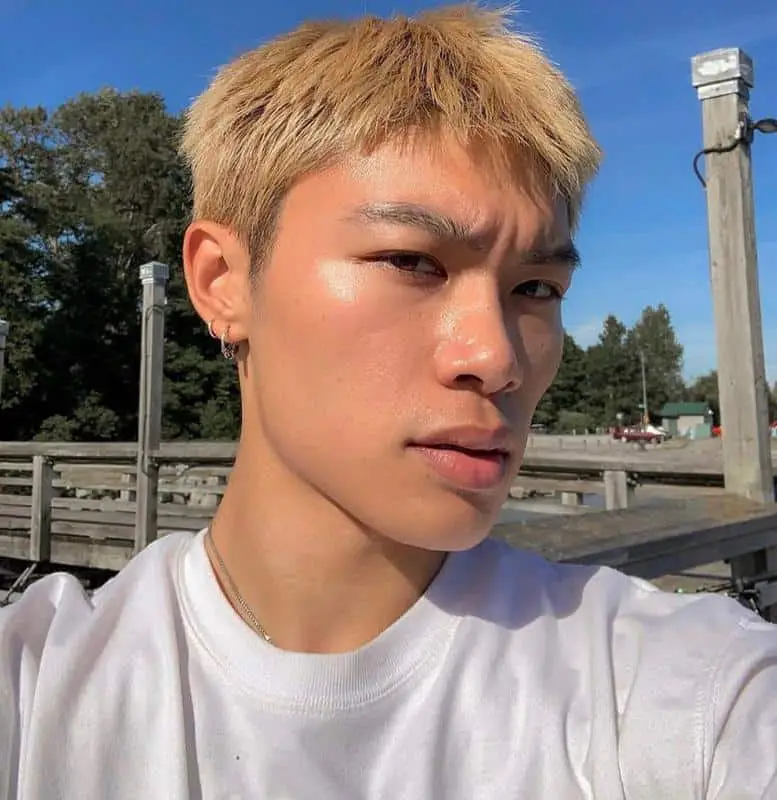 Thanks to @tae._lyn posting these handsome selfies on Instagram, we have a great example of a short men's Korean hairstyle. The bleach blond tips with dark roots style is very modern and creates a K-pop vibe that we love. It's a very youthful Korean haircut.
But once you look past the eye-catching dye job, you can see that this haircut is actually very, very simple. You can wake up and go, with no fussing about your hair. Or, if you prefer, add some gel to create spikes – you can see @tae._lyn rocking this style on his IG feed too.
Semi Two-Block Hairstyle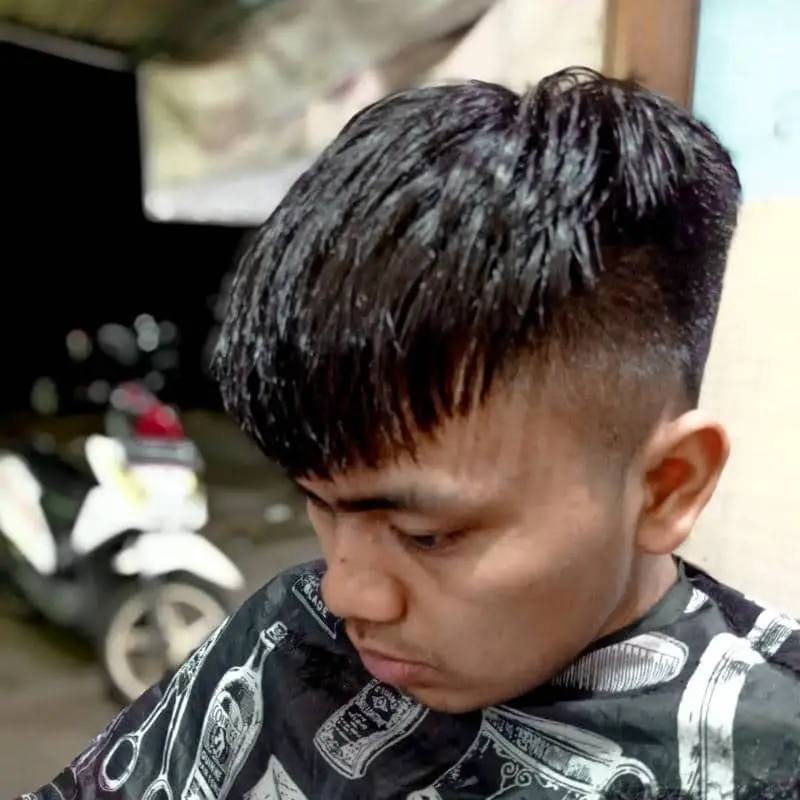 This is both neat and slightly messy at the same time – we love it. The sharp contrast between that fade and the long on top is eye-catching and looks really great. It suits this guys' face perfectly. If you have a very long face, it might accentuate that a bit too much, however.
To maintain this hairstyle, a little product to keep the top hair falling forward might be needed, but you definitely don't need to spend hours in front of the mirror. Just make sure you book that next hair appointment to keep that fade looking great.
Messy Waves Hair Style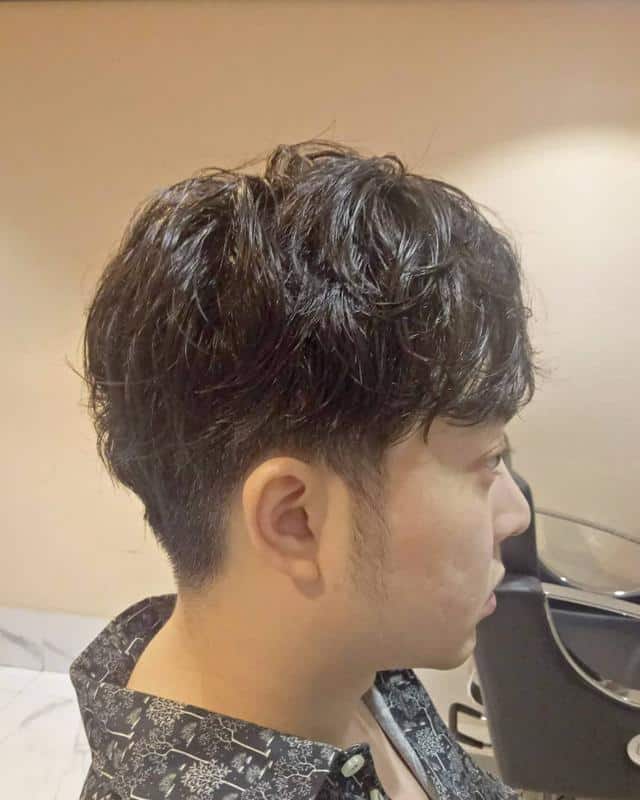 Here we can see that "I just woke up like this" look with messy waves and unkept strands. Once again, this is a great men's Korean hairstyle that doesn't look too extra. The length isn't quite long enough to get in your eyes, but it is still long enough to require some grooming in the morning.
To keep that messy, boyish look to the style, use your fingers to comb through your hair quickly. You'll be done in seconds and ready to go.
Oh, and the sideburns are totally optional! They work for this guy, but they aren't for everyone. Focus on the hairstyle, not the facial hair.
Long and Neat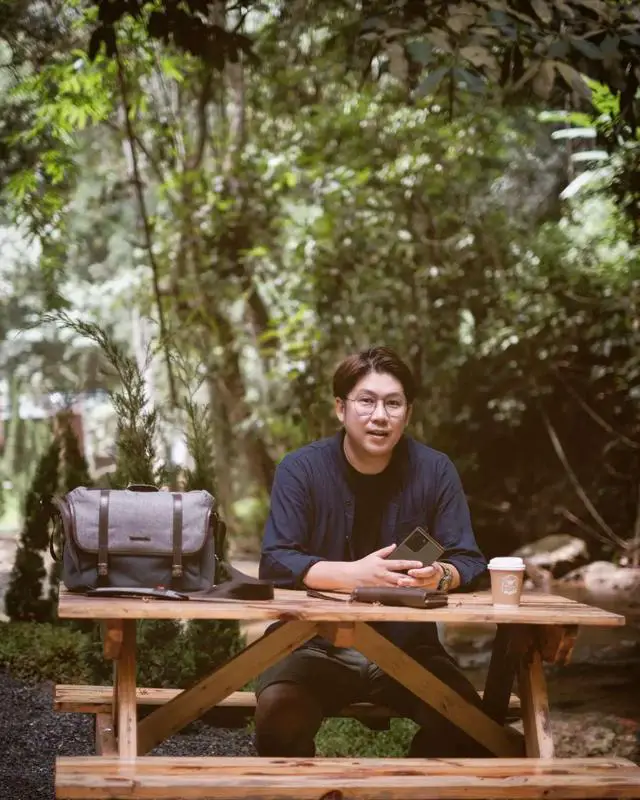 This haircut is slightly dorky, for lack of a better word. And we love it. It suits this guy to a T and is styled perfectly to suit his face. His hair is just long enough to be tucked behind his ears, but certainly not long enough to be considered a bob.
It's a great hairstyle for any guy with straight hair that refuses to hold waves or look messy. If you can describe your hair as "flat" this could be the Korean hairstyle for you.
The key is to use a slightly off-side parting, rather than a middle parting, to prevent the whole look from being too symmetrical and "perfect".
Soft Curls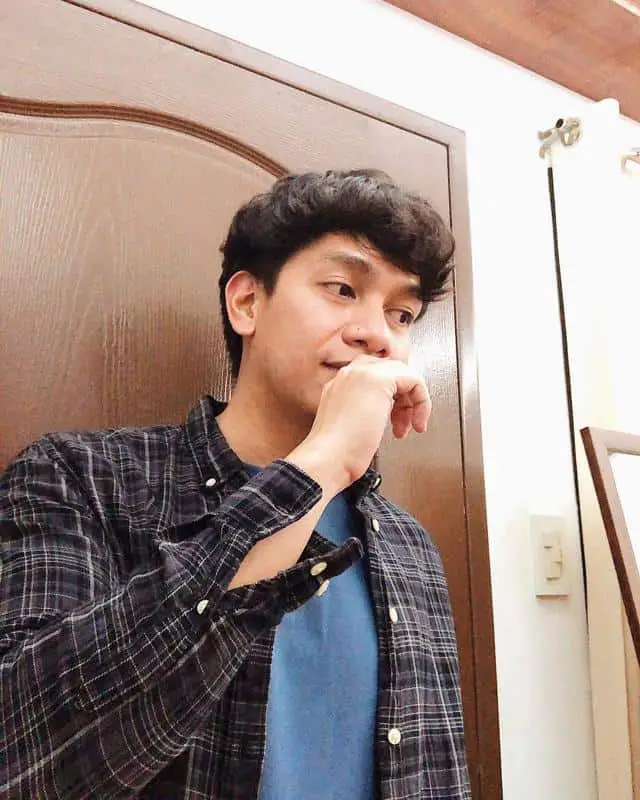 The natural curls in this hairstyle are insane. When straight, his hair is likely falling in his eyes but by adding curls (and therefore volume) it becomes something entirely different. We'd love to see this hairstyle from above as well, to see what kind of parting there is and the length of his hair at the back.
You definitely need some natural curls and volume in your hair to pull this one off. But once you're rocking it, it's very low maintenance. When the hair grows a little longer, he can easily part it to create one of the longer male Korean hairstyles in our lookbook too.
Korean Perm Dandy Cut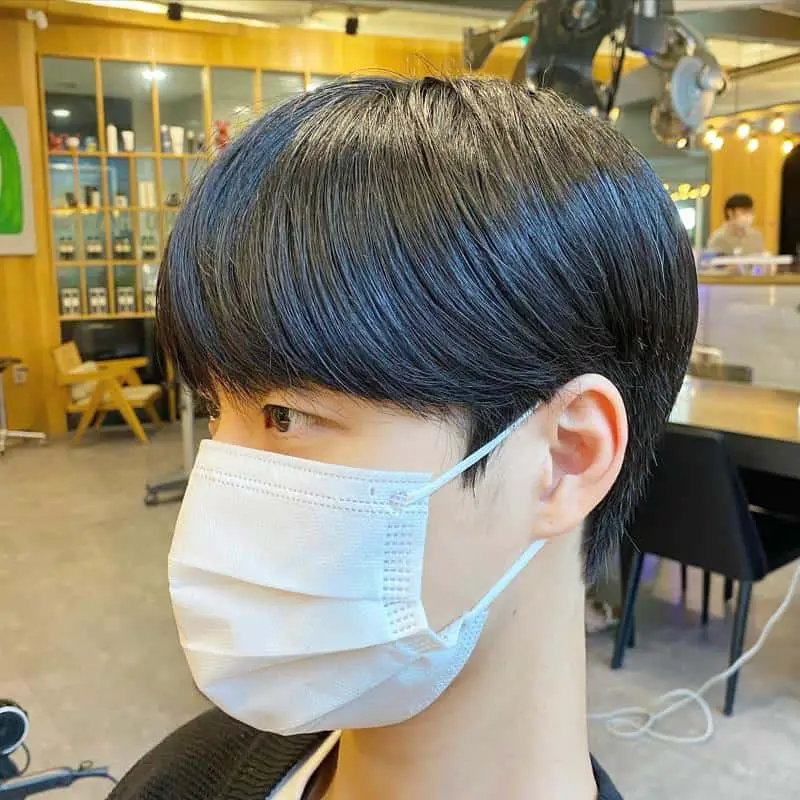 Another longer Korean hairstyle for men, but this one is effortlessly modern, slick, and classical in style. The hairdresser and IG poster describes this haircut as a "dandy cut" with perm volume magic to give it a little more volume and thickness.
The dandy look is defined as a specific male style that takes elegance to the next level. It's comfortable but also exudes confidence – like a well-tailored suit.
The result is a really sleek, smart, and modern haircut that's perfect for any professional worker who wants to stay fashionable in and out of the office.
Unusual Hair Colors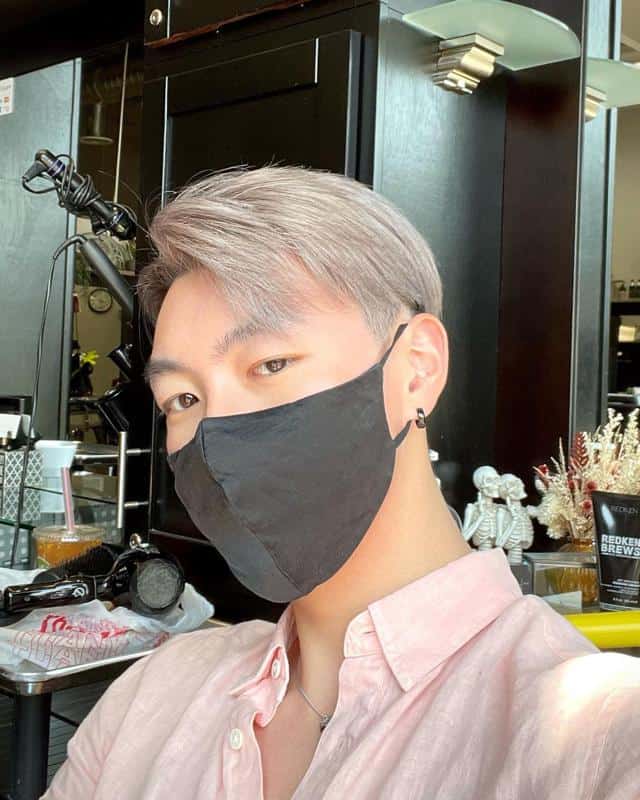 In this example, the model has silver-gray hair which is a reliable Korean hairstyle trend that works for both men and women. But you can go even crazier. Pastel shades in particular are pretty popular with both Korean men and women.
Don't forget, Korean hairstyles aren't afraid to push gender boundaries, so don't hesitate to opt for a more "feminine" hair shade.
As for the cut, the sleek strands are dead straight to create a slightly edgier vibe for the usual parted Korean male hairstyle. Combined with the cold color, and this hairstyle is quite out there.
Style Name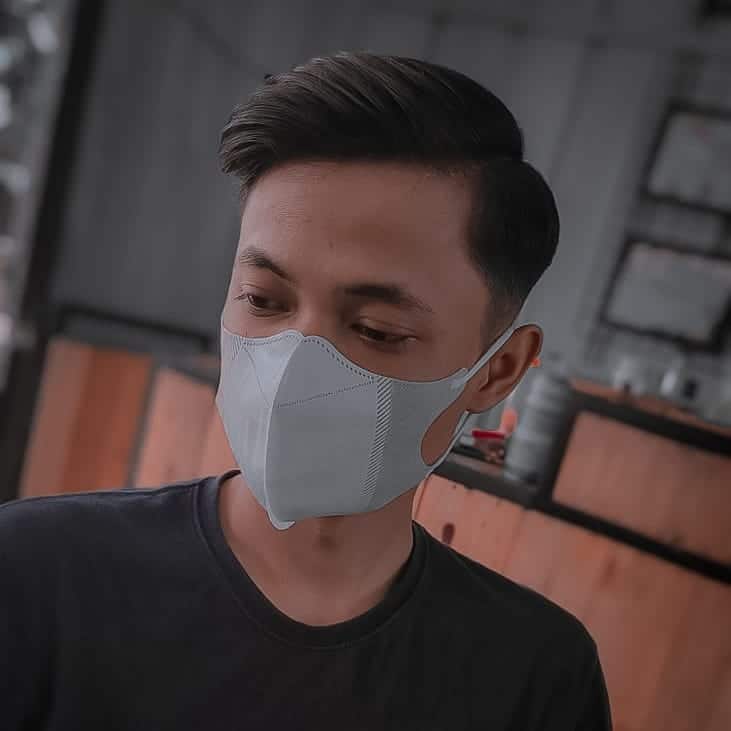 A neat side parting can sometimes look a little too professional and cold. That's great for an office worker, but not so much for everyone else. So, that's why this Korean hairstyle made it into our lookbook. By adding volume to the hairstyle, you can get away with being neat, but not too professional and "slicked back".
The side parting is quite long on top, but the sides and back are kept very short with a nice fade. This will be easy for your hairdresser to recreate and easy for you to maintain! A little combing will be necessary to keep it neat.
Messy and Simple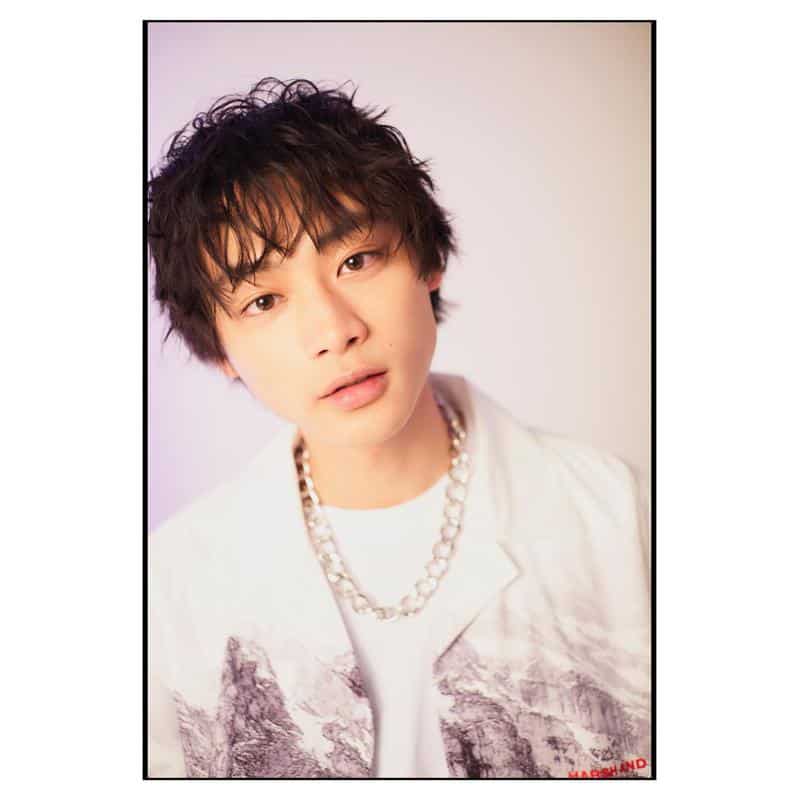 It's almost like an Ed Sheeran haircut… but fashionable! This messy, loose Korean men's hairstyle is really easy to maintain and is the perfect length – long and boyish, but not irritating and always getting in your eyes.
It's moderately long on all sides, and kind of mop-like. You definitely can't accuse this hairstyle of being too extra. We really like how laid-back the style is. If you work in a professional environment, this might not be the right Korean hairstyle for you. Instead, scroll back up to the dandy and neatly trimmed hairstyles that are also popular in Korea.
Korean Haircut: Quick FAQs
What is the Korean Haircut Called?
There are many Korean haircuts, but the one most associated with Korea is known as the "two block" haircut for men. It is short and shaved at the back and sides, while the top is grown out longer.
What is the Most Popular Hairstyle in South Korea?
Trends never stop changing and evolving, but at the time of compiling this lookbook, the shag/wavy cut two block haircut is most popular for men. The short perm bob with bangs is also incredibly popular with women.
How Can I Make My Hair in a Messy Korean Style?
One of the easiest ways to get those messy loose curls and volume is with a Korean perm. See our answer below to learn more about that.
The other way is to style your hair daily. If you have naturally straight and limp hair, using holding hair products and heat tools (blower/curlers) will be hard to avoid.
For the guys, check out this video on how to style one of the most popular messy Korean men's hairstyles.
For women, this tutorial by HYULARI on YouTube shows you how to create classic waves in a messy style with just a pair of hair straighteners. If you have a fringe as well, you can curl it to gently follow the shape of your face and it will look great with this hairstyle.
Always remember to use a protective spray or product before you apply heat, to prevent damaging your hair.
What is the Korean Perm?
Forget everything you think you know about perms, especially the 80s perms we all remember. A Korean perm is something else entirely! The Korean perm gives your hair bouncy volume through soft, natural-looking curls. No tight, frizzy or sharp curls to be seen.
Who Looks Good With Korean Haircuts?
You might have noticed that the vast majority of the models in our lookbook are quite youthful and appear to be in their late teens or early twenties. That doesn't necessarily mean you can't have a Korean-style haircut if you are older than that! In fact, Korean hairstyles are usually boyish for men and cute for women – the idea is that the haircut creates a more youthful appearance. Combine this with Korean cosmetics and skincare routines, and you'll find that you'll have turned back the clock (on the surface, at least).
Are Japanese and Korean Hairstyles the Same?
No, they're not exactly the same, although they do have a lot in common. A focus on creating a youthful look is common to both, and the messy waves are a common theme too (at the time of writing).