40+ Amazing Purple Highlights On Black Hair Ideas (2023 Update)
When you shop through links on our site, we may earn an affiliate commission. This educational content is not intended to be a substitute for professional advice.
Dyeing your hair in crazy and unconventional colors became super-popular over the last couple of years. Many other people who fancy this hairstyle don't dare to dye their hair the same because they're afraid of the environment they may find themselves in. However, purple hair color does not only look good, it also points to the shine of your skin, your facial lines, and adds more sparkle to your eyes regardless of the color they're in.
Although dyeing your hair in some unnatural hair color became quite popular over the past couple of years, especially with popular celebrities boasting and influencing it, we believe that different hair colors like blue, pink, green, and purple became super-popular during the quarantine.
Many girls and guys colored their hair purple to try it out, and that way avoid the trouble that may come with not being satisfied with the hair color and having to go outside. That being said, during quarantine, many tried out different crazy colors, and the great news is that many decided to keep them.
If you currently boast black hair, and you're worried about going brighter color as it's difficult, don't be. The start can be hard, especially with bleaching and everything, but the result is totally worth it.
If you're worried about how some shade such as purple will look on you, and that's the main reason why you're rethinking your decision on whether you should go purple or lilac hair, you can always try with purple highlights on black hair.
Doing highlights instead of coloring your hair is good for two reasons. The first reason is that there's lower maintenance than if you colored your entire hair purple, and it gives your hair a soft and minimalistic touch if you're unsure about getting completely purple hair.
The other reason why it's good is that highlights are a great way to start the transition to bright hair. Don't forget to bleach the highlights, instead of just pulling the hair you want to dye. If you're unsure about your dyeing experience, you should research some good hair salons in your vicinity that will help you with making the choice.
All in all, purple highlights on black hair are an amazing foundation into transition to pure purple hair. Now, sit tight with this through this article to get ideas for your purple highlights, and make sure to check the styles we picked as our favorite ones!
Purple Highlights On Black Hair: What You Need to Know
Before you check some great purple highlights on black hairstyles, let's take a look at some general ideas you can borrow for the perfect hairstyle you'll try at home or show to your hairdresser. Read with us!
Babylights Vs. Chunky Highlights
Purple is a quite prominent color, so it'd be a shame for them not to be seen. However, the width of your highlights is ultimately decided by you. Would you rather have a lot of thin babylights or chunky highlights that are once again making a return from the dead thanks to 2021 and various celebrities celebrating these hairstyles?
Babylights are ideal if you're looking for a small transition that won't be too visible, or inappropriate as some employers still have problems with oddly dyed hair. On the other hand, babylights are good if you're going for balayage because they'll let your black hair stand out too, making a perfect blend, or even a gradient.
Chunky highlights were popular in the early 2000s and proudly worn by celebrities such as Christina Aguilera and others. However, we think that for a person who wants to start transitioning into purple color chunky highlights are much better. They're also quite popular these days, which doesn't surprise us at all.
Lastly, one of the best ways to get creative with your purple highlights is to combine babylights and chunky highlights and see where that gets you. Not everyone is bold enough to do it, are you?
Read More: Balayage Vs. Ombré Vs. Highlights Vs. Babylights: The Only Hair Lightening Guide You'll Ever Need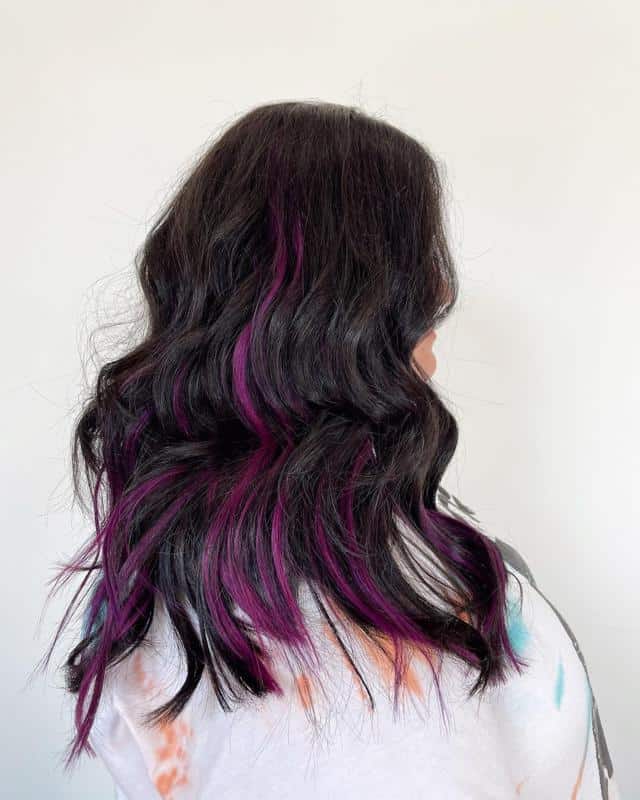 Shade Of Purple Highlights
There are many shades of purple highlights. Some may resemble dark red or even red color, meaning that it's like the blazing fire itself. On the other side, some highlights are dark purple, to the point they're there just to add extra shine to your black hair.
Over the last couple of years, pastel colors were popularized. They're prominent everywhere, from bullet journaling and makeup to clothes and hairstyles. The most popular pastel variant of purple hair color is pastel purple that is gladly seen on different hairstyles.
Although it's more popular on brighter hairstyles such as platinum or ash blond, they are also often seen on dark hairstyles such as black and raven black. Always make sure to have a thorough conversation with your hairdresser and see how you can combine different hair colors to make the perfect option of purple that will compliment your hair.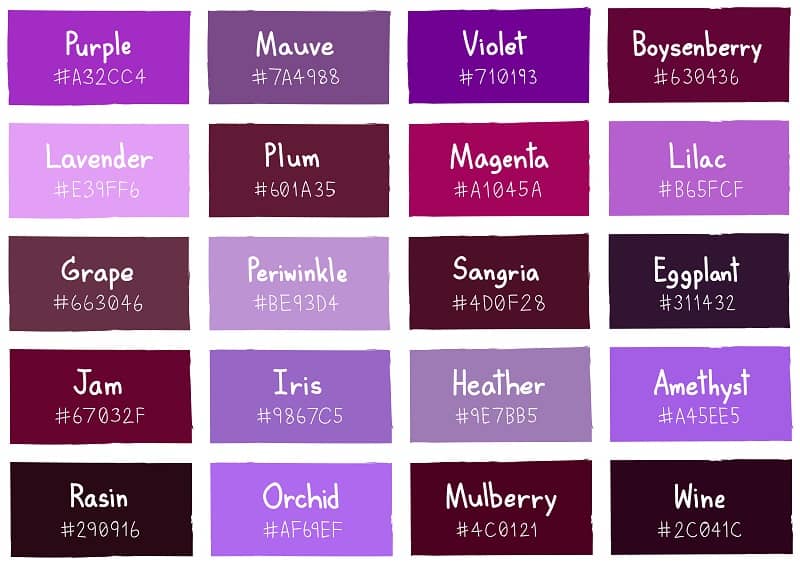 What other shades of purple color there are for your highlights. We already mentioned lilac, but here are some darker options to consider:
Lavender purple
Eggplant purple
Iris purple
Light purple
Plum purple
Wild orchid purple
Black and red violet
Grape purple
Deep magenta (ideal for balayage)
Combining Different Shades Of Purple
Many ladies coming to hair salons are curious about whether they should combine different shades of purple which will give your black hair extra shine. It's tedious work, but it can be worth it in the long run.
It's an ideal idea for ladies who want to achieve a gradient effect. That way, when you go out, your black and purple hair will shine in different shades, and it'll certainly grab a lot of attention. If that is something that you're aiming at with your shades, that's even great.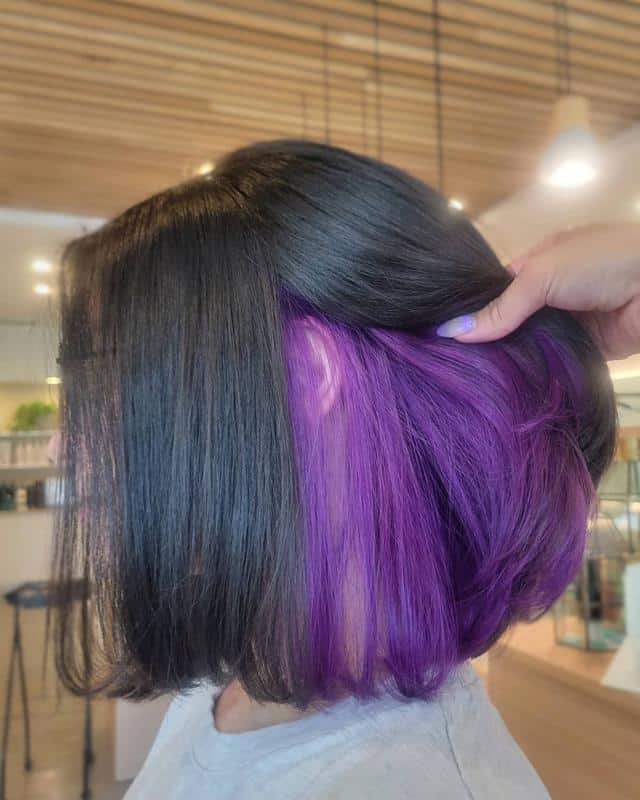 Many women use different color shading techniques to highlight how open-minded, confident, and strong they are. If your favorite color is purple, that's even better, because you get to combine different hair colors into one vibrant variant.
Mermaid Hair
Mermaid's hair is a wonderful trend that lets a lot of undecided ladies decide on multiple colors on their heads. It usually combines vivid colors with brighter and more pastel ones. More importantly, they look great with black or dark hair as a base.
Mermaid hair can combine different shades such as green, pink, blue, and purple. You can use your black hair as the color base and then apply two shades of purple, added up by blue or green colors. It'd be always good to combine two vivid colors and two pastel colors, but the choice comes down to you.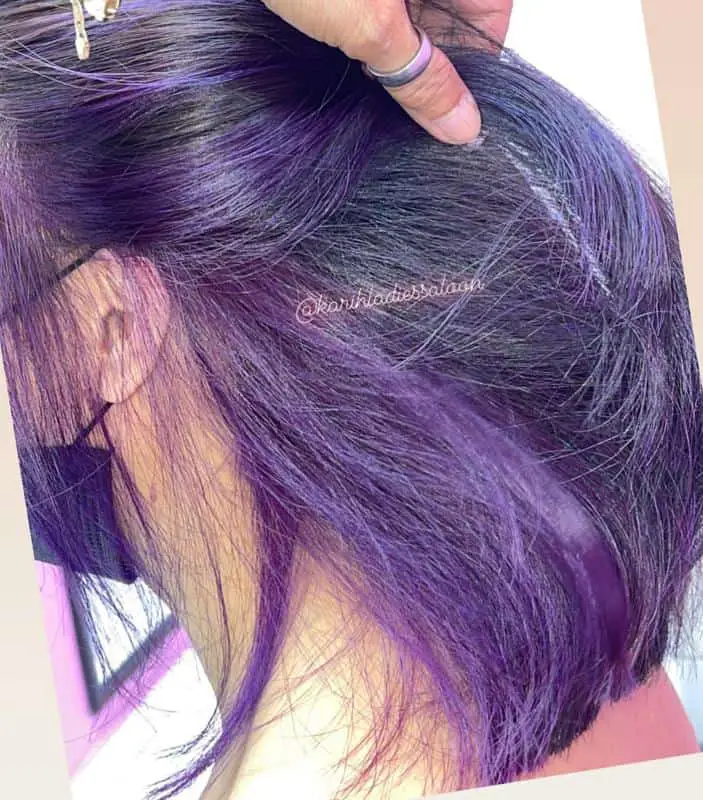 Purple Ombre On Black Hair
One of the styles you can apply to act as your highlights is ombre hair. Basically, the hair closer to your roots, down to your half of hair will be colored in a black base, while the second half leading to your ends will be dyed in some shade of purple, and prebleached beforehand.
It's a great blend of colors, with the ombre looking great as it approaches the ends and the brighter color you use. We always suggest ladies opt for a brighter color so that the transition is visible. If you use some darker shade of purple, it will just give a transition shade, which may not be as prominent as compared to some brighter colors.
Also Read: Top 40 Unique Ombre Hair Color Ideas(Blond, Black, Brown And Colorful)
Purple Money Piece Hair
Another option for women who want to add purple highlights on black hair is to use a money-piece hairstyle. This hairstyle reflects in the look that boasts highlights on the front part of the hair or bangs, brushed aside.
The hairstyle is also known as face-framing highlights because it gives a face-sculpting look that changes the complexion of the face, making your face feel slimmer and provides a boost to your facial features and complexion.
Many women consider this hairstyle glamorous and expensive. That being said, its popularity is growing when it comes to black hair and odd highlights.
40+ Best Purple Highlights On Black Hair Styles
Now that we gave you the general idea of how to style black hair and purple highlights, let's dig into our favorite looks that we carefully searched and compared to one another to give you inexhaustible sources of inspiration and ideas. Make sure to check them out!
Black-Purple Bob Hair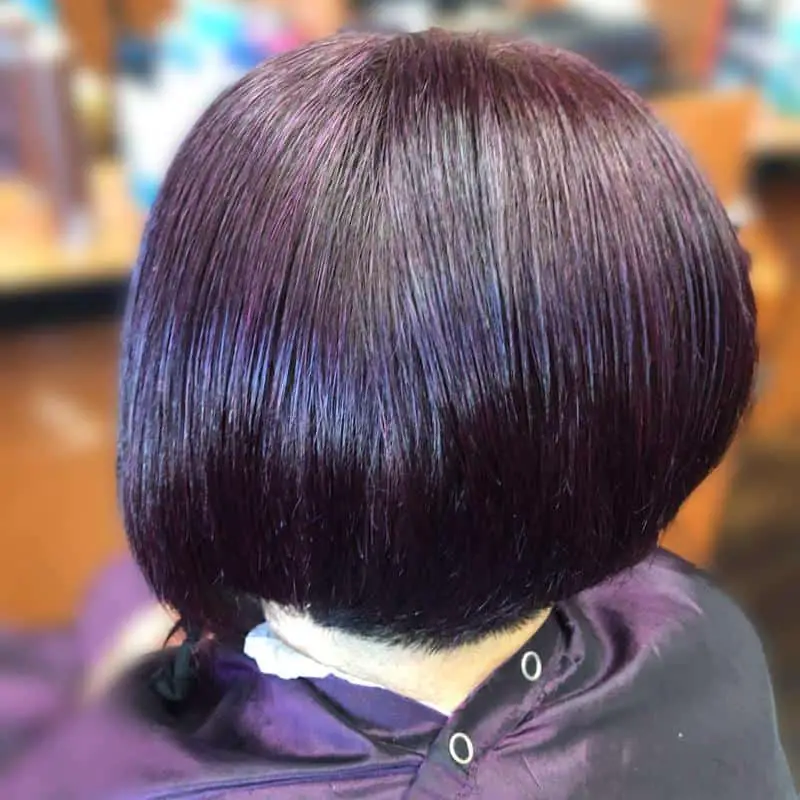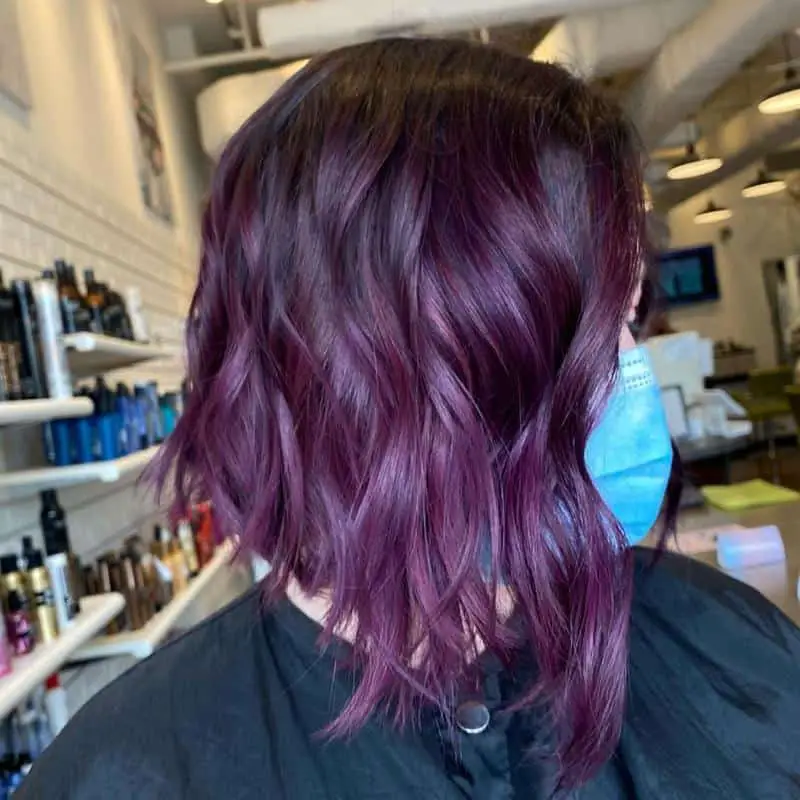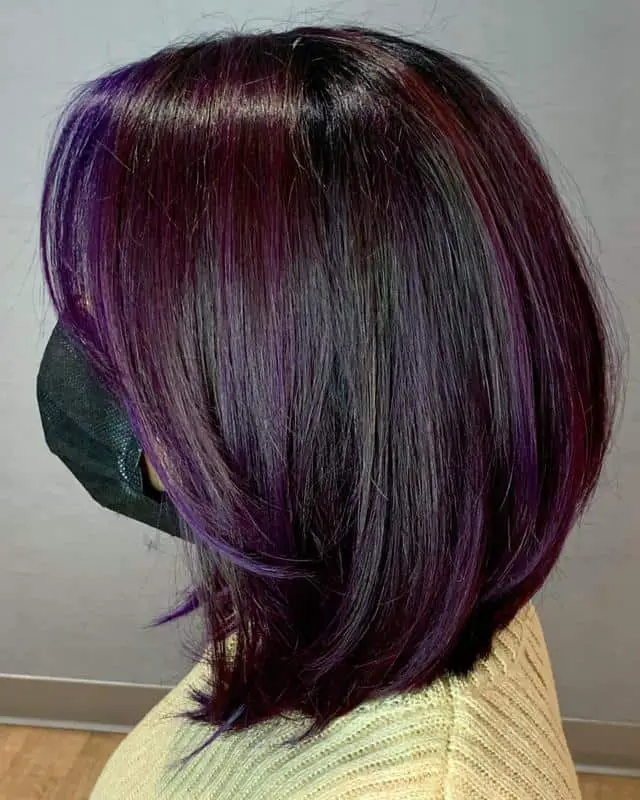 Although Bob haircut had its ups and downs, and one of the greatest peaks in the mid-2000s when Rihanna sported it for her then-new album "Good girl has gone bad" it's one of the biggest classics of haircuts, and never goes out of style.
Whether you've been boasting the Bob haircut for a long time, or you want to get it now, combining it with purple highlights will be spot on. If you look at the previous images we included, you'll see how well it sits together with black hair.
The shine the highlights amplify with black hair depends on which hue you go for. More vivid options mean that your black hair will be shinier and have that necessary glow. On the other hand, if you go for more pastel highlights, your hair will feel fresher.
Long Purple Highlights On Black Hair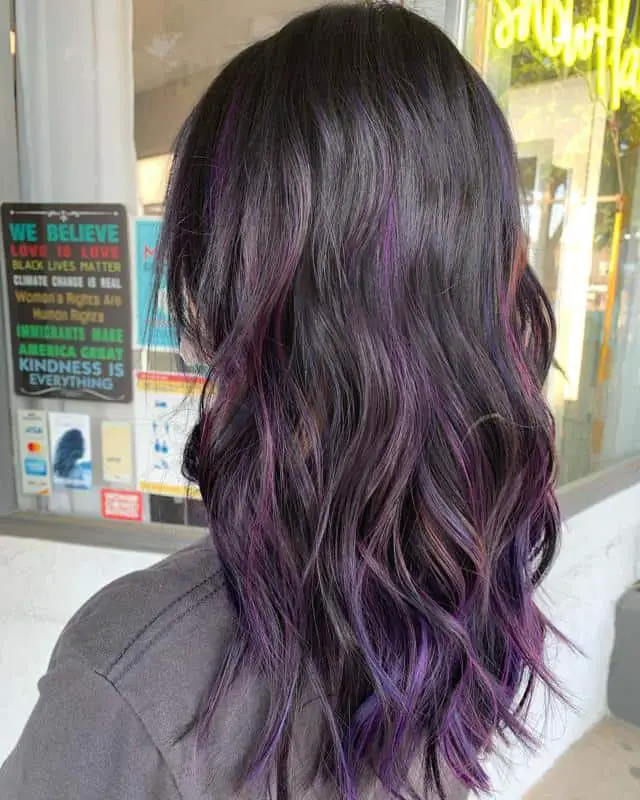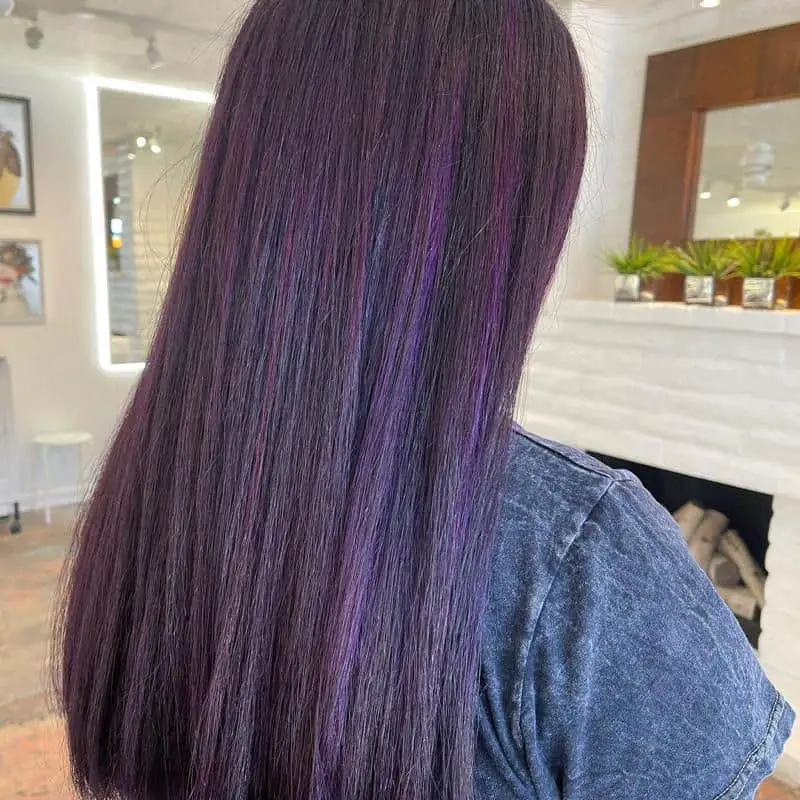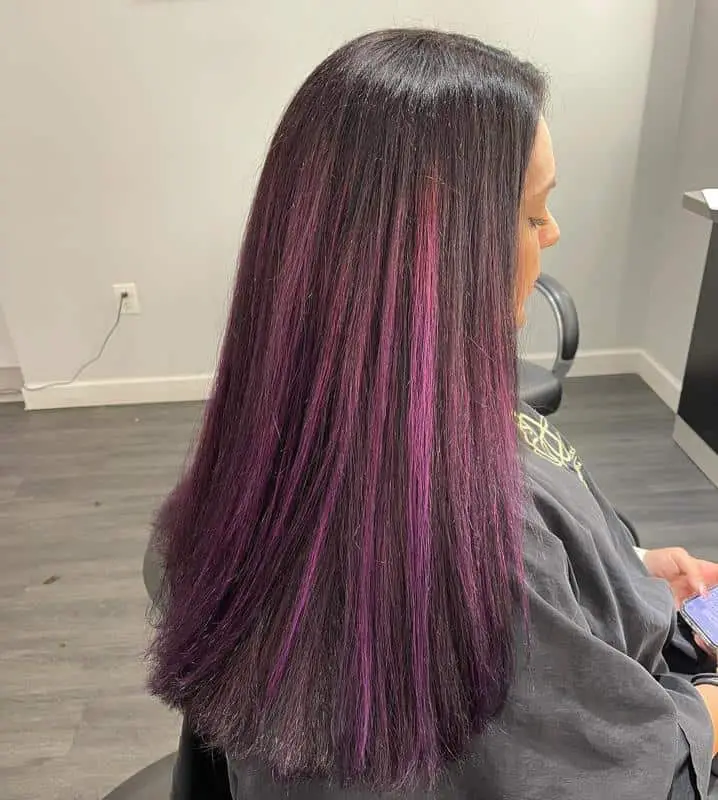 If you have a long, luminous hair full of volume, shine and glow, then you could definitely add up some highlights to give it additional style. What's the best about long hair is that you can experiment with all kinds of highlights to find the one that will look good on you.
Getting a purple ombre or balayage, may be a little more time-consuming because it's as if you're bleaching and dyeing your hair. However, it's worth noting that your hair will love it. Regardless of what style your hair is, straight, wavy, or curly, purple highlights on black hair will look stunning and never goes out of style.
If you want to keep your hair healthy, however, our advice is to wash hair frequently and treat it with masks so that it can restore its shine given that you will probably need to bleach it if you're going for brighter highlights.
Medium Purple Highlights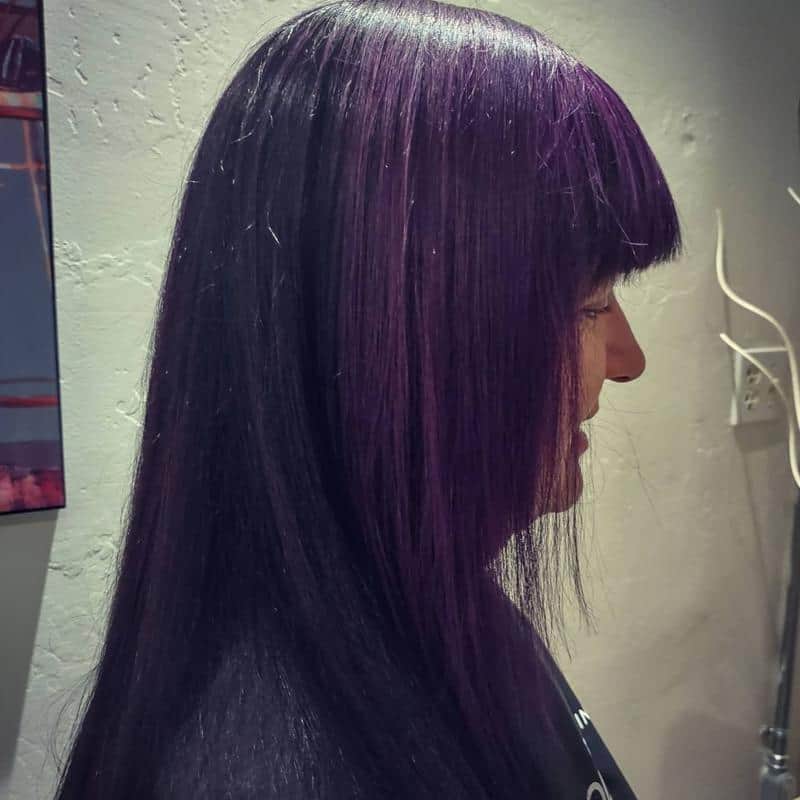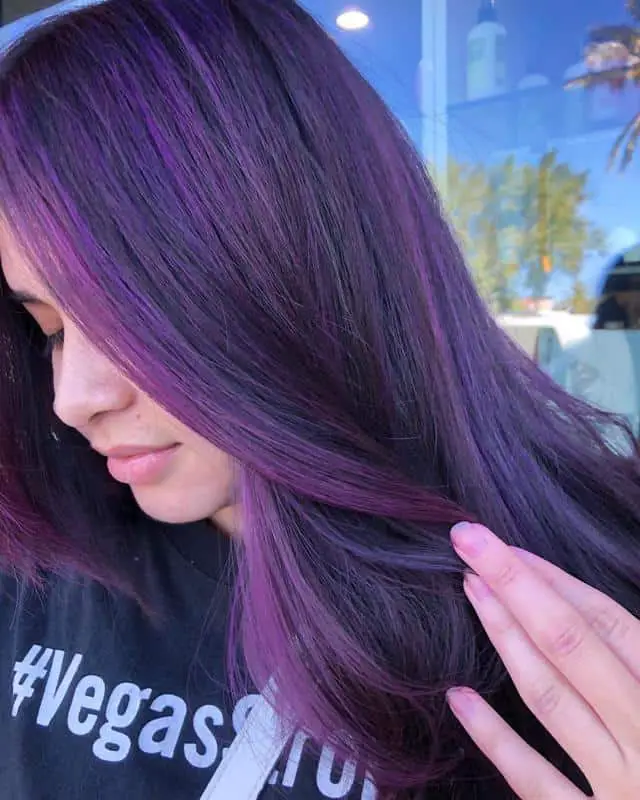 There is not much to say about this type of hairstyle. Your hair is medium long and if you feel that your raven black hair is boring and needs a refresher, bright or dark purple highlights will be a stylish addition to your hairstyle.
Whether you add babylights or chunky highlights, it will give your hair more shine and will go together with any fashion style. Another good thing is that medium long hair won't require as much maintenance and aftercare as really long hair does.
Also, if your hair is cut in layers, you can always dye one of the layers purples, and leave the other ones untouched. Many people practice this style these days, and given that different colors are popular, purple under the light will be a spot on.
Pastel Purple Highlights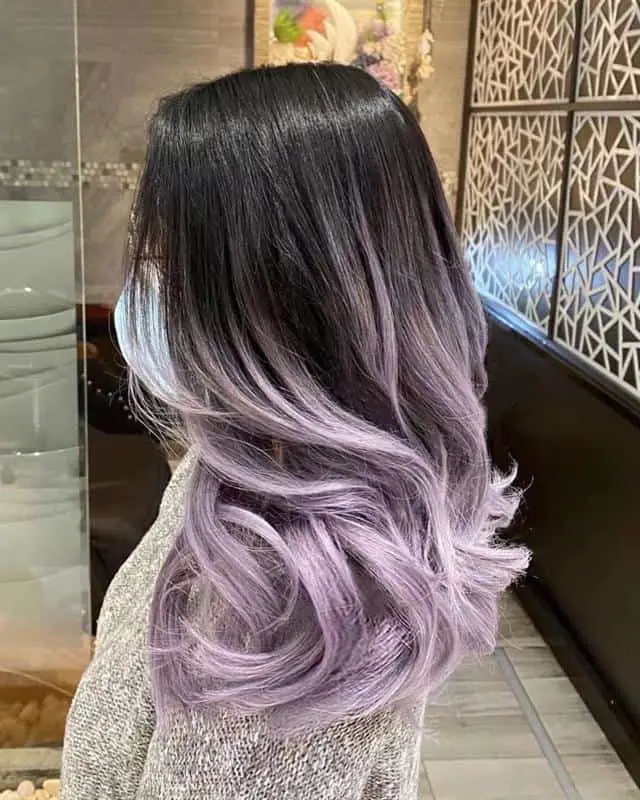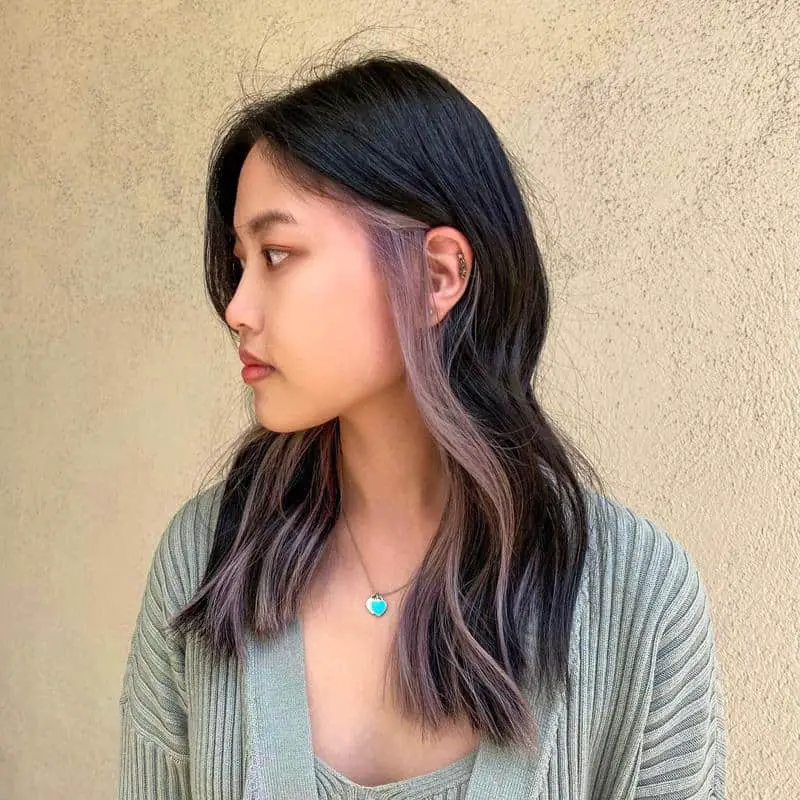 Are you team vivid or team pastel? If your team pastel here is the purple highlights you should try out. These bold people wear them with confidence, and we don't see a reason why shouldn't. Pastel purple highlights will give a drastic transition from black hair into light purple, violet, or lilac.
Not many people go for a change that drastic as pastel highlights often go better together with brighter hair colors such as blonde or some other blonde variations like ash blonde or icy blonde. However, if a pastel purple variant such as lilac makes you feel better, you should definitely try this transition out.
Lavender Highlights On Black Hair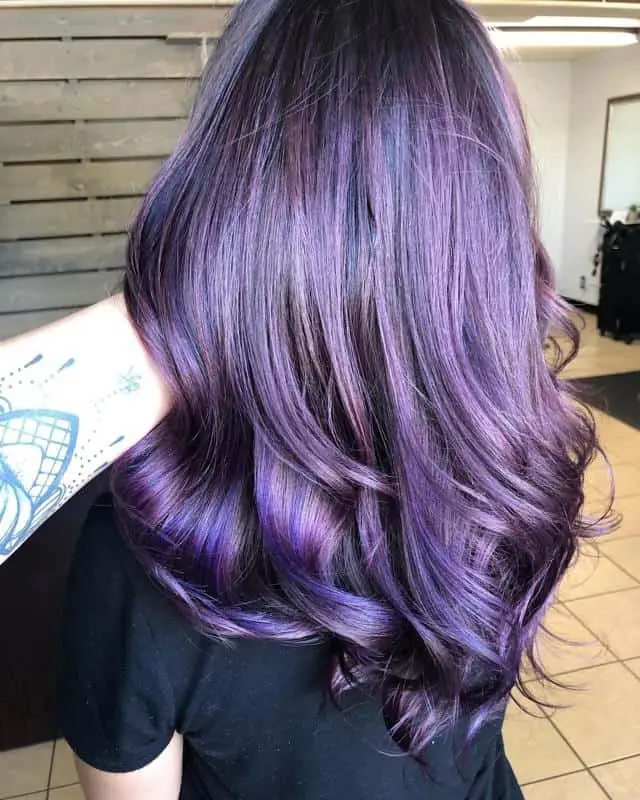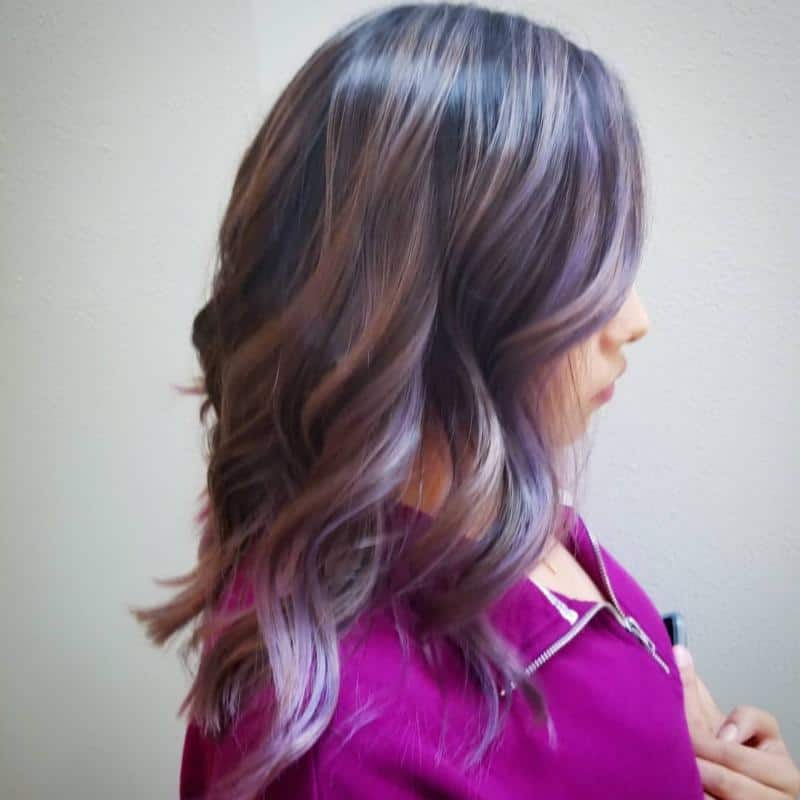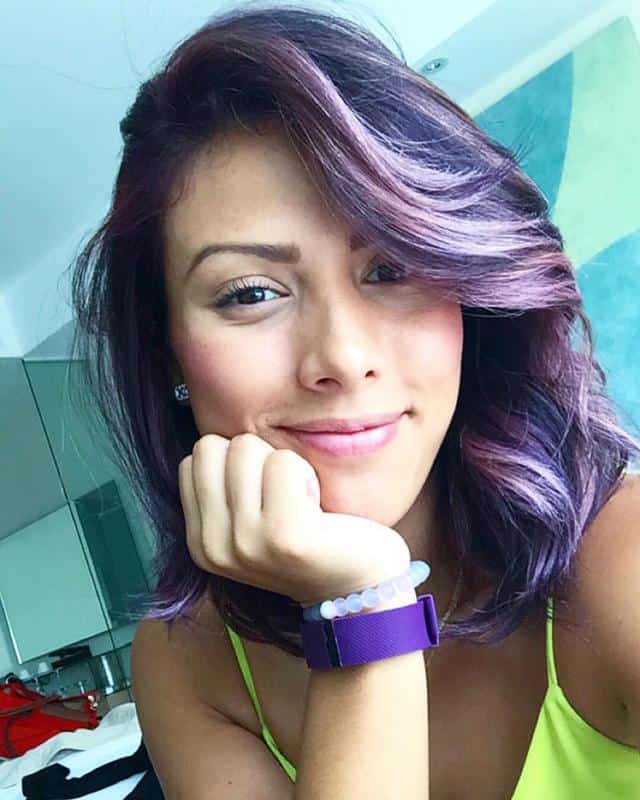 Lavender is one of the most popular plants. It helps with digestive health, sleep, stress, anxiety, and many other health issues. Its color is just as popular, but it's a tricky dye to be dyed, especially on black hair.
Nevertheless, lavender highlights can look gorgeous on black hair, just if you know how to create their full effect. If you don't, it'd be best to visit a skilled hairdresser that would know how to do it properly. Lavender dye would require some bleached highlights, which can be quite difficult when making highlights on black hair. It can take time and multiple visits to the hairdresser.
More importantly, lavender highlights can fade over time, into platinum or icy blonde. They look gorgeous nonetheless, and with proper care, they can be easily maintained, like the haircuts in the images above. It's a growing trend, so better get on the lavender highlights train soon!
Violet Highlights On Black Hair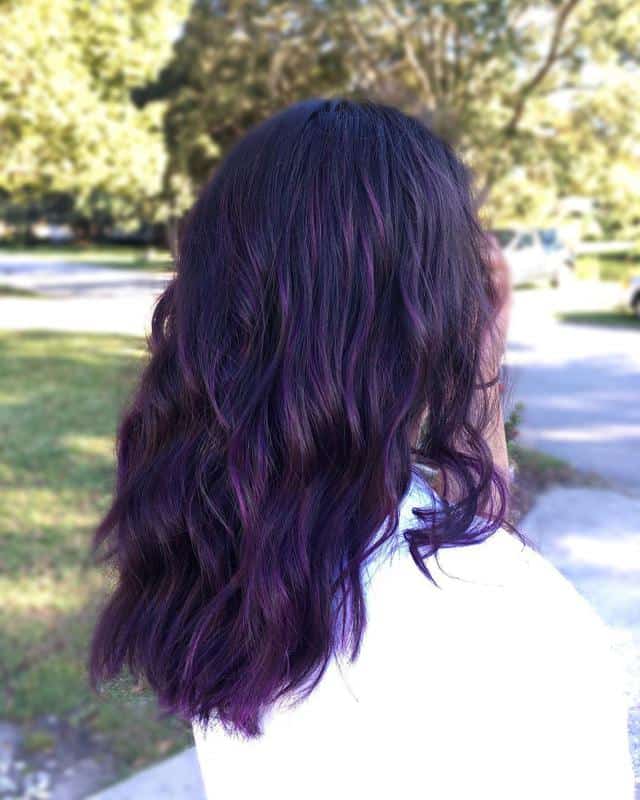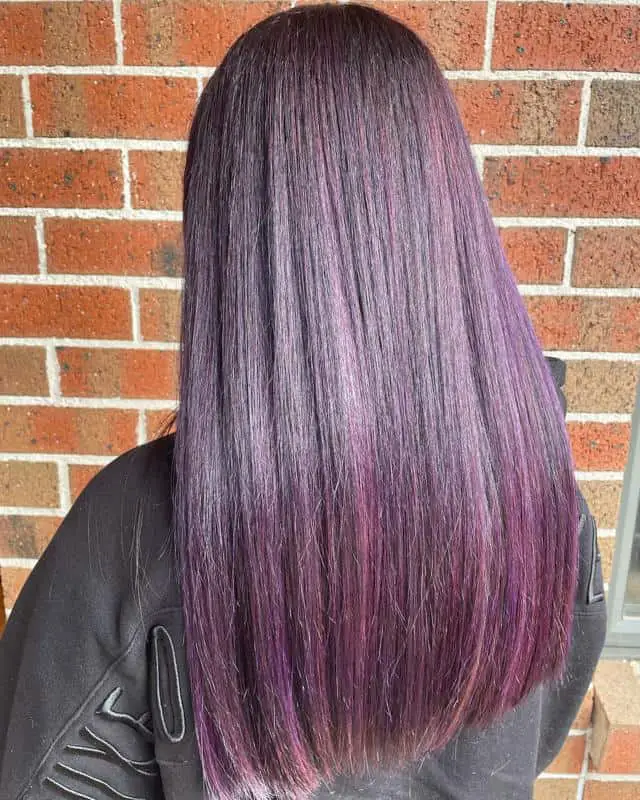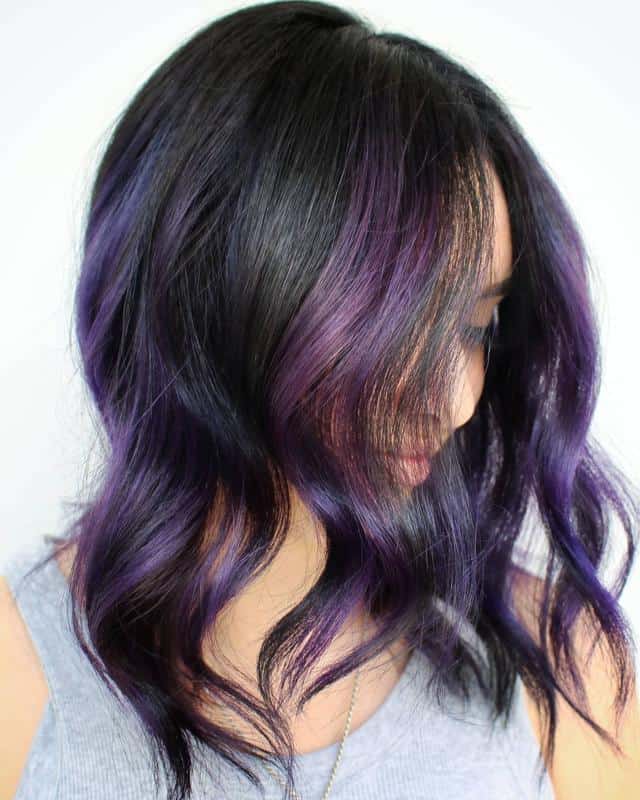 Violet highlights are also a popular option for women and men who are stuck between the preference of dark and light purple highlights on black hair. Violet is also a better option for black hair because it'd require less bleaching.
Violet highlights on black hair are popular in every shape. They give it additional glow and shine and make it appear like it's healthier and full of volume. Violet color also goes together in highlighting your face complexion, while expressing your eyes and lips.
Whether you go for lighter or darker violet highlights on black hair, you won't make a mistake. You can also combine these two, but it might be more time-consuming and harder to care for.
Black To Purple Ombre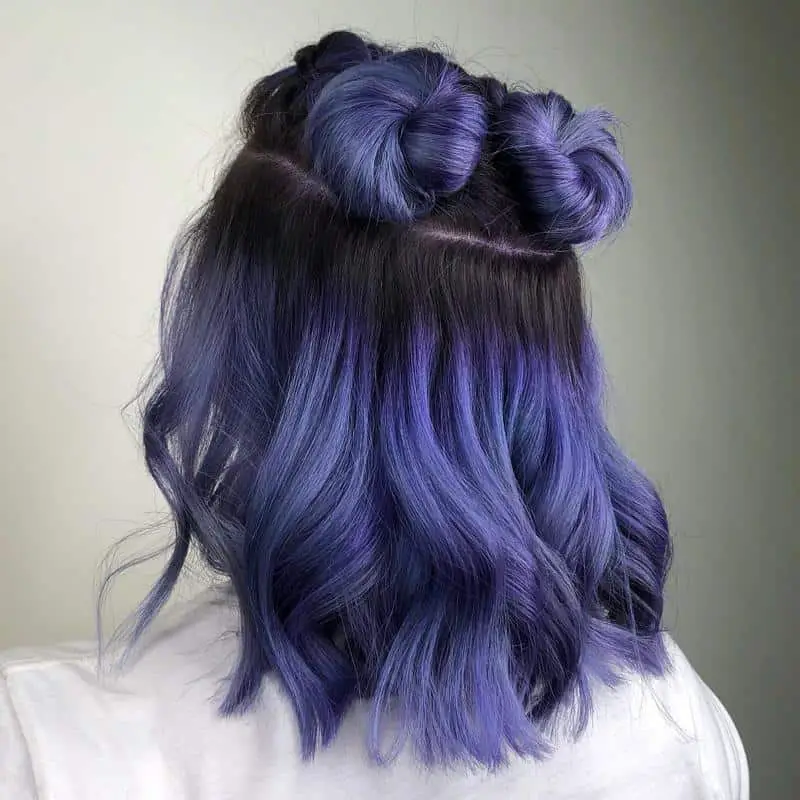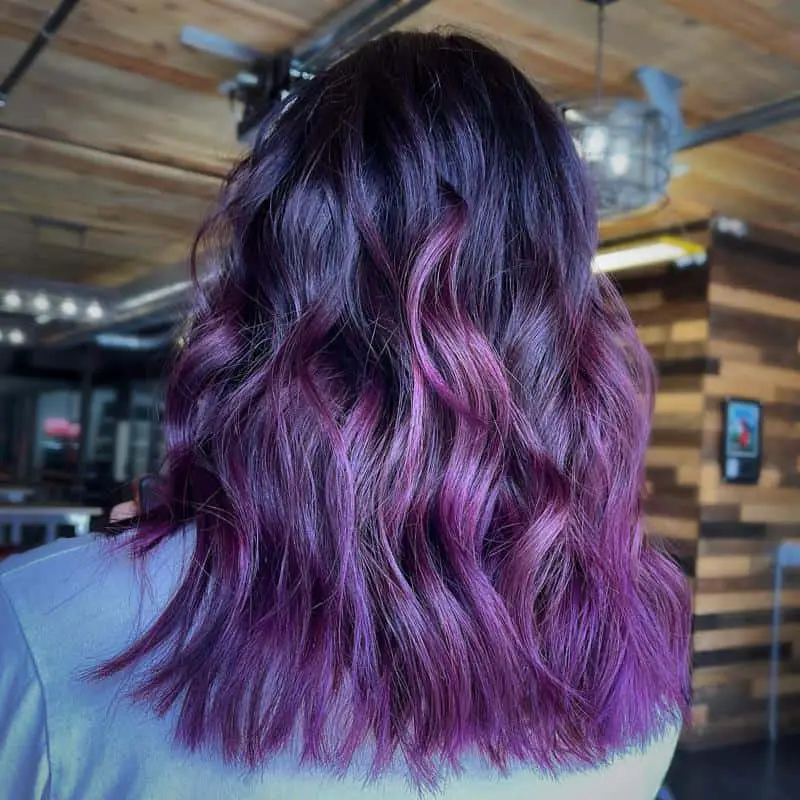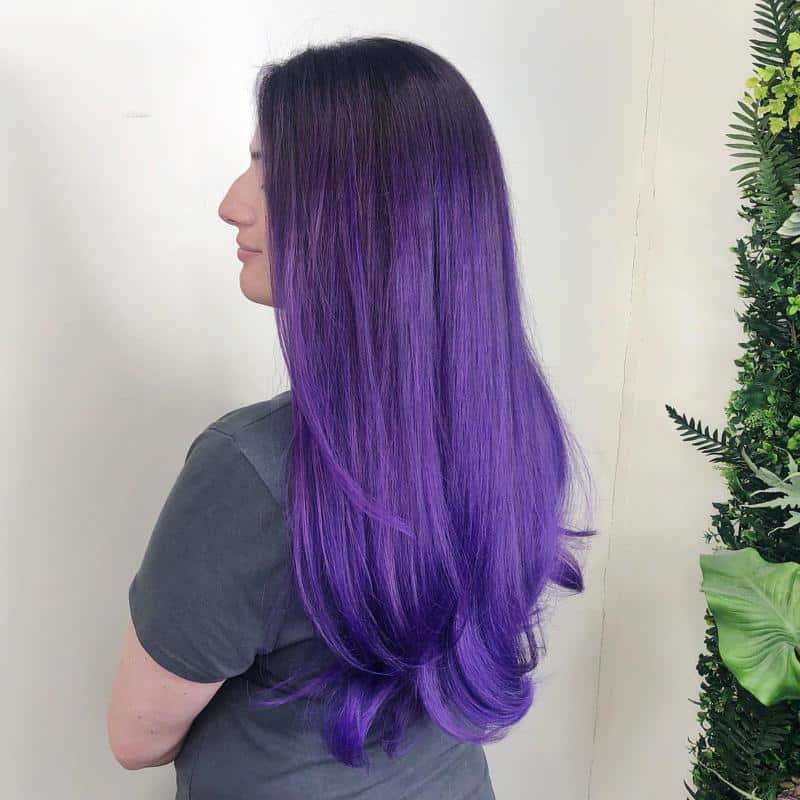 Look at the beautiful ombre transition from black to purple hair. This effect may not be so easy to achieve because you'd need to bleach your hair. However, the result will take your breath away. Ombre comes and goes out of style, but recently it's keeping its spot as a classic.
If you want the effect to last longer, maybe it's better to dye your hair in some darker variant of purple and wait for it to fade a little. Also, the higher up you go, the more hair you'll have to bleach, but it's a good idea to do so if you're growing your hair.
Black To Purple Balayage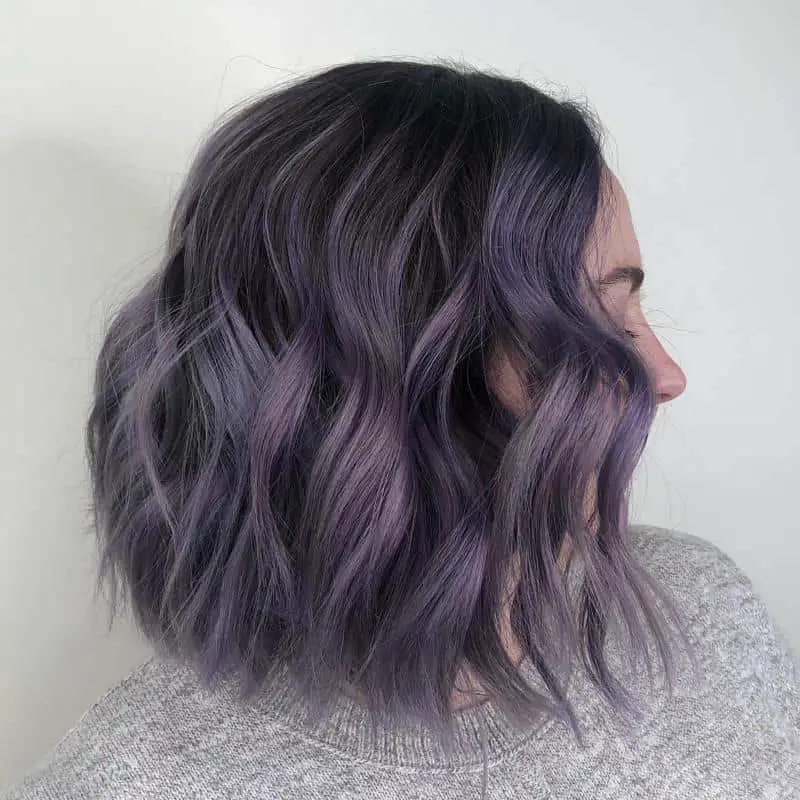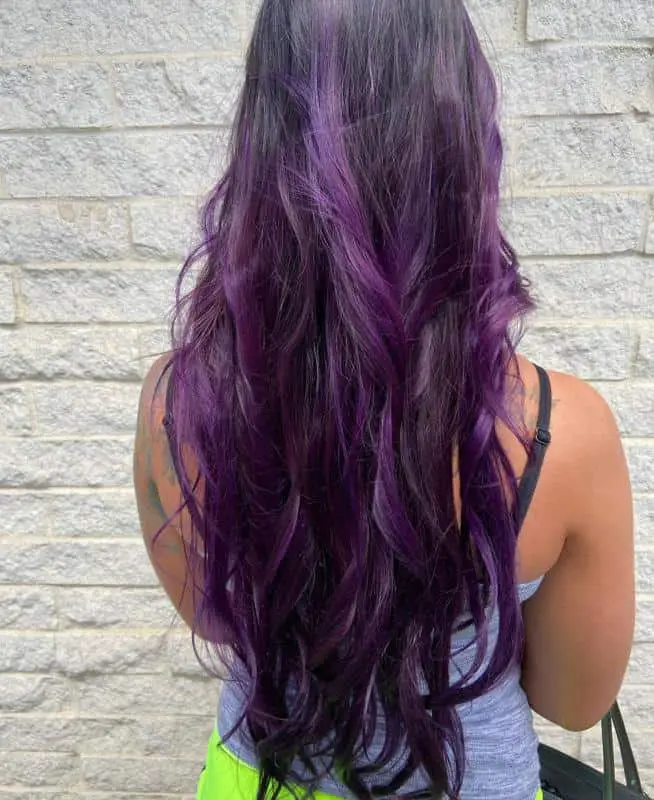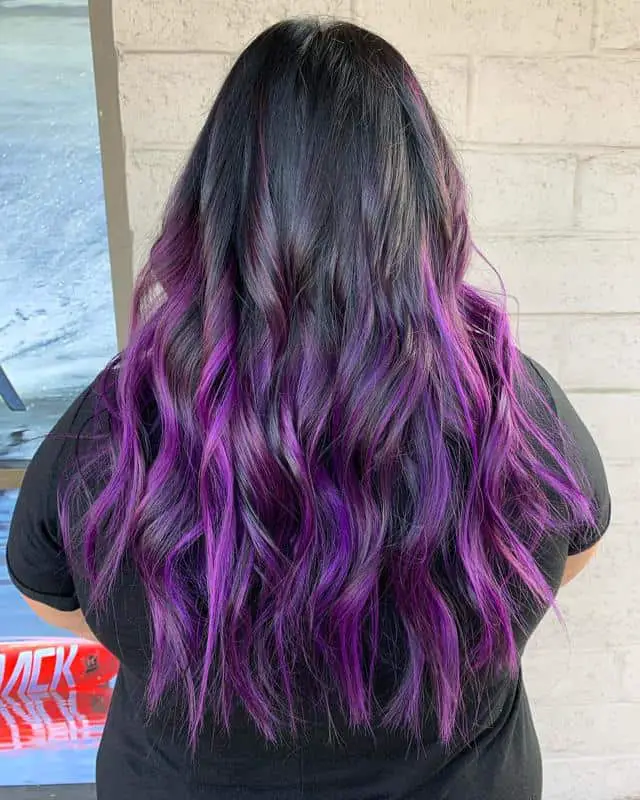 Purple balayage on black hair, especially if you curl it up with a curling iron, looks passionate, attractive, and stylish. It's there to express your personality and give your dark hair more transition. It'll also require some heavier bleaching, especially if you want the effect to last longer.
Balayage usually lasts from four to five months, but you might have to touch it up more frequently if you want it to tag along for a longer time. Purple balayage on black hair will give your hair a beautiful transition, and it looks just as gorgeous on short hair as it does on long.
Purple Mermaid Hair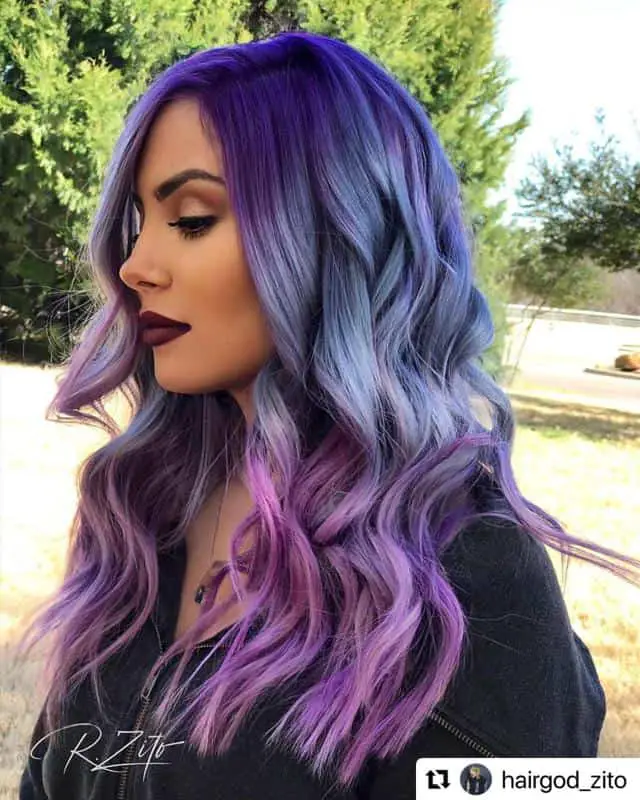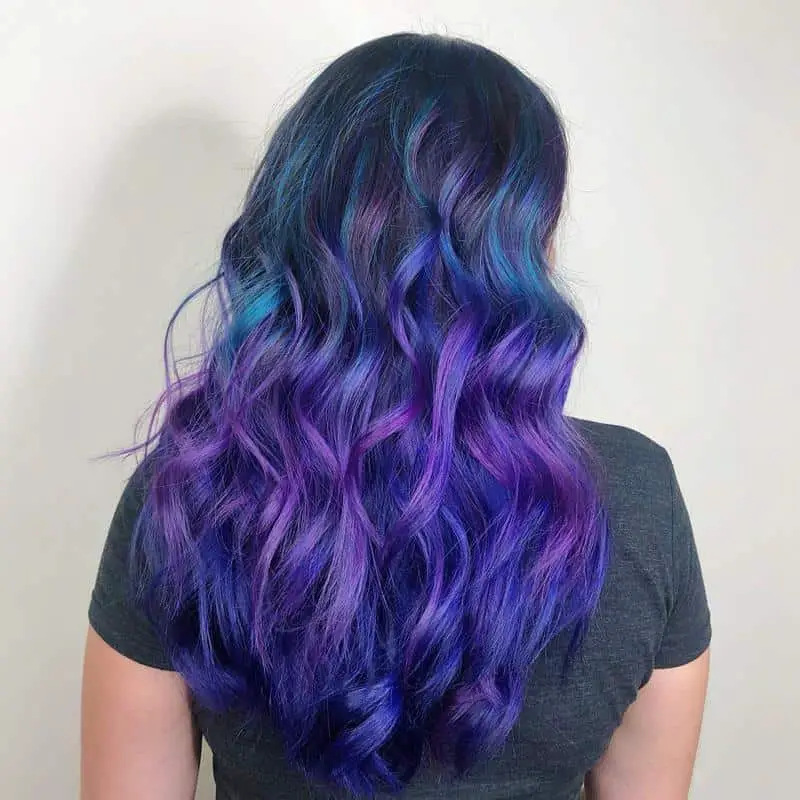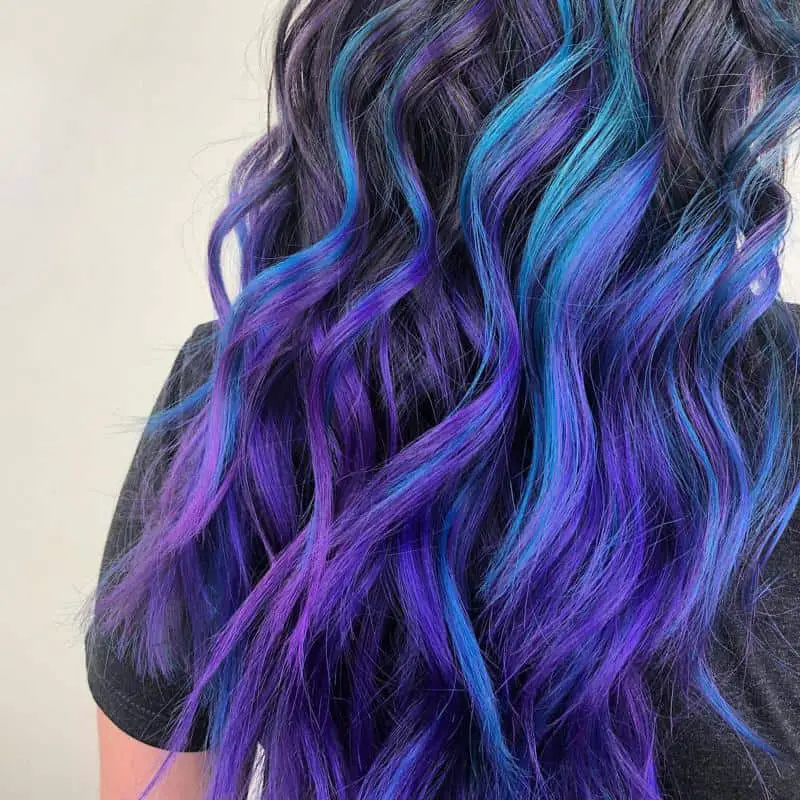 Mermaid's hair is a type of hairstyle that combines vivid and pastel tones. Oftentimes, it combines purple color, but it may also include other tones like blue or green. You can go with that – combine purple and blue tones for a fuller and more mermaid-like effect. However, there are also other options to consider.
The purple color comes with various variants that can give your hair a new and refreshing retouch. Combining two pastel highlight styles with two vivid styles will give your hair a great finish. Still, be careful. Keep in mind that your base hair is black and you'll have to do a lot of bleaching on your part. If you want to keep the black hair, don't forget to let a bit of the black base remain visible.
Indigo Purple Highlights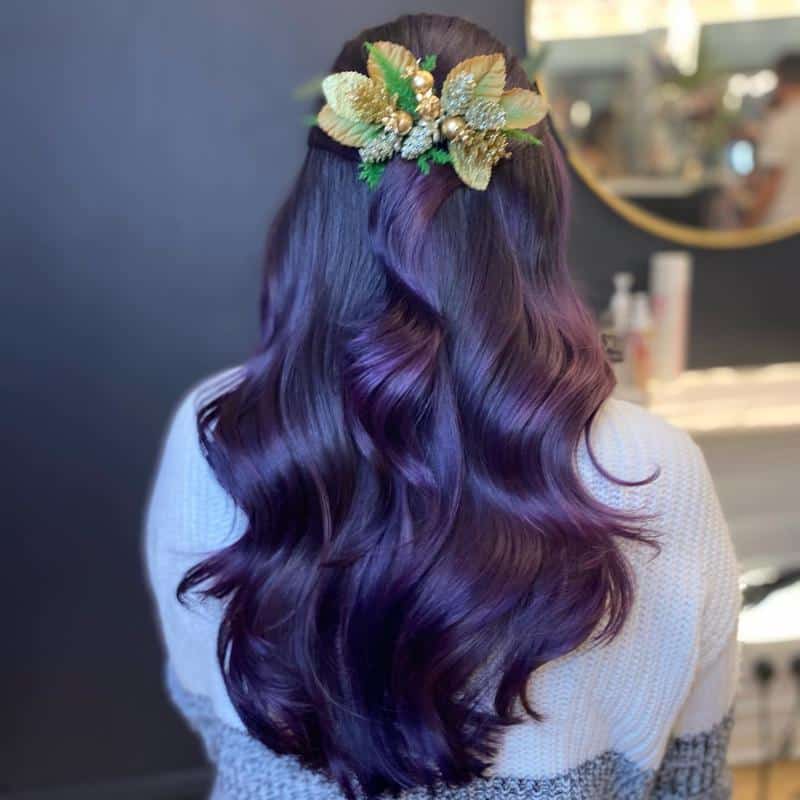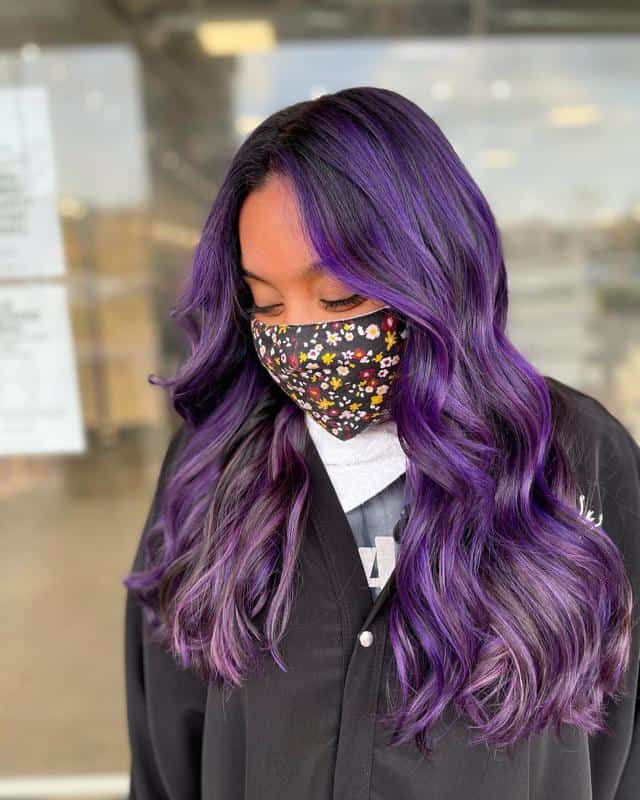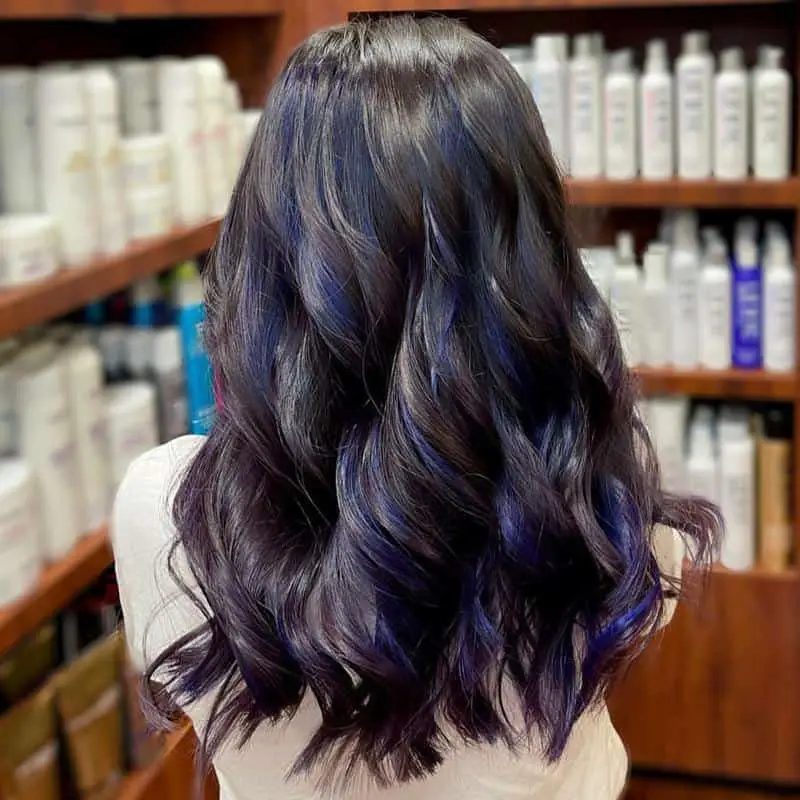 If you want your indigo purple highlights to give additional shine to your black hair, these hairstyles we shared will help you achieve that. Indigo purple highlights may not be always visible. It always comes down to whether you're going to use chunky highlights, or babylights, or both. If you go for babylights, your hair will mostly remain black but it'll have small transitions that give the shining effect.
Purple Underlights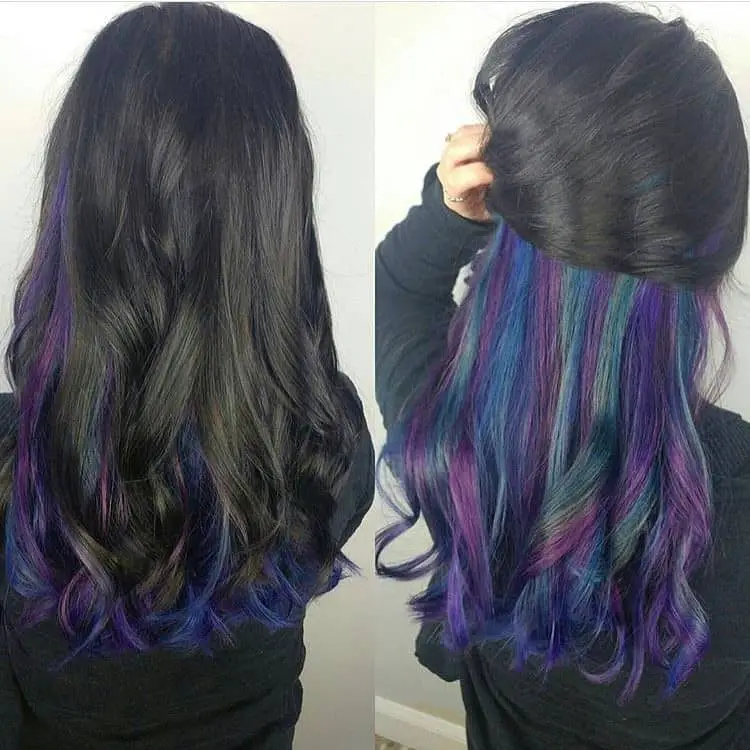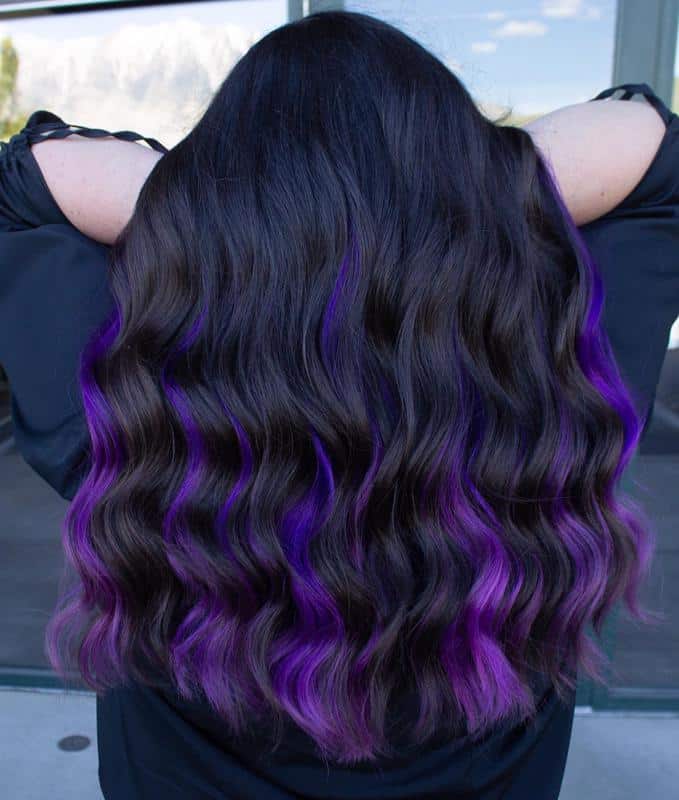 As we mentioned earlier, under lights are an undying trend that keeps spreading onto unconventional colors such as blue and purple. It may not always go well with black hair, because the under lights should always be darker than your base hair.
A good solution is to go for a pastel hair color, especially if your hair is layered and your under light appears to be longer than the base color up. Imagine how cool it'll look when you pick your hair up or braid it!
Electric Purple Highlights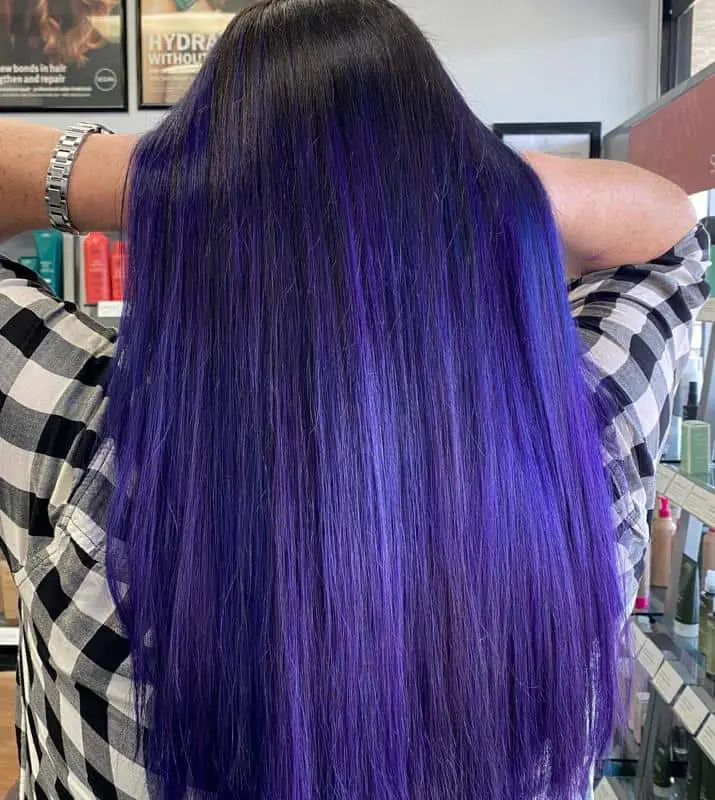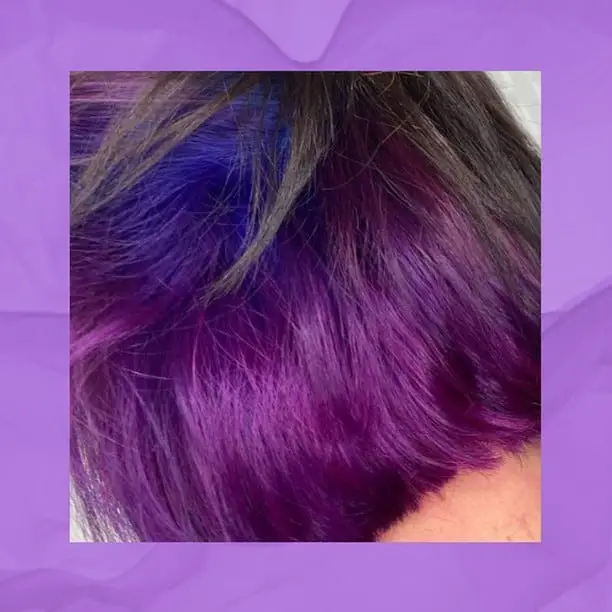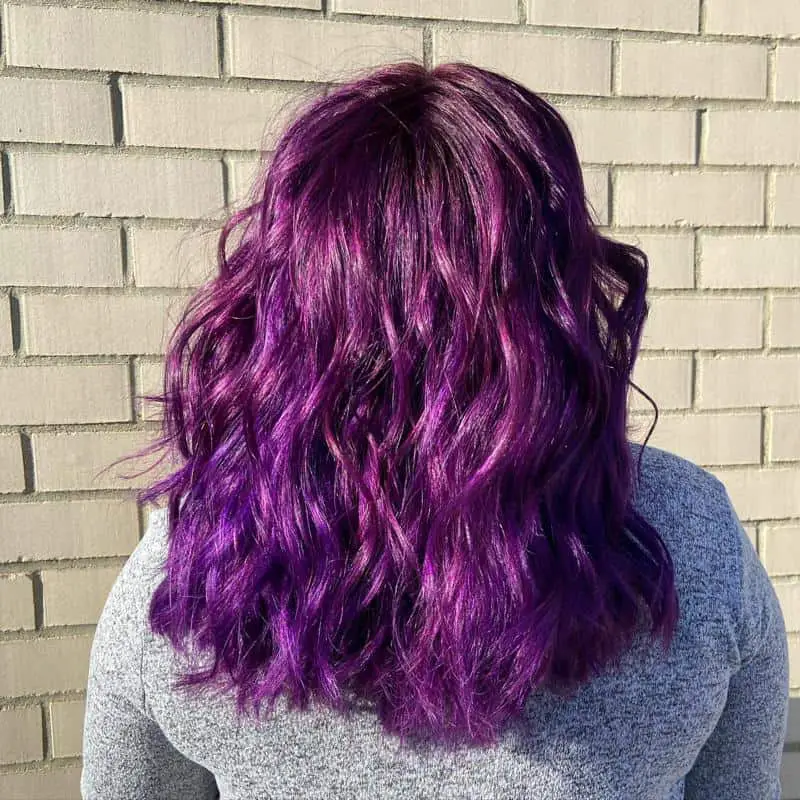 Electric highlights are getting more and more popular, especially among people who like combining colorful fashion details and being noticed. Electric highlights go great with black hair because the transition and gradient they create will take your breath away. Make sure to find a skilled hairdresser who can make it as good as these pictures.
Money Piece Purple Highlights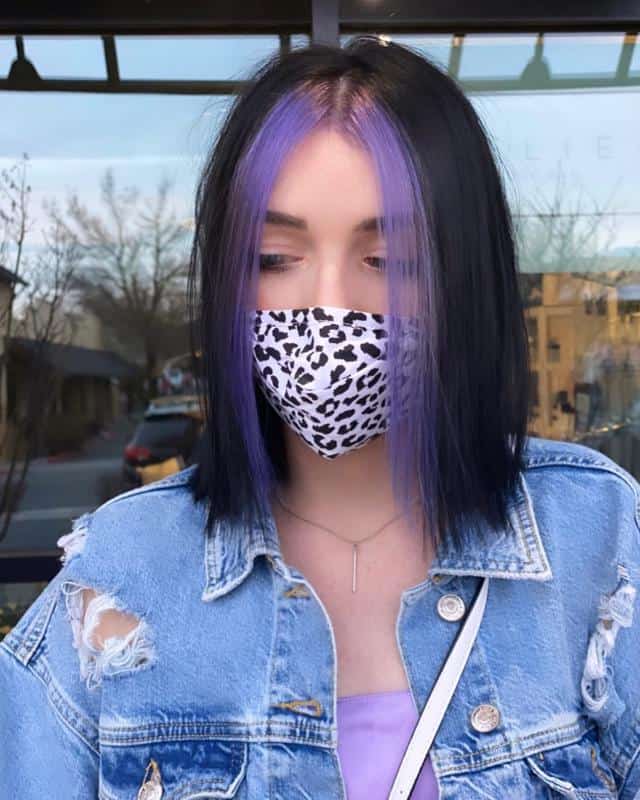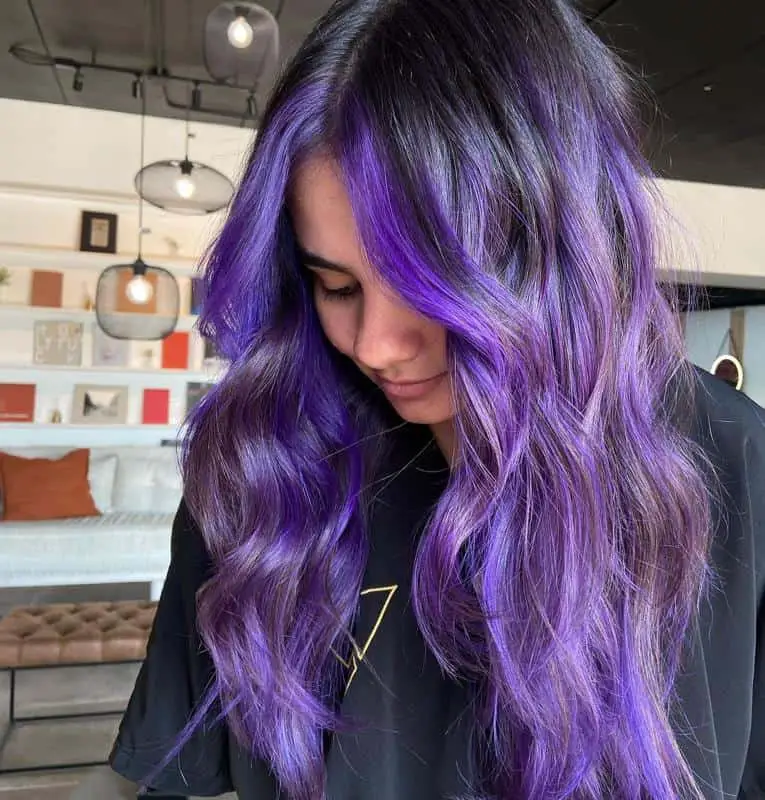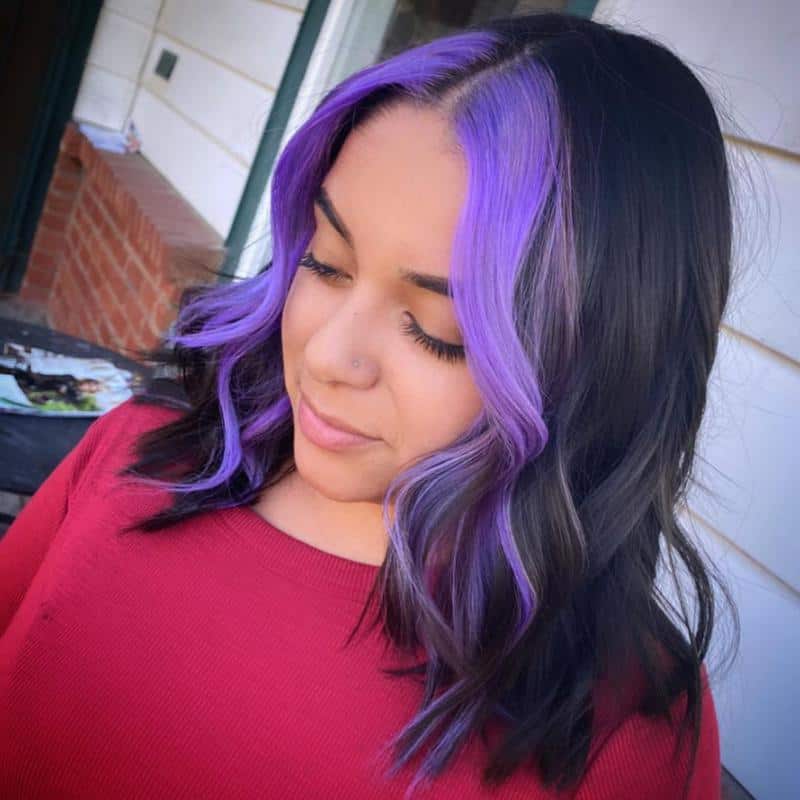 Money piece hairstyle looks luxurious and rich even if you're using odd hair colors. They are attractive and make a premium-looking finish, especially if you combine them with other highlights. If you want to get even more innovative, you can dye the left highlight in one variant of purple, while the other variant of purple will be darker. It all comes down to how creative you are.
The second option is to combine both money piece and balayage highlights together. It'll look like a perfect blend and be quite fashionable in the process!
Read More:
Frequently Asked Questions
Inform yourself of everything you should know about dyeing purple highlights on black hair in this FAQ section.
Q: Can I Go for a Brighter Balayage With Black Hair?
A: Adding bright purple or pastel highlights on black hair can be tricky because you will need to bleach your hair. If your natural hair is already dark enough you may have to need several bleaching attempts until the highlights are enough bright for brighter highlights. Nevertheless, if you slowly transition darker purple highlights into brighter ones, it'll yield great results, and show a creative transition in the process.
Q: Can I Make Purple Highlights on My Own?
A: Purple highlights on black hair require extra skill and care from your hairdresser's side. However, there are various guides on how to get the highlights on your own. If you're not experienced with dyeing and bleaching your hair, we don't recommend it.
Q: Can Guys Make Purple Highlights Hairstyle on Black Hair?
A: Absolutely. Everyone should feel comfortable with the clothes they're wearing and the hairstyle they sport. There are various shades of purple, so we're sure that both men and women can find the purple variation that will suit them properly.