40+ Unique Burgundy Nail Design Ideas (Square & Coffin, Oval & Almond)
When you shop through links on our site, we may earn an affiliate commission. This educational content is not intended to be a substitute for professional advice.
In the mood to experiment with your new nail color, manicure, or gel design? If that is the case, you're going to adore this article, as well as all of our burgundy nail color ideas! The perfect sensual, sexy, and Fall color, keep on reading to discover your new manicure down below!
Burgundy Nails: FAQ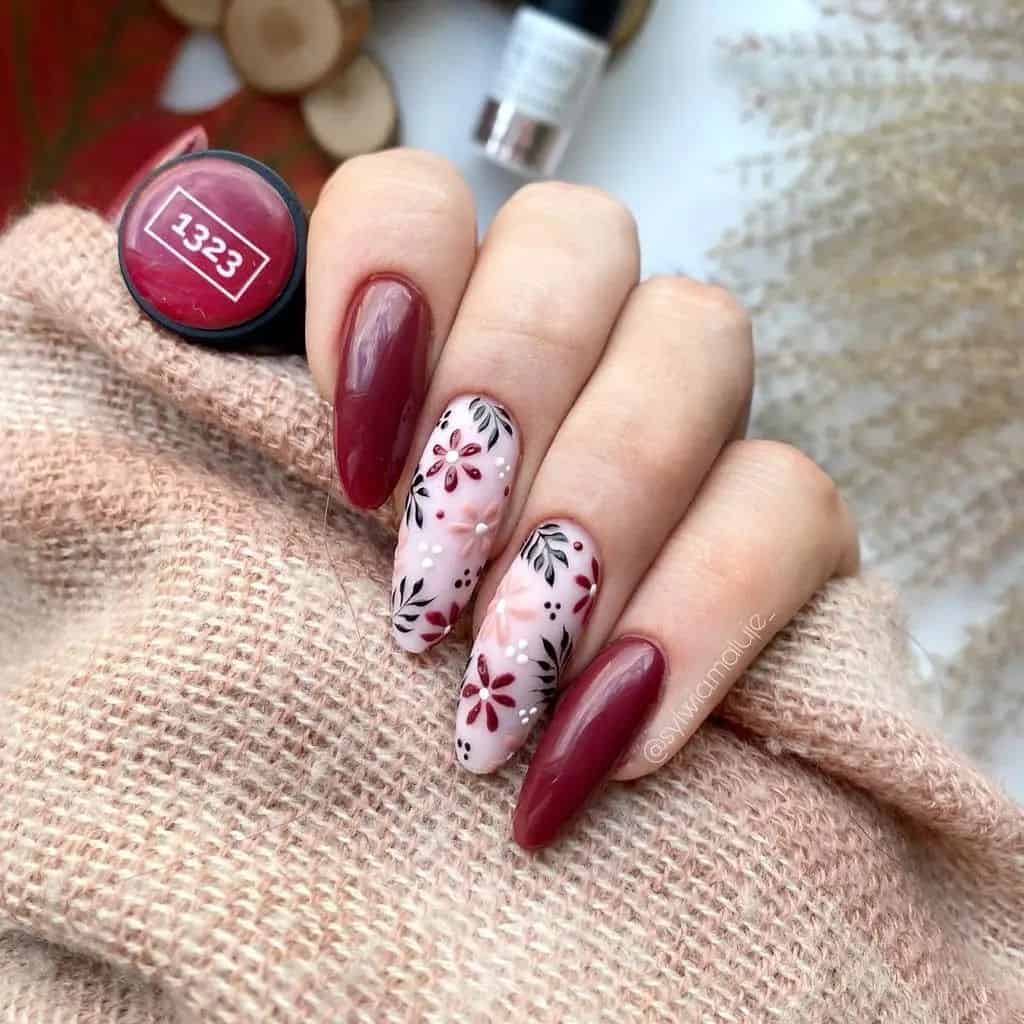 1. Are Burgundy Nails For Everyone?
Hot red or burgundy nail colors will suit anyone who enjoys sensual prints and feminine ideas. Red is one of the most common looks and colors on women who wish to get noticed and those who like to wear office-friendly nails. It is also a common color for date nights.
2. Does This Color Have A Special Meaning?
Did you know that red or burgundy color stands for your sensual and dominant side? If you are an aggressive and truly passionate girl who lives for dramatic nails, you're going to enjoy these.
3. How Much Are Burgundy Nails?
Your next burgundy-inspired nails or manicure doesn't have to be too pricey. This is because there is no nail art involved. If you're getting this color done on top of your natural nails, you're looking at $20-$30 per one manicure.
However, if you're getting a gel manicure, you're going to pay around $40-$60. Acrylics in burgundy can go even higher, depending on your nail artist and his or her level of experience.
20 Square & Coffin Burgundy Nail Design IDeas
1. Deep Burgundy Nail Designs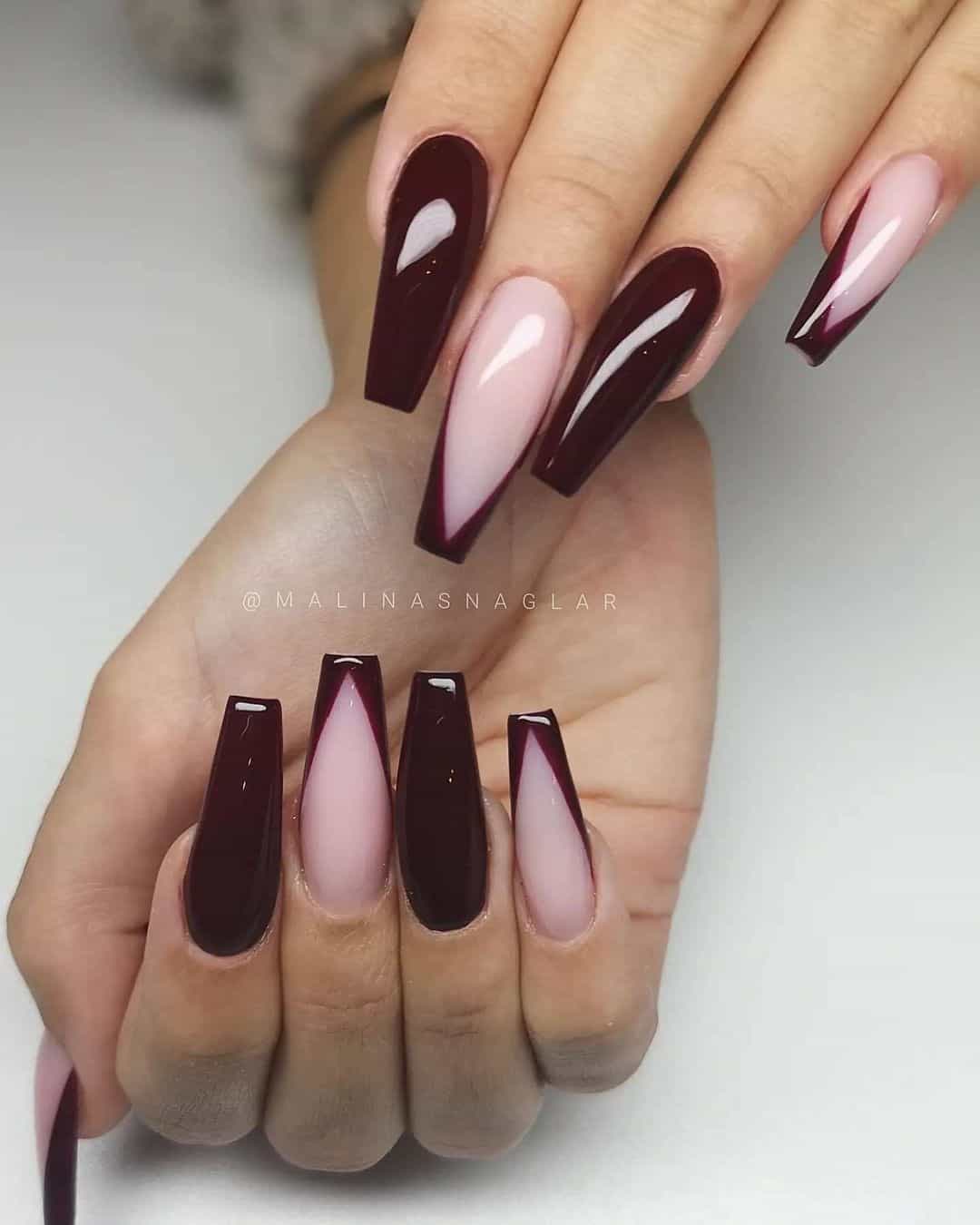 If you enjoy longer acrylics and you're a fan of sexy looks you're going to like this nail creation. It is a time-consuming manicure, so heads up since you might not prefer spending two to three hours at a salon. It is the best look for your prom or night-outs.
2. Cute Burgundy Nail Designs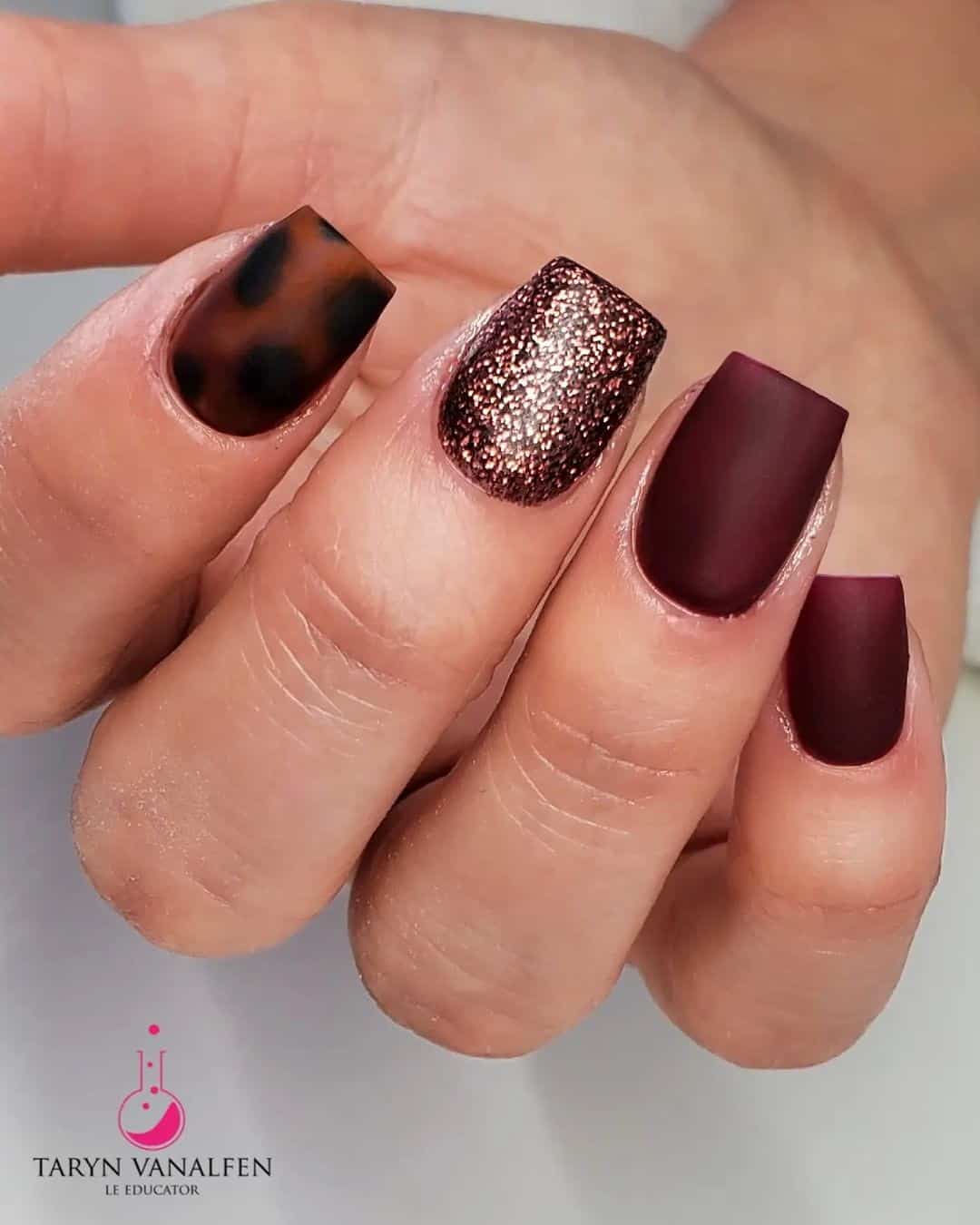 This short square manicure is for anyone who needs something practical. If you are a workaholic woman you're going to like this design. Spice it up just a little bit with this cheetah print to give it elegance and that unique pop.
3. Short Burgundy Nail Designs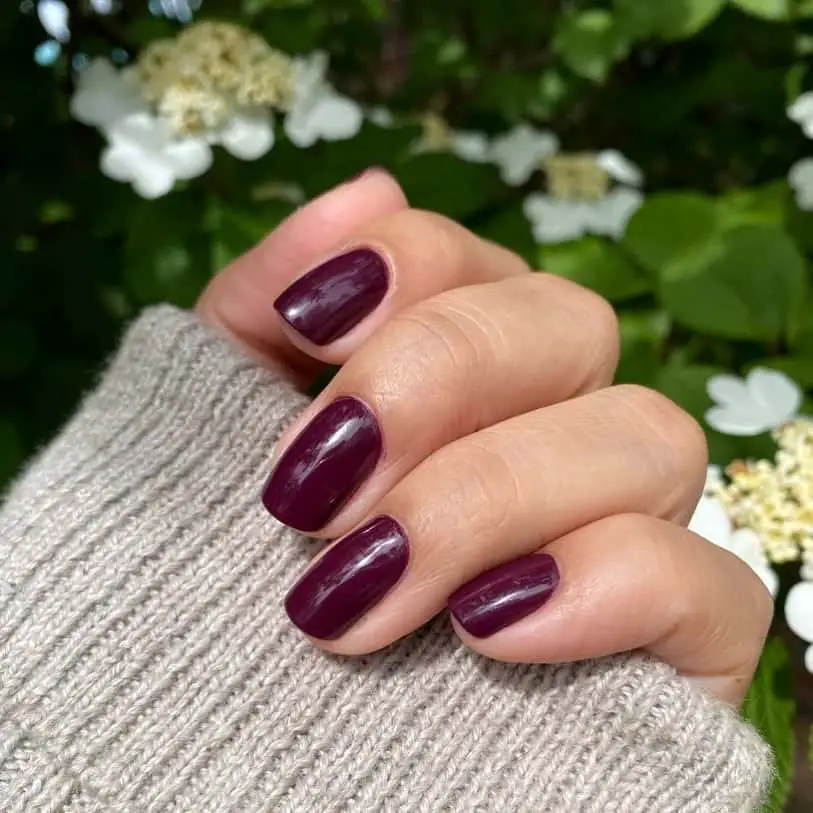 If you're a fan of simplicity and you enjoy shorter nails, give it a go with this dark burgundy manicure. You will like it for your day-practical wear the most.
4. Natural Burgundy Nail Design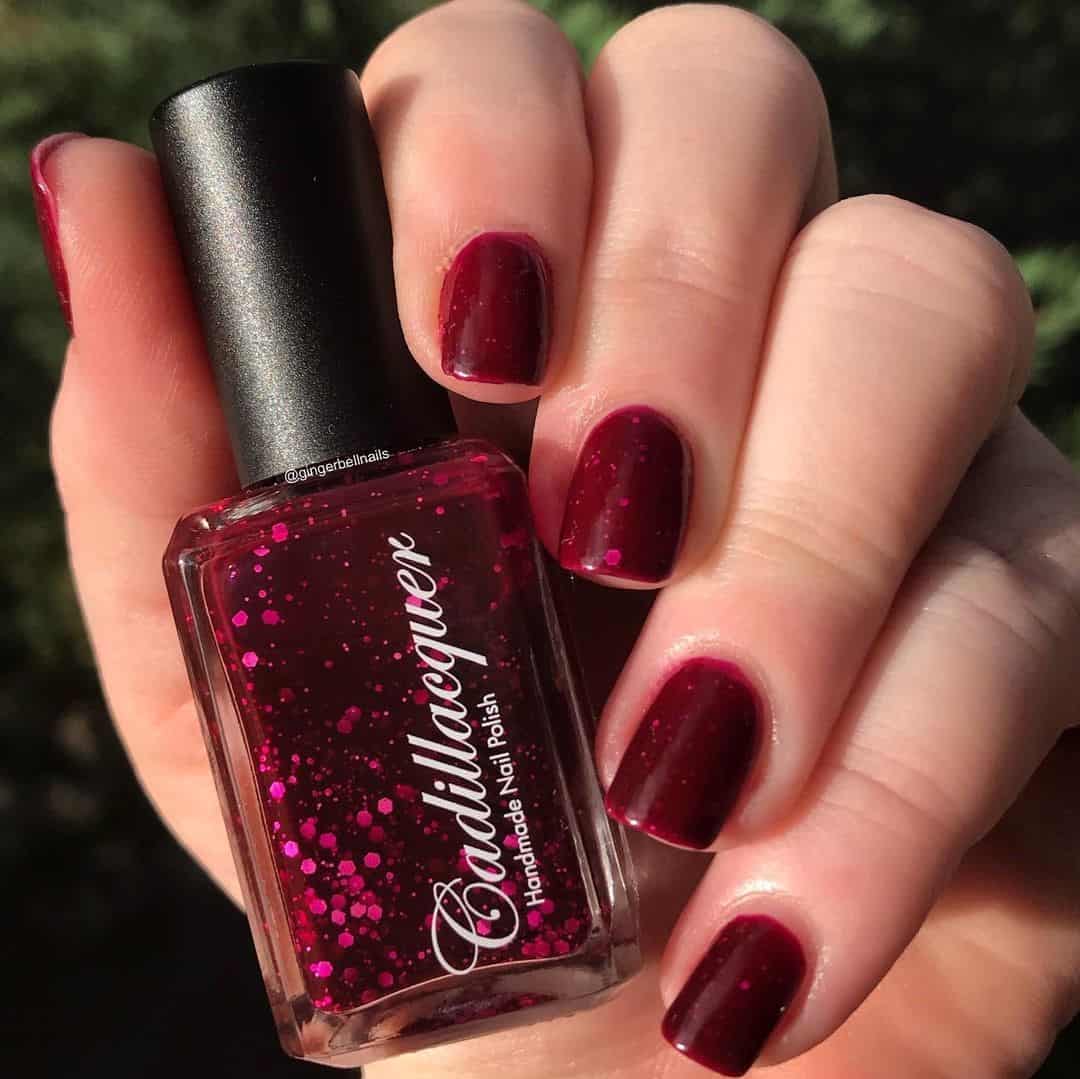 Short square nails with a pop of sparkle and this burgundy base will look feminine and elegant. Go for a shiny topcoat to make it more attractive and appealing to the eye.
5. Yellow & Burgundy Nails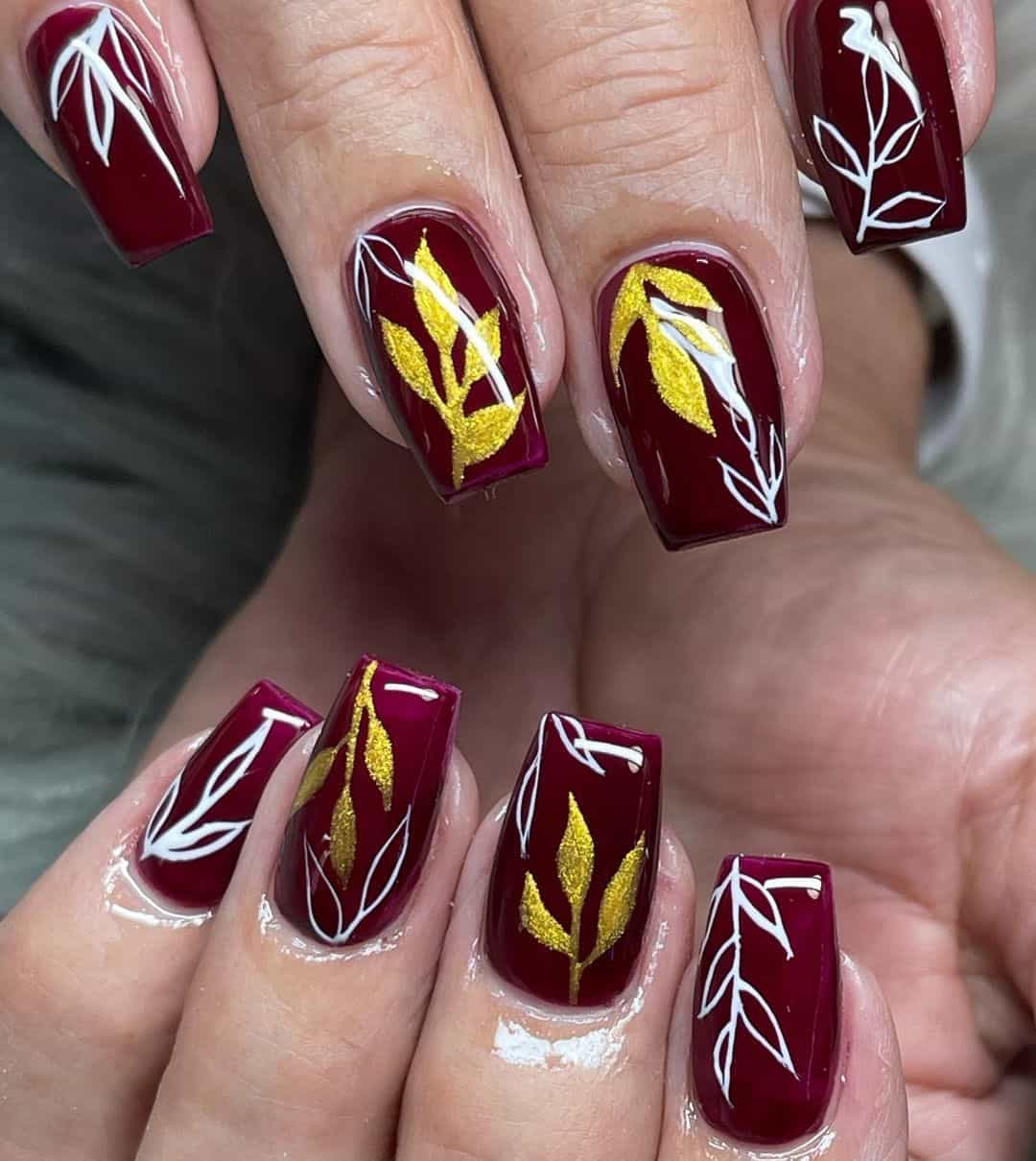 If you're a fan of nail art and you enjoy creativity, try this print. This golden color will look so lovely and lively on top of your dark romantic burgundy base.
6. Short Coffin Burgundy Nails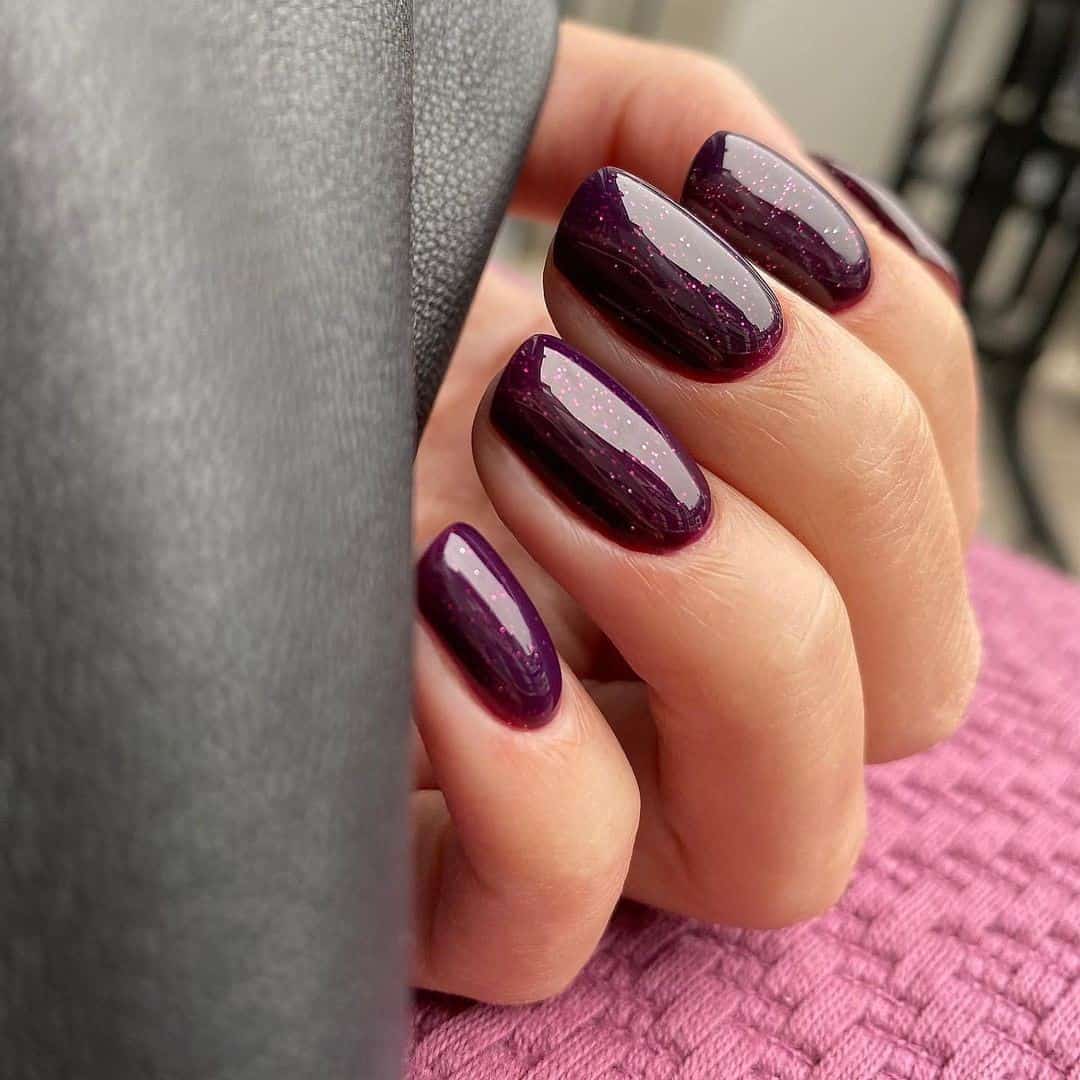 Anyone who likes shorter nails is going to like this burgundy vibe with loads of glitter. If you're looking for an office-friendly solution and you're a fan of seamless designs that look neat without being too flashy, try this outcome.
7. Glossy Burgundy Nails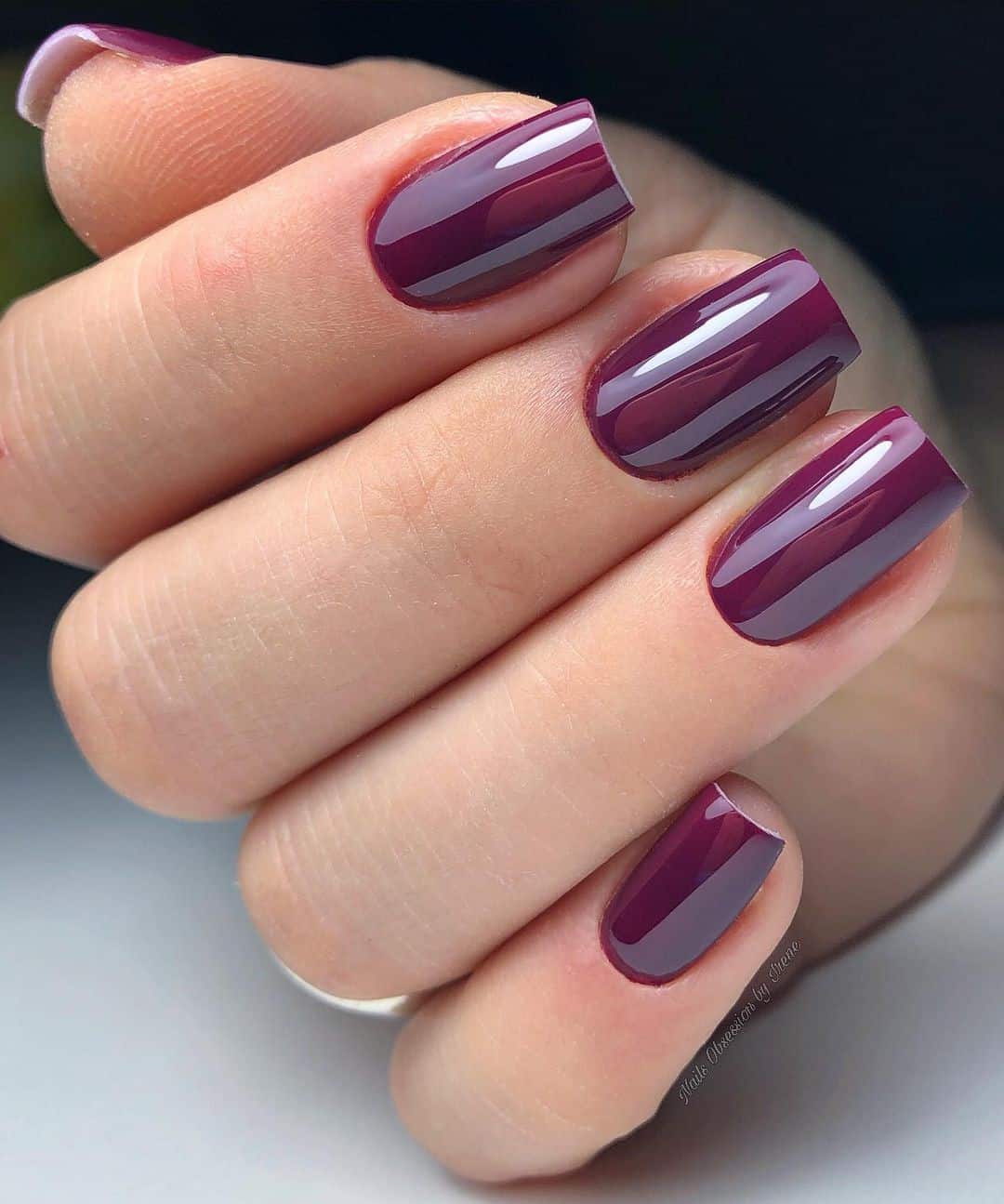 Defined square nails will take some time to "nail". If you're a fan of neat designs and you're looking for the prettiest square or coffin design, give it time and patience to perfect this. It is elegant and perfect for those who have naturally shorter nails.
8. Burgundy Nail Designs With Glitter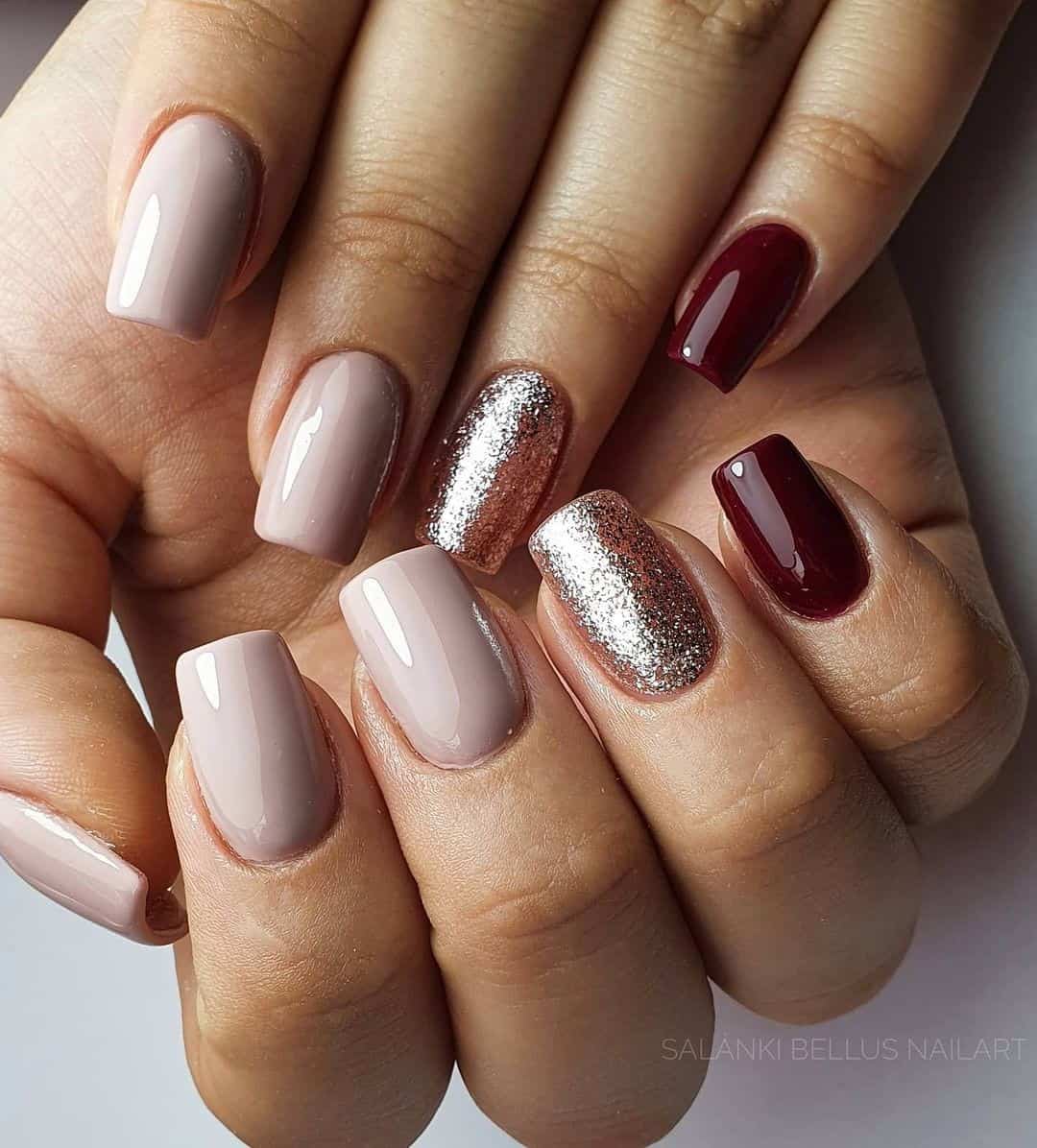 Add some other colors right next to your chosen burgundy polish. Bright beige color and some shiny glitter will look so lovely. If you're looking for the prettiest manicure for Christmas or NYE, this will suit you. Great for any length, both artificial or natural nails.
Also Read: Top 40 Stunning Nail Designs With Glitter 2022(Short & Long)
9. Long Burgundy Nails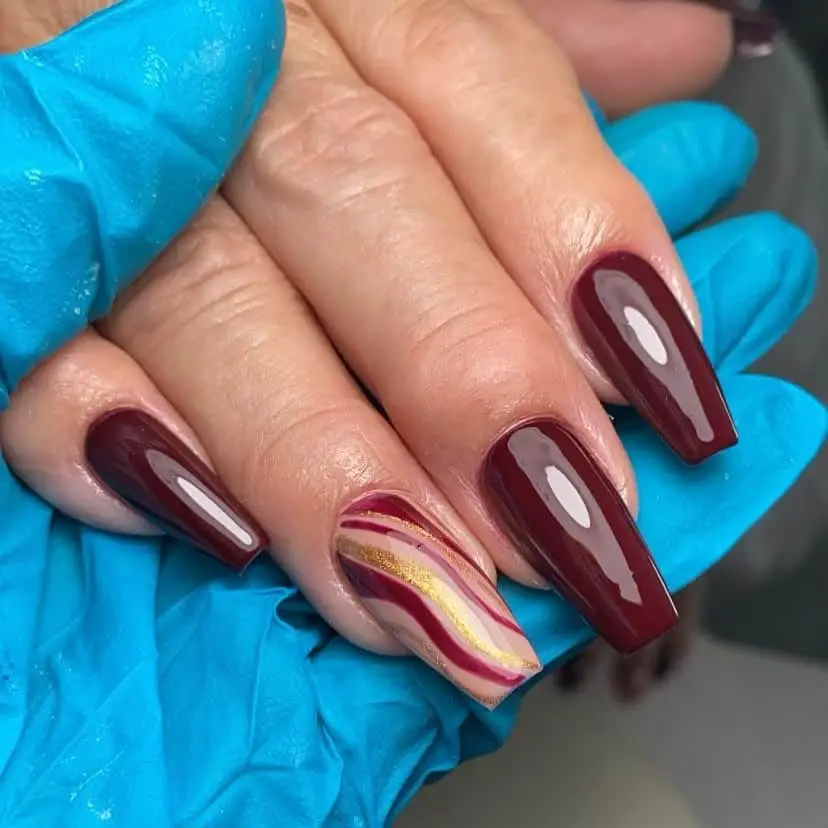 If your nail artist is skilled and they know how to do creative ideas, give it a go with this polish. They can make your nails even more elegant and flashy with this watercolor and pop art design. Perfect for teens!
10. Acrylic Burgundy Nails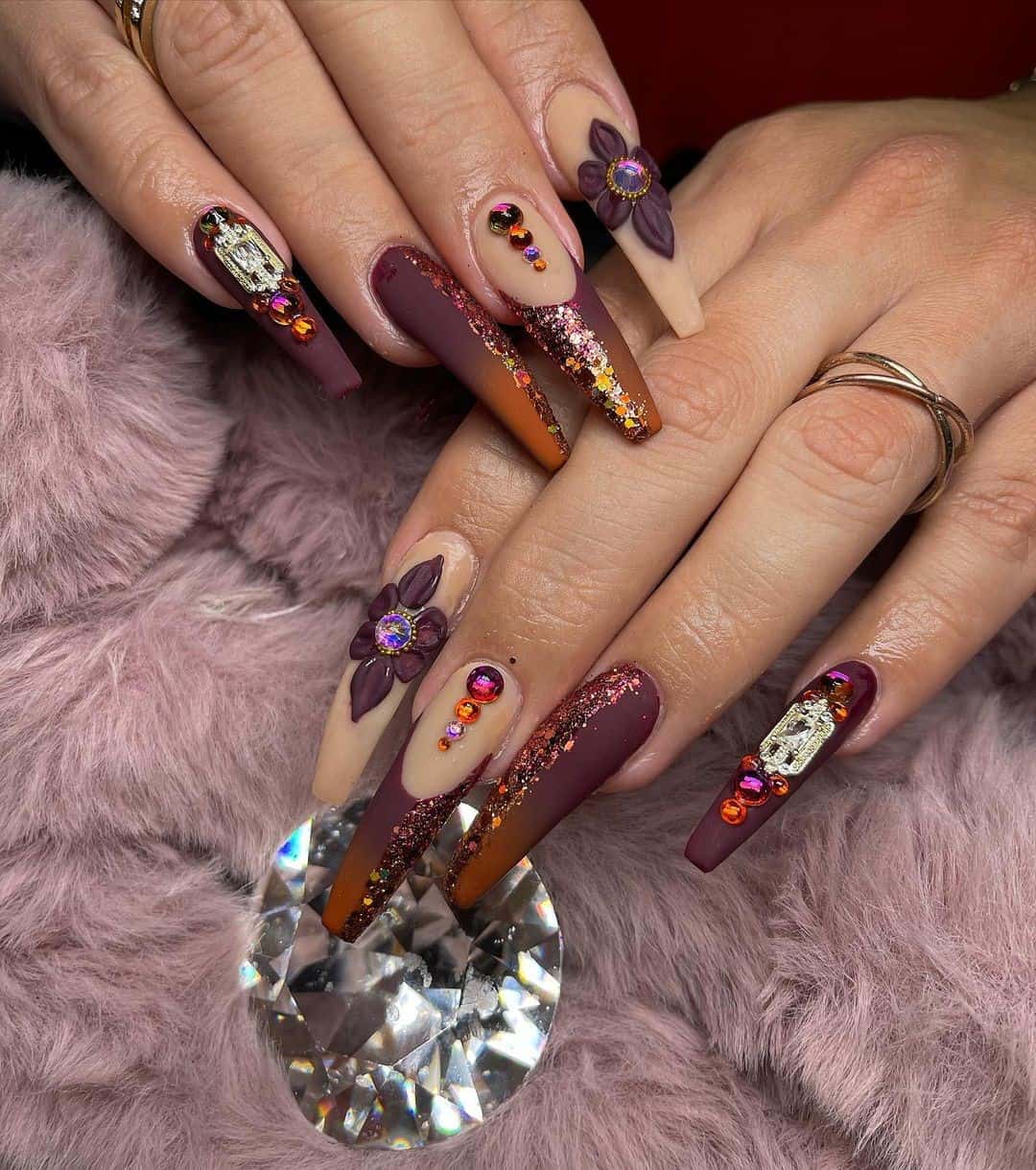 Go for these extra long acrylics if you're into drama. Anyone who likes to stand out and is into longer nails is going to like this manicure. Add a matte black coat and loads of jewels to spice up the design per your preference.
11. Burgundy Nail Designs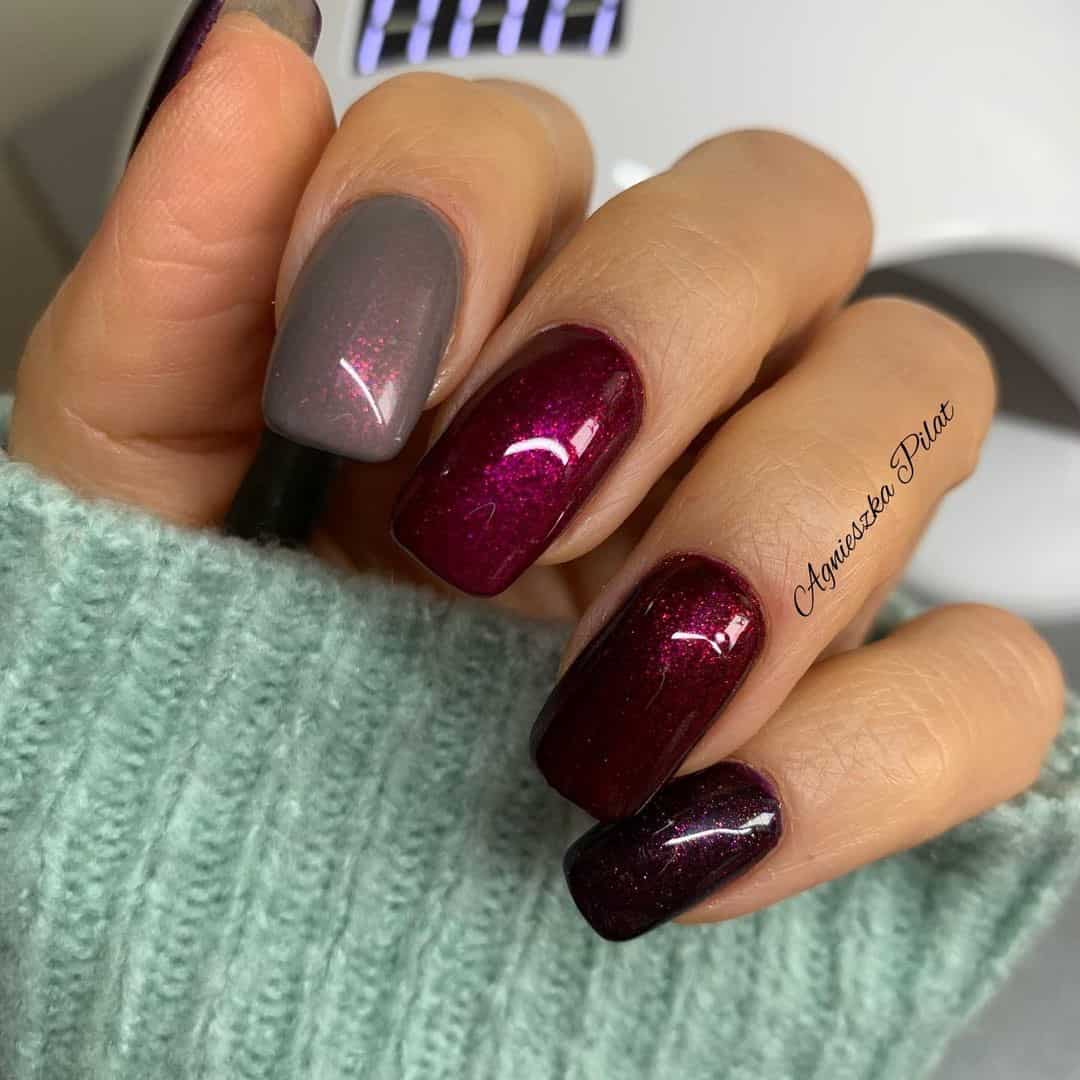 Do you want to try out this ombré burgundy nail design? Anyone who is into different looks and who is seeking for something cute and party-like is going to like this manicure.
12. Black & Red Burgundy Nails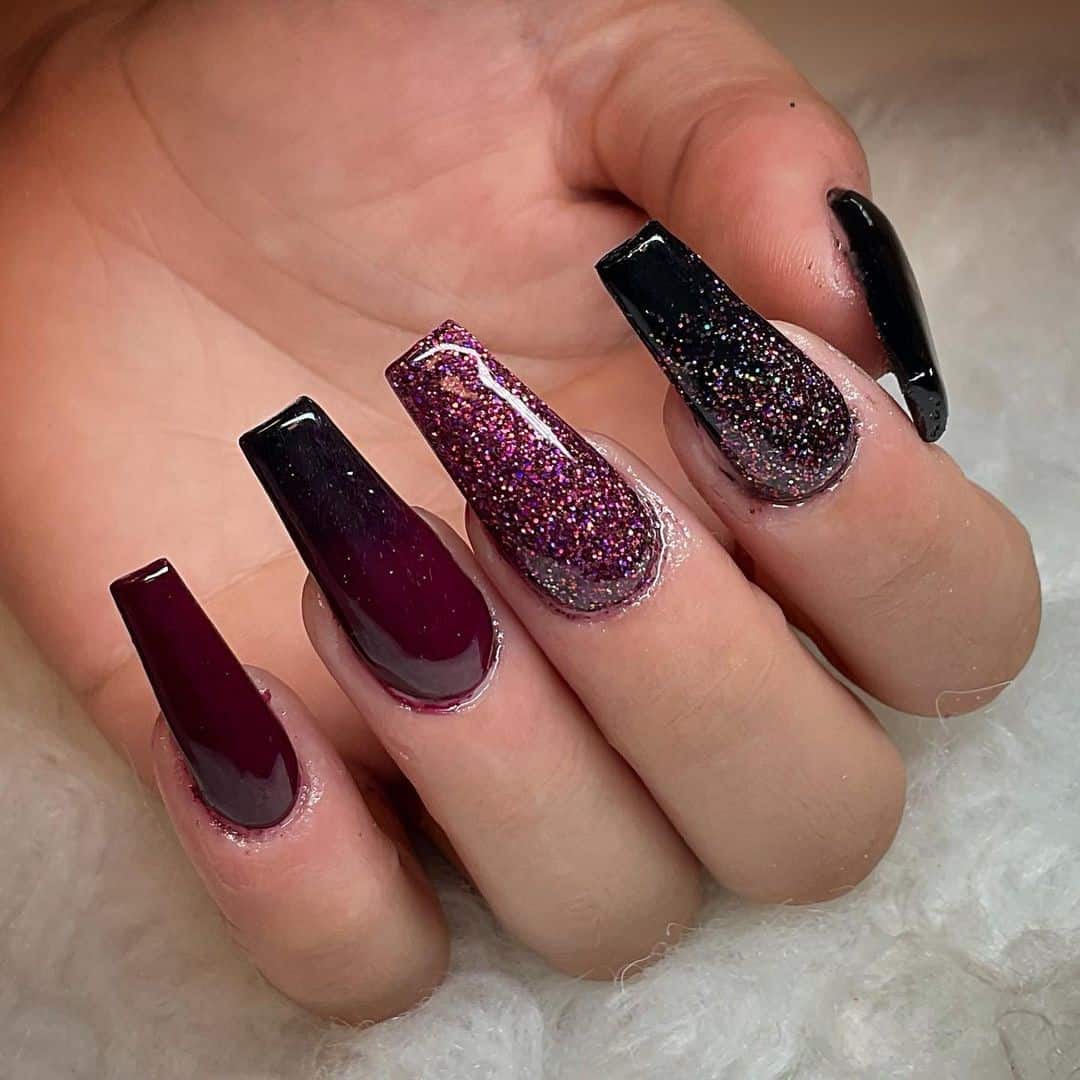 Long coffin nails with glitter will suit women who are off to their prom the most. If it is your birthday you can also give it a go with this sensual and hot trendy burgundy solution.
Also Read: Top 15 Easy Red And Black Nail Arts
13. Galaxy Burgundy Nail Design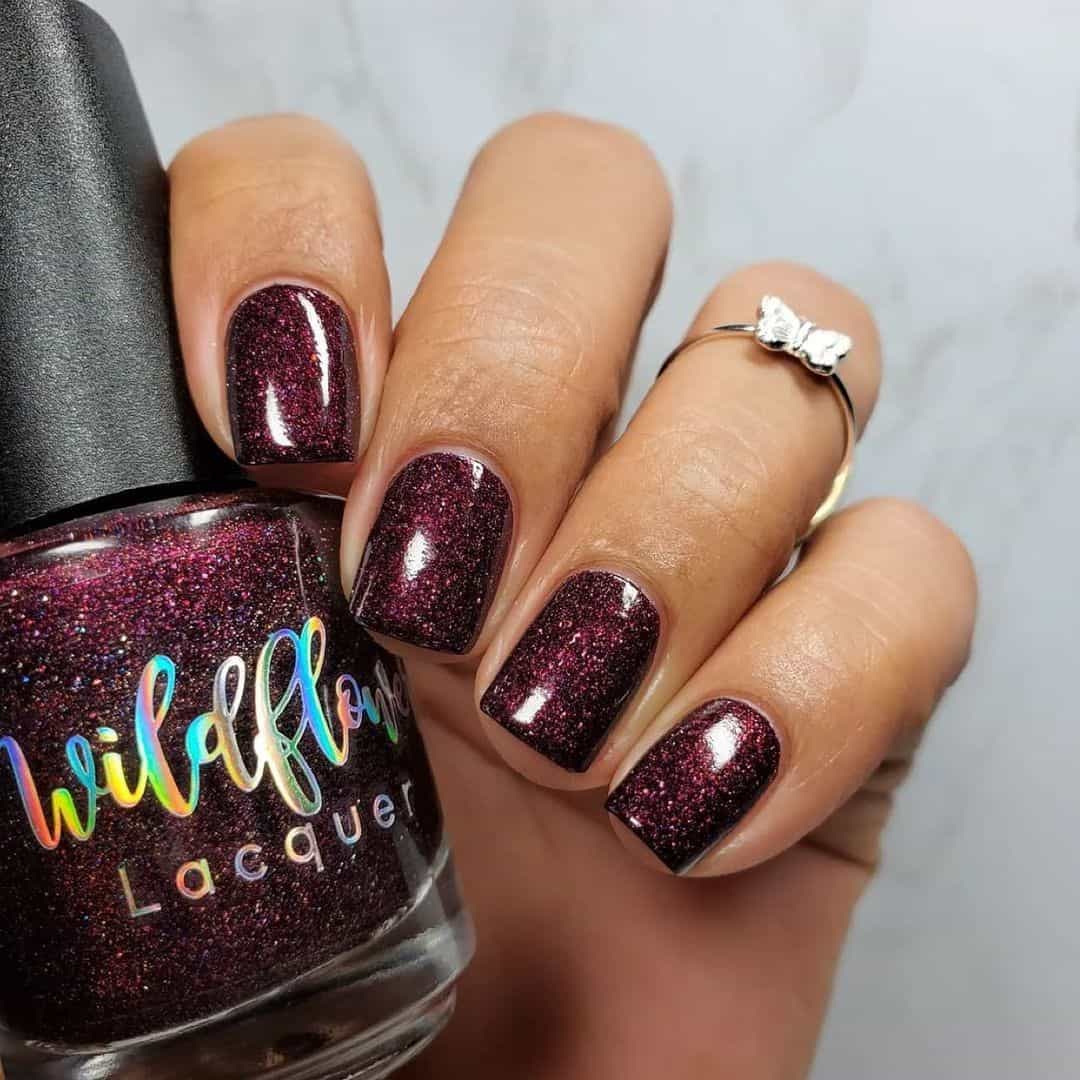 Short manicure that sparkles this bright & loud is for those who prefer natural length yet feminine shine! The best part? You can easily recreate and achieve this glittery burgundy manicure on your own.
14. Burgundy Gel Nail Designs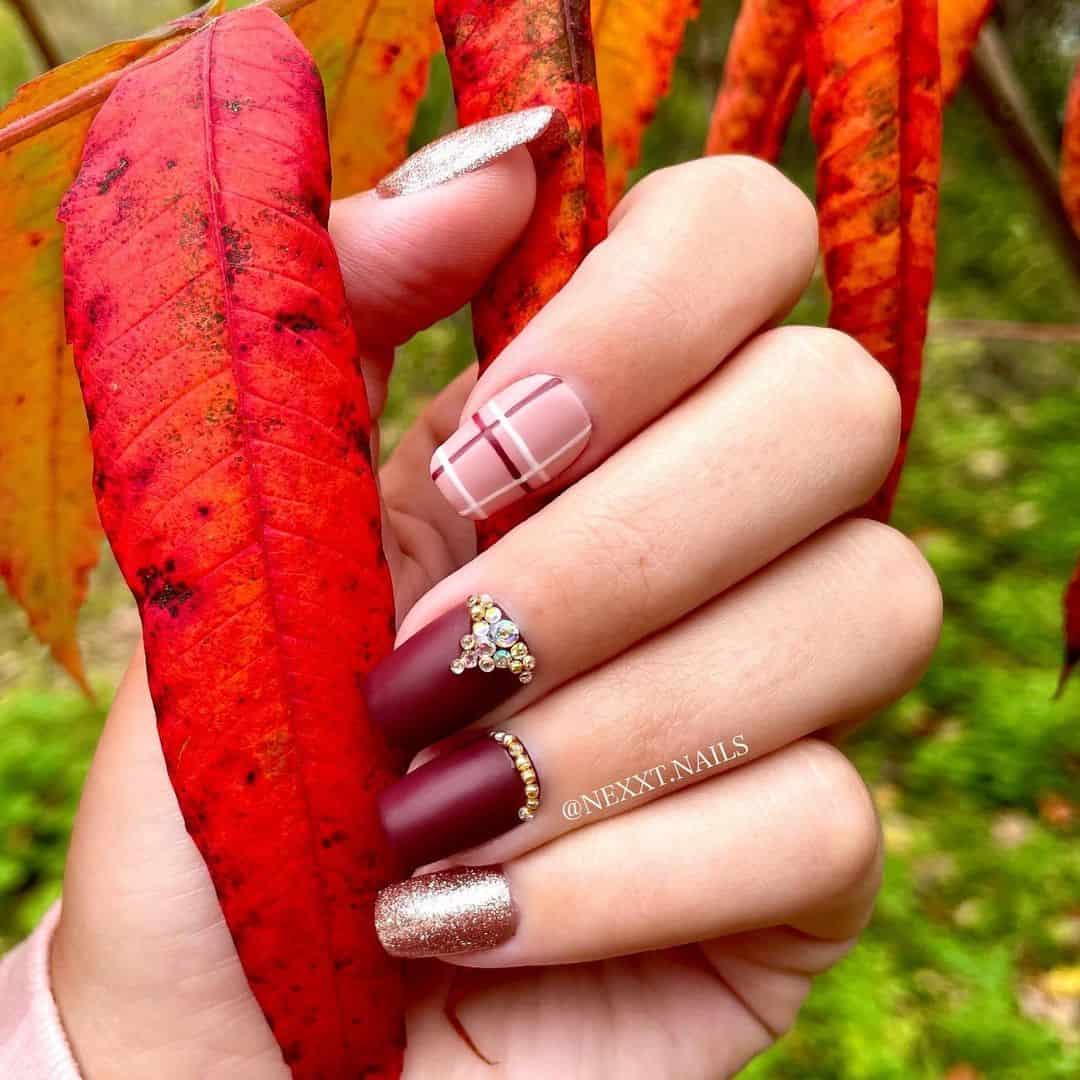 Add some fancy gemstones and make your nails elegant and fancy! Women who need something formal and attention-seeking are going to like this outcome. Heads up since it might take you some time to achieve this beauty. You are looking at 2-3 hours at a nail salon!
15. Long Coffin Burgundy Nails
Super long burgundy nails with a pop of yellow glitter will look amazing for the holiday season. These acrylics are fancy and quite extra. Ask yourself – are you an extra person yourself?
16. Glitter Red & Green Nails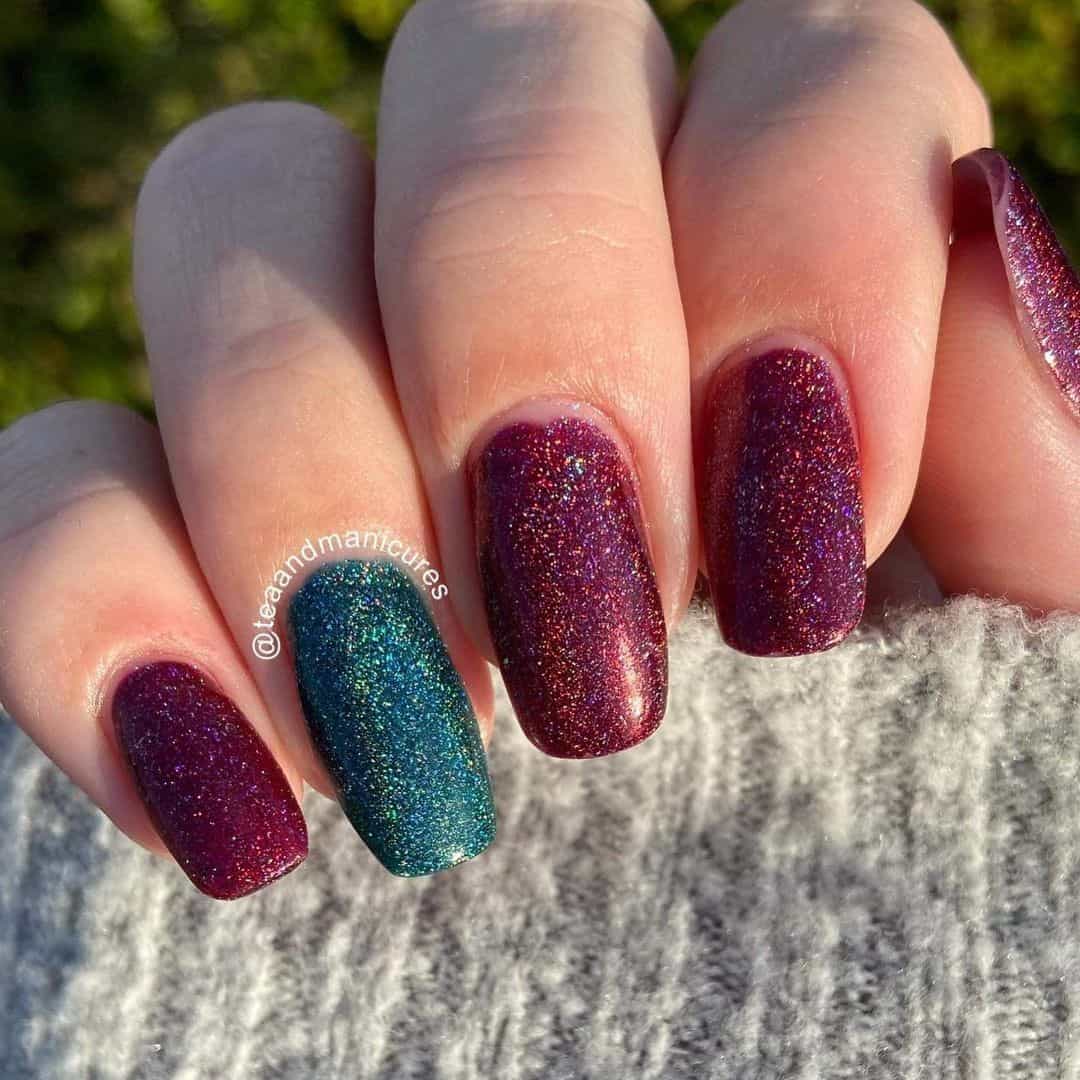 Break off the monotonous look by adding a pop of green glitter to your burgundy creation! This design screams Christmas, so who wouldn't love it?!
17. Matte Burgundy Nails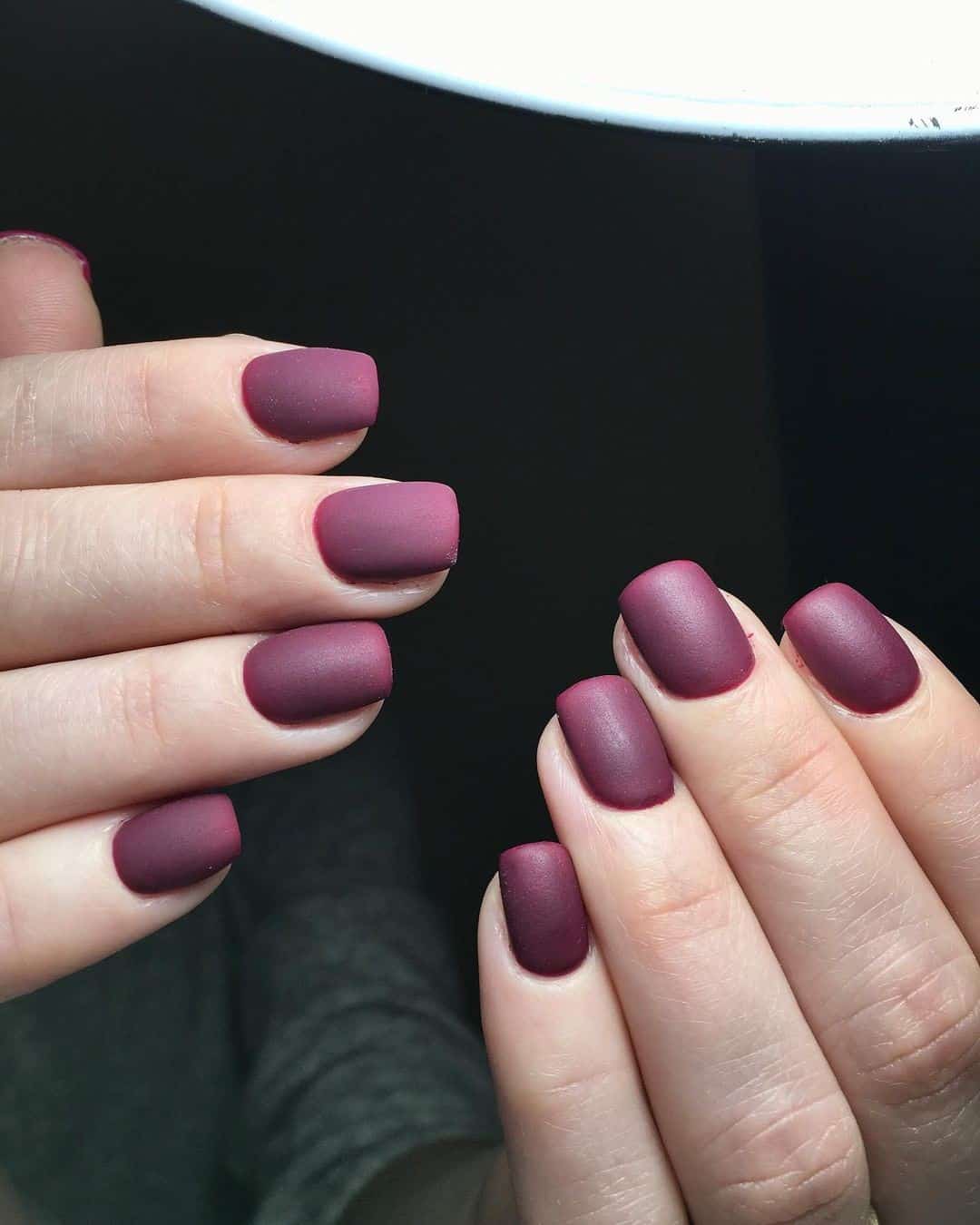 Go for this matte burgundy manicure if you're into short and seamless ideas. Make sure that you have an amazing top coat to set your manicure in place so that it lasts you a bit longer.
18. Short & Shiny Burgundy Nails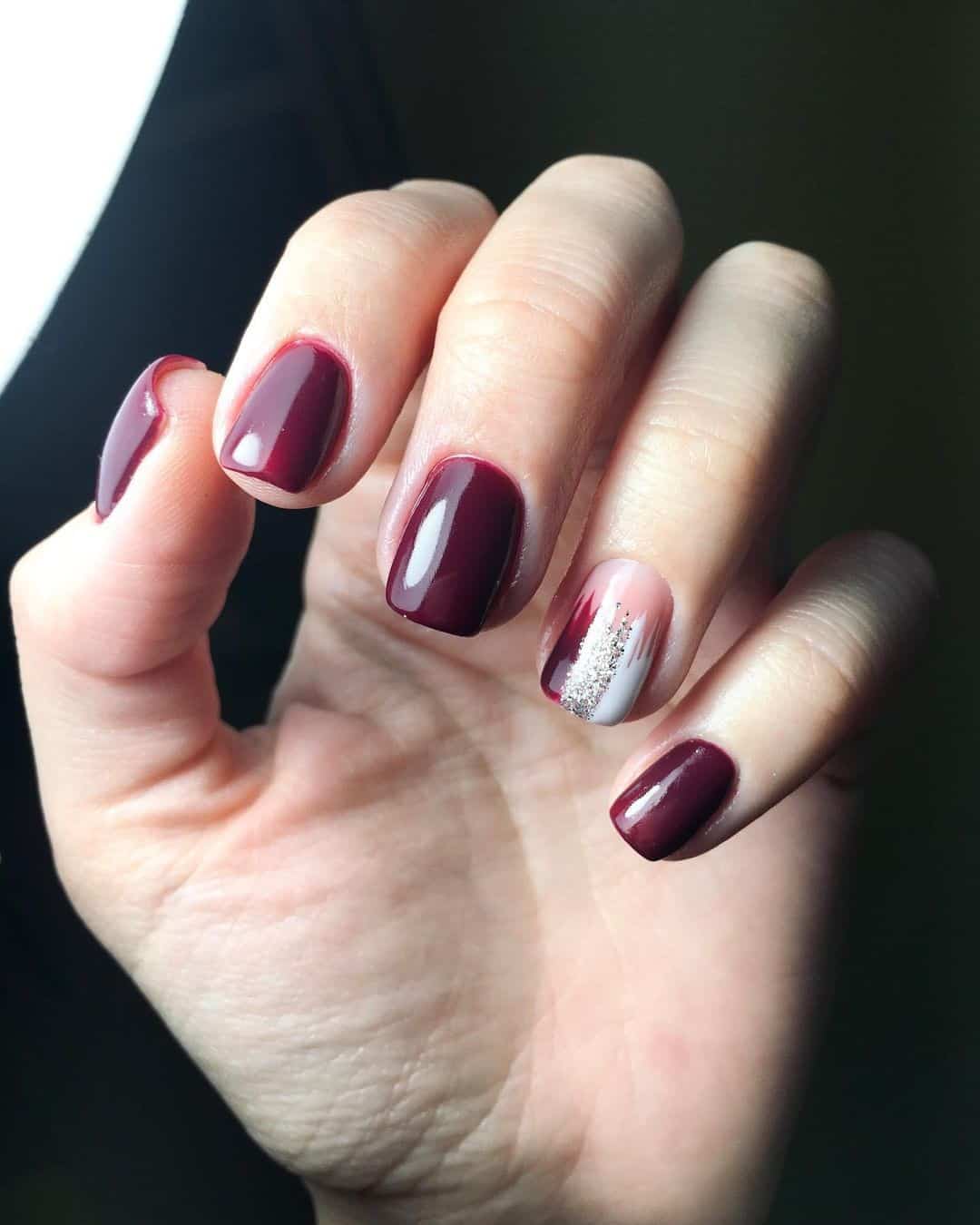 Burgundy nails such as these with a pop of color will look cute and elegant. Book a nail artist who knows how to do detailed nail art, or at least go for this fancy sticker to make it more intriguing.
19. Long Burgundy Nails With Yellow Gold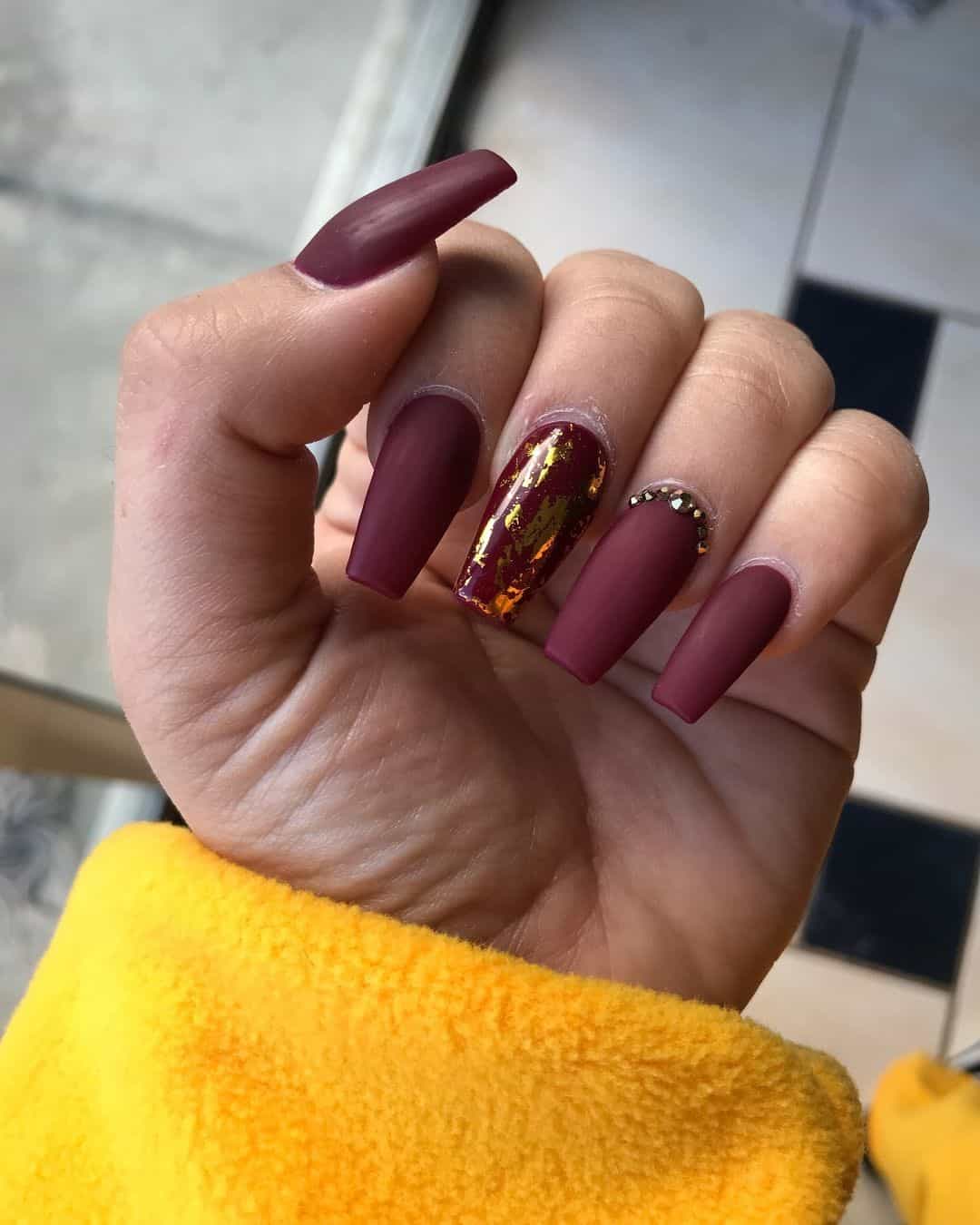 Super long coffin nails such as these will look playful and sensual. Add some yellow glitter to make your nails perfect for the upcoming event. These will look so good when paired along with some golden jewelry, especially golden rings or bracelets.
20. Burgundy Nails Matte Manicure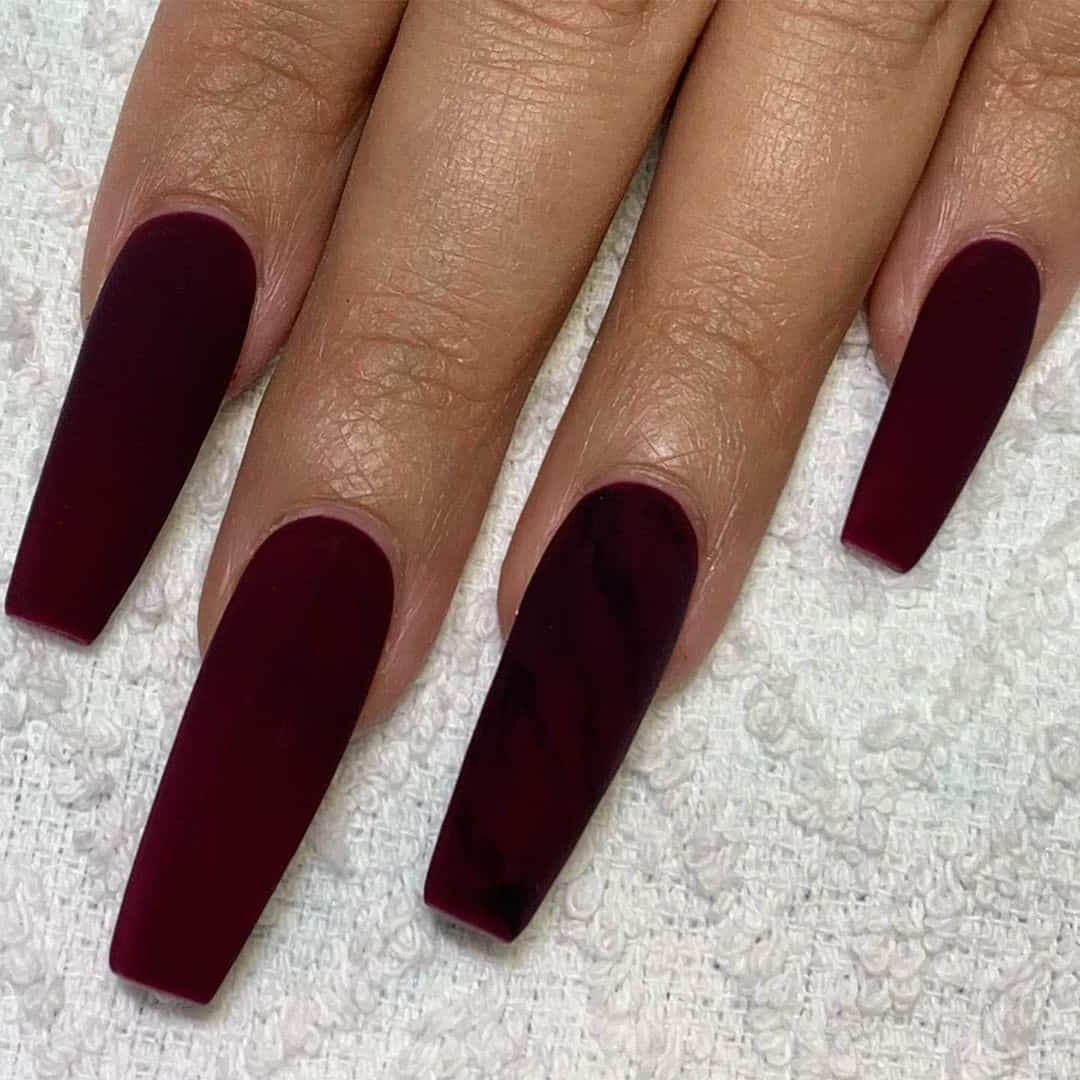 This acrylic manicure is fancy and elegant. You should book a nail artist who is skilled when it comes to precision and artificial nails. Heads up since these nails are not for everyone's preference.
20 Oval & Almond Burgundy Nail Designs
1. Natural Nails Burgundy Oval Shape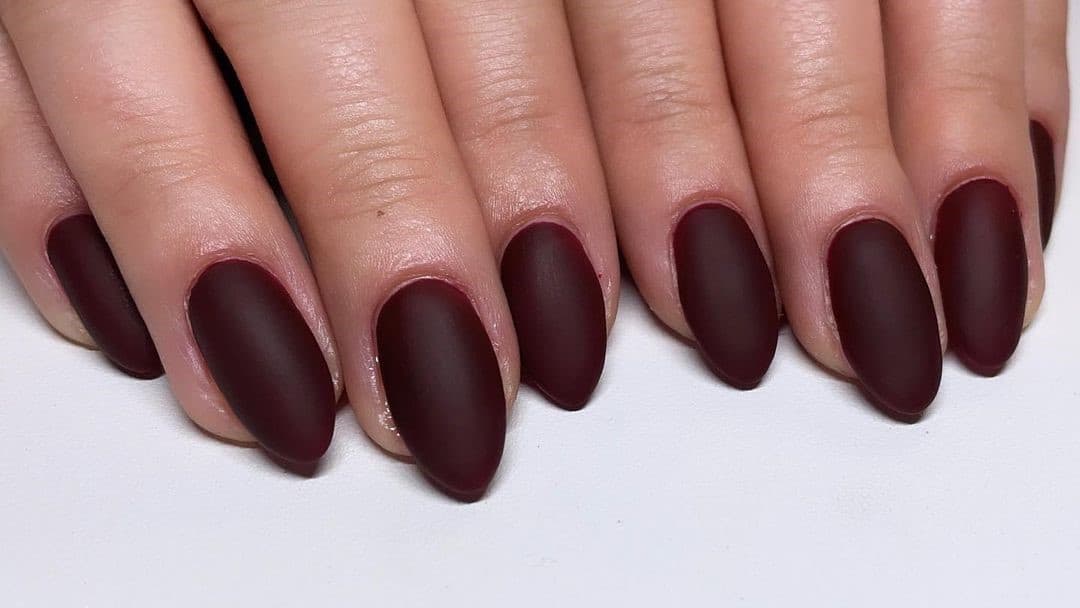 Short oval nails and this hot burgundy color will look perfect for the office. If you're a fan of low-maintenance nails you're going to like this design.
2. Glitter Burgundy Manicure With Gemstones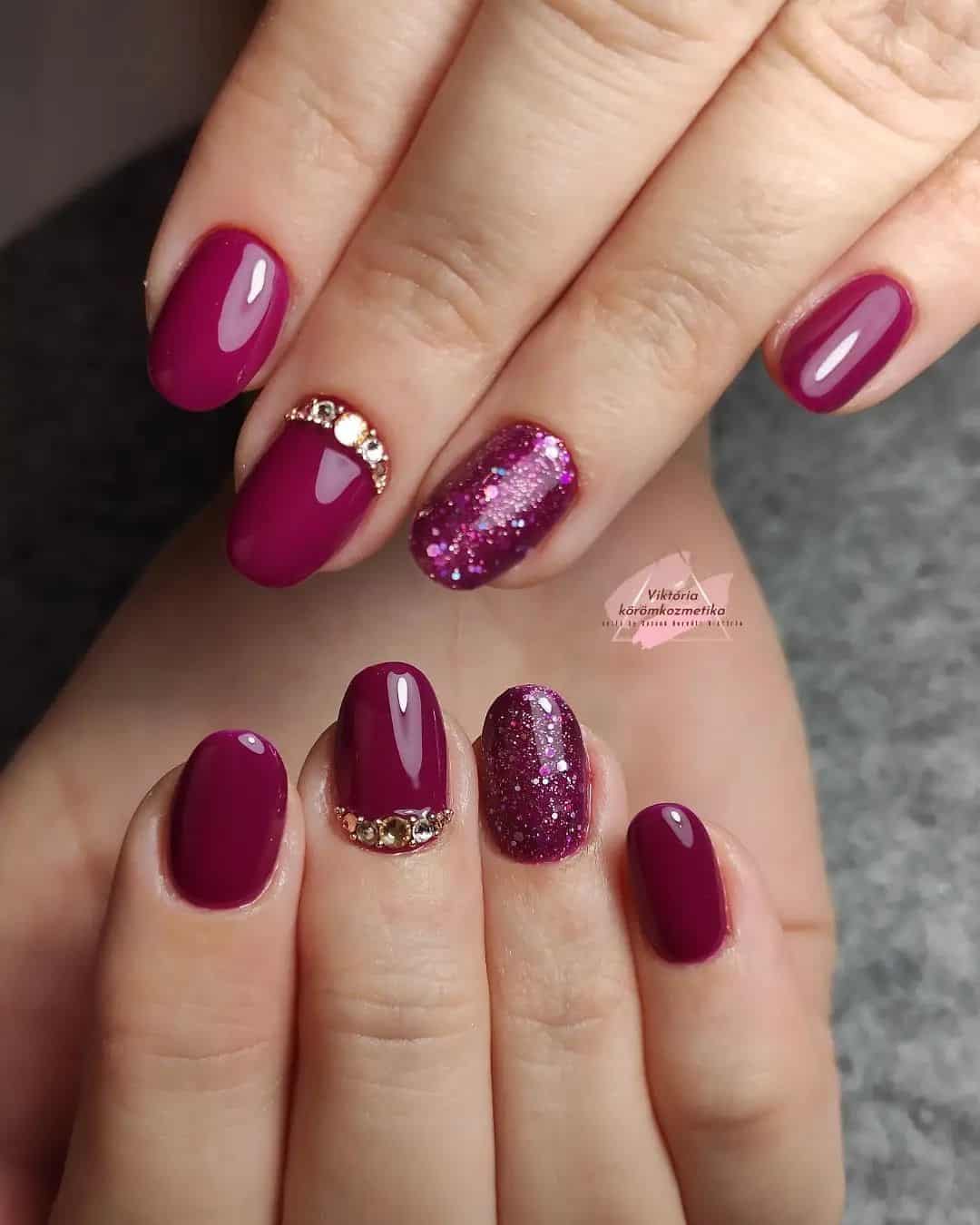 Burgundy color with glitter and a pop of gold will look fancy and elegant. Those who enjoy office-friendly ideas are also going to like this outcome.
3. Simple & Cute Burgundy Nail Designs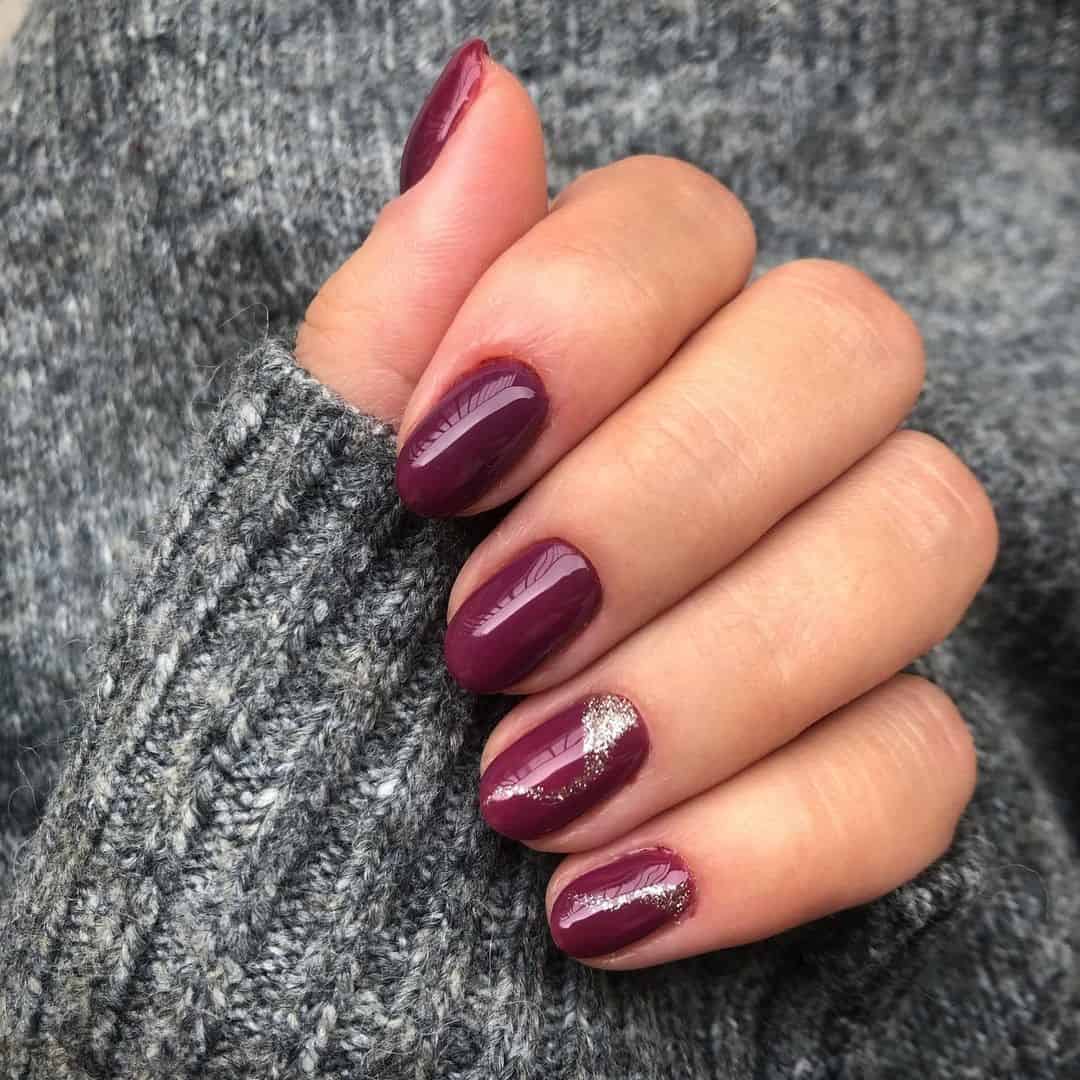 You can easily rock this manicure on top of your natural nails! Women who like their seamless ideas and shorter nails are going to like this everyday outcome and solution. Make sure that your nails are healthy and sturdy before you rock this print.
4. Nail Art Burgundy Manicure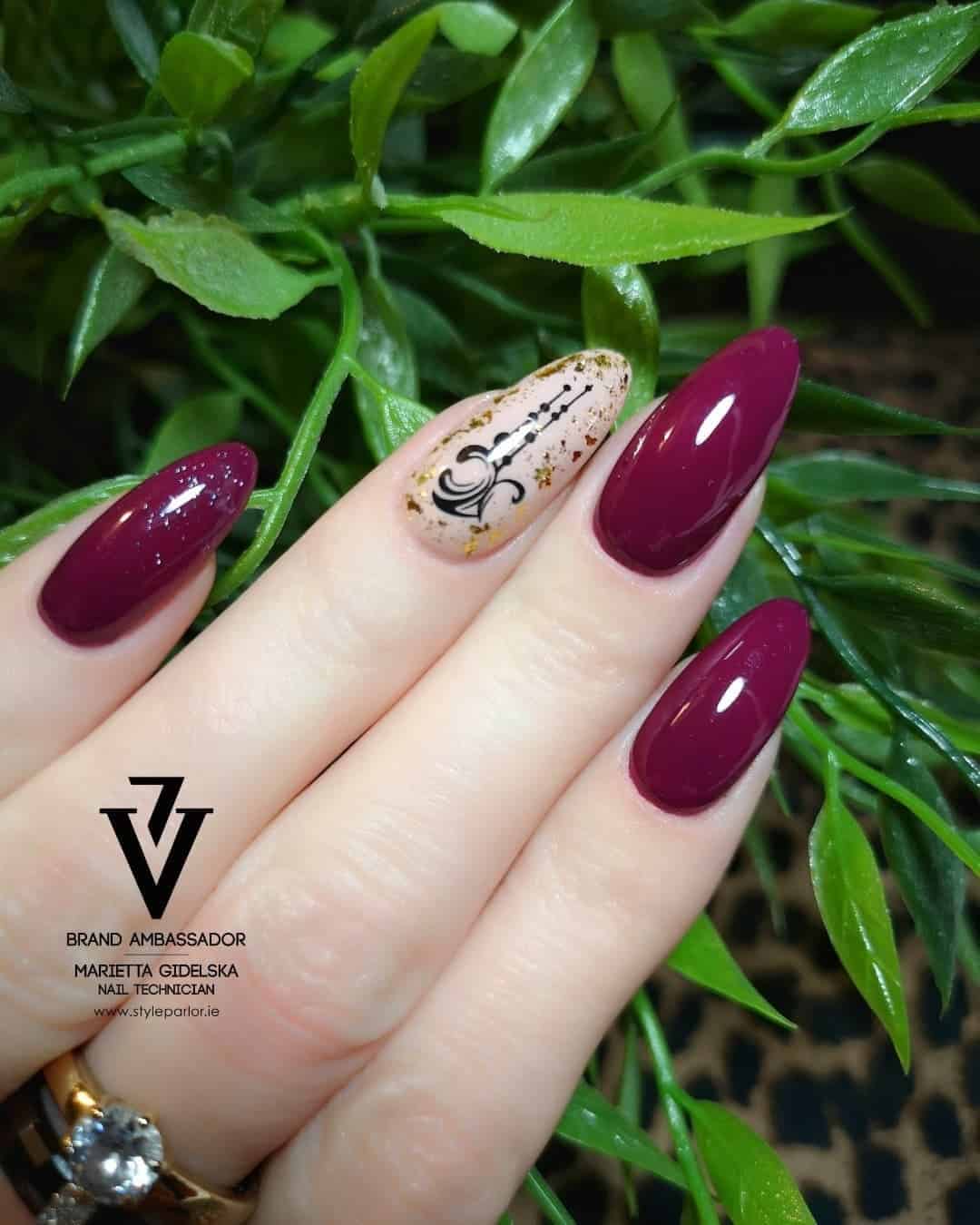 Longer nails are harder to achieve and maintain. However, if you don't mind the upkeep, give them a go! The end result is perfect for women who are in their twenties.
5. Elegant Art Burgundy Nails
This nail art creation is so trendy at the moment! If you're someone who likes shorter nails yet a pop of white color on top of them, this is ideal. The best part about it? You can probably easily achieve this manicure on your own.
6. Stunning Burgundy Manicure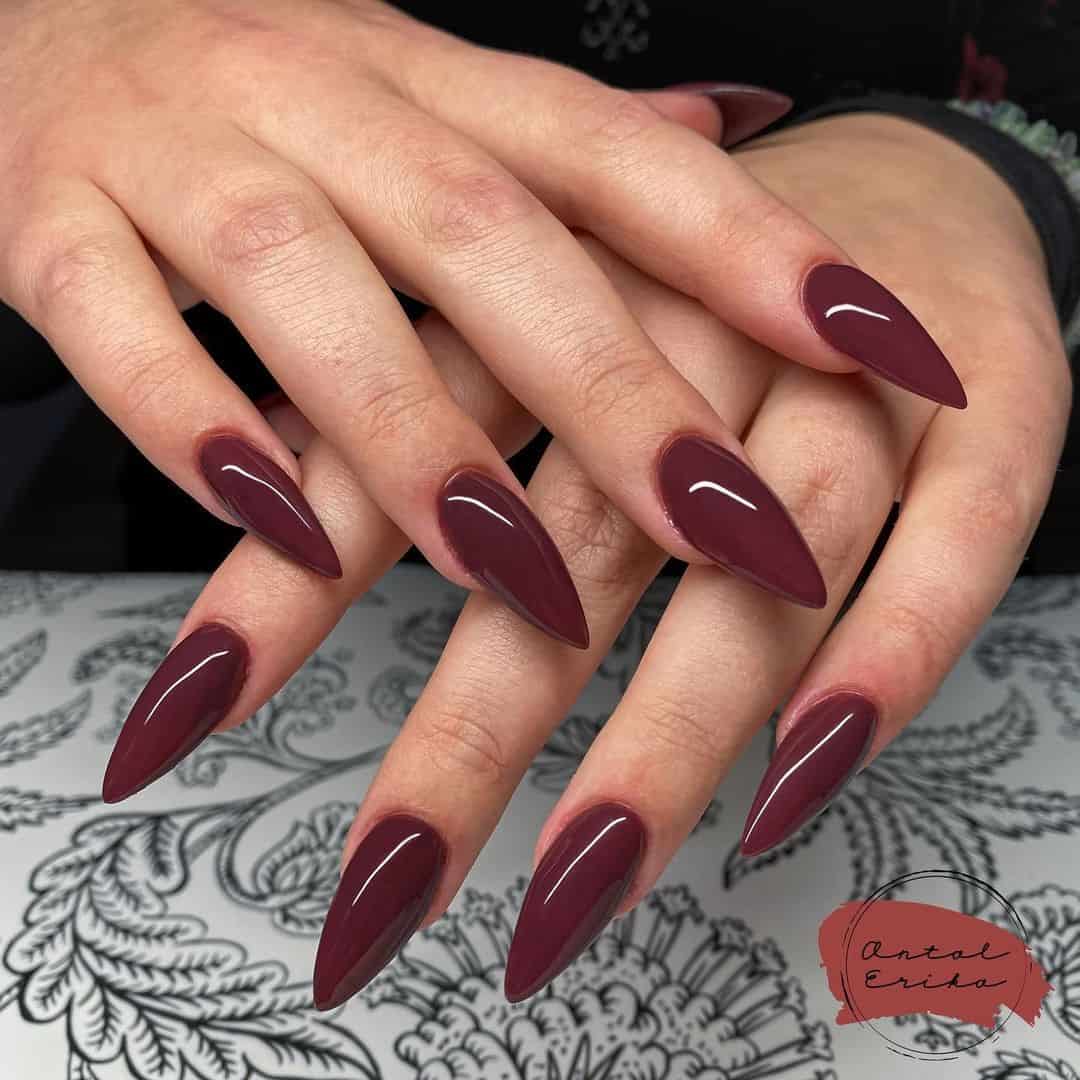 This hot long burgundy manicure will look the prettiest on teens and party women! If you're looking for that new design that is elegant and feminine, you're going to love this!
7. Black And Burgundy Nail Designs
This hot burgundy manicure with a French twist is so popular and trendy at the moment! If you like to rock unusual designs and your favorite colors are black and red you're going to like this outcome.
8. Long Oval Burgundy Nail Manicure
Longer oval nails with a burgundy touch will look lovely on women who prefer minimalism. Does this sound like you and your preference?
9. Burgundy Nails With Flowers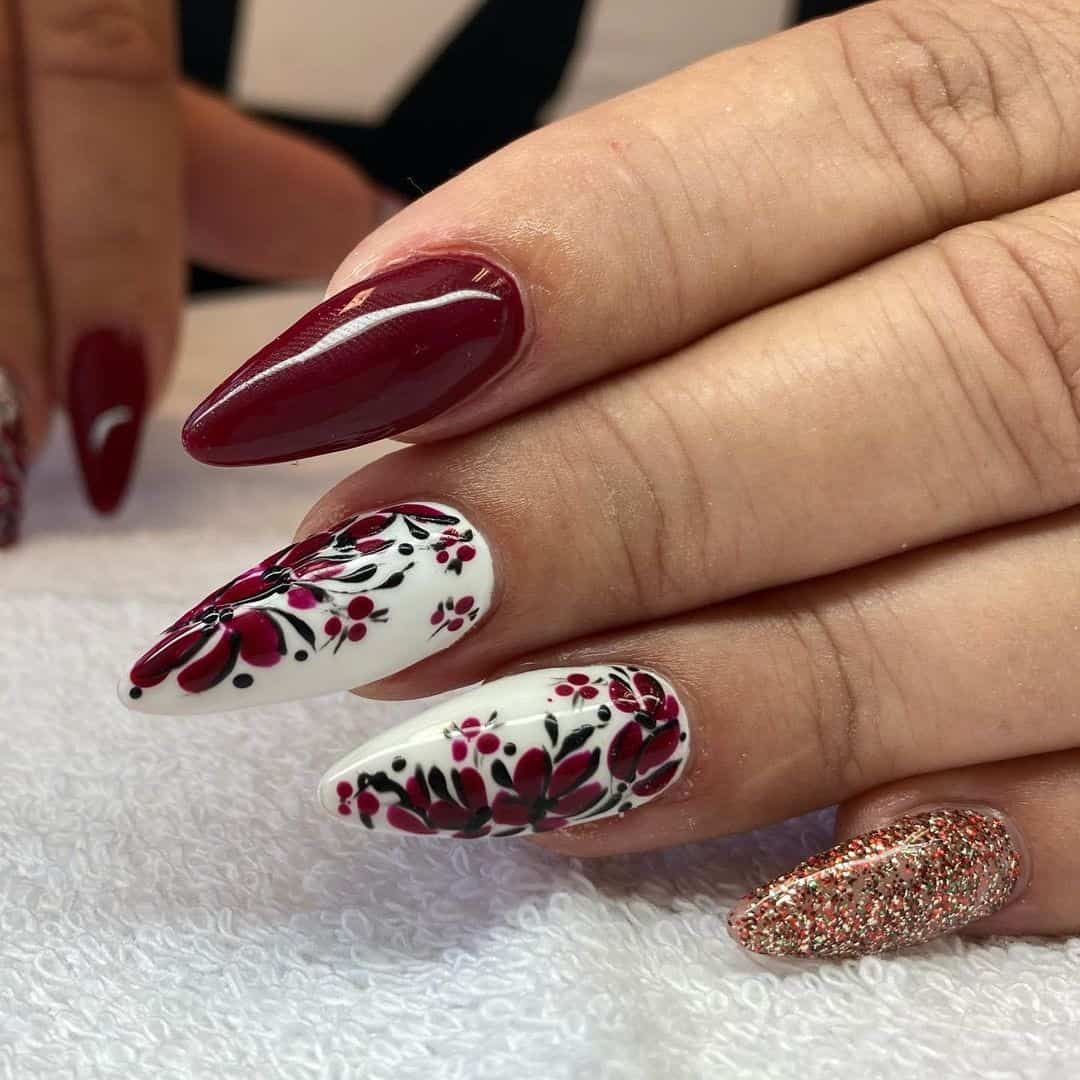 Women who enjoy floral prints and this type of art are also going to like this manicure. If you're someone who enjoys creative pieces and your tattoo artist is skilled when it comes to nail art, go for this design.
10. Ombre Burgundy Manicure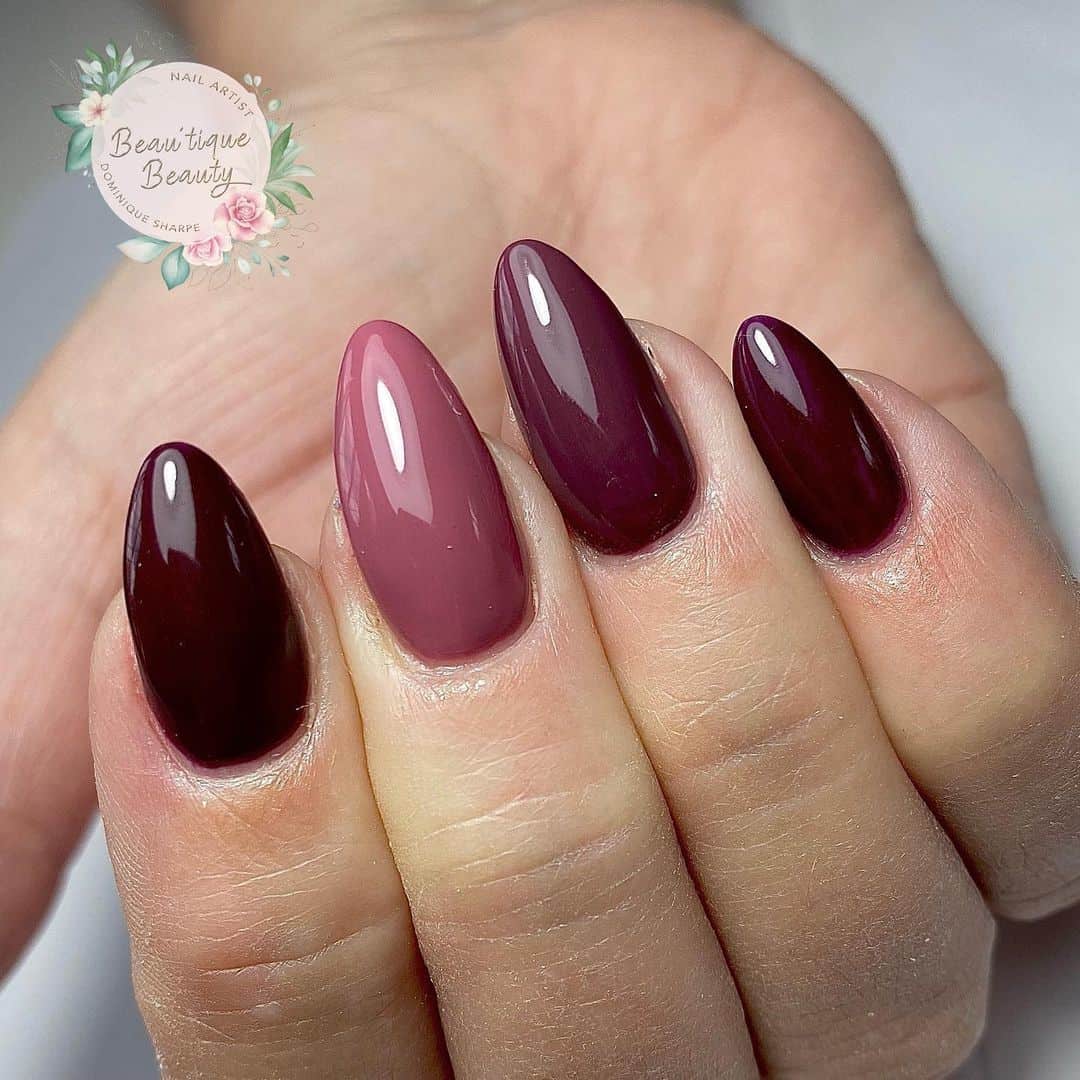 Go for all the colors of the rainbow, or more so for all the burgundy shades. If you're someone who likes ombré ideas this concept will also suit you.
Also Read: Top 30 Beautiful Ombre Nail Design Ideas For 2022
11. Short Natural Burgundy Nails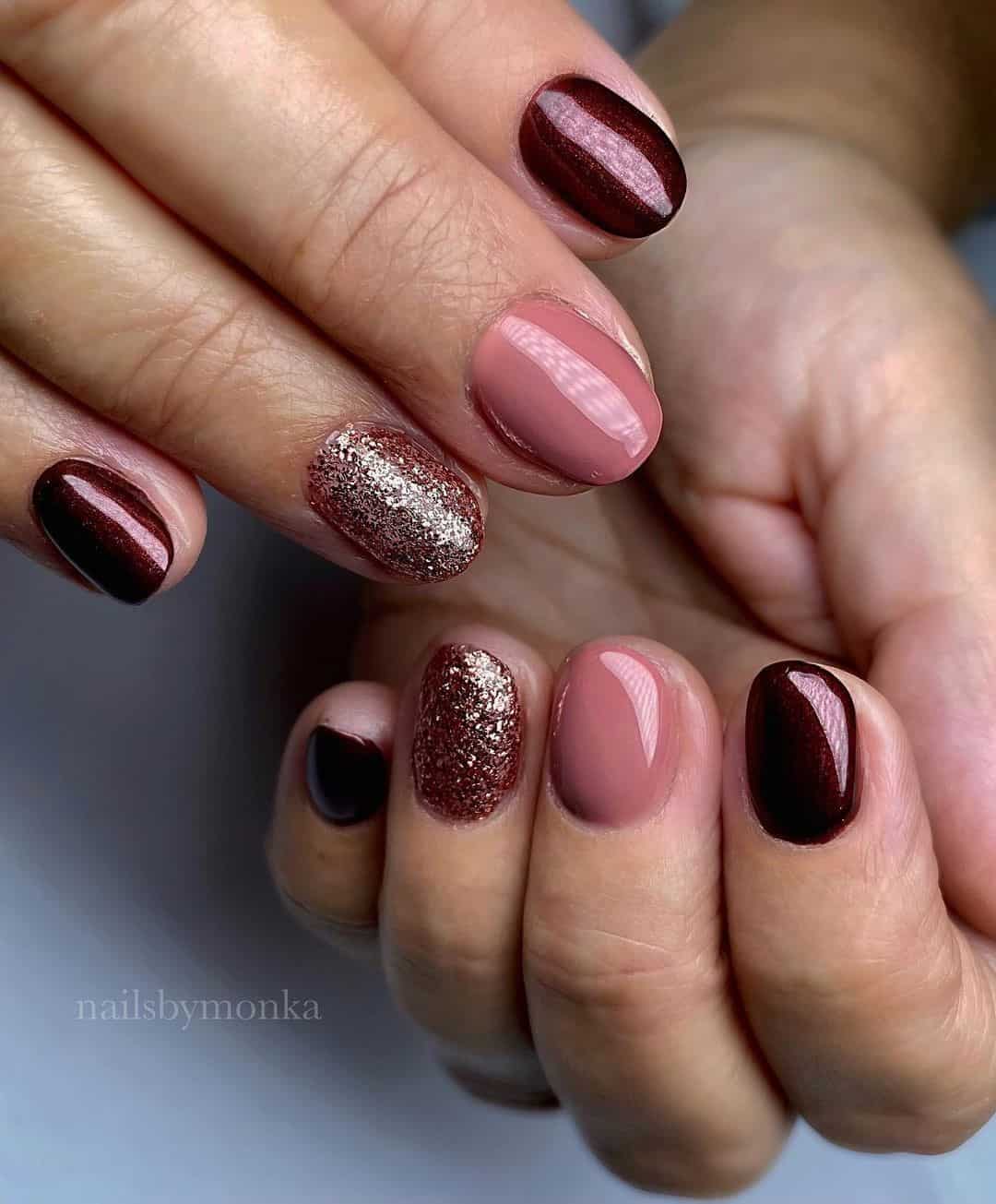 If you can't grow your nails easily and you're a fan of natural outcomes, this is perfect! These nails will hardly break or peel, which makes them perfect for women who are often doing chores around the house.
12. Elegant Almond Burgundy Nails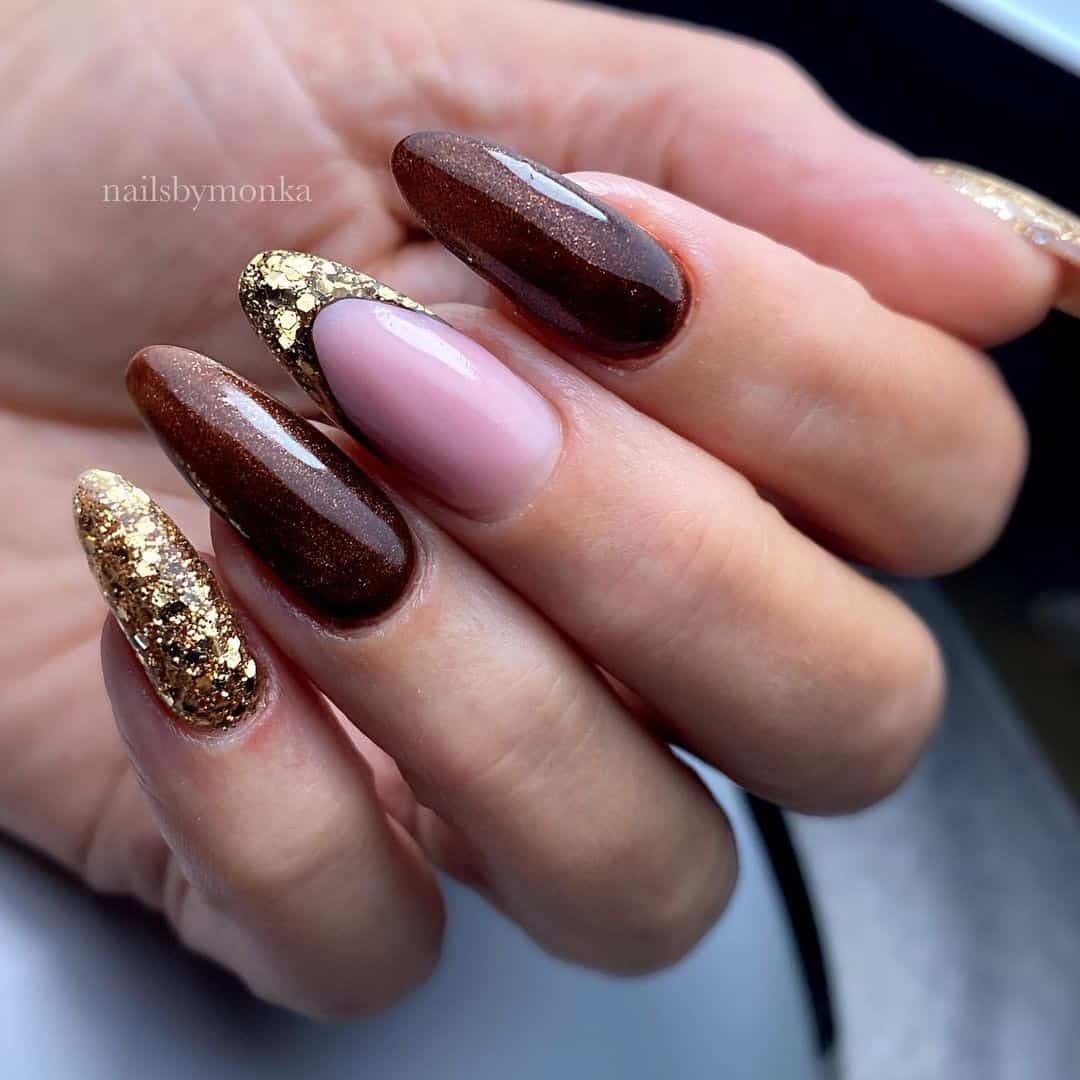 This oval manicure is extravagant and just perfect for women who like longer outcomes. Spice up the design with some pop of gold to make it more formal, as well as perfect for nighttime events.
13. Long Dark Burgundy Nails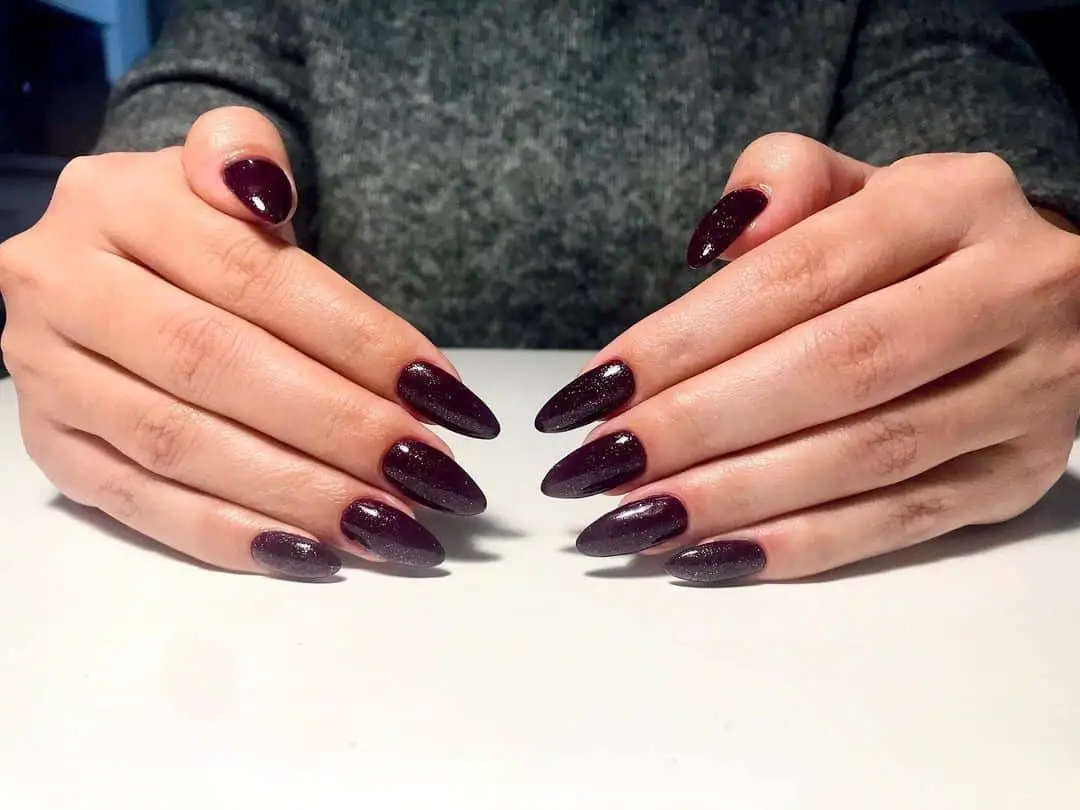 Dark burgundy nails and this manicure is ideal for anyone who is trying to look feminine without overdoing it. Rock this shape and size as long as your job allows you to!
14. Oval Shaped Burgundy Manicure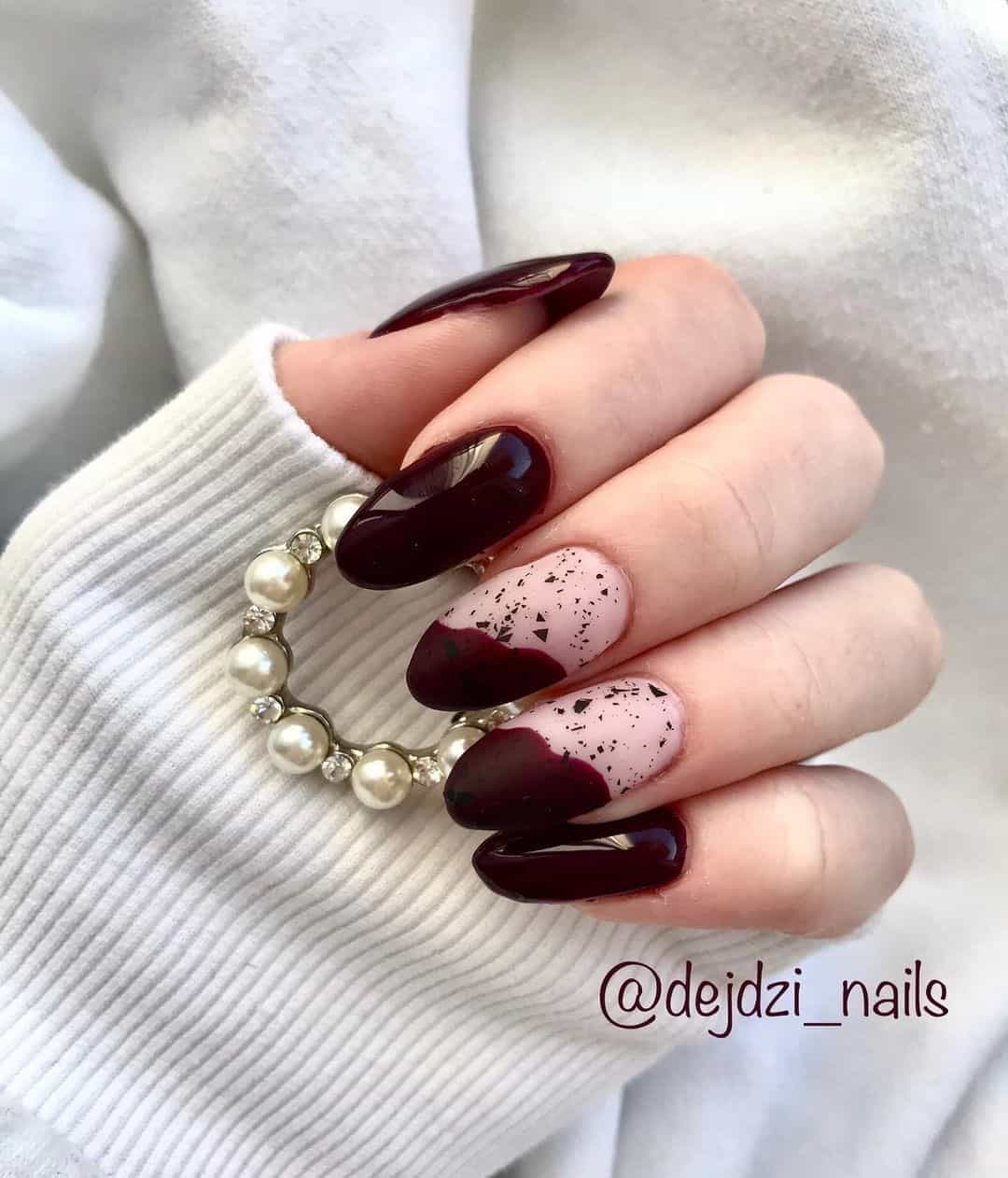 Women who are in their twenties will naturally gravitate toward this design. If you like fancy nail art and you're into cute ideas, give it a go with this new manicure.
15. Oval Nails With Glitter Burgundy Manicure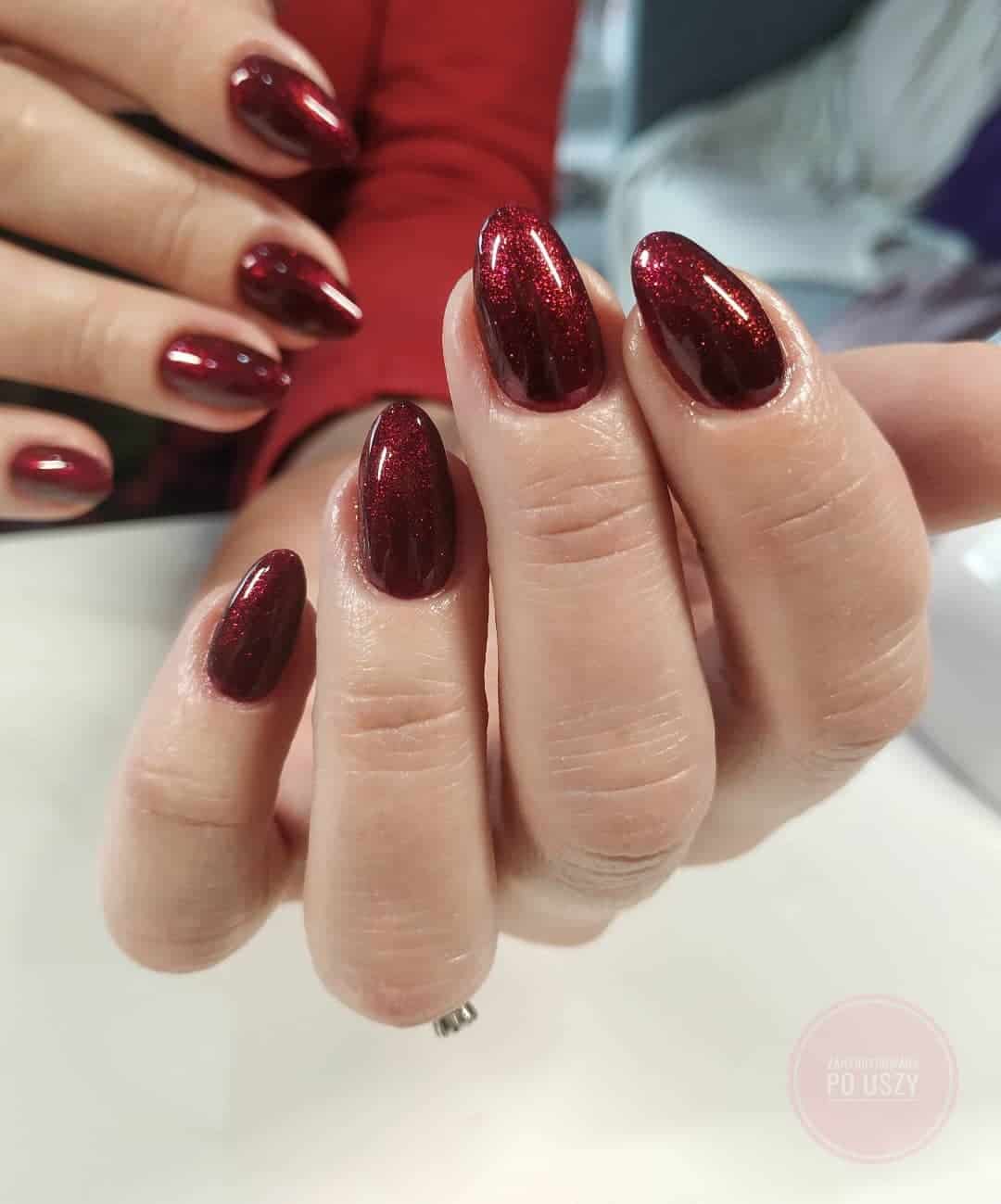 This oval manicure is perfect for anyone who wants to try out something practical, as well as those who want to DIY their own nails. It will take you less than one hour to end up with this fierce outcome.
16. Simple & Short Burgundy Nails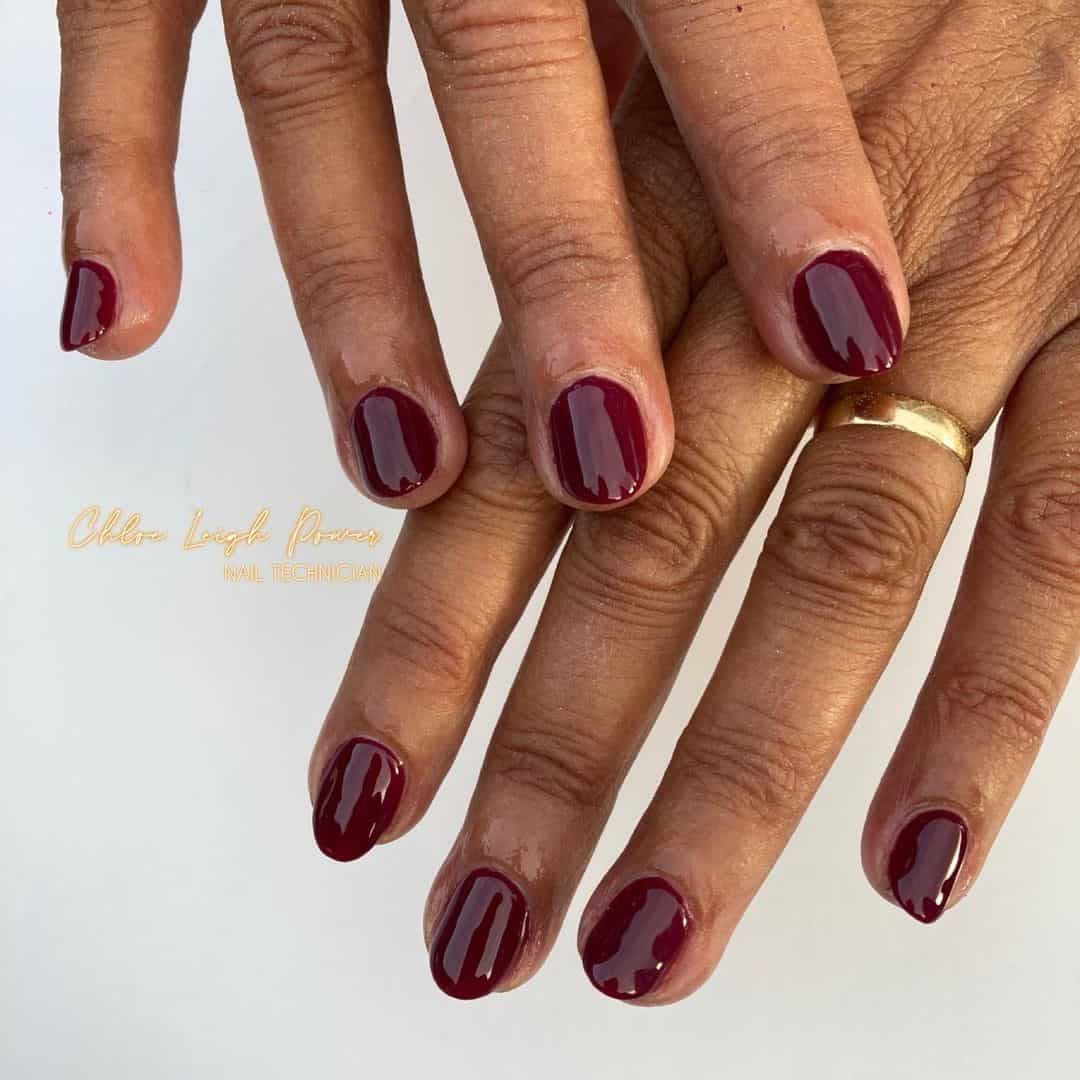 Super short and office-friendly, these nails are short and cute while being perfect for mature women. If you need something elegant and truly low-key, give this a go!
17. French Tip Burgundy Manicure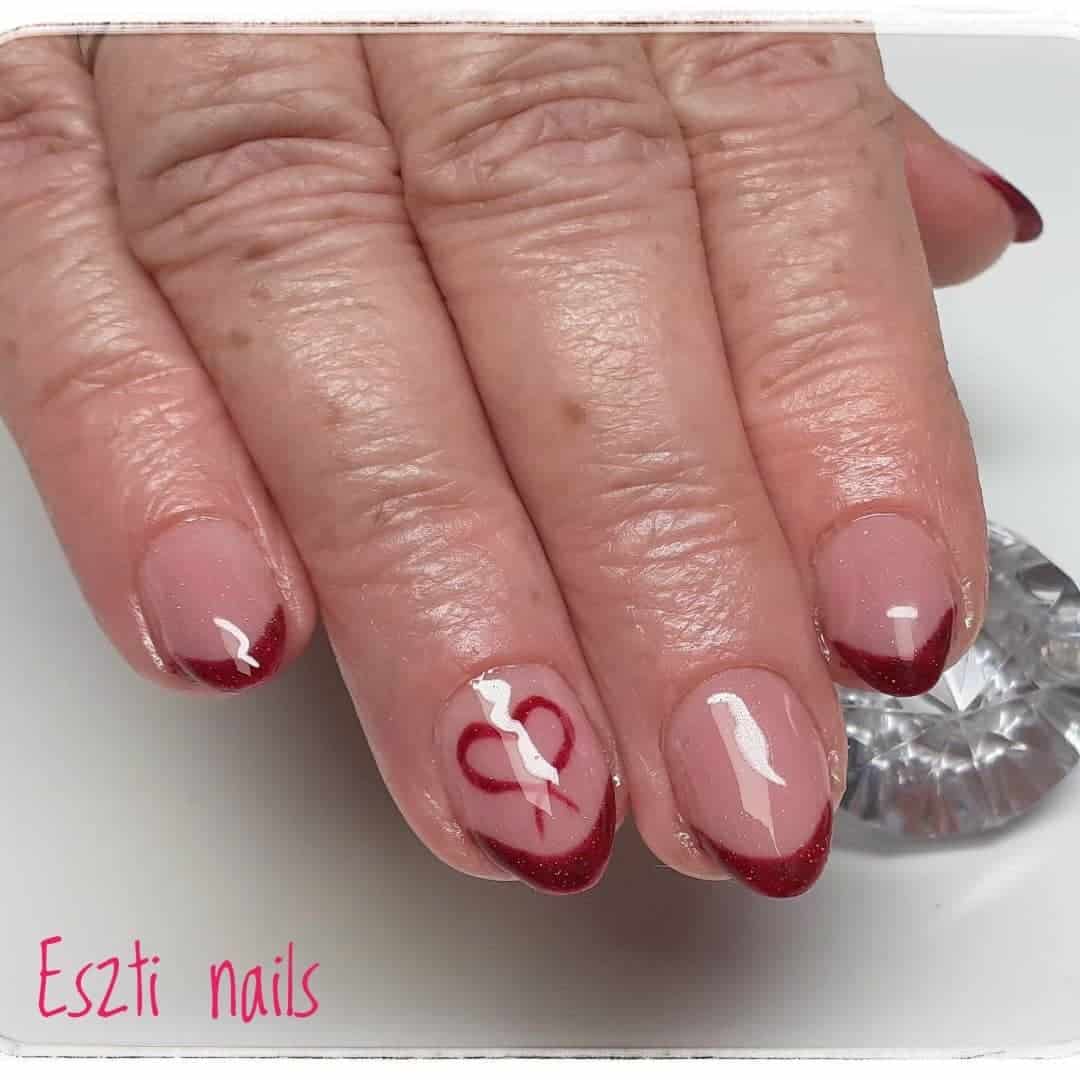 These short oval nails with a French top will look cute and artsy. If you're someone who likes feminine ideas and you gravitate toward elegant looks, this will suit you.
Also Read: 60 Elegant French Tip Nail For A Super Trendy Manicure (2022 Updated)
18. Bright Red Burgundy Nails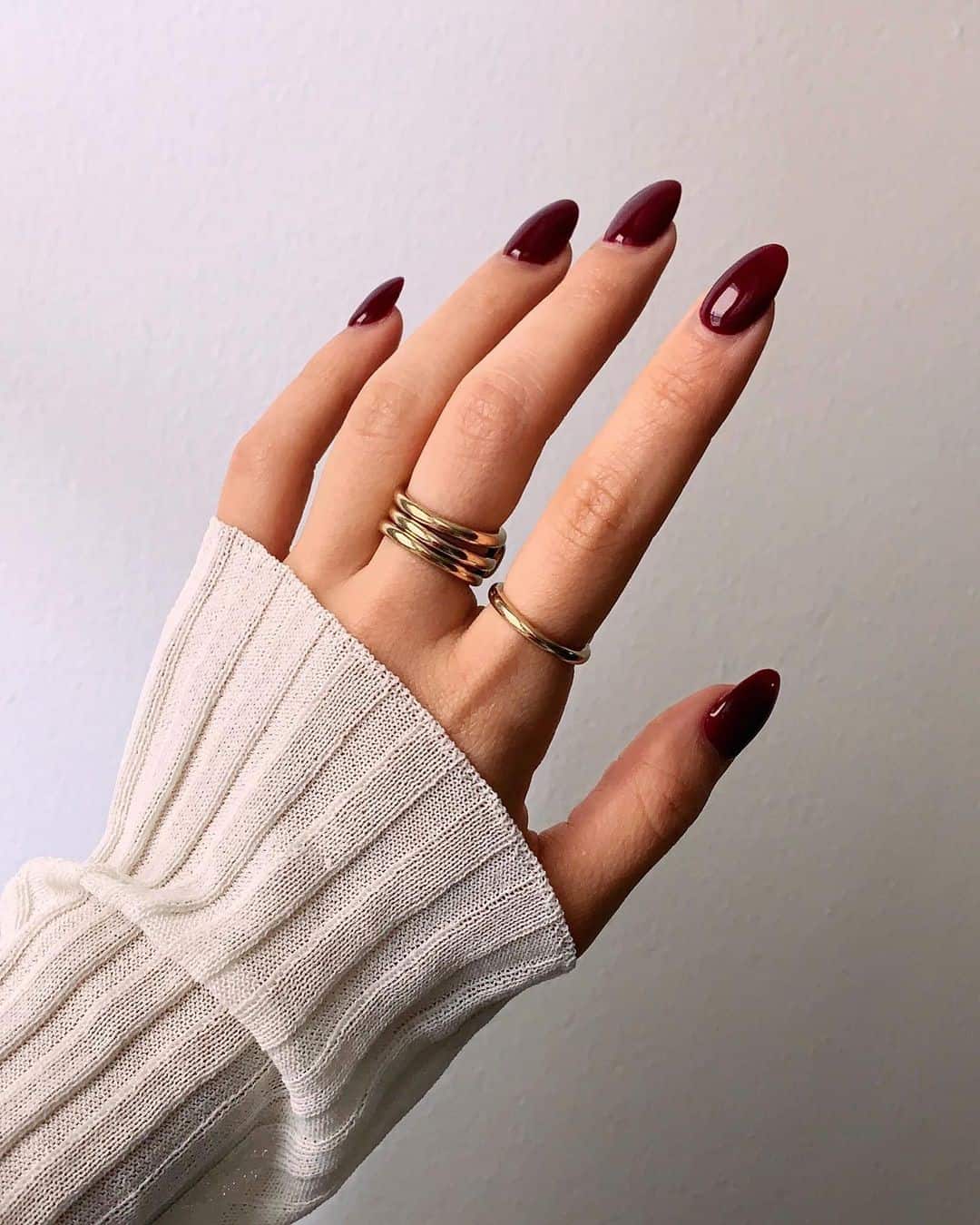 You can color these nails easily and on your own. If you prefer to wear natural looks and you're into short, cute, and subtle looks, this is for you!
19. Acrylic Nails Burgundy Manicure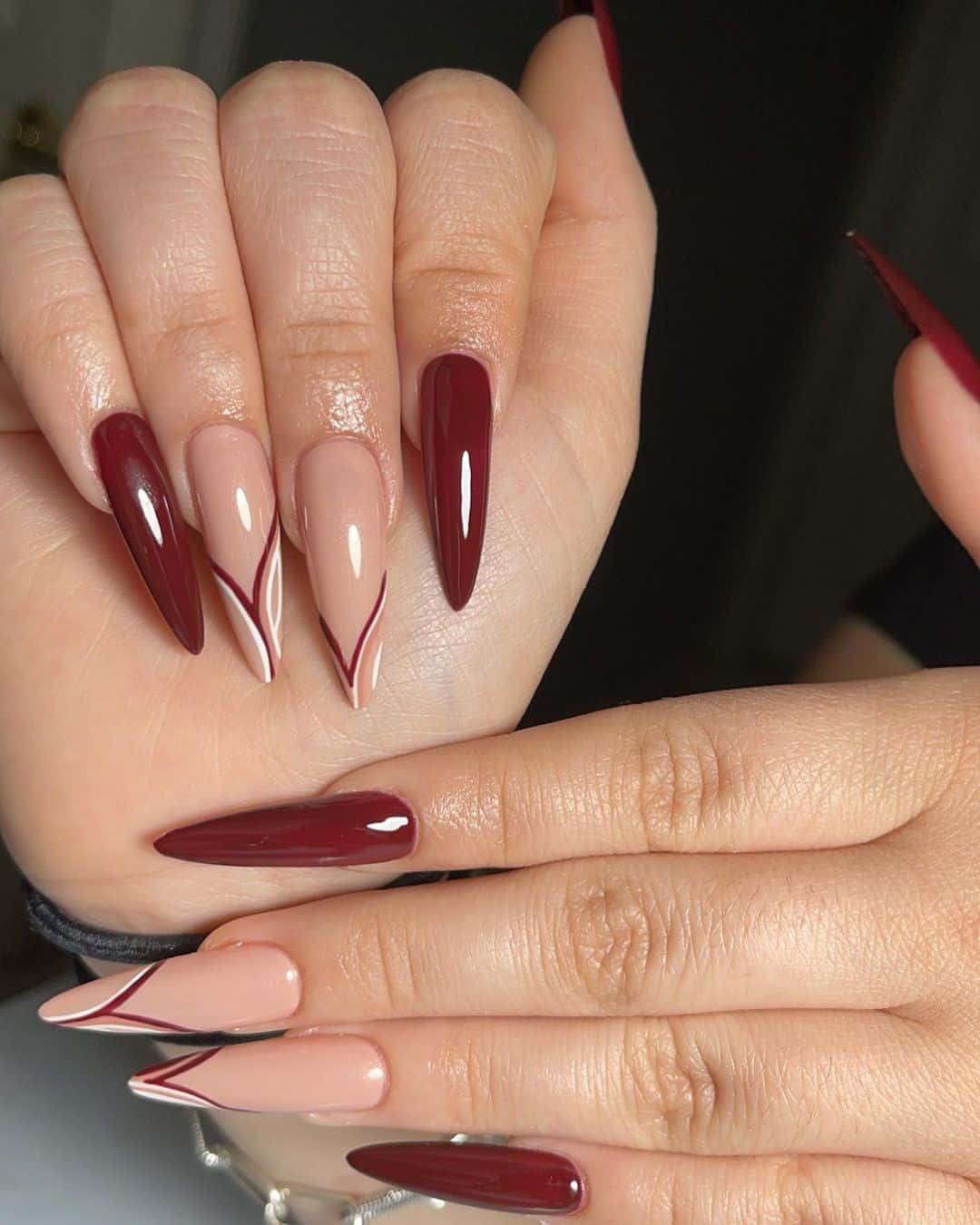 If you have an important show going on and if you're looking for something fancy and elegant, this is it! Women who need party nail looks will like this outcome the most.
20. Oval Manicure Burgundy Idea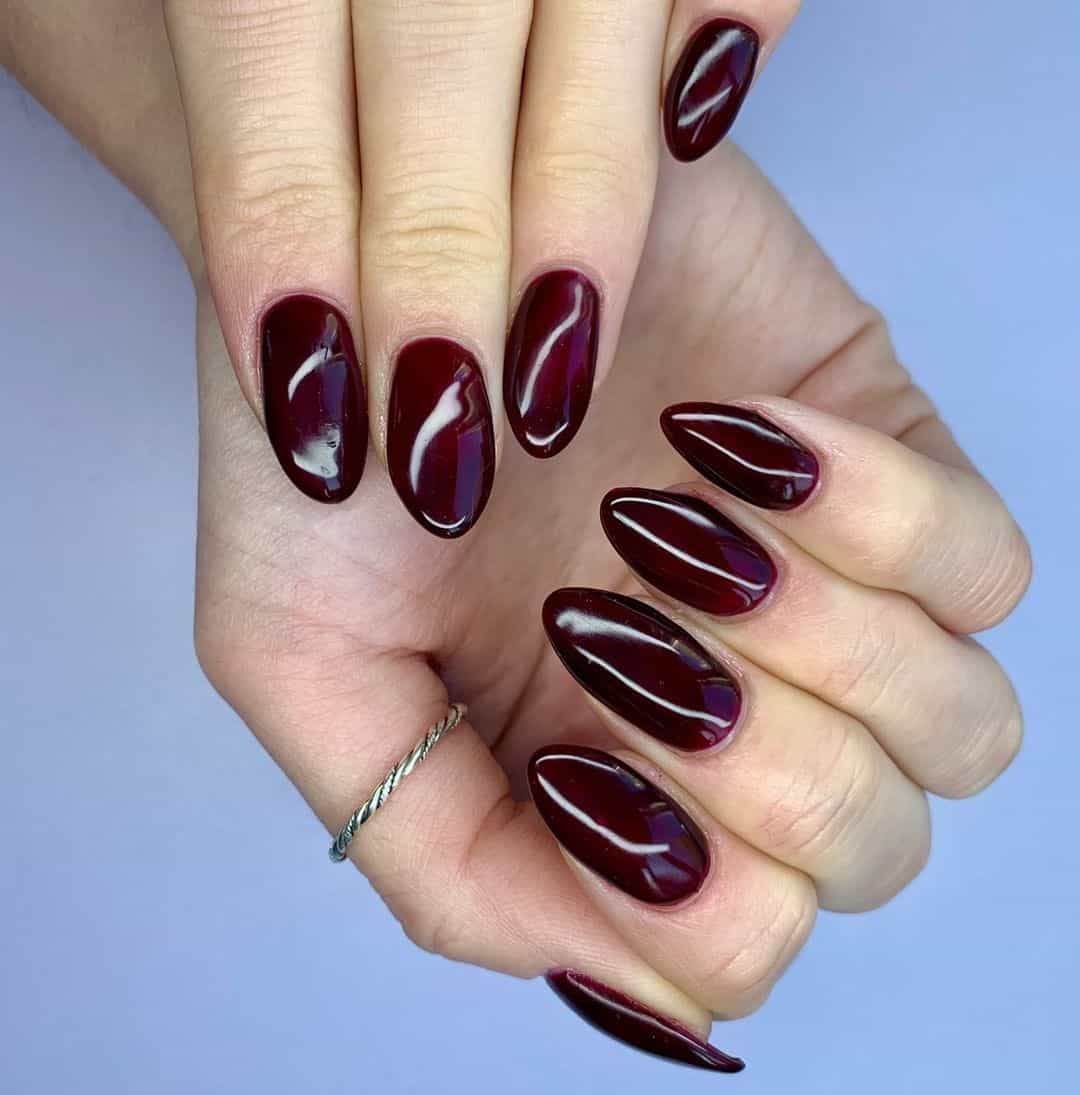 Lastly, these dark burgundy oval nails will look cute and retro. Women who like to color their own nails will easily achieve this design.
Book Your Nail Artist Asap!
Which nail creation, length, and shape is your favorite from the bunch? Let us know where you stand, and which manicure you plan on doing sometime soon, we would love to see your favorites!